Welcome to week 2 of the 40+ Style Casual Challenge which is also part of the 40+ Casual Style Challenge Contest. Don't forget to participate in that. All you need to do to win is pin your favorite casual looks!
This week we are going into detail about casual outfit formula 2: jeans with a jacket.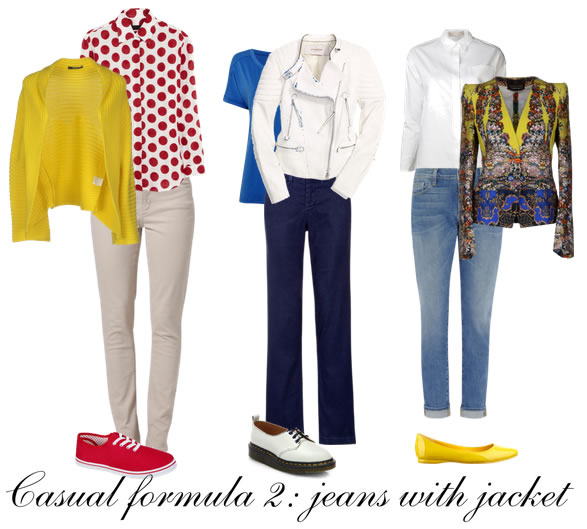 This is a favorite formula for many of you and one of the easiest ways to give your casual looks a more chic vibe.
I personally don't wear this look so often anymore as I live in such in a hot climate, but it would be my go-to outfit when I lived in The Netherlands and Australia.
For today's look I selected another pair of jeans that were sent to me for review. They are the Bootcut Dark Denim blue jeans from Isabi. I picked a size 12 (UK sizing) and they are very comfortable. The rise is a lot higher than any other jeans I own, so no ugly tummy rolls peeping out. As you can see they are not mum jeans though and they look good with your top tucked in too. They are actually really good for my vertical body type as they elongate my proportionally shorter legs. The fit is very comfortable and the jeans very stretchy, so I think I could have also fit into a size 10 which would give a closer fit. If your measurements come up in between size as was the case with me, I would advise you to take the smaller size. They are the perfect height for me (I'm 5'7") when I wear them with flats.
The first look is with my all-time favorite D&G casual short jacket that you have seen many times before here at 40+Style. Great for a casual on-the-go look.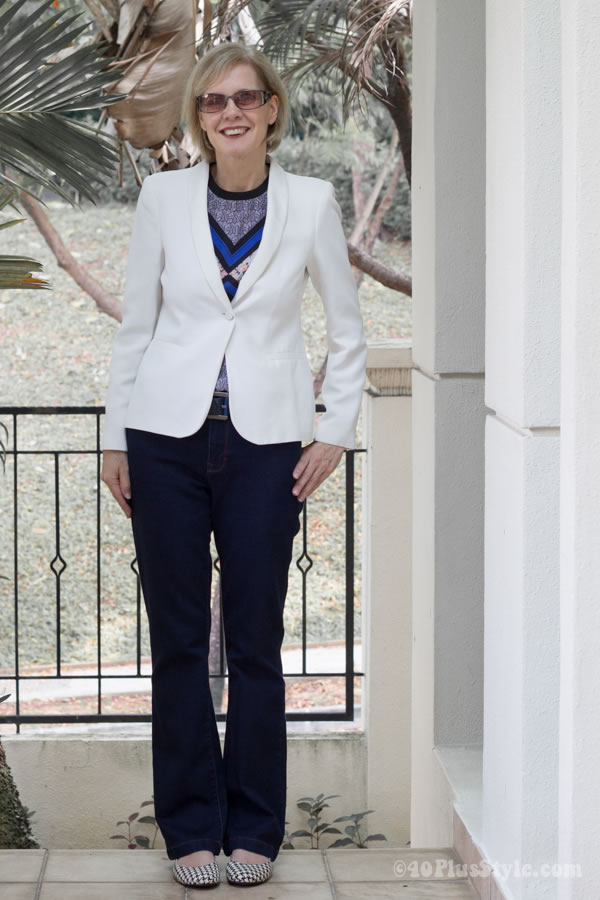 With my second jacket, a cream white blazer from Zara, the look becomes a lot dressier. I emphasize the dressier look with a pair of printed ballerinas, doing a bit of pattern mixing with the top, belt and shoes. This look is still casual but could serve you for a lot more occasions, like casual Friday in the office.
You can check more photos of these 2 looks on my Facebook Page.
Let's take a look at the outfits you submitted.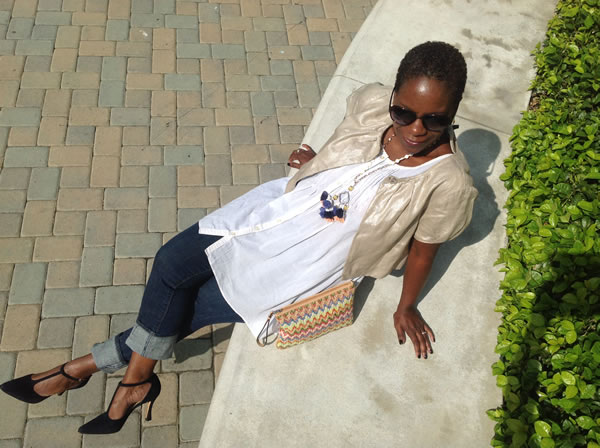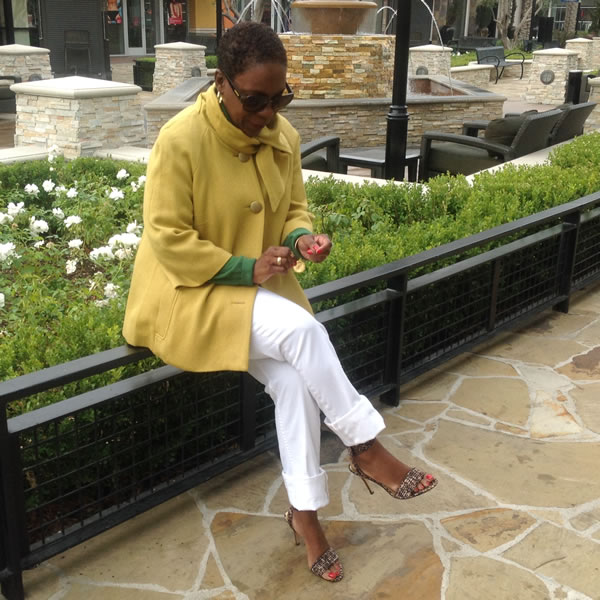 2 fabulous looks from Glenda (So What to Twenty) even though I'm not sure they still fit in the casual category as they are so chic. I absolutely adore that first look with the very on trend short golden jacket and the colorful statement necklace! The shoes are fab too.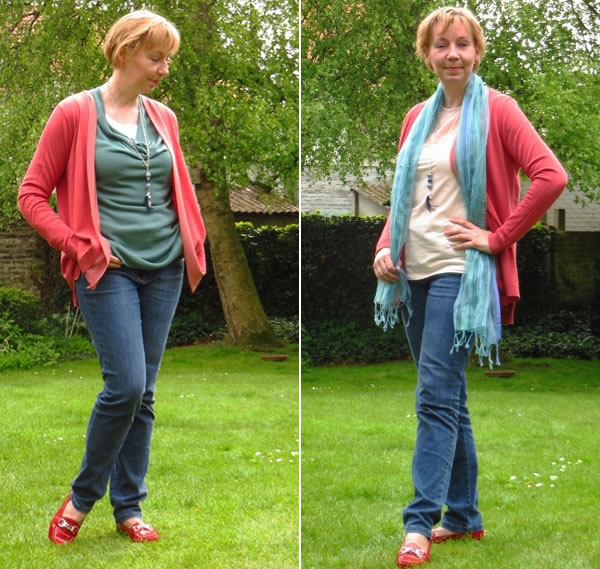 Catherine (Joly Look) looks very stylish with these jeans and a coral cardigan. Love the shoes she paired with it!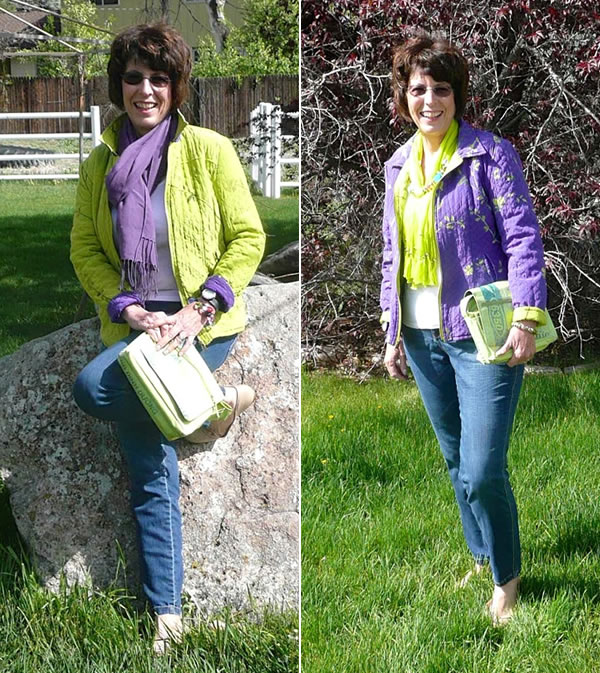 How fun is this reversible jacket! Sunny (Home where story begins) calls is the "Perfect"  travel ready wardrobe item as it adds color and options. Shown here with jeans by New York & Company and sleeveless white T-tank.  Accessorized with a Ta Prohm recycled rice bag purse from Cambodia, contrasting scarfs (one handcrafted and beaded), bracelets and nude flats.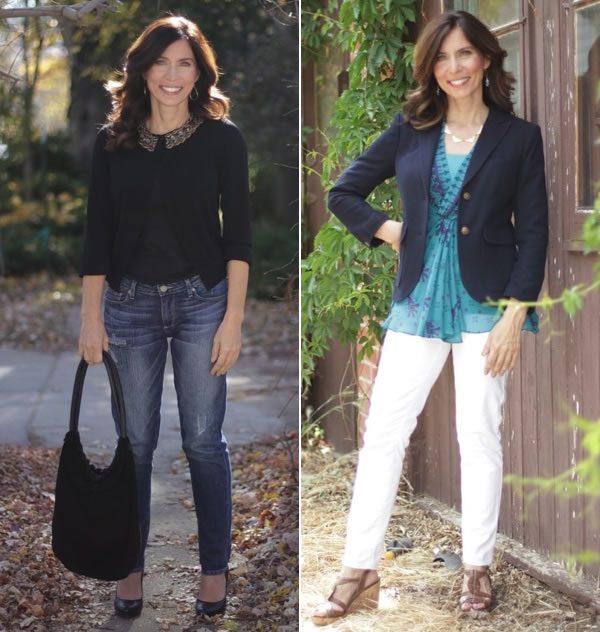 Jeans and a jacket is one of Ana's (Mrs American Made) favorite outfit formulas and as you expect she wears this style to perfection. My favorite of her 4 looks here is the last one. Love that combination of greyish/brwn jeans paired with the printed top and short jacket, fab shoes and red bag!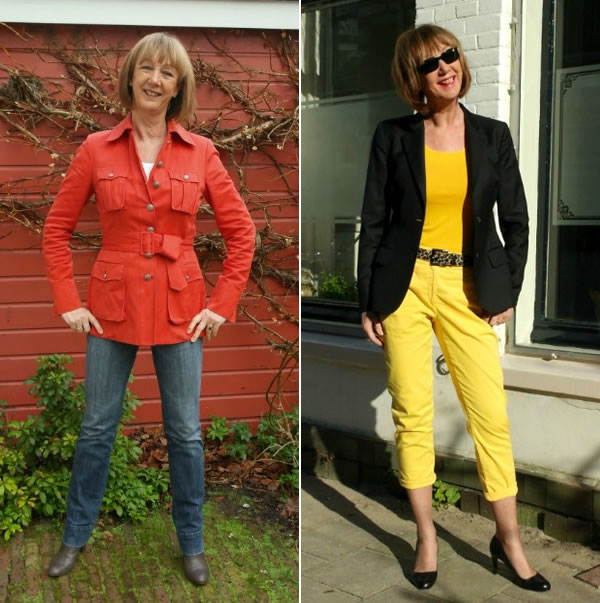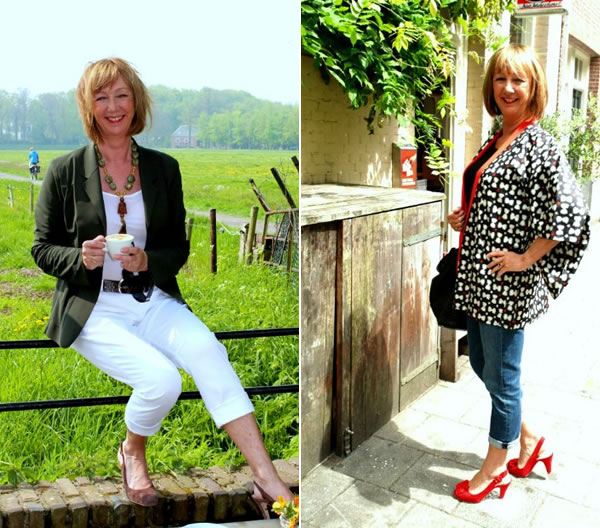 Jeans and a jacket is one of Greetje's (No fear of fashion) favorite looks as well. All these looks are fab but her jeans worn with a Japanese style kimono (middle right) really stands out!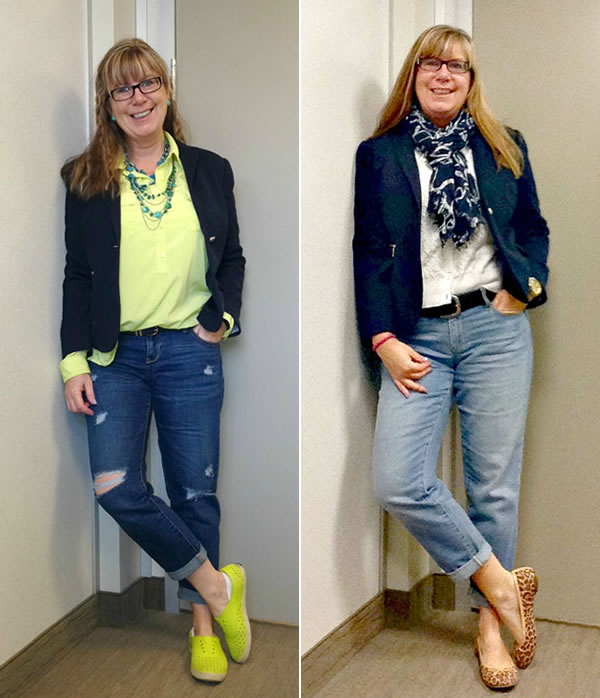 Here is Linda with her favorite go-to outfit for a casual vibe. Love the relaxed chic looks with her boyfriend jeans combined with her jackets and accessories!
Belen de Belle Epoque dressed up her ripped jeans to great effect.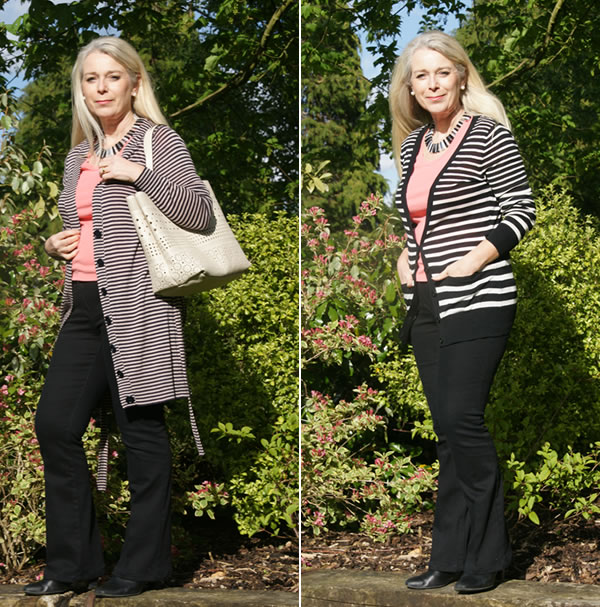 Lorrraine looks very chic in her dark jeans with both jacket and her 2 cardigans while combining her jacket with colored jeans looks more playful and funky. Tough to pick a favorite!
Finally, how chic does Laura (Buckle Button Zip) look in these jeans with white blazer and pumps. Great look!
Here are 2 more collages on how to wear jeans with a jacket or cardigan from Kay (Polyvore).
Thanks ladies for submitting your photos and collages. You all look fantastic!
Tips and takeaways for wearing jeans with a jacket or cardigan
You can make jeans as casual or chic as you like. It's the ultimate wardrobe staple.
Jeans look good with short jackets, casual jackets, cardigans and blazers.
Want to make your look less casual opt for a chic short jacket (see Glenda) or a more classic blazer.
To add the chic factor wear heels with your jeans or an arty flat.
Accessories often add to the look. Use jewelry, belts, scarves or even a hat!
It's great fun and very chic to combine your jeans and jacket with a printed top.
Or keep the top plain and wear a printed jacket .
It's also very chic to keep your top and jacket in the same color as Laura's outfit shows.
Now let's get ready for challenge #3!
Casual outfit formula 3 is printed jeans / pants with a plain or printed top. Check here for more details.
There are a 2 ways you can join in:
Photograph yourself in a look that follows formula 3 and send the photo(s) to me at sylvia [at] 40plusstyle.com. Make sure your photo is of good quality. You can send as many photos as you like, but they all need to follow the casual outfit formula 3. You can feature any kind of printed pants and / or
Create a collage just like Kay did above in Polyvore. It's free to sign up and create collages and you can post the link to your collage in the comments of this article or send it to me through email.
Please make sure your entry is in by Saturday 17 May.
I hope many of you will join in this fun dressing challenge and discover how you can create great looks with the now very popular printed pants! For more inspiration and to win fabulous prizes be sure to check out all the pinboards and set up your own in the 40+ Casual Style Challenge Contest! My casual style challenge pinboard is here.
Do you like this casual outfit formula? Which of the above looks is your favorite?

Related posts: