A slip dress is a timeless classic. But how to wear a slip dress over 40? Let's look at some ideas in this article.
An ever-increasing popular spin on the evening wear trend has most certainly been the slip dress.
There are many reasons why the slip dress is a loved clothing item:
a slinky and sexy look
silky material
fascinating hem lines
and gorgeous necklines
You may also like: the best dresses with sleeves
However, some of these are also reasons that women tend to shy away from them
The slinky and sexy look can oftentimes cling,
lace hemlines might not always be appropriate for a daytime look,
and much skin is exposed.
Although these can be valid reasons not to wear a slip dress there are ways to overcome these obstacles.
In today's post we go highlight over 16 slip dress styles and show you 7 ways to wear the trend for a completely unique and customized look. From denim jackets to cuddle-worthy sweaters, there are multiple ways to take the slip dress off the runway and into your wardrobe.
Four different styles of slip dresses
Lace hem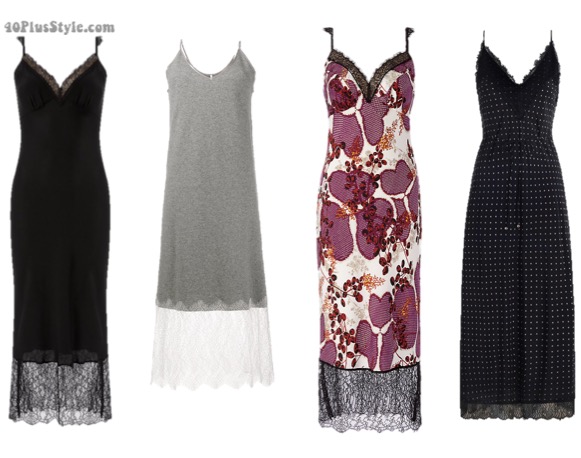 Solid color
how to wear a slip dress – with Prints and patterns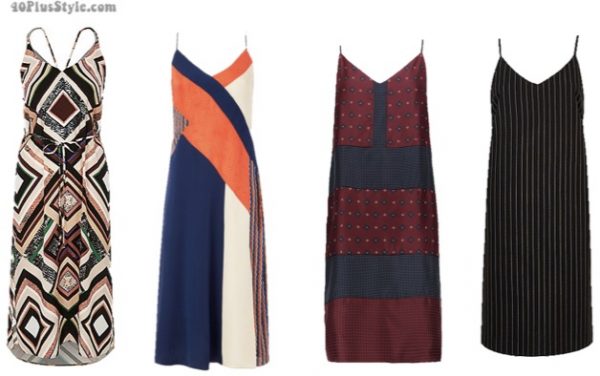 Short styles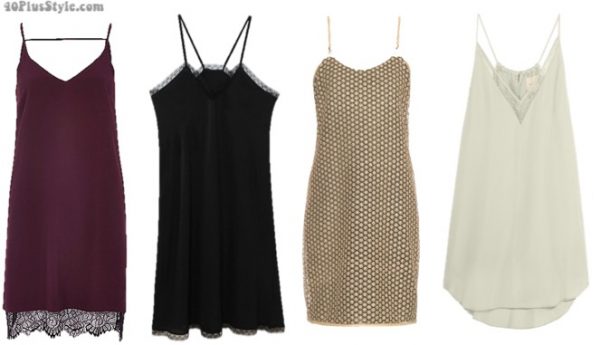 How to wear a slip dress
As you can see from above, there are a number of slip dress styles you can select. Keep in mind that you can style the slip dress either up or down, depending on the kind of look you're going for and the occasion to which you will be wearing your dress.
The best way to think about styling options here is (a) think outside of the box and (b) keep it simple so it doesn't look overdone or overly trendy.
#1 Try a top underneath
If the thought of exposing so much of your arms and potentially decolletage is too much, one option to comfortably wear this trend is by layering a top underneath the dress. Yes, this is definitely a 90s trend.
However, if you keep it simple and select quality, basic pieces, you actually are able to create a chic and flattering look.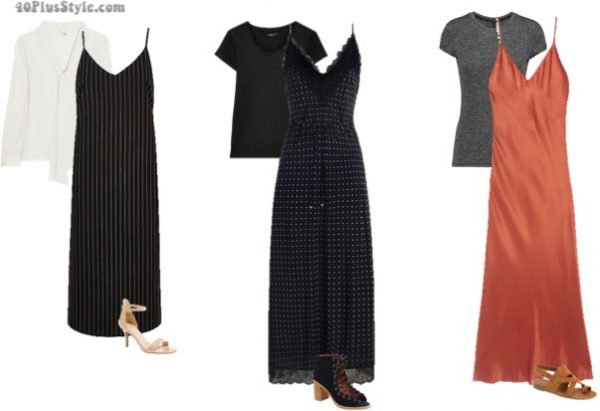 #2 Get polished with a blazer
Want to give your slip dress a bit of an upgrade? Go with a fitted or slightly oversized blazer. Blazers are known for polishing almost any ensemble they are paired with and slip dresses are no exception to this rule.
If you would like to elongate your figure, add a cropped blazer to a midi to maxi length slip dress and pair the look with slightly heeled shoes (from oxfords to pumps). The play on proportions will do fabulous things for your silhouette.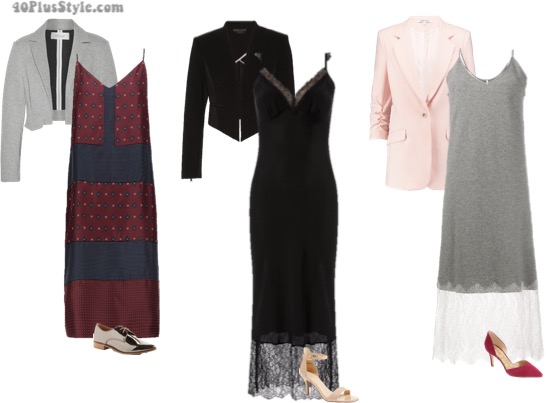 #3 Throw a sweater over it
Another approach to showing less skin and keeping the look perfect for cooler months is to throw a sweater over your dress.
Whether you're completely coordinating (As shown in the first look below) or you go with clashing prints (as show in the second look), a sweater worn on top of the slip dress creates an effortless, off-duty model vibe.
It's a very accessible look that allows you to throw your own unique spin.
#4 Wear short slip dresses over pants
So, you stumble onto a slip dress that is uncomfortably short, yet deliriously gorgeous and a must have. Or, it's getting colder and wearing a shorter dress is no longer a feasible styling option.
The secret here is to treat the dress as you would a tunic. From leather pants to tailored slim leg trousers, you can create a very chic look by effortlessly layering your slip dress over well fitted bottoms. For more on this styling approach, take a look at my post on how to wear tunics or short dresses with pants.
Of course you can further layer this look by adding a jacket or cardigan.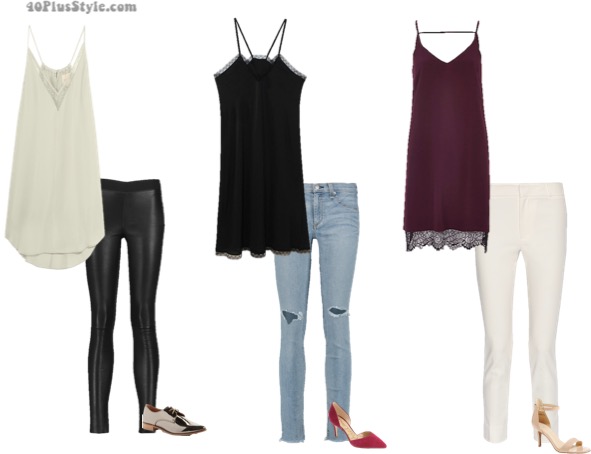 #5 Coordinate with a sleeveless coat or jacket
For a layered look that also has a glam tone to it, try pairing your slip dress with a coordinating sleeveless coat or jacket. Much like matching dresses and coats, the look is less serious but seriously stylish.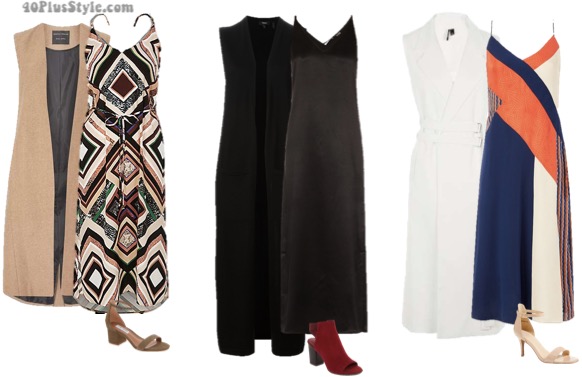 #6 Toughened with a leather jacket
Add a little edge to the sensual and feminine tones of a slip dress by adding on a leather jacket. Very practical for colder weather, this look also adds a stylish edge.
Imagine the contrast of white lace and a leather moto jacket. Very modern and edgy, yet easy to create.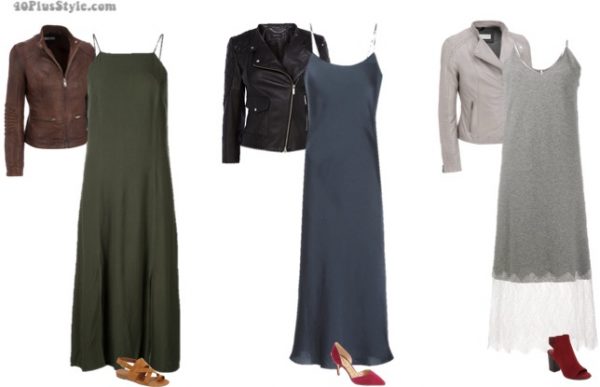 #7 Dress down with denim
A denim jacket is the perfect way to ground your look and actually dress it down. The juxtaposition between slinky silk and tough denim is a perfect one.
Once again, it offers a very casual, off-duty model vibe that is easily achievable with pieces you already have in your closet. For a chic-errands-around-town look, try the look with an awesome pair of ballet flats or oxfords.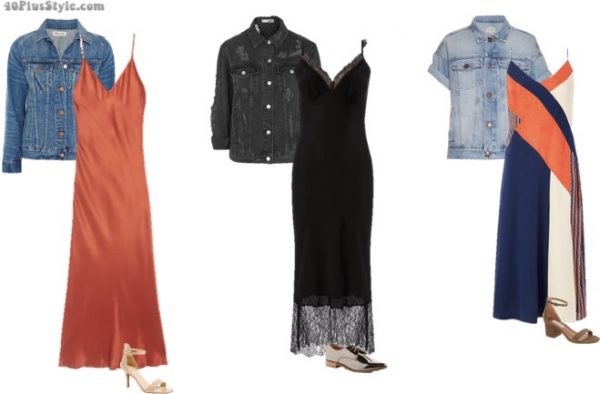 Related articles to how to wear a slip dress:
Are you considering slip dresses this fall? Which of these options would have your preference?
Want to get more articles from 40+style in your inbox, subscribe here.
You can also connect with 40+style on Facebook, Instagram or Pinterest.
Support 40+style by using the links in our articles to shop. As an associate for Amazon and many other brands, we receive a small commission (at no cost to you) on qualifying purchases which enables us to keep creating amazing free content for you. Thanks!