Grace describes her style as classy and graceful with a colorful twist. She is all that and more and we wanted to find out more about this colorful woman. Learn more about her style journey and find out how you can add a bit of color to your style!

Can you tell us a little bit more about yourself?
I was born and raised in China. In 2007, I moved to the USA to marry my husband who I had met 3 years earlier in Shanghai. My day job is a teacher, but I am also a fashion blogger and TV co-host on some local Detroit area stations.
As a point of reference which age group do you belong to or perhaps you are willing to share your age?
The Younger Looking 40+ group!
Can you tell us a bit more about Color and Grace and why you created it?
I have always had a love for colors but I have found that, just like my tastes in food, it has changed while I have aged. I used to love black and white, but now, bolder colors make my eyes more happy.
Because of this, I use a lot of colors in my outfits. Now it has become one of the key components of my signature style. So much so that I wanted it to be part of the name of my blog.
Color and Grace seemed like a natural choice. I have always had a dream of being in the fashion industry but could never find a chance to get my foot in the door into this world.
Until finally the world changed and the whole idea of fashion blogger appeared.
How would you describe your own personal style?
Classy, graceful (of course!) and with a colorful fun twist.
What would you consider the most important components of your style?
Color combinations. Different colors put together can create totally unique vibes.
Where do you live and how does that influence your style?
I live in the greater Detroit area of Michigan. When I lived in China, I left the cold weather of my hometown for warm Shanghai. But then my husband took me right back to a place with long and cold winters!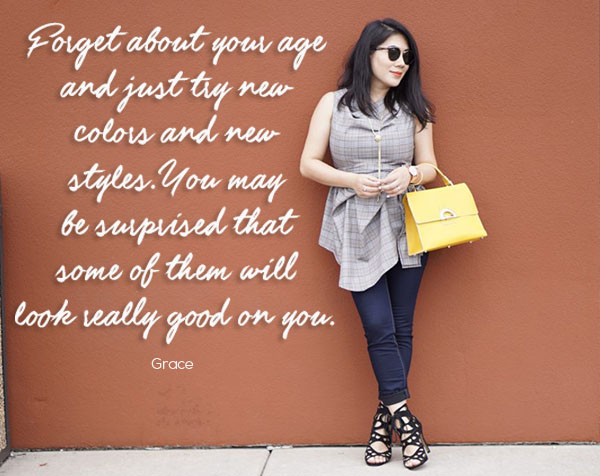 But the upside is that time of year is the best to show off winter coats and layers. So I now have a huge collection of coats and jackets. 😉
Do you feel you have a signature style?
Yes I do. Mine will be classy but also with a large dose of colorful fun.
What inspires your outfit choices the most?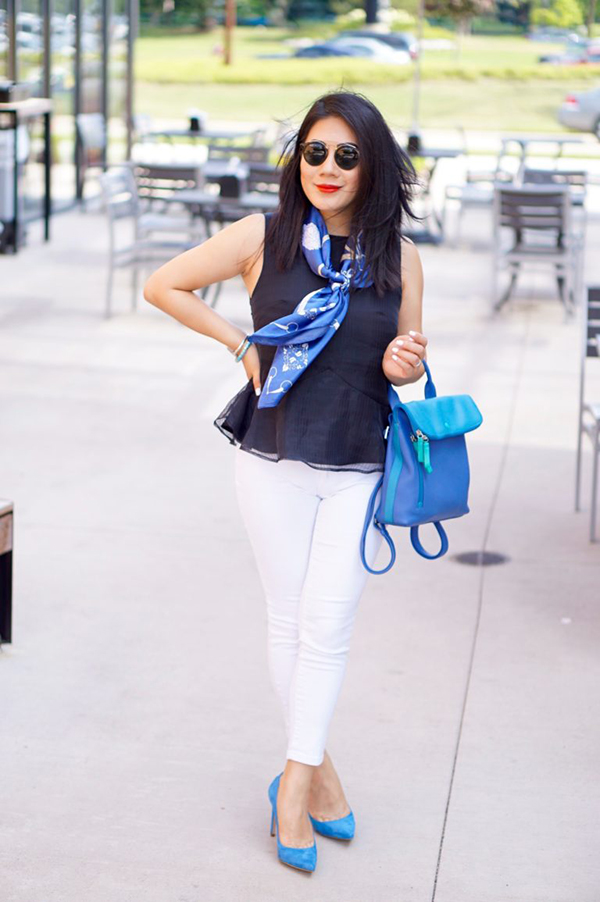 The Internet. When I have a hard time to come up a great idea to pull an outfit together. I will go online to see what others did. And usually it will give me a lot of cool ideas.
Do you take things like color profiling or body type into account when you dress?
Of course! I had a COLOR ME BEAUTIFUL training course years ago. So I am into colors but I am not limited by them either. I am willing to try any new shade.
I am a petite woman with a rectangular body type, so I pick pieces based on if they can flatter my body.
What are your fashion tips for petite women?
A fit and flare short dress is a no fail choice for all petite women.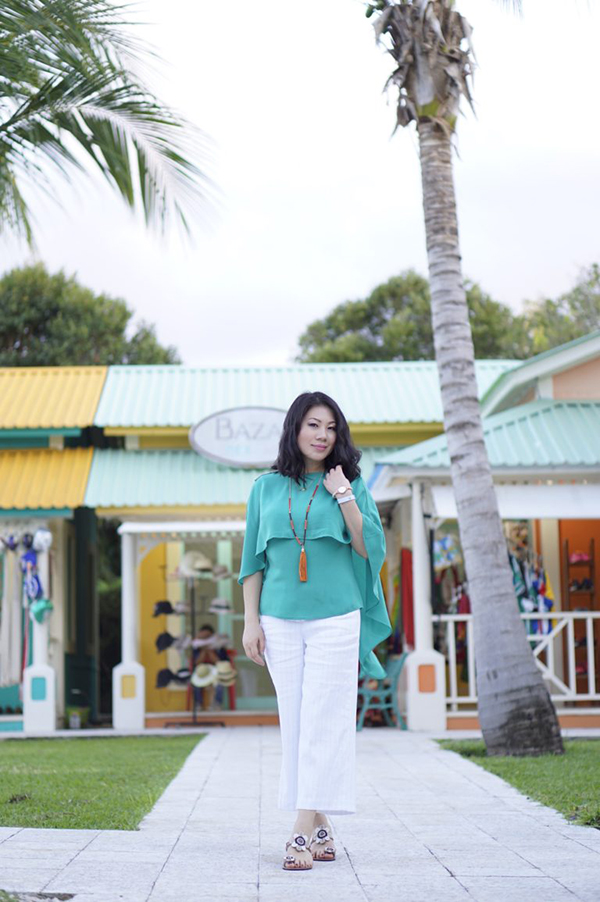 Has your style changed at all after turning 40?
I think so. But not a lot. I think not just my age, but also this fashion blogging experience, pushes me into taking more risks and trying more new things in my wardrobe. Before, my style was classy and elegant, but now, I have added on the fun vibe.
Do you believe in dressing 'age appropriately' and what does it mean to you?
I have my own dressing age appropriately rules. I don't believe a certain age woman should or should not wear something. It all depends on the person. If you still have the figure, then go for it. But for me, the bottom line is picking the pieces most flattering on me and that make me look classy.
I probably can still rock a very sexy mini dress but I don't want people to associate me with that style.
Would you say that at this stage of your life you are now more, or less interested in fashion, style and the way you look?
I have always had interest in fashion but now I don't care as much about what others think. I dress for myself and to please my own eyes. And as it turns out, I still get a lot of comments and compliments when I go out so I must be doing something right.
Why is the way you look important to you?
It gives me confidence and reminds me that I can overcome obstacles and become the person I want to.
Do you follow trends? And if yes, which trends excite you at the moment?
I do. But not all of them. I only pick what fits my style. For this fall, I am into the Victorian trend. Those romantic and classy styles coming back with more fun modern twists really appeal to me.
Do you have any fashion and style tips for women over 40?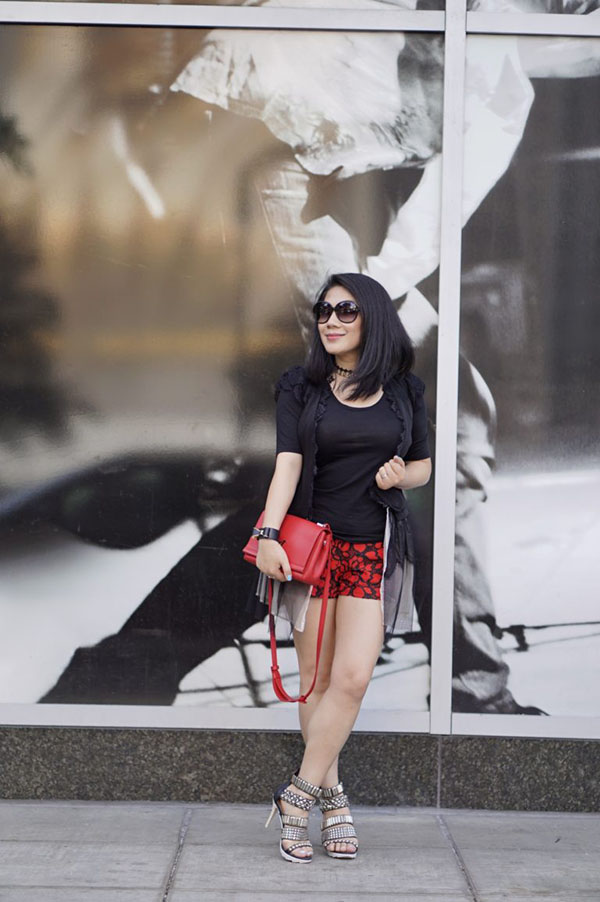 Forget about your age and just try new colors and new styles. You may be surprised that some of them will look really good on you.
What are your plans for your blog and how do you see it develop over the coming years?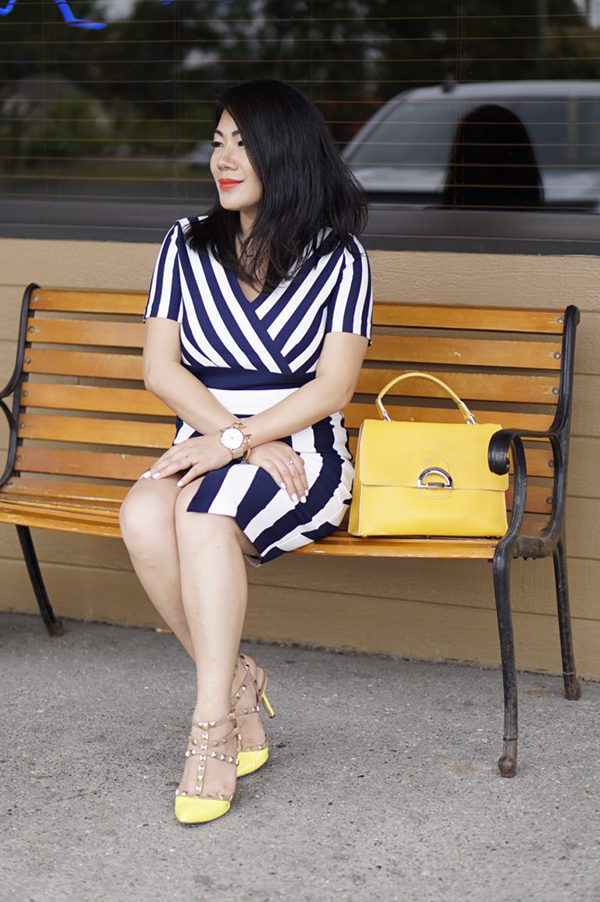 I hope my blogging can become a much bigger resource in the future. I post 3 times per week and have not skipped a single day since I started my blog in December, 2014. So my plan is to just continue what I am doing now and keep steadily building up.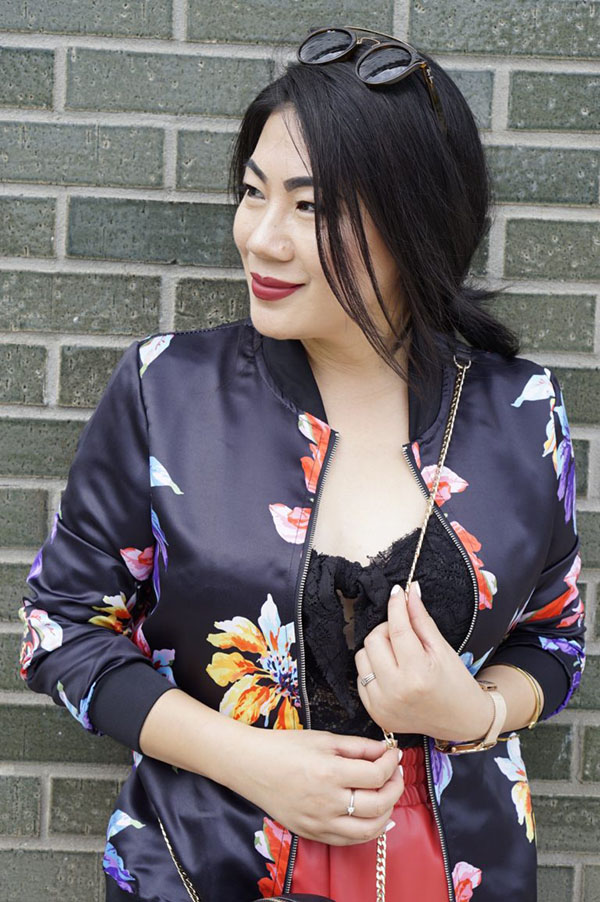 See more of Grace's fabulous and vibrant outfits at Color and Grace and @ColorandGrace  on Instagram!
Which of Grace's looks is your personal favorite?

Like this post? Share it on Pinterest!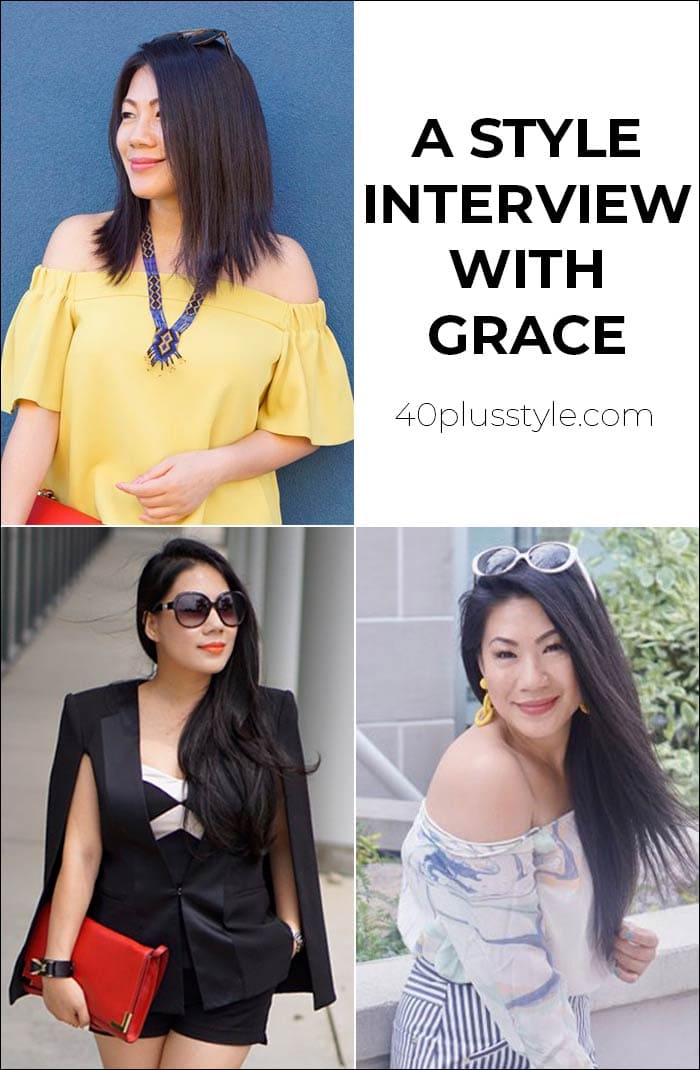 Want to get more articles from 40+style in your inbox, subscribe here.
You can also connect with 40+style on Facebook, Instagram or Pinterest.
Support 40+style by using the links in our articles to shop. As an associate for Amazon and many other brands, we receive a small commission (at no cost to you) on qualifying purchases which enables us to keep creating amazing free content for you. Thanks!