You all know how much I love both variety and creating the perfect silhouette. I like asymmetry and creating a nice diagonal line. I also like to create looks that make me look longer and leaner. Covered Perfectly has now created a new top that can do all that and more.
Introducing the new Covered Perfectly Cascading Vest; a vest that allows you to create many different kind of outfits.
It's light weight, does not wrinkle, so you could change your outfit throughout the day if you wanted to!
Today I just like to explore a few of the options. Can you let me know which option you like best?
Option 1: worn lose over a white base (see above)
The white base creates a nice column of color and the vest gives you a lengthening vertical line. This alone will make you look longer and leaner. It also does a great job at hiding your belly if you have one. For an even longer look, opt to have your skinnies in full length.
Option 2 and 3: the lose front knot or the asymmetrical side knot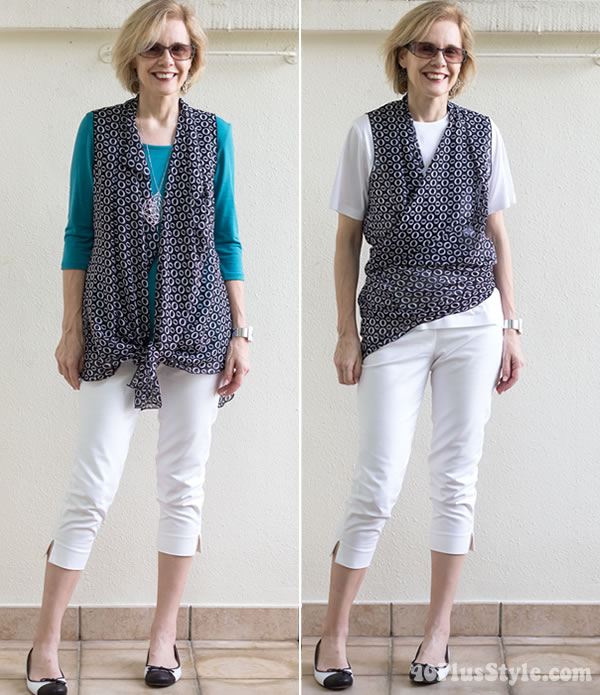 For a very blousy relaxed look, the relaxed knot is a great option.
For a leaner look and more emphasis on the waist try the side knot which create a nice diagonal line and a great asymmetrical look.
Option 4: Long and lean in black and white
Instead of a column of color I choose 2 different colors as the base here. It does not elongate as much as the column of color but creates a playful and arty look. You still get a nice long lean vertical line from the vest though.
Option 5: emphasize the waist
Instead of a long lean line, I'm going for emphasis on the waist instead in this look. It's more like wearing a short dress over pants which is a look I really enjoy wearing.
Option 6: wearing it on top of a black column of color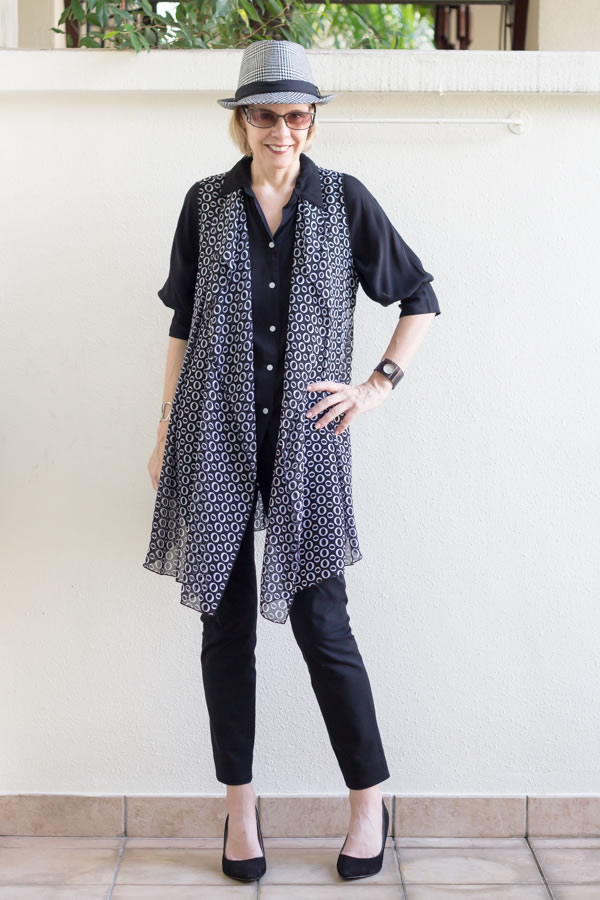 This is probably the most slimming and elongating of all the options I present here. Want to appear even longer and slimmer, opt for full length skinnies.
Options 7 and 8: dandy style and relaxed knot
You can tie the vest at the back for this dandy style. The long vest becomes a short one instead!
Or tie the knot in the front instead for a relaxed funky style.
Option 9: combine with a dress
Who says you can only wear the vest with pants? It looks equally good with a dress, again creating a nice long and lean silhouette.
Option 10: tie the knot high in your waist for a ladylike look
Want to look chic for an evening out? This look creates a great waist and makes the dress look more tailored.
Options 11 and 12: relaxed knot on a white base and a playful asymmetrical drape
The relaxed knot works great on a white base too.
You know I always try to create something asymmetrical and option 12 is both playful and arty.
Option 13: Play with color underneath
Of course you don't have to stick to a column of color or black and white. This black and white vest can be combined with many colors like this simple comfort top from Covered Perfectly.
Well, there you have it ladies. 13 options of the many, many possibilities of wearing this cascading vest from Covered Perfectly. It's available in 4 prints at the moment and Pauline tells me it is one of her fastest selling items ever. You may just want to get one for yourself now that they are still available. At $39.95 it's very affordable and if you enter the coupon code 40+ you will even get 20% off!
Visit Covered Perfectly for their complete collection of tops and vests.
Which of the above options do you like best? How would you wear your vest?

This article was brought to you in collaboration with Covered Perfectly
Want to get more articles from 40+style in your inbox, subscribe here.
You can also connect with 40+style on Facebook, Instagram or Pinterest.
Support 40+style by using the links in our articles to shop. As an associate for Amazon and many other brands, we receive a small commission (at no cost to you) on qualifying purchases which enables us to keep creating amazing free content for you. Thanks!