A great makeup artist can make any scar disappear. However, for most of us, it can seem like we are simply drawing more attention to it. So how do you conceal a spot, breakout or troublesome scar?
These are my tips on how to best conceal them.

The art of disguise: 5 steps
1. Right Colour
You want to choose a shade of concealer that is the most similar to that of your natural skin colour. When you are testing concealers, be patient as sometimes the colour it dries is different in colour then when it is applied.
2. Foundation First
One of the most effective ways to conceal scars is to first apply your foundation and then your concealer. I find that most of the time you will wipe away the concealer with your brush, sponge or fingers as you apply your foundation on top. Not to mention you will use more product than necessary.
3. Apply Sparingly
Honestly, apply just enough to spread a light layer over the area you need to conceal. You can always add more if necessary.
4. Tab & Dab
This is the ultimate trick to concealing anything! Apply the concealer using light, dabbing or tapping motions to evenly blend out the concealer.
5. Set with Powder
For ultimate staying power, my trade secret is to always set your foundation and concealer with a powder. This will prolong the longevity of your makeup.

Real Dilemmas
Some of you might be saying.. "That sounds easy but I have really dark marks" or "what do I do with pockmarks?"
For dark scar marks, I suggest using a touch of orange concealer to neutralise the bluish-brown darkness from the mark. Don't forget to apply your regular concealer or foundation on top – you don't want to walk around with an orange spotted face!
For a keloid scar or a raised scar, do not use a lighter colour concealer. This will draw attention to that raised area instead of minimising it. You are better off using a concealer that is a perfect match to the colour of your skin so that it blends in.
If you have a concave pockmark or scar, I would try using an angled brush dipped in a concealer that's a shade lighter than your skin tone. Fill in the center of the pockmark without going over the edges and then dust skin with translucent powder. This is professional technique that I was taught when I first started makeup. It will create the illusion of raising the depth of the pockmark or scar. An instant fix to your beauty dilemma.
Preventing Blemishes
Pimples and blemishes are often unavoidable. It's paramount to have a skin care regimen that you follow daily, and please make sure you always remove your makeup.
Here are my tips in trying to beat scars and acne:
Primer
Primers have a silicone base that helps fill in lines and evens out the surface texture of the skin. It also helps create a barrier between your pores and your makeup, as well as making your makeup stay on longer.
Scar Cream
Scar creams are formulated to help break up scar tissue and reduce the appearance of acne scars. Dab a bit of the cream on your skin each night. With regular use you will start to see the scars fading. You can find inexpensive scar creams at any drugstore. You can also, seek help from a dermatologist for combating troublesome scars.
Whether you suffer regularly from acne or there has been a sudden change in hormones. We all suffer acne or scars at some point. For me, I suffer acne near my hairline due to hair products and sweat, not to mention many stretch marks from childbirth. I suggest always using a little "healing power" to help the marks get better.
Always:
Protect the scar from sun exposure as sun damage results in delayed or improper healing.
Treat the scar with a product with skin healing ingredients such as quercetin (an antioxidant), onion extract, petrolatum and vitamin C.
Avoid using drying cleansers, including bar soaps, and applying products that contain irritating ingredients, like lavender or eucalyptus, as they can cause serious irritation that will inhibit the skin's ideal healing response.
Avoid using products that cause a breakout in acne, such as makeup or face washes.
Give your skin some downtime and avoid applying makeup. Just let your skin breathe freely.
Drink lots of water and eat healthy – your skin will appreciate it.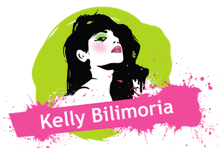 Kelly is 40+Style's makeup and beauty expert writer. She is a professional makeup artist currently residing in Singapore. For more information or bookings contact her through her website.
Like this article? Save it on Pinterest!
Want to get more articles from 40+style in your inbox, subscribe here.
You can also connect with 40+style on Facebook, Instagram or Pinterest.
Support 40+style by using the links in our articles to shop. As an associate for Amazon and many other brands, we receive a small commission (at no cost to you) on qualifying purchases which enables us to keep creating amazing free content for you. Thanks!