Hair, just like our complexion and our bodies, becomes more delicate as we age. Once you're over 40, your hair needs more careful, considerate care to look beautiful and strong.
Since I've chosen to still wear my hair long, I have to be extra mindful of the products I use and the way I treat my longer hair to keep it as healthy as possible.
Here are just a few of the strategies that I've found that work for me.
Don't wash your hair too often.
This might seem counterintuitive, but as you age, your hair and scalp often get drier. I find that washing my hair every two or three days is more than enough. It keeps my hair clean but also doesn't strip away the natural oils.
Ok, don't laugh, one of my favorite tips? Use a shower cap to protect your hairstyle and you'll have to redo it less often. Today's new shower caps have a terry lining to soak up any steam so your blow-dried hairstyle lasts longer. (I guess it is true, that everything old is new again.)
Use heated styling tools sparingly.
I often let my hair air dry and then put it into a bun or old style pin curls using bobby pins to give my hair movement and bounce. My favorite beauty tools are an ionic blow dryer, the Calista Perfecter to add curl, and a flat iron, but I don't use these products every day and I make sure to use a heat protectant styling spray whenever I use them to protect my hair from heat damage.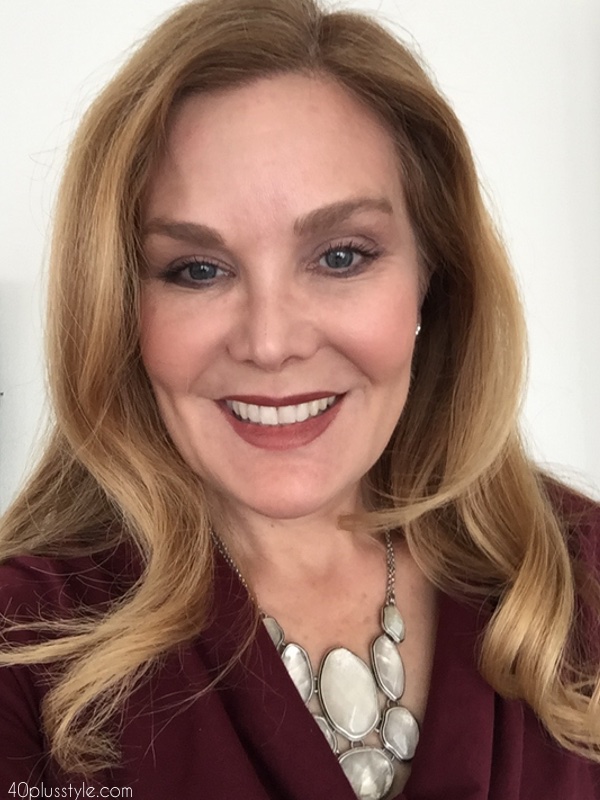 Trim your hair frequently.
Even though my hair is long, I get the ends of my hair trimmed every few weeks to cut down on split ends and maintain my style.
If you color your hair, use a color that's made specifically for gray hair.
Gray hair tends to be drier and stiffer making it more resistant to color. (And did you know what makes our hair turn gray in the first place? It's a decrease in melanin production that takes the color out of our strands so our gray hair is actually not a new hair color but the absence of our original hair color.)
So if you opt to color your hair at home, use a product that is specifically designed to cover gray. And if you go to a salon, ask them to use a hair coloring system that's for gray hair. These lines have ingredients to cover stubborn grays and hues that interact specifically with grays.
If you color your hair at home, I've heard good things about Madison Reed at home hair color kits for gray hair.
Keep highlights to a minimum
I have a few highlights in my hair, but I try to not go overboard because highlights can dry out fragile over 40 hair.
My stylist paints on my highlights by hand, the fancy name for this is balayage. Balayage is less drying than using foils to add highlights to your hair. Ask you hair stylist to try balayage to add a few highlights to your hair. Since highlights can be drying though, concentrate just a few highlights near your face to brighten, and add a few sparingly through the rest of your hair.
Deep condition every time you color your hair
Every single time I color my hair I have a deep conditioning treatment. And I do a weekly deep condition at home with Olaplex Hair Perfecter to maintain my hair's condition.
Use gentle hair elastics
If you pull your hair back in a ponytail, make sure to use coated hair elastics or these fabric hair ties that don't pull your hair out or get it tangled.
I remember those old rules of "no long hair over 40". What a ridiculous thought! I'm keeping my hair as healthy as I can so I can keep wearing it long, and bucking those old outdated ideas of aging and hair length for women over 40.
What are your secrets to keeping your hair healthy?
Here are a few of the products I use to keep my hair healthy and strong.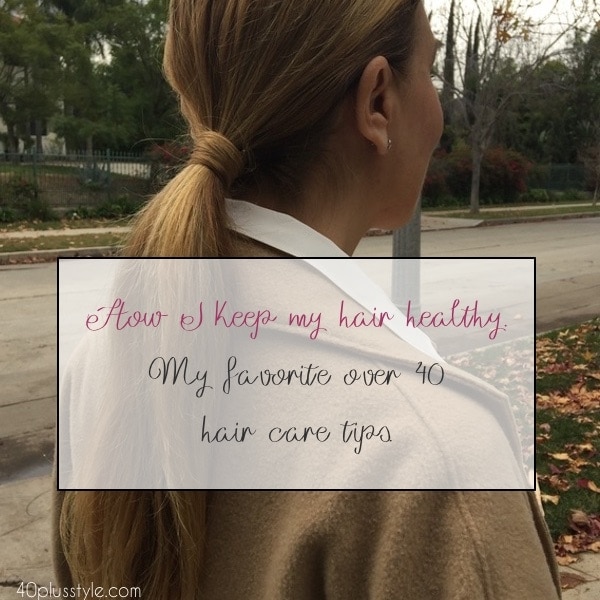 Want to get more articles from 40+style in your inbox, subscribe here.
You can also connect with 40+style on Facebook, Instagram or Pinterest.
Support 40+style by using the links in our articles to shop. As an associate for Amazon and many other brands, we receive a small commission (at no cost to you) on qualifying purchases which enables us to keep creating amazing free content for you. Thanks!