If you are thinking of getting some flared pants I have some great tips on how to wear them as well as 3 variations to show you. I did quite a bit of thrift shopping during my stay in New York (article on that still to come) and for a while now I had been looking for flared pants to replace my old white sailor pants.
I normally don't look for pants in thrift or consignment shops as I prefer to look for more fancier items there, but this shop was quite small and these pants jumped into my eye. They seemed to meet my requirements for white pants as they are stretchy, not too thin, had pockets, were flared and were my size. I noted that they were by Theory, a brand that is very prominent in the US and that I snatched up for other items too.
You may also like my tips on how to wear wide leg pants.
I guess the pants were meant for me as they fit like a glove. I was with 40+ style readers at the time and they all agreed I had to buy these. An easy decision as they were very affordable.
Of course I wore them as soon as I could. When fashion week started the weather had cooled down a bit, therefore perfect weather for pants. I did not have any fashion shows to attend but was going to meet Jamie today and would later attend a special gathering with Garance Doré I wanted to have an outfit that would not draw too much attention, was comfortable for the whole day yet still fashionable.
I decided to combine it with a summer top from Stella Carakasi and a (very old) denim stretch jacket. The icing on the cake was provided by a new necklace and earring earlier bought on a street fair from independent designer AC Agates, who makes the most exquisite handmade jewelry.
How to wear flared pants?
A few tips on how to ware flared pants, especially those (like these) that are not super tight at the top.
Make sure they fit well around your waist and bottom. You don't want them too be too baggy here.
You can choose to have your pants tightly fitted around the upper legs (like my Paige flared jeans do) or have the fit a bit more relaxed and skimming the skin as in the white pants.
Make sure your top is not too long. You want to show that your pants fit tightly at the top which makes the look more streamlined, lengthening and flattering.
Flared pants look best with pointy heels. Both my white and blue jeans flares can only be worn with heels as they are too long to wear with flats. Make sure that your pants almost hit the ground when worn with heels. Don't think that you can't wear flared pants when you are short! They can be very lengthening if you follow the tips above.
Want even more of a lengthening illusion? Wear pointy shoes in a similar color as your pants.
Here is how I wore the white flared pants back in Singapore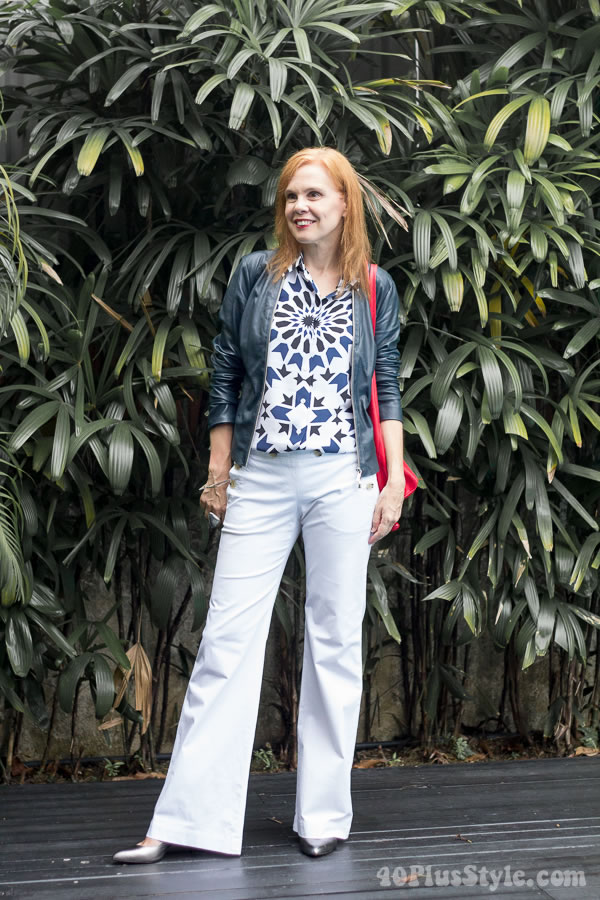 Paige flared jeans
I acquired these Paige flared jeans in Vancouver. They fit like a dream and make my legs seem very long. They were exactly the correct height for me too when worn with with heels. I like these jeans a lot with short tailored blazers. You can either tuck in your tops or have a short top underneath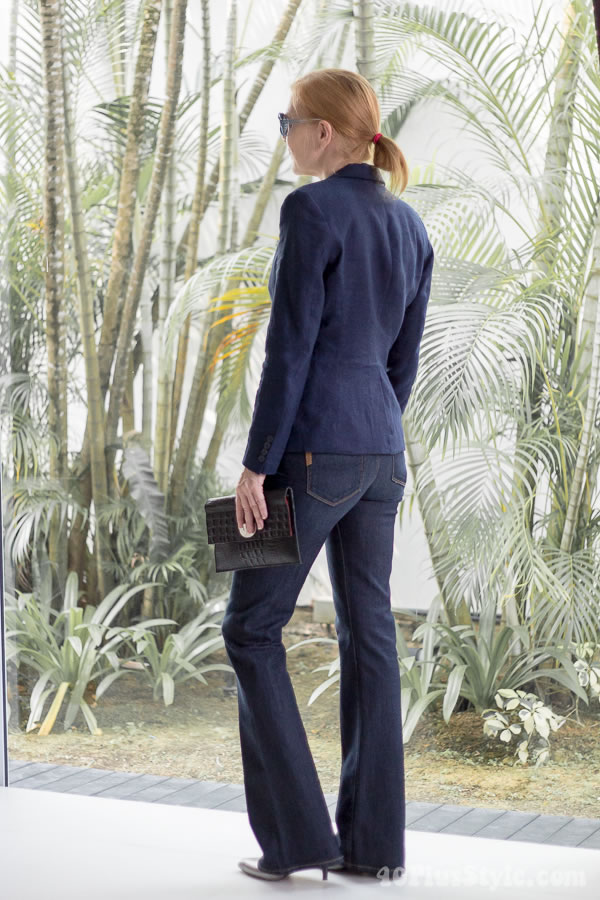 Who do I think I am?
For a bit of a laugh, have a look at this funny series of images. 40+Style photographer Denton thought it would be fun to photograph me amid the mayhem that was the first day of fashion week. Clearly the woman approaching on the left was not pleased.
This is what I think was going through her mind.
I'm coming through…Wait who is that woman blocking my way?……
Does she not have eyes in her back and see that I'm coming!….
Seriously, you are photographing that? I had to change my path for this woman? She looks ancient! Who does she think she is?!!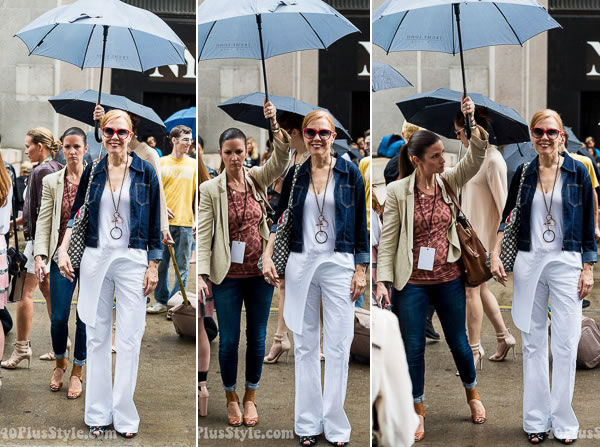 I guess next time I should check my direct surroundings that I'm not blocking "important" people before posing….
Outfit details
Top outfit: pants, thrifted, brand is Theory, denim jacket, old, Sportsgirl, asymmetrical top, old, Stella Carakasi, shoes Lisa Tucci, necklace and earrings AC Agates, ring Sistaphyre
Middle outfit: Equipment silk top (on sale), leather and jersey jacket, bought in sale, brand Arma collection, Lotus pumps (one of the most comfortable pumps ever!, here is a closed heel version), ring and bracelets Sistaphyre, red ring Saskia de Vries Designs
Bottom outfit: Paige flared jeans, very old tank top, H&M blazer, Lotus pumps
Do you like to wear flared jeans?
Photography of first outfit by Denton Taylor
Want to get more articles from 40+style in your inbox, subscribe here.
You can also connect with 40+style on Facebook, Instagram or Pinterest.
Support 40+style by using the links in our articles to shop. As an associate for Amazon and many other brands, we receive a small commission (at no cost to you) on qualifying purchases which enables us to keep creating amazing free content for you. Thanks!