I'm sure you're washing your hands more than ever right now. But, ironically, washing hands more can actually make them drier as you strip the protective layer of oils from your skin. In this article you will find the best handcream to use no matter how dry or chapped your hands are.
The hands are often one of the first places to start to show age, as they're always exposed to the elements. So, finding a great hand cream, and using it regularly, is important.
In this article, you'll find the best handcream to use, whether you have dry or chapped hands, or you are simply looking for an easily-absorbed hand cream to use each time your wash.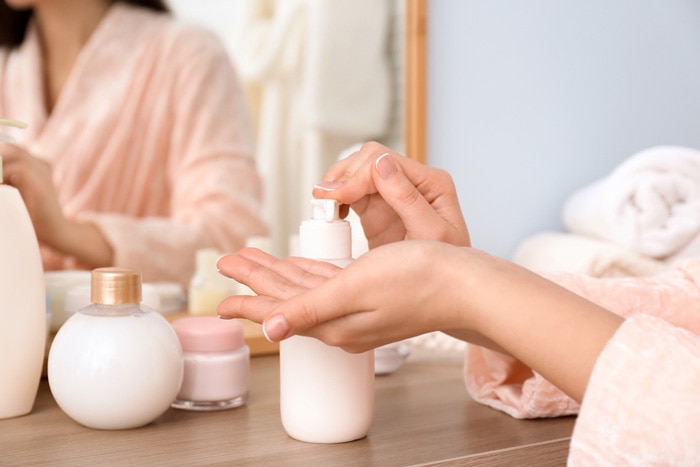 1. Best handcream for dry hands
Aveda is one of Jennifer Aniston's favorite brands, and it's one of mine too. This Aveda hand relief cream is what I'm using at the moment.
It's soothing, moisturizing, and it lasts through a number of hand washes.
Aveda Hand Relief Moisturizing Cream
2. Best handcream for its beautiful scent
I particularly love having a hand cream with a lovely scent to rub in at bedtime. This Laura Mercier cream has a subtle coconut scent which reminds me of vacations.
Laura Mercier Almond Coconut Milk Hand Crème
3. Best hand moisturizer for chapped hands
If you find your hands are really suffering right now, then an ultra-strength hand cream will be best. It does take a little while to soak in, so I find this one is best to use at night.
Kiehl's Since 1851 Ultimate Strength Hand Salve
4. Best hand lotion for dark spots
It's common to suffer from age spots on your hands because of sun exposure over the years. This Estée Lauder cream is a real treat for your hands, and is on of the best handcream options to smooth away the appearance of dark spots, as well as helping to reduce crepiness.
Estée Lauder Re-Nutriv Intensive Smoothing Hand Creme
5. Best cream for cracked hands
If you find that your hands aren't just dry, but they are very chapped and cracked, you will need to heal them rather than simply moisurizing.
This salve from Gehwol is one of the best handcream choices for really sore hands, and for feet if you also suffer from cracked heels.
GEHWOLmed® Salve for Cracked Skin
6. Best dry hands lotion for easy absorption
When you are washing your hands a lot, and then applying a hand cream, you usually want to get back to what you were doing straight away, which can be tricky if your hand cream takes ages to soak in.
Fresh's Seaberry Nourishing Cream soaks in really easily for me, without oiliness.
Fresh Seaberry Nourishing Hand Cream
7. Best hand moisturizer for over-washed hands
Another great option when you feel like you're washing your hands every minute of the day! Tenoverten is a good brand if you are looking for a cream which uses natural ingredients.
Tenoverten Hand Restorative Cream
8. Best lotion for dry hands for amazing value
You are likely to be using more hand cream than usual right now, so if you are looking for a budget option, you really can't go wrong with the intensive Care cream from Vaseline.
It goes on in a thin layer and doesn't leave a greasy residue, making it good for regular use.
Vaseline Essential Healing Hand and Body Lotion
9. Best hand balm from a cult brand
Have your tried Burt's Bees yet? It's one of my favorite beauty brands. Plus there's a very romantic story behind the brand!
One day, Burt pulled over in his yellow pick-up when he saw his future love Roxanne hitchhiking. She started making candles with the leftover bees wax from his hives, before realizing it could be put to good use in beauty and care products.
The rest is history. Burt's Bees handwax is one of its most iconic products. As you can imagine, it features beeswax among the ingredients. A good size to keep in your handbag for moisturizing on-the-go.
Burt's Bees 100% Natural Hand Salve
10. Best hand cream for dry skin – to nourish very dry skin
L'Occitane is another cult brand which is definitely worth trying, if you haven't already. After all, if you can't travel to Provence right now, you can still bring a little touch of France to you.
L'Occitane Nourishing & Intensive Hand Balm
11. Best hand cream for dry hands – for natural moisturising
Do you prefer to know that the ingredients in your products are all natural? JR Watkins uses mostly natural ingredients and its creams and lotions are made in the USA.
J.R. Watkins Natural Moisturizing Hand Cream
12. Best anti aging hand cream – for on-the-go nourishment
Palmers was launched more than 160 years ago and its cocoa butter products are used by everyone from Naomi Campbell to Katy Perry. The coconut oil cream is lovely too, and also features Vitamin E on the ingredient list, which is renowned for its anti-aging properties. This is a small tube easy to carry with you.
Palmer's Coconut Oil Formula Hand Cream
13. Best hand cream for dry skin – for overnight treatment
If you find that your hands really need an intensive treat, then use a different hand cream overnight, in the same way you use a day cream and a night cream on your face.
Gold Bond's overnight hand cream locks in moisture while you sleep. It also has a lovely calming scent, which is perfect for just before you go to sleep.
Gold Bond Ultimate Overnight Deep Moisturizing Lotion
14. Best hand cream brands – if you also suffer from flaky skin
If you have a skin condition such as eczema, you are probably finding that it is exacerbated by frequent handwashing.
Look for a hand cream which also offers relief for flaky skin, as well as moisturizing.
Eucerin Intensive Repair Lotion
15. Best all-purpose cream to use as a hand and nail cream
This little blue tub of Nivea Creme is surely a product that everyone has had in their handbag or makeup bag at some point. It dates back to the 1880s, and is still loved today, with celebrities including Reese Witherspoon, Kate Middleton and Kate Winslet using it as part of their beauty routine.
You can use on your face and hands, or anywhere where your skin feels dry.
16. Best drugstore handcream – for fragrance free
If you prefer not to have any fragrance at all in your hand cream – either because you have allergies or because you don't want it to compete with your perfume, Norwegian Formula is a good option.
It was actually developed for fishermen in the Arctic, so it should work for you!
Neutrogena Norwegian Formula Hand Cream
17. Best dry hand cream – for being kind to the environment
The Body Shop's hemp oil is cultivated from ethically grown crops in France. Plus, hemp is an environmentally-friendly plant as it naturally cleans the soil as it grows and captures four times the CO2 of trees.
But, importantly, it is also deeply nourishing for your hands. This is the smaller tube so you can pop in your handbag.
The Body Shop Hemp Hand Protector
18 Best hand cream for wrinkles – use an SPF
Given that your hands are on display most of the time, unless you wear gloves year-round, a hand cream with an SPF can be a good idea, particularly if you are heading out for a walk in the sunshine.
Eucerin Daily Hydration Hand Cream
19. Best lotion for cracked hands – for an intensive treat
If you really want to give your hands a treat, then you can treat them to a hand mask, in the same way you would use a face mask. Simply put your hands in the gloves, leave them on for 20 minutes and, voila! Smoother hands.
You can always leave them on overnight for a more intensive effect.
I'd love to hear your recommendation. What are your suggestions for the best hand creams for women?
Continue reading:
Like this post on the best hand creams for women? Share it on Pinterest!
Want to get more articles from 40+style in your inbox, subscribe here.
You can also connect with 40+style on Facebook, Instagram or Pinterest.
Support 40+style by using the links in our articles to shop. As an associate for Amazon and many other brands, we receive a small commission (at no cost to you) on qualifying purchases which enables us to keep creating amazing free content for you. Thanks!