Whether you're a minimalist or a maximalist when it comes to accessories, you'll find something for you among the accessory trends 2020, as seen on the runways for fall.
See below for all the major accessory trends for fall. There are some that have been on trend for a few seasons, some that are making a comeback, and some old favorites that have been reworked to bring them up-to-date…
Accessory trends for Fall 2020
There are 22 accessory trends below for you to choose from.
1. Accessory trends 2020: Chunky chains
Thick chain necklaces have been on trend for the past couple of seasons, so you may already have invested in a statement necklace like the ones shown on the runways below. Chain earrings also put in an appearance for Fall 2020.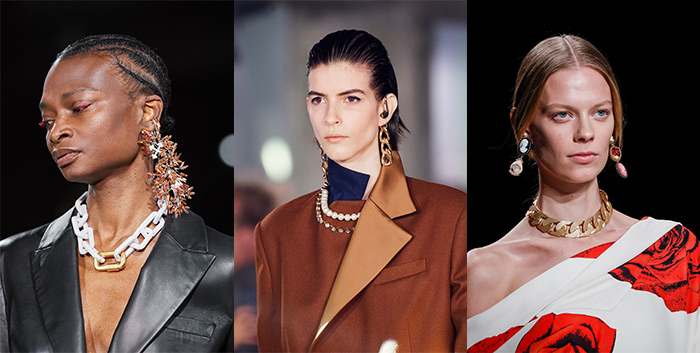 Off-White – Sacai – Ports 1961

2. Modern day pearls
Pearls are beautiful, but they can have something of an "old-fashioned" image. However, designers brought pearls up-to-date by creating interesting shapes with them or mixing them with chains for a more modern feel.
Parabal Gurung – Chanel – Erdem

3. Colorful costume
If you want to make an impact with items you already have in your closet, such as a little black dress, then one way to do it is with some over-sized costume jewelry in either traditional jewel tones, or pastel shades.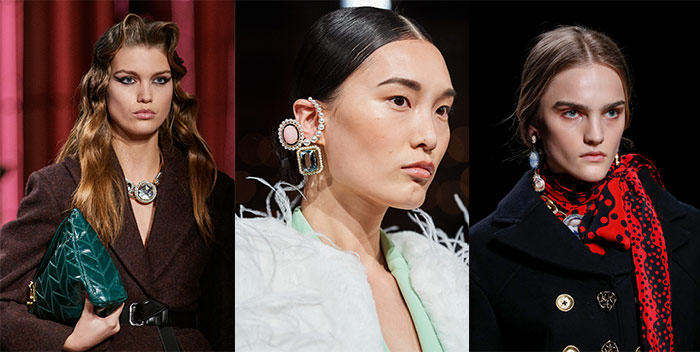 Miu Miu – Prabal Gurung – Ports 1961

4. Animal attraction
In some shape or form, the natural world always provides inspiration for designers, whether it's through the use of natural fibers or through the use of patterns such as leopard or zebra print.
This season, designers showcased actual animal shapes, such as the bird earrings at Erdem (below, left), the animal cut-outs at Stella McCartney (below, middle) or the spider necklace at Oscar de la Renta (below, right).
Erdem – Stella McCartney – Oscar de la Renta

5. Hands
Every season, there's always at least one micro-trend on the catwalks – the kind of trend that is totally unexpected, but still makes its way across the runways of a number of different designers.
And, this year, that trend is "hands". Victoria Beckham (below, middle) featured belts which definitely looked like hands giving your waist a hug, while Valentino (below, left) opted to make a statement with a pair of hands seeming to clasp necklines together, and Nicole Miller (below, right) featured hands among the charms on tiered necklaces.
Valentino – Victoria Beckham – Nicole Miller

6. Charming charms
If you have a bohemian style personality, then you probably already have a long, charm necklace in your accessories drawer. But, this is a style that can definitely work for other style personalities too, whether you prefer a glamorous, or an edgier, urban look.
Dolce & Gabbana – Marine Serre – Christian Dior

7. Stars at Oscar de la Renta
While the stars and planets weren't a feature across many runways for fall, the concept was so beautiful at Oscar de la Renta, that I definitely thought it was worth showing you. You could choose a statement necklace, to wear a pair of star stud earrings, or you could opt for dangly star earrings for evening.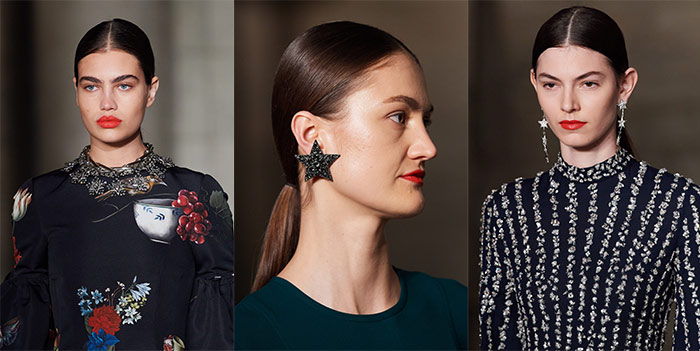 8. Florals
If you take a look at the shoe trends for fall, you'll see that flowers also feature very heavily among footwear, with designers choosing to adorn their boots with florals and foliage.
Florals also made their way to the accessory trends, with flower shapes used on brooches, earrings and headbands.
Off-White – Simone Rocha – Miu Miu

9. Fringe and feathers
Fringing was prevalent among the clothing trends for fall. If you don't want to go all-out with your fringing by adding it to your hemlines, you could always add a piece of fringed jewelry.
Tom Ford – Celine – Paco Rabanne

10. Long dangly necklaces
Long necklaces can be flattering because you can create an elongating v-shape with them. They can also add a statement to neutral clothing, or an extra element to an outfit of layers.
Chanel – Christian Dior – Chloé

11. Crosses
Obviously, crosses aren't simply a fashion statement, but designers have always taken their inspiration from all walks of life, including religion.
This season gold and gem encrusted cross chains were seen at Chanel (below, middle), while Dolce & Gabbana (below, left) mixed crosses with pearls and Gucci (below, right) opted for a pared back, but very large, approach.
Dolce & Gabbana – Chanel – Gucci

12. Chunky chokers
There weren't many subtle necklaces on the fall runways, and the choker styles were no exception. My favorite chokers were the sculptural pieces showcased by Off-White (below, right). You could wear over your fall sweater, either over or under your white shirt or with an evening dress.
Alexander McQueen – Chloé – Off-White

13. Cuff bracelets
Just as with necklaces, bracelets are big this season. A cuff bracelet looks beautiful worn with summer dresses and then you can wear with your winter evening wear or style over the cuffs of your sweaters, as shown at Chloé (below, right).
Alexander McQueen – Chanel – Chloé

14. Neck scarves
Of course, scarves are always on trend in some way. For the upcoming season, they had a definitely ladylike bent. Opt for styles in satin or silk and either drape casually to the side or tie in a bow.
Oscar de la Renta – Saint Laurent – Ports 1961

15. Ties
While the shoe trends featured masculine styles, so too did accessories, with designers finishing off their outfits with either a bow-tie or a necktie. You could always choose to wear a tuxedo with a tie for seasonal events this year, rather than a dress.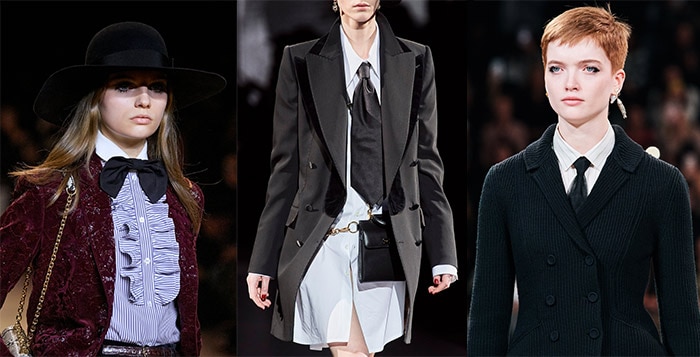 Celine – Dolce & Gabbana – Christian Dior

16. Long opera gloves
To add some drama to your outfits this season, how about a pair of long opera gloves? They're the perfect addition to an evening look if you want to stand out from the crowd.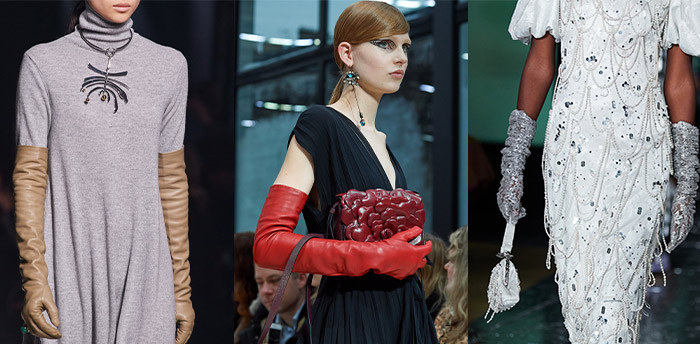 17. Colorful leather gloves
Or, for a more practical pair of gloves to keep your hands warm day-to-day, you could try a pair of short leather gloves. Rather than black, brown or tan, gloves for the upcoming season were bright and colorful, or in metallic shades.

18. Wide belts
Just as hemlines change season to season, belts tend to be thicker or thinner depending on what designers decide is the latest trend.
This fall, belts were wide to define the waist. This look is particularly flattering if you either have an hourglass figure, or you want to create the illusion that you do.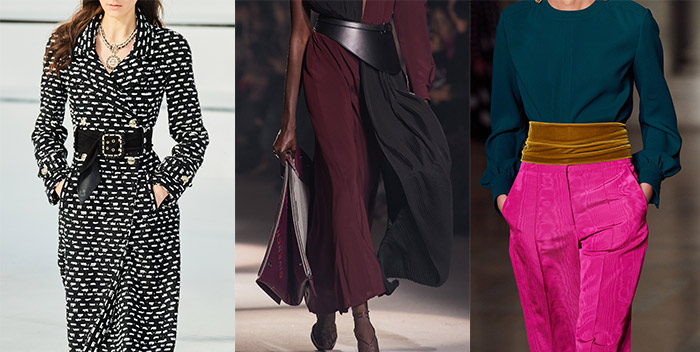 Chanel – Givenchy – Oscar de la Renta

19. Chain belts
Another choice for your belt style is a chain belt. It's up to you whether you choose a thick chain style, or a thinner option. You can wear at your natural waistline, or further towards your hips, depending on which part of your body your prefer to define.
Chanel – Sacai – Ports 1961

Also, take a look at how to wear a belt – the most flattering ways to get the most out of this accessory.
20. Patterned and colorful tights
When the weather cools down, you will definitely prefer to wear tights or leggings rather than the bare legs of summer. You can, of course, choose black opaques, or you could opt for an on-trend option such as the patterned or colorful tights on display on the runways for fall.
Chanel – Gucci – Saint Laurent

21. Headbands
Another trend from summer which is making its way through to fall is the headband. You could try a padded, raised style, or tuck your hair away from your face with a knitted option.
Dolce & Gabbana – Fendi – Prada

22. Socks with heels
If you like to add a quirky feel to your outfits (and keep your feet warm), you could wear a pair of socks with your heels.
Dolce & Gabbana – Coach – Tom Ford

Which of these fall accessory trends 2020 do you already have in your closet? Or which might you be adding to your wardrobe this season?
Continue reading:
Like this post on accessory trends 2020? Share it on Pinterest!
Images by Vogue
Want to get more articles from 40+style in your inbox, subscribe here.
You can also connect with 40+style on Facebook, Instagram or Pinterest.
Support 40+style by using the links in our articles to shop. As an associate for Amazon and many other brands, we receive a small commission (at no cost to you) on qualifying purchases which enables us to keep creating amazing free content for you. Thanks!