Getting ready for work in winter can be trickier than other seasons. It may be cold outside, but warm on your commute. Perhaps your office has air conditioning or you need boots for slippy weather but shoes when you get to work. So, with all of that, how do you put together winter work outfits that work for you, whether working from home or the office? We will help you create a capsule wardrobe of fabulous winter work outfits
Tips for putting together winter work outfits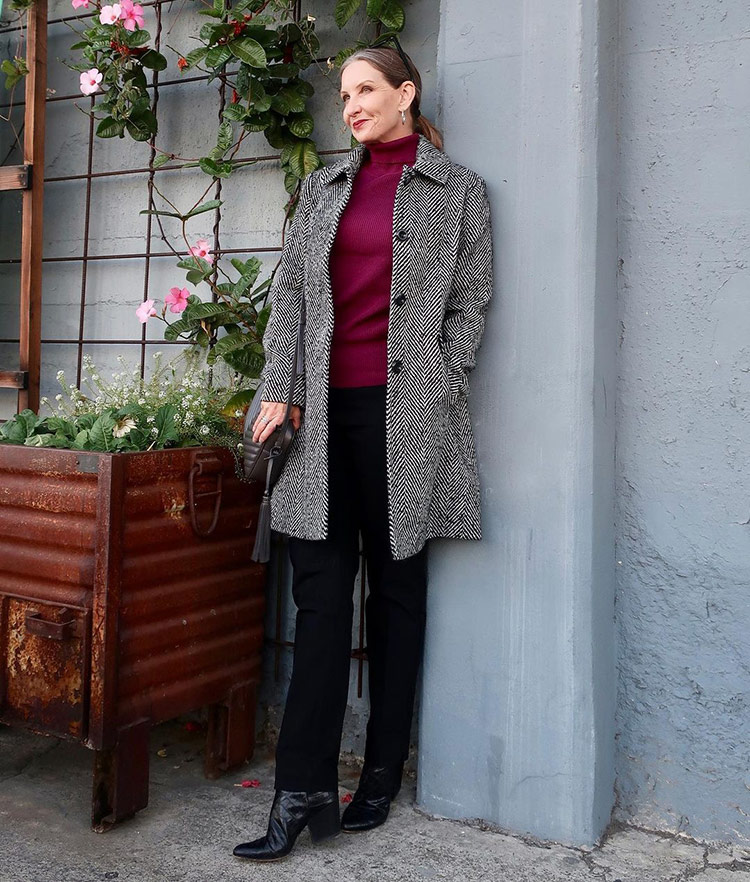 Before we look at some specific winter work outfits, let's consider what you need to think about when putting your cold weather professional looks together.
Dawn Lucy @fashionshouldbefun above (read her style interview here) opts for a smart outfit of a turtleneck, classic black pants and booties.
Get her look with this similar turtleneck sweater, coat, pants, booties and sling bag.
1. Layer
Layering is key for most outfits, either to add interest or to create flattering looks. But for winter workwear, it's more important. You'll want to stay warm on your commute, and have something you can slip on if the air conditioning gets too cold.
You can easily wear a camisole under your blouses, shirts or sweaters for extra warmth. The Icebreaker camisole is made of merino wool so it should keep you cozy.
Icebreaker Merino Everyday Cami
Or, you could always layer a turtle neck under your shirt, or under your dress. The turtleneck top (below) is slim fitting so won't add extra bulk.
EIMIN Turtleneck Slim Shirt Top
2. Pack a pair of shoes
If you want to wear non-slip winter boots on your journey to the office, but you prefer to wear shoes when you get there, a pair of packable shoes like the Minnie Travel flats (below) can be the ideal option.
Tory Burch Minnie Travel Ballet Flat
3. Smart knitwear
While knitwear can be casual and slouchy, making a perfect pairing for your jeans, it can also be very smart, if you choose the right knitwear. Look out for structured cardigans, blazers or sweaters.
Karen Millen Milano Knit Belted Jacket
4. Do you need to go from day to night
During winter, you may have dinners, events or parties to go to straight from work. In that case, you can wear a dress and simply switch your jacket, shoes and accessories to change your look from professional to night-out ready.
Karen Millen Structured Crepe Forever Pleat Belted Midi Dress
5. HEATTECH
Investing in warm layers is a great way to wear your existing outfits, and still stay warm. You can layer thermal tops like the Uniqlo Heattech long-sleeved t-shirt under your shirts, blouses and sweaters.
HEATTECH Scoop Neck Long-Sleeve T-Shirt
winter work outfits
Now, let's move onto some specific clothes, shoes and accessories you could wear to work this winter.
tops
When it comes to your tops, you'll want to look out for long-sleeved shirts and blouses to keep your arms warm in cooler weather. You could think about adding a bright pop of color during dreary winter days.
Karen Millen Silk Viscose Satin Woven Shirt – Karen Millen Mono Cotton Stripe Oversized Woven Shirt – Cinq á Sept Mckenna Knot Waist Shirt – Halogen Twist Neck Satin Blouse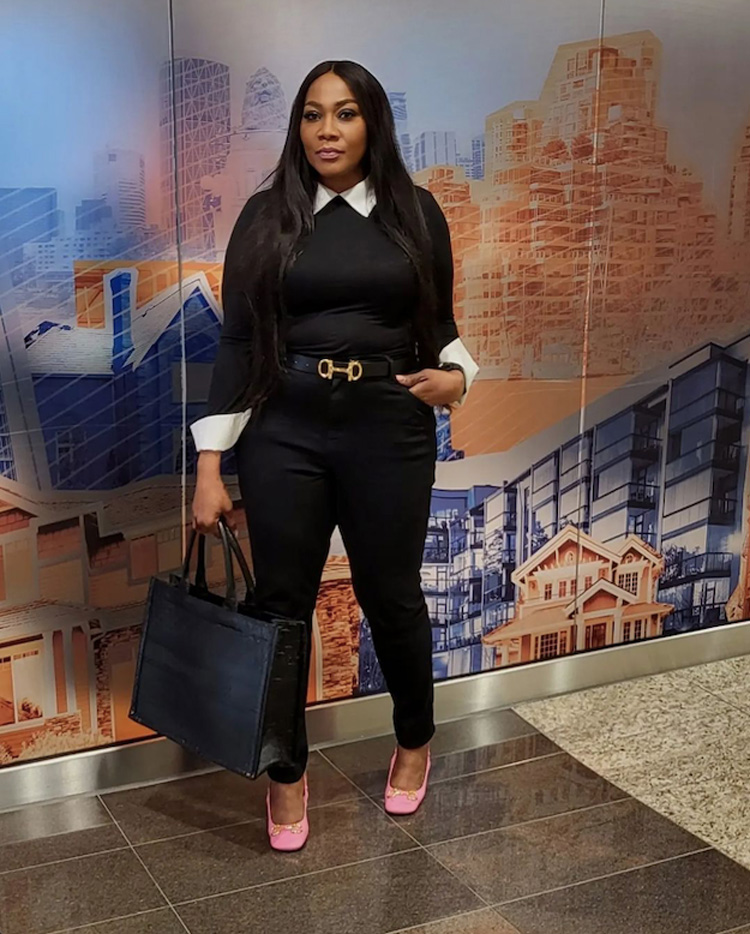 Boma @mrs.gaf above opts for a monochrome outfit, but adds some fun with her pink shoes.
Recreate her outfit with this similar shirt, long sleeve top, pants, pumps, tote and belt.
sweaters
For your sweaters, a v-neck is always a classic, professional choice. You can wear the white shirt from above underneath. also look out for turtlenecks, blazer-style cardigans and styles with a belt.
LALABEE V-Neck Sweater – Karen Millen Belted Utility Rib Knitted Cardigan – Karen Millen Houndstooth Eyelash Knit Military Roll Neck – Karen Millen Houndstooth Eyelash Knit Military Cardigan
Jackets and coats
You'll need your coat for your daily commute. Plus, a blazer is always handy for when you want to add some extra warmth in the office, or if you want to quickly look more professional for a meeting.
Urban CoCo Open Front Blazer – Karen Millen Tweed Blazer – Karen Millen Italian Virgin Wool Strong Shoulder Coat – Karen Millen Italian Luxurious Textured Wool Belted Trench Coat
Beth @styleatacertainage above (read her style interview here) wears an all-black outfit, and adds interest with her leather coat and leopard print pumps.
Steal her look with this similar sweater, coat, jeans, pumps, handbag and sunglasses.
Pants and jeans
Pants and jeans are a stylish, practical choice in colder weather. Wide legs are stylish, and on trend. A pair of slim or skinny pants is also a good choice because you can tuck them into knee-length boots.
PAIGE Constance High Waist Slit Hem Long Skinny Jeans – Karen Millen Compact Crepe Kickflare Trouser – Treasure & Bond Mini Houndstooth Tapered Trousers – Halogen Wide Leg Pants
Fonda @savvysouthernchic above layers her blazer over her sweater.
Steal her look with this similar sweater, blazer (another option here), pants, loafers, necklace and earrings.
Dresses and skirts
Of course, you don't have to stick to pants for winter. Dresses and skirts can be a great choice if you want to go from day to night. Just add some opaque tights to make sure you stay warm. You could also choose sweater dresses. Shorter dresses will work well worn over slim jeans or leggings.
Karen Millen Structured Crepe Forever Pleat Belted Midi Dress – Karen Millen Satin Tux Tie Side Mini Dress – Karen Millen Belted Roll Neck Viscose Knit Midi Dress – Kate Kasin Pencil Skirt
Eileen @eileenternullo above shows how you can wear paler colors during winter.
Get her look with this similar dress, coat, high boots, fedora and earrings.
Shoes and boots
For your work shoes, a pair of pumps is a classic choice. You may also want flat, comfy shoes, and some boot choices.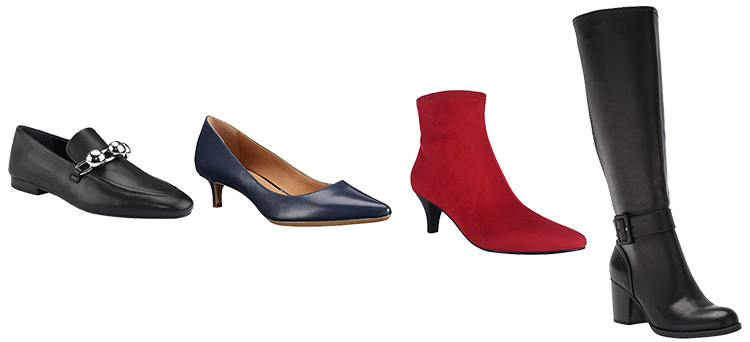 Marc Fisher LTD Elenda Loafer – Calvin Klein Gabrianna Pump – Impo Neil Wide Width Stretch Ankle Bootie – SOUL Naturalizer Twinkle High Shaft Boots
accessories
Add a scarf to your winter work outfits to bring the colors you choose together, while keeping your neck warm. You'll want practical, stylish tote bags that you can carry your essentials in.
AllSaints Captain Leather Tote – Kate Spade New York Knott Medium Satchel – Open Edit Enamel Cube Collar Necklace – Karine Sultan Cultured Pearl Drop Earrings – Kate Spade New York Crystal Stud Earrings – Alexander McQueen Biker Graffiti Skull Silk Scarf – YMXHHB Mulberry Silk Scarf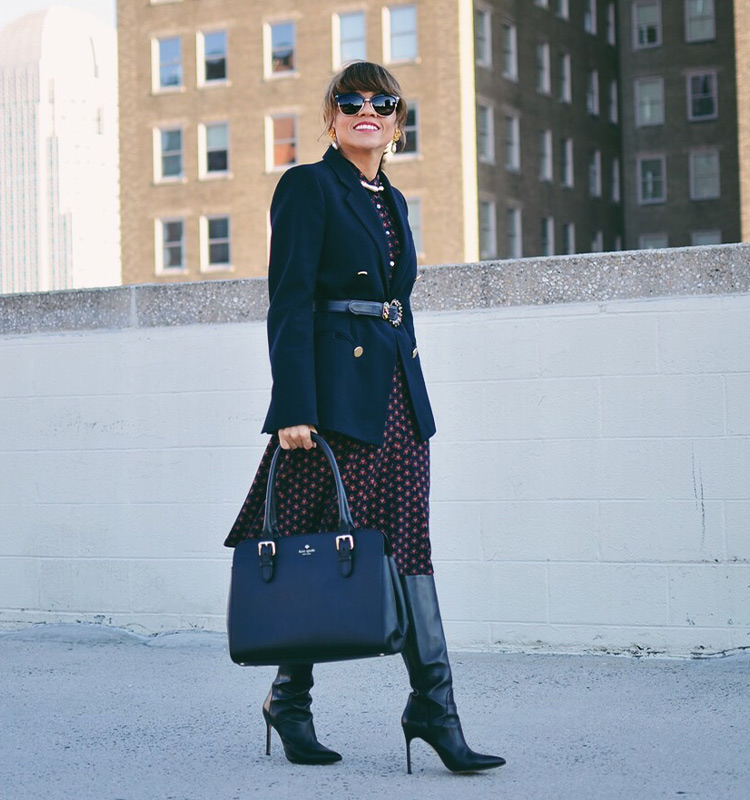 Carelia @carelia_medich above (read her style interview here) shows how you could wear your knee-high boots under your midi dress.
Check out this similar dress (another option here), blazer, boots, handbag, belt, earrings, necklace and sunglasses.
Your winter work outfits capsule
Below, you can see some of the clothes, shoes, boots and accessories from above, together in a capsule wardrobe of 9 outfits.
But you could easily change the coats, tops and bottoms around to get many more outfits to see you through the winter season at work. For example, you could choose an all-red outfit with the pants and blouse or sweater. Or, you wear the black and white cardigan with black pants, or you could wear the blue skirt with the belted blue cardigan.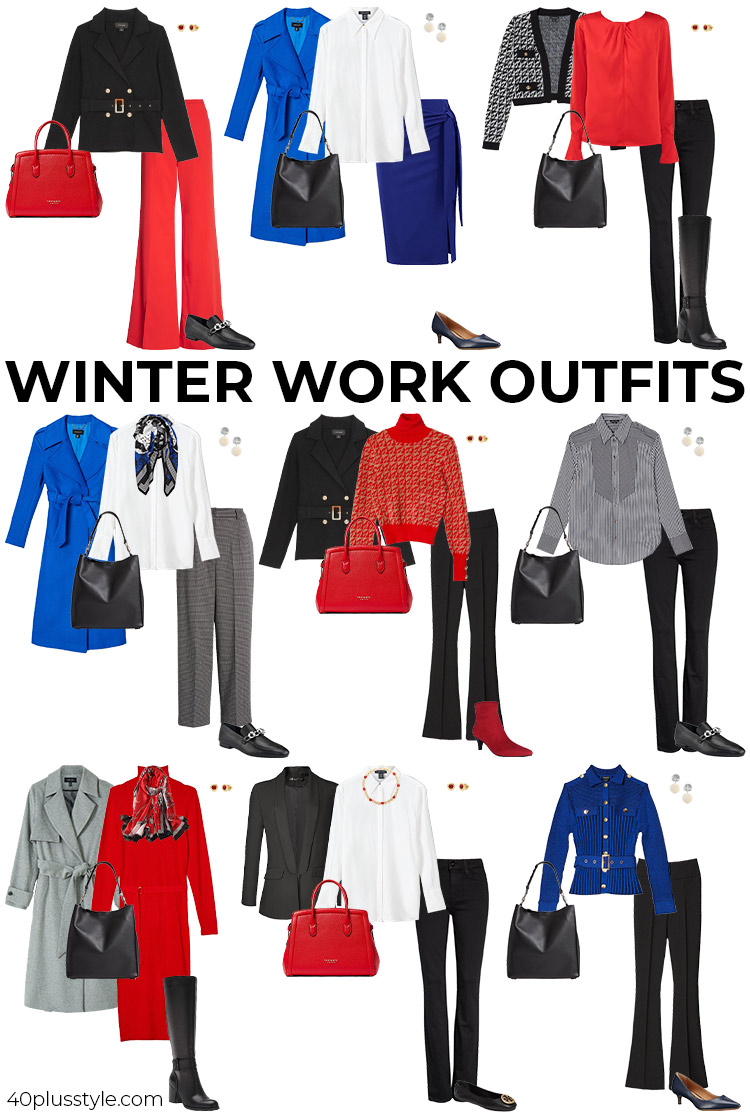 Shop some of the winter work outfits here:

Continue reading:
Like this article on winter work outfits? Share it on Pinterest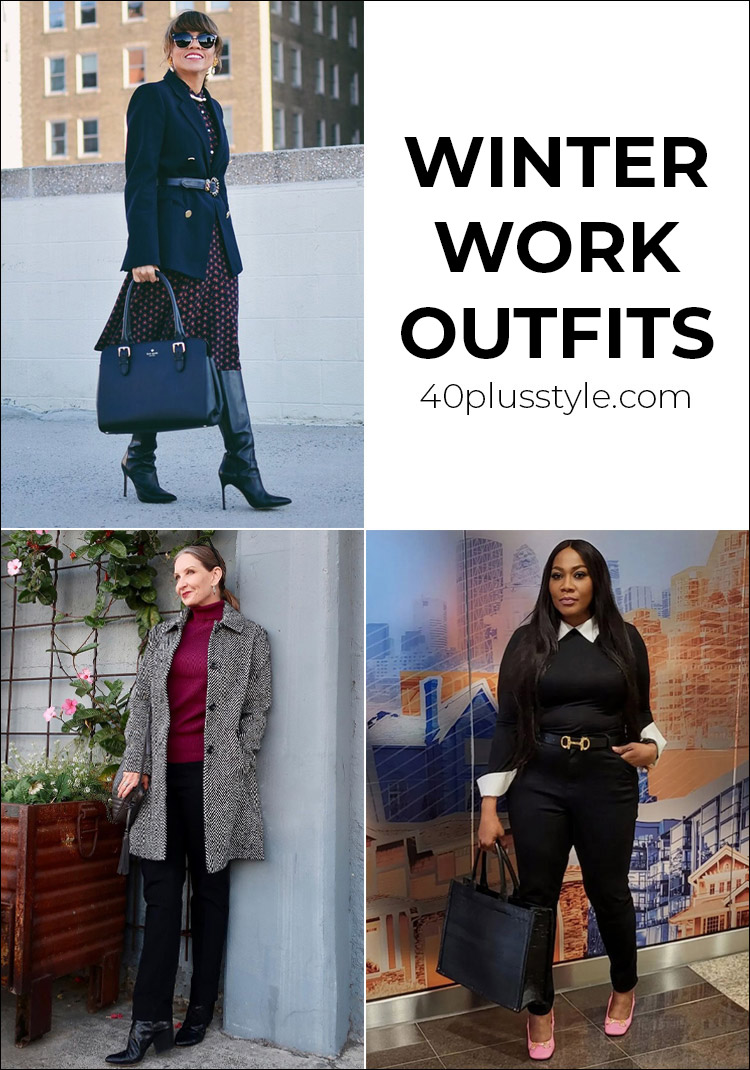 Feature image by Carelia @carelia_medich
Want to get more articles from 40+style in your inbox, subscribe here.
You can also connect with 40+style on Facebook, Instagram or Pinterest.
Support 40+style by using the links in our articles to shop. As an associate for Amazon and many other brands, we receive a small commission (at no cost to you) on qualifying purchases which enables us to keep creating amazing free content for you. Thanks!