Yesterday I reflected on my personal style and why I believe my clothes don't need to be figure flattering (all the time).
However, both Suzanne and Anja were really keen to see how those kind of clothes would look on me. Suzanne really liked the swapping of clothes experiment that I did earlier with Anja wearing my clothes, and she felt it was time for me to try on her's.
The perfect opportunity arose when we had a bit of a crazy and fun morning where all 4 of us were dressing up in crazy clothes. That's what you get when you put 4 bloggers together in one room! I particularly like this glamour photo from Suzanne.
Or how about these funny ones from Suzanne and Greetje.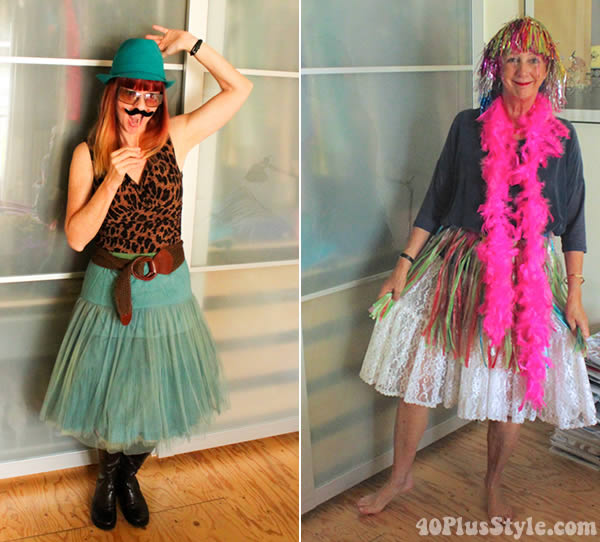 But to see me in Anja's clothes was serious stuff, so no wigs or funny hats.
Important questions needed to be answered.
Would I look better in Anja's clothes?
And how would these clothes make me feel?
Look #1
First up was this dress.
I liked the colors and graphics of this dress but found the V-neck too low. I would not feel comfortable in this dress except on a beach or perhaps a night club.
In a normal situation I like to be a bit more covered up.
The dress is very body hugging and it shows every shape of my body. The girls may like it, but me not so much. I feel like I have to keep my tummy in a all the time, that I need a push-up bra and safety pins to keep the v-neck in shape and covering the bust!
Still I concede that from this angle the dress looks pretty good.
Look #2
The next look was the green skirt with the animal print top.
I felt better in this look as the skirt is knee height and the top covered up a bit more. However, looking at the picture now, I don't like this look at all.
This kind of animal print top is really not for me. Certainly not when it is combined with a shimmering satin skirt. I actually feel that you need a bit more bearing of skin here. Neck could be deeper or arms could be bare.
Another alternative is to add a jacket so that the top does not look so severe and overpowering.
Ultimately tight printed tops are really not my thing. I want an interesting design element. I want them loser. And I want a natural fabric preferably without a print.
Look #3
The third look seemed to be more up my alley. I think the proportions of this look are good. The belt emphasises the waist and the V-neck works well with the knee-high skirt.
Still it's not something I would wear myself. I think this look makes me look old and am not a huge fan of the colors on me. Again the V-neck is way too deep for me!
Look #4
I think I felt the best in look 4. This outfit had a bit more structure with the added peplum than the others and it strikes the right balance between revealing skin and being covered up. Showing a lot of leg is countered by not showing any cleavage.
I think this dress looks great on my body.
Still, I could not wear it. There is just too much happening in the pattern and I just don't like to wear flowers all-over.
Look #5
Look no.5 was a green printed dress.
Again this deep V-neck I don't like. There is too much all-over pattern and the overall design does not inspire me.
However, the last dress was the perfect outfit to have a little fun with and create a few Marilyn Monroe moments….
I also think it looks better with the pink wig….
Phew, that is enough dancing for now. Time for a break and exchange smiley looks with Greetje.
And to top it all off: a group photo! Cheers!
In conclusion, as I mentioned yesterday, style is so personal. Even though Anja's clothes all fit me, they don't feel like ME. I want more structure in my clothes, more natural materials, more asymmetry, no deep V-necks and not so much print.
This whole exercize has further confirmed my own personal style and I'm just going to stick to doing my own thing!
Although swapping clothes with your friends can work for some, you do have to have similar styles. Anja's and my style are almost complete opposites so it really does not work, but it was a fun experiment nonetheless.
What do you think? Do you like me in Anja's clothes?

All photos taken by Anja (curly traveller) and Suzanne Carillo. Be sure to check out their fabulous blogs!
P.S. If you want to find YOUR unique style and discover how you can dress your body so that you will look and feel your best, you may like to check out my style course!
Want to get more articles from 40+style in your inbox, subscribe here.
You can also connect with 40+style on Facebook, Instagram or Pinterest.
Support 40+style by using the links in our articles to shop. As an associate for Amazon and many other brands, we receive a small commission (at no cost to you) on qualifying purchases which enables us to keep creating amazing free content for you. Thanks!