My wonderful reader Suzanne mentioned the other day in one of her comments on my post "how thinking about your clothes can save you time, money and frustration", that she found shopping for the basics a bit boring and less exciting.
That got me thinking.
I shop for tops all the time, since Singapore is too hot to wear sweaters, jackets and other over garments.
But shopping for tops can be fun indeed, even for the 'basics'. What I prefer to do is to not go look for basics but just for exciting, well designed tops in good fabrics, that can actually be used as basics as well.
Using tops as basics under jackets and as fashionable tops in their own right
Instead of basic tops I always try to look for something different. I know that I mention Alldressedup way too much on this blog (I should really be put on their payroll!), but it's a perfect shop for finding these kind of tops. They usually offer tops in high quality fabrics like silk, and they always have an interesting design element.
Examples of basics with a twist
Here are a few examples of tops that look very basic at the front and are therefore perfect to wear under blazers and jackets.
However, they all have an interesting design element when you see them from the back, and are therefore also perfect to wear as fashionable tops on their own.
Purple silk top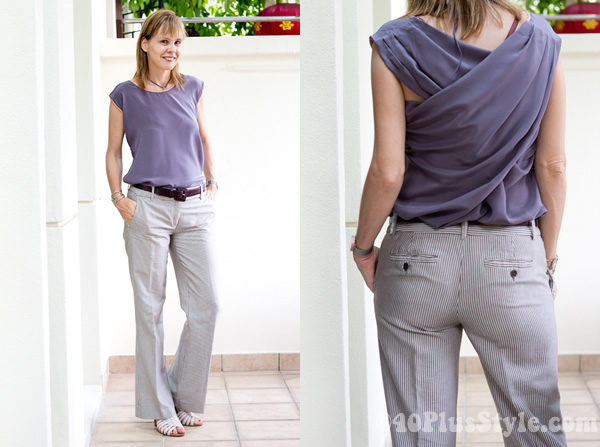 This is a purple silk top from Alldressedup that looks very basic on the front. It's a different story on the back though with crossovers and drapes. Don't you think this top would also look perfect combined with a grey pant suit?
Silk pink top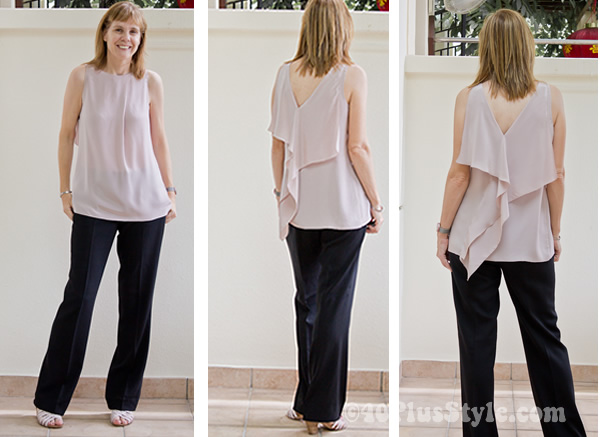 Here is another silk top from Alldressedup, with the same principle as the first one. Very basic at front and therefore perfect to combine with a black suit or blazer. It's also fabulous if worn on its own with the glamorous back!
Black silk top
This is another silk top from Alldressedup that would be a perfect basic. The little belt is detachable, so you could easily tuck this top in your (pencil) skirt or pants and wear with a blazer. This would make a very nice basic top for suits in a variety of colors. On its own it's a fantastic top with a great back!
White cotton Zara top
This is a basic shirt from Zara, that would make a plain basic under jackets. Still it's interesting to wear on its own as it has the interesting buttons at the back.
Enjoy the versatility of great tops!
What I love about these tops is that they are so versatile. In summer they are perfect as interesting tops and in winter you can easily wear them underneath jackets or cardigans. They are the perfect year round wardrobe asset!
What do you think? Good idea? Or do you prefer your basics to be just basic and plain?
Want to get more articles from 40+style in your inbox, subscribe here.
You can also connect with 40+style on Facebook, Instagram or Pinterest.
Support 40+style by using the links in our articles to shop. As an associate for Amazon and many other brands, we receive a small commission (at no cost to you) on qualifying purchases which enables us to keep creating amazing free content for you. Thanks!