Today I'm featuring Lissy in our style interview series. She is a very stylish blogger from Boston who loves to combine high fashion designer clothes with fast fashion brands like Zara and is not afraid of color and bling. Let's find out her take on style after 40!
Hi Lissy. Thanks for taking the time out to answer a few questions for 40PlusStyle.com.
As a point of reference which age group do you belong to or perhaps you are willing to share your age?
I'm happy to share my age. I'm 43 and will be 44 in January.
Can you tell us a bit more about your blog A girl in Boston and why you created it?
I started by blog, A Girl in Boston, just over three years ago. I work in a finance job and was looking for a creative outlet where I could share my love of fashion and style.
How would you describe your style?
What I love most about fashion, is that I can represent myself and my style in different ways every day. I really like the classics but every outfit has to have a special detail (a stud, a bow, a pop of color).
You love the big brands with frequently featuring Chanel and Valentino. Why are they important to your style?
I think I lean towards Chanel and Valentino for the unique details that I see in them (the studs, the chains, the bows) and the high quality of the product. Way before I knew who or what Chanel was, I loved the signature style of the chain handled bags and the quintessential bouclé jackets. I eventually figured it out and when I turned 35, I made my first big purchase of a Chanel handbag. Since then over the years I've bought a few bags, a pretty good collection of Chanel jewelry and I've become a huge fan of the Chanel flats which are by far the most comfortable shoes I own. You pay a hefty price but they never go out of style and with care, they last forever.
As for Valentino, the year the first pair of rock stud shoes came out, I hunted the nude pair down that I still to this day wear several times a week. I've since bought several versions of the rock studs and nothing else compares. Believe it or not, I've got my eye on another pair or two, but in all honesty, the studs eventually do come off so it takes a bit of work to keep them up. I think the Valentino clothes are some of the most beautiful out there but I have yet to buy from the clothing line. Years ago I discovered the more moderate RED Valentino line of clothes which I have had luck with.
Do you mainly dress for work, and how does that influence your style?
I spend the better part of my life at work (how else do I pay to sustain my love of fashion?) so I do dress for work. But at the end of the day, I really dress for myself. I am lucky to work for a company where I can wear whatever I want. I can wear jeans if I want to be more casual or I can dress up more if I'm going out after work. Even if I didn't go to an office each day, I would probably still wear much of what I do now.
Can you tell me where you live and how that influences your style choices?
I live in Boston Massachusetts which is in the Northeastern part of the United States. The weather here definitely influences how I dress, especially in the winter. Sadly winter in Boston can last the better part of the year so by February I get tired of snow boots and warm coats. I much prefer to dress for spring (which lasts for about a minute here) and fall when I can wear jackets and layers because I like how they look rather wearing clothes to help to sustain the frigid temperatures.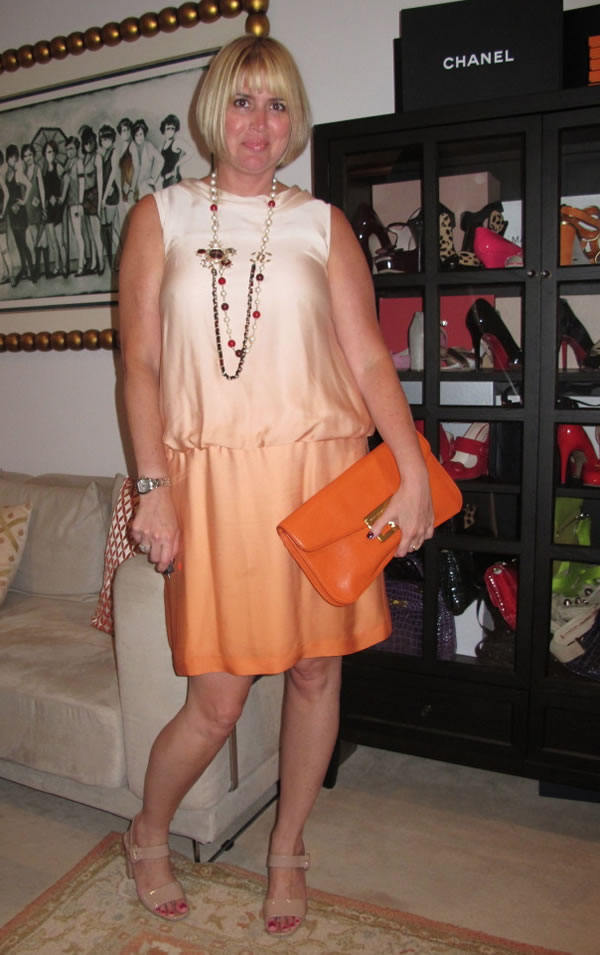 How does your work style differ from your home style?
Most of the clothes I buy are for work which also double as my going out in the evening clothes. My weekend day attire tends to be more casual.
What inspires your outfit choices the most?
My daily outfits are inspired mostly by my mood. I don't usually plan my outfits ahead of time because it often depends on what I feel like when I wake up in the morning.
Do you take things like color profiling or body type into account when you dress?
I definitely take my body into account when I get dressed. I'm an apple shape which means I'm bigger on top and smaller on the bottom. My top is a size or two larger than my bottom which can be a challenge so I dress to fit my body type and hide my midsection. I veer towards baggy tops and more form fitting bottoms to highlight what I think are my better features.
Would you say you have a signature style? And if yes, what are the main elements?
This is a tough question. One day I'm a girly girl and another day I might be a bit more edgy. That's the beauty of fashion, I can express myself in a different way each day.
Has your style changed at all after turning 40?
I have noticed a definite change in my style over the last couple of years. I do a semi-annual purge of my closets and a couple of years ago, I got rid of anything that was strapless or one shouldered. Even though my body hasn't really changed, those styles no longer felt right on me. I also find myself leaning more towards high quality classics with a twist and less towards the fast fashion, trendy styles that I used to go for.
Do you believe in dressing 'age appropriately' and what does it mean to you?
I think if something makes a woman feel good about how she looks, then she should wear it.
Would you say that at this stage of your life you are now more, or less interested in fashion, style and the way you look?
I've always been interested in fashion, style and how I look. I do believe the older you get, the more you have to work at it so I guess I'd say I'm more focused on it now.
Why is the way you look important to you?
The way I look on the outside is an expression of how i feel on the inside. Dressing up can be an extension of the fact that I feel good inside or help me to feel better when I'm feeling a bit down.
Which of the outfits on your blog are personal favorites and why?
Most of my favorite outfits have a formula; slim on the bottom and more voluminous on top. I bought a DKNY cape a few years ago and I've worn it to death but my favorite paring is belted with leather leggings.
Another favorite of mine is paring a tunic or shorter dress with trousers and one of my very favorites is a Max Mara tunic. I've worn this tunic with the matching trousers as I did here or with other cigarette trousers.
And because I love print and color, I have to include this very bright houndstooth skirt that I bought at J Crew.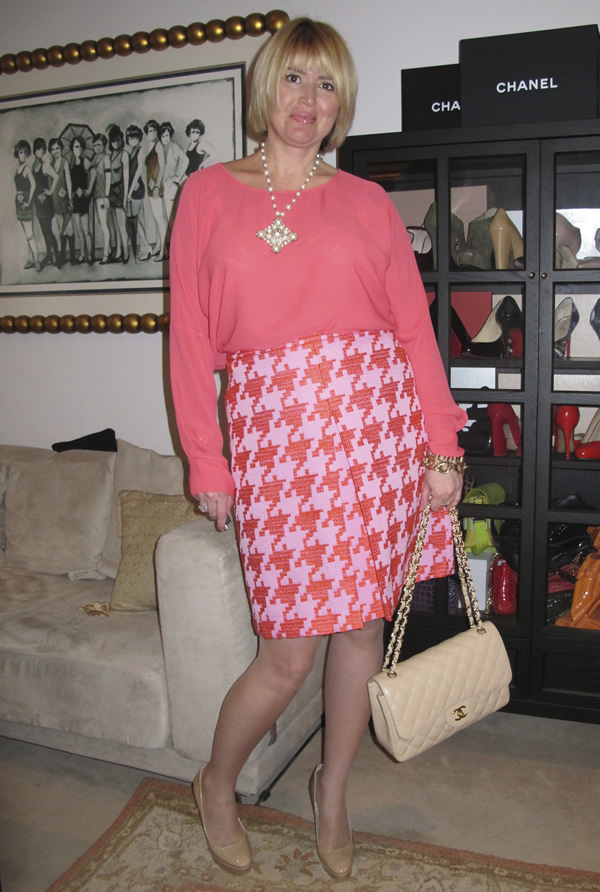 Do you follow trends? And if yes, which trends excite you at the moment?
I would say that I do follow trends but try to choose which ones are right for me. Some things are particularly trendy right now that I have always loved like peplums and animal prints. To me, those two things never go out of style. Then there are those trends, like the whole bohemian chic look, that work on others but just don't fit in with my sense of style. This season I hear that overalls are "in" but that is one trend that I just don't get.
Do you have any fashion and style tips for women over 40?
I don't think there are any hard and fast rules that apply to all and each woman, whether over or under 40, should wear whatever makes them feel good.
What are your plans for your blog and how do you see it develop over the coming years?
I don't have any planned changes for my blog at the moment. As long as it continues to give me pleasure I'll keep doing it.
Anything further you would like to add?
It was great fun answering these questions and looking back through some of my favorite outfits. Thank you so much for including me in your interview series.
Note from Sylvia: Lissa is a true gem and a great blog to follow for style inspiration. Be sure to check her out at A Girl from Boston.

Like this post? Share it on Pinterest!
Want to get more articles from 40+style in your inbox, subscribe here.
You can also connect with 40+style on Facebook, Instagram or Pinterest.
Support 40+style by using the links in our articles to shop. As an associate for Amazon and many other brands, we receive a small commission (at no cost to you) on qualifying purchases which enables us to keep creating amazing free content for you. Thanks!