Lisa loves to sparkle with her style which is one reason she calls her blog The Sequinist.  She has fabulous style and some great style tips too. Enjoy!

Can you tell us a little bit more about yourself?
I got married late in life (40) and became a mother late in life (43). I've always adored fashion and have always been inspired by women with great style, great manners, and great intelligence. I find they often all go hand in hand.
As a point of reference which age group do you belong to or perhaps you are willing to share your age?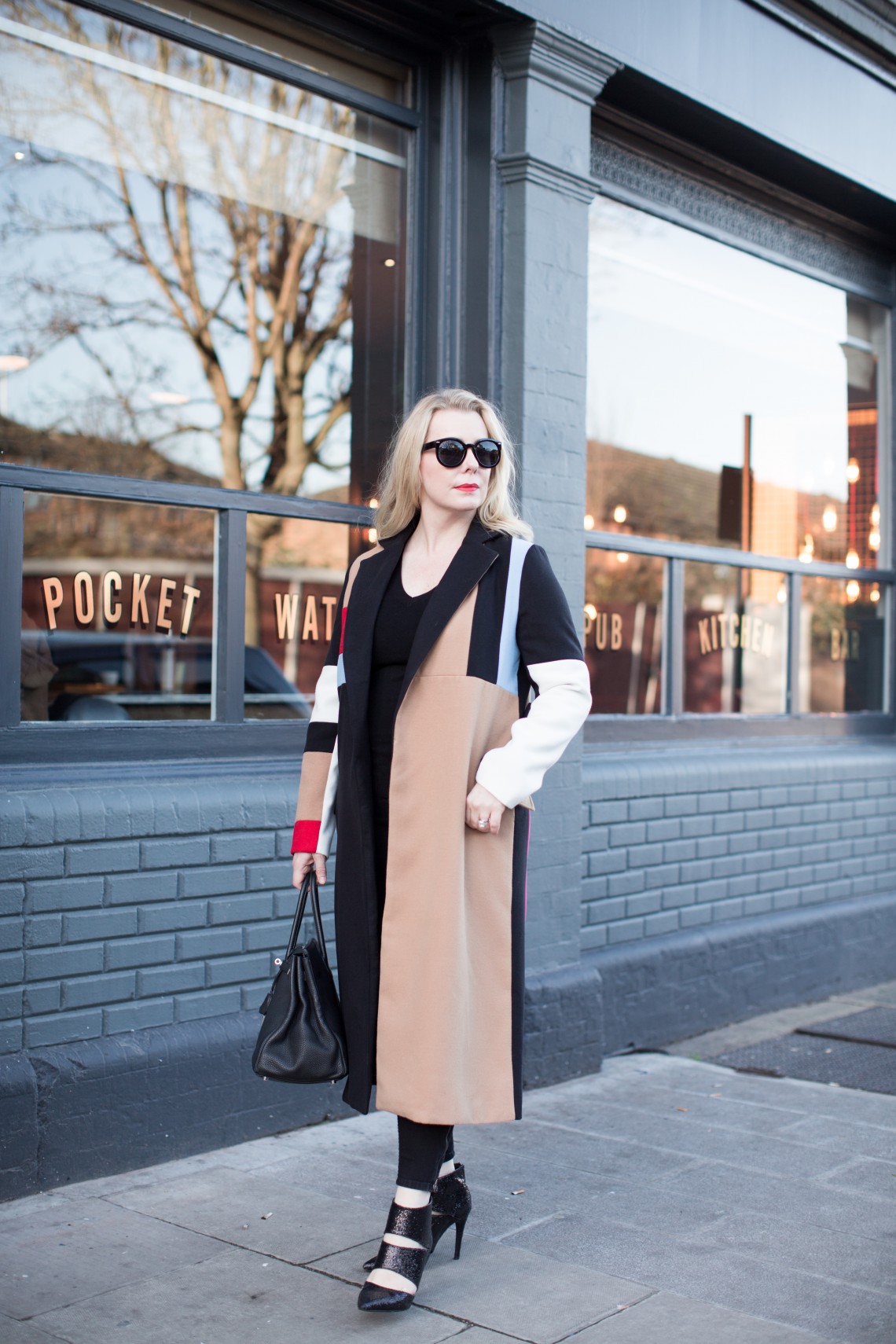 I'm 46.
Can you tell us a bit more about your blog The Sequinist and why you created it?
After I had my son, I didn't want to return to the long hours and demanding travel schedule of finance, so I started freelance writing for some fashion retailers. I enjoyed it so much that I decided to start writing for myself. I lost my way with my own style when I was a new mother because I didn't focus on it for a year or two, but reconnecting with my own passion for style inspired my blog.
Why did you pick that name?
I had another name for the first year of blogging, but a dear friend suggested The Sequinist, and I thought it was great. Coincidentally, my first blog post was called "Why You Need A Sequin Skirt", so it really felt like the right name for me. The name expresses my penchant for all things sparkly without sounding silly.
How would you describe your own personal style?
I'd say my style is elegant, but always with a twist of something offbeat or quirky. I find purely elegant style a little stuffy and boring on me, so I like to add something unpredictable or unusual.
What would you consider the most important components of your style?
I love coats and jackets, so those are very important to my style. I also adore jewellery, so my jewellery is often a focal point. Lastly, I love shoes, so I often get dressed starting with what shoes and jewellery I want to wear and go from there! I like black, and I find it a good backdrop for statement jewellery, interesting coats, and fun shoes.
Where do you live and how does that influence your style?
I live in London where being unique and a little eccentric in your style is fairly normal. Being in London certainly influences my need for stylish coats; they are a necessity more than an indulgence!
Do you feel you have a signature style?
Definitely, but I am never afraid to try new things as well. I think if Grace Kelly and Liberace had a lovechild, that would be my signature style!
What inspires your outfit choices the most?
My mood. Sometimes I want to blend in, so I'll wear something a little more quietly elegant. Sometimes I feel rebellious so I wear something that I know will be controversial, like faux-leather overalls. Other times, I feel really outgoing and confident, so I'll wear a dress emblazoned with sequinned eyes on it or something that is sure to be a conversation starter.
I may be 47, but I still enjoy playing 'dress-up' depending on who I feel like being that day, and where I'm going.
Do you take things like color profiling or body type into account when you dress?
I don't pay any attention to colour profiling, but I do take my body type into account somewhat. I still try on things that are supposed to be "unflattering" for my body type. Sometimes they work and sometimes they don't. Sometimes I love an item so much I'm really not bothered that it isn't flattering on me!
What is your current body type and height and what are your best tips for dressing for these?
I'm 5' 8". I have wide hips, wide shoulders, and a large chest so I tend to wear things that are sleek and not too voluminous, or else I look frumpy. I also don't like things too tight because that isn't my style. A sheath dress that skims my body and a good tailored long-line jacket is my ideal outfit.
Long cardigans, long coats, and anything that elongates the body and straightens out my curves is a winner for my shape.
Has your style changed at all after turning 40?
No, definitely not. The only change in my style is that I'm more adventuresome now that I'm not an Investment Banker anymore! I rejoice that I can wear shoes with glitter on them instead of basic black pumps.
Do you believe in dressing 'age appropriately' and what does it mean to you?
I think it is a load of nonsense. I dress in whatever makes me feel happy and confident. Life is too short to follow someone else's rules.
Would you say that at this stage of your life you are now more, or less interested in fashion, style and the way you look?
I've always been obsessed with style and fashion; I'm a very visual person. I've been opinionated about style since birth! When I was five, I told my (horrified) mother's boss that a man in his position shouldn't be wearing a tie with a Mickey Mouse pattern on it.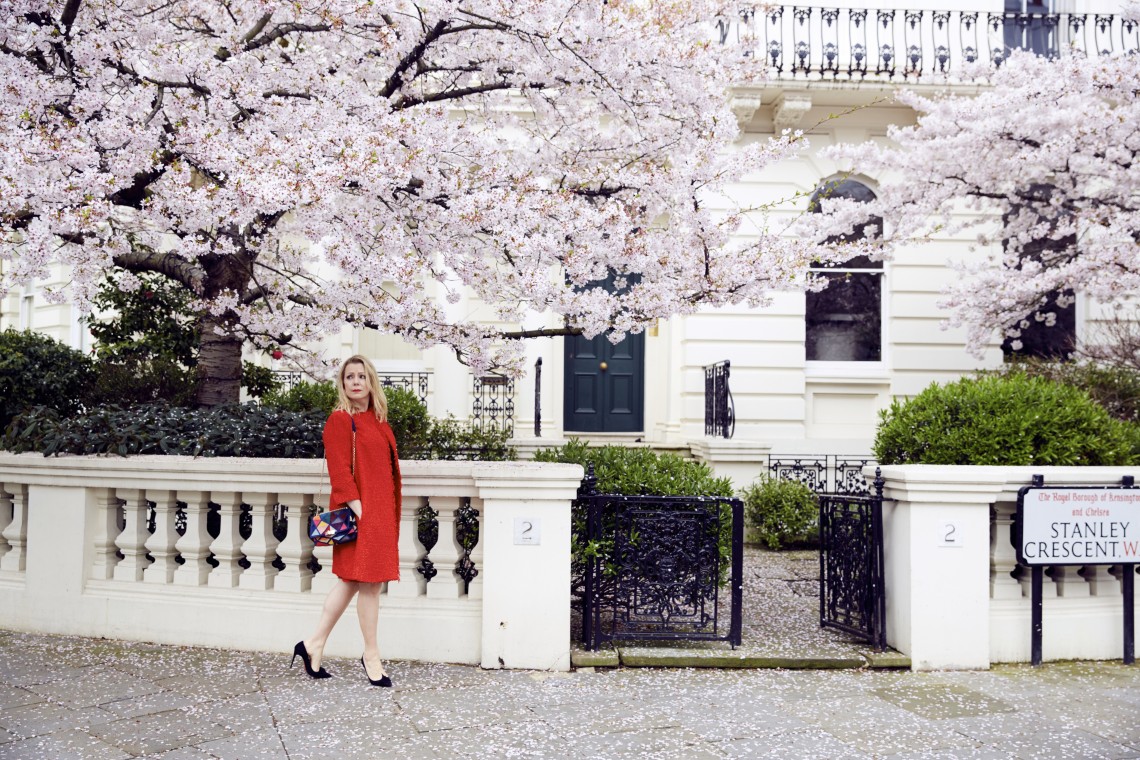 I also remember wearing a burgundy-coloured faux fur coat when I was about that same age. The older children made fun of me for wearing it, but rather than feeling hurt, I distinctly remember feeling sorry for them because they didn't understand how utterly fabulous my coat was!
Why is the way you look important to you?
For me, looking good is a sign of health and confidence. We're animals, and animals who are healthy preen and groom and look after their appearance. Animals who are unwell or unhappy don't maintain their grooming.
I'm always concerned about people who don't make any effort because it means that something somewhere isn't quite right.
Do you follow trends? And if yes, which trends excite you at the moment?
I follow trends as a matter of interest, but I don't necessarily buy them. What excites me most at the moment is what Alessandro Michele is doing at Gucci— heavy embellishment, lots of shine, lots of colour, lots of metallics, lots of bird and flower motifs… his 'more is more' maximalism makes my heart race. He has brought joy and exuberance back to a very dull commercial brand.
Do you have any fashion and style tips for women over 40?
Put colour around your face, be it a scarf, a coat, a necklace, a top, earrings, etc. As we lose colour from our face with age, putting a little back via accessories or makeup is very glow-giving. A brightly coloured tassel earring can work wonders!
Forget trends and wear what expresses your personality. Do you love retro style? Do you love soft feminine things? Do you like bold colours and prints? Are you funny? What is your favourite era in fashion, your favourite colour, your favourite animal print? Wear those things that reflect who you are and that bring you joy.
What are your plans for The Sequinist and how do you see it develop over the coming years?
I'm very keen to write a book on Style; I almost did that instead of starting the blog. My son is only 3, so I won't do anything as time-consuming as a book until he starts school. I'd also like to start doing some video content and I'd like to have a small online store that caters specifically to women over 40 who want items that are stylish, well-made, ethical, and very unique.
Anything further you would like to add?
I think you should never stop experimenting with style and trying new things; it keeps you fresh and current. My 'greatest hits' style wise have often been my greatest risks.
Don't get stuck in a style rut. Being stuck in a rut on the outside means you're probably stuck in one on the inside. If you're always growing and evolving as a person, you should be growing and evolving your style as well.
It was certainly fun knowing more about Lisa and her fabulous style! Be sure to visit Lisa at The Sequinist and @thesequinist for Instagram!

Like This Post? Share It On Pinterest!
Want to get more articles from 40+style in your inbox, subscribe here.
You can also connect with 40+style on Facebook, Instagram or Pinterest.
Support 40+style by using the links in our articles to shop. As an associate for Amazon and many other brands, we receive a small commission (at no cost to you) on qualifying purchases which enables us to keep creating amazing free content for you. Thanks!