Written by Betty B.
Am I over or underdressed? That is the question.
At some point in time, we have all looked in the mirror and asked ourselves this question
You may like to use a points system to help determine whether to take Chanel's recommendation to remove one item before leaving home or do the opposite and add an embellishment or two to add that extra zing to our carefully chosen pieces.
You may also like: how to accessorize like a pro
Using a points system to determine if you're over or underdressed
This method is a general guide to be used selectively, depending on your personality and comfort level, to give you an idea of whether you are within the general parameters of those whom we consider tastefully dressed.
This guide was developed by some clever soul to make us aware of how many accessories we are wearing, but it should not be used to hamper our individual style or creativity.
As with any styling aid, it's up to us to create our own unique statement, so we will need to add or reduce accessory points to get the look we want.
How to use the points system
Below are the general guidelines that will help determine whether we have assembled a masterpiece or a less than stellar creation. If we make this a daily ritual, it will quickly become an unconscious, useful styling asset to set us above the pack. So, let's get started. Here are the items we'll count:
1 point for earrings
1 point for each necklace, 2 points, if very large
1 point for each watch or bracelet **
1 point for each ring ** (a wedding set is 1 point)
1 point for eyeglasses
1 point for nail polish, 1 point for toenail polish, if seen
1 point for a handbag, if carried at all times, 0 point, if not
1 point for shoes
1 point for a hat, scarf, belt, or wrap
1 point for colored tights or leggings, 0 point for nude panty hose
1 point for each garment and color you have on, 2 points, if patterned
To be within the well dressed category for this system, do not exceed 16 accessory points to bring your outfit to life. Should you have on less than 12 points, rethink the look you are after and pile on a few more bits and barbs to send your outfit through the stratosphere or to add just a little extra pizzazz.
A few examples on how to apply the points system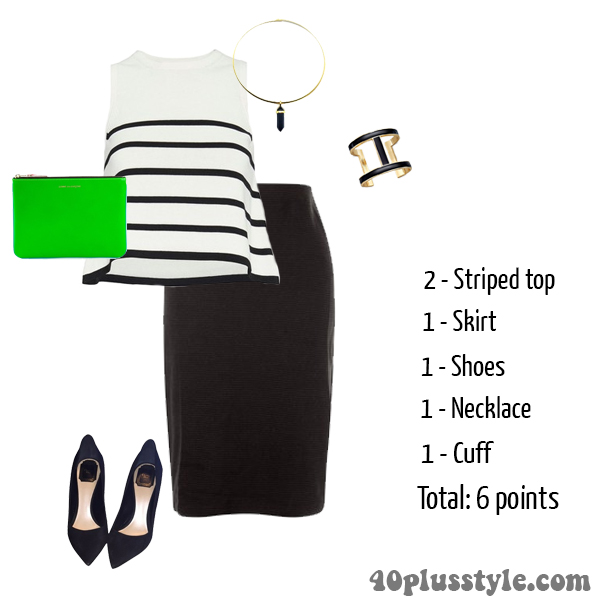 You will feel and look more confident when your accessories match your comfort level.
To get more in-depth information on how to better accessorize, consider our course Accessorize Me Confident & Beautiful.
Bonus styling tip
Multiple bracelets, rings, and sometimes watches are a current trend being worn on both arms and hands. If this is your preference, count them and knowingly break the rules. Awareness is always key, and your individual style is dependent on what YOU want to project.
So, let's have fun and pull out all the stops. Accessories are your best friend. Happy counting, all!
Do you use a counting system of sorts when it comes to accessories?
Betty
Want to get more articles from 40+style in your inbox, subscribe here.
You can also connect with 40+style on Facebook, Instagram or Pinterest.
Support 40+style by using the links in our articles to shop. As an associate for Amazon and many other brands, we receive a small commission (at no cost to you) on qualifying purchases which enables us to keep creating amazing free content for you. Thanks!