Today I interview Julia who lives in France and is passionate about fashion, beauty, and travel. You will love her expert tips on style and fashion and discover why she started blogging after 50. Enjoy!

Can you tell us a little bit more about yourself?
I'm English but I've been living in France for the last 23 years, so I guess you could say I've acquired the "French touch". I have been married for nearly 30 years and have two daughters in their early twenties.
I initially trained as a chartered accountant (more years ago than I care to remember!), but then retrained as a teacher in 2003.
I have always been passionate about fashion, beauty and travelling, and have spent much of my free time researching beauty products, shopping (or at least window-shopping) for new clothes and planning my next holidays!
In 2015 I decided to take a leap into the unknown and start a blog about my passions, as well as to retrain (again!) as a personal stylist. I think my work as a secondary school teacher has helped me understand a lot more about body issues and insecurity and I would like to help every woman (whatever her shape, size or age) feel good about herself and confident in her style.
I hate going to the gym, but I love running as it clears my head, and makes me feel more positive. I also love good food, good wine and good company.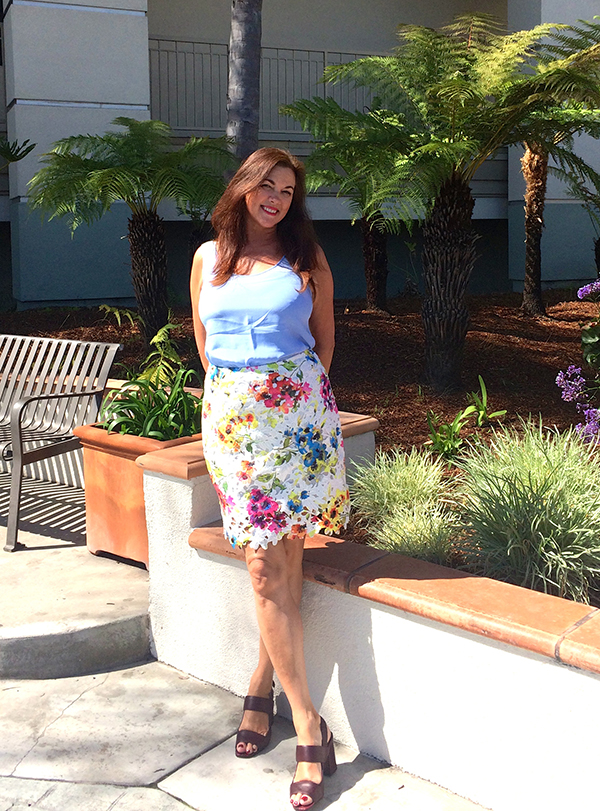 As a point of reference which age group do you belong to or perhaps you are willing to share your age?
I describe myself as an 'over 40s' or 'midlife' blogger, but I'm actually in my 50s. In fact, I'm 54 and I'm absolutely loving this age, as I have more free time, confidence and maturity than I had when I was younger.
Can you tell us a bit more about The Velvet Runway and why you created it?
A number of factors came together at once, at an age I would consider a turning point in life.
Firstly, my daughters grew up and left home – one went to study in Los Angeles and one went to study in Dublin. My husband has always travelled a lot for his work, so I found myself very much afflicted by the 'empty nest syndrome'. Not only, were my daughters no longer at home, but my husband wasn't either!
At about this time I read a magazine article about 'mid life bloggers' and my youngest daughter decided to change her orientation and apply to study Fashion Design. As I helped my daughter put together her portfolio and select materials for her designs, I realised how much I would love to be more involved in the fashion industry too.
So, in September 2015 I decided to take a leap into the unknown and start a blog about my passion for fashion, beauty and travel.
I also felt that the fashion minefield becomes positively hazardous when you reach midlife – (as if it wasn't difficult enough before!) and I would like my blog to be a place of reassurance for anyone who is struggling to find their style.
I aim to feature outfits that women feel they could actually wear, as so many of the runway trends and magazine articles feature clothes that whilst they are beautiful are not practical for every day life or not within the budget of the majority of us!
Some people have asked me "Why The Velvet Runway?" and I chose this name as I was looking for something that embodied all the features that I wanted to cover in my blog.
The "Velvet" represents the material and consequently the fashion elements of my blog (crushed velvet is one of my favourite materials as it is so luxurious) and the "runway" symbolises both the catwalks and hence the fashion and beauty aspects of my blog and also the runways at airports and consequently the travel aspect.
How would you describe your own personal style?
I think I would describe my style as classic with a twist or a hint of fun, as I love to integrate new trends into my look.
Where do you live and how does that influence your style?
I live in rural France, so I don't really think that has influenced my style. However, I am almost exactly half-way between London and Paris and make regular trips to both Capital cities, and I feel this has had more of an influence on my style than where I live.
Do you feel you have a signature style?
Not really- I like so many different looks and I love to mix things up a bit depending on my mood – although I do have a disproportionate number of lace dresses in my closet!
What inspires your outfit choices the most?
A number of factors influence my outfit choices, as I love to get ideas from other style blogs as well as taking account of street-style. I'm not sure if it's since I started blogging or took the personal stylist course, but I find I'm constantly noticing what other people are wearing. Sometimes, I take a mental photograph to try and find something later!
Of course, I also love reading style magazines and wandering around the stores. (the latter activity usually comes at a cost!)
But, I think the biggest influences on my outfit choices are my mood and my daughters' opinion! Having two daughters in their early twenties is like having an inner critic, and I trust and value their judgment (even if I occasionally ignore it!)
Do you take things like color profiling or body type into account when you dress?
Absolutely! I completed a personal styling course earlier this year and I am fascinated by color profiling and body type.
I think dressing for your body shape is probably the most important factor in styling at any age, as it can make the difference between looking fabulous or frumpy. The most important factor is to choose clothes that show off the bits of your body that you like and disguise the bits you don't!!
For color profiling, whilst I think it is important to take into account the colors that suit you, I would not apply the rules too strictly as I think the best way to see if a color suits you is to try it!
It is usually very obvious if a color brings out the green of your eyes, makes your complexion radiant or completely drains you!
Has your style changed at all after turning 40?
Yes I think my style has definitely improved since turning 40, as I am more confident, understand my body shape better and am willing to take more risks!
I have also (finally!) learned the importance of investing in quality pieces, although I do still buy short-term trends!
Do you believe in dressing 'age appropriately' and what does it mean to you?
Yes and No! Whilst I would personally never wear a lycra mini skirt or a crop top at 40 plus, I do believe it's fine to wear above the knee skirts and to follow fashion trends.
I think the most important 'rules' are to dress for your body shape and the occasion. For example, I believe my legs to be one of my assets, and so I will happily wear shorts and/ or short skirts on holiday, but I would not wear them in a business situation, where I think a longer length skirt would be more appropriate.
Another important factor is not so much what you wear but how you wear it. An example here would be the case of distressed denim, which could be considered inappropriate for the over 40s. I would definitely not wear distressed denim with a crop top (or even a slouchy jumper), but I believe it looks fabulous with a crisp white top and a structured blazer.
Similarly, I would always apply the age-old rule of legs or cleavage but never both, so if I'm wearing a short skirt, I will choose a less revealing top!
Would you say that at this stage of your life you are now more, or less interested in fashion, style and the way you look?
I am definitely more interested in fashion and the way I look now and I cringe when I see photos of myself from twenty years ago (probably because I tended to follow fashion trends to the letter without taking account of whether they suited me or not!)
I think this is partly due to the fact that previously I had less time available, between bringing up a family and concentrating on my career, there was little time left to peruse fashion magazines!
As my daughters have grown up I have started perusing fashion magazines with them and have had more free time to develop this and other interests.
Why is the way you look important to you?
I think it is a question of confidence and personal satisfaction. I like to take my time to get ready and aim to look as good as I can. If you believe you look good then you feel good, and sometimes something as simple as wearing a favorite dress or a treasured item of jewelry can lift your mood!
Do you follow trends? And if yes, which trends excite you at the moment?
Again, Yes and No! I do follow fashion trends but I am not a slave to fashion! My advice would be to 'splurge' on classic, timeless pieces that you will wear year after year and to 'steal' on the new trends, as you will not get so much wear from them.
I will also only adapt a new fashion trend if it flatters my body shape.
At the moment, I love the 'off the shoulder' look and romantic ruffles. I am also very keen on the neutral trend and pastels (such as the Pantone colors of the year – serenity and rose quartz).
I also really love lace up sandals, as I think they are a bit different.
However, I will be avoiding the nightwear/pajama trend and low-slung pants, and I remain wary of mesh. Remember 'fashion trends come and go but style lasts forever'
Do you have any fashion and style tips for women over 40?
I think the most important advice for women over 40 (or any age) is to wear what you love and feel good in, and don't be afraid to step out of your comfort zone.
If you love it, buy it BUT don't rush into adopting a new trend if it doesn't work for you (i.e. suit your body shape and coloring) and pair any new trends with trusted favorites to make sure you keep your personal style.
Invest (splurge) on classic, timeless pieces and have fun (steal) with new trends, and make sure that whatever you choose flatters your body shape (highlights what you love and hides what you don't)
Lastly, have fun. We are so lucky to be over 40 at a time when there are so many fashion trends out there and such a great source of inspiration from all my fellow mid-life bloggers!
What are your plans for your website and Instagram page and how do you see it develop over the coming years?
In the short-term, I really want to work on improving the quality of my photos; as for the moment I am just using an I-phone. If anyone has any tips I would love to hear them.
I have also been co-hosting a Style Challenge on Instagram this month and I have loved seeing all the amazing looks of other bloggers. I would love to do a monthly post on my blog and/or Instagram featuring my favorite looks from other bloggers.
By the fall, I hope to add personal styling services and a look book to the blog to provide inspiration and style advice, with a range of on-line and face to face services, such as special event styling, personal shopping, color and body analysis, wardrobe detox and girls' fun nights.
In the long-term I would love to develop a business with my daughter but that will have to wait until she is more advanced in her fashion degree and I'm not sure how that will pan out for now.
Anything further you would like to add?
The best thing about becoming an 'over 40s' blogger has been the new friends I have made through blogging and I am so grateful to be a part of this exciting community.
I also want to thank Sylvia and the 40plus team for featuring me on 40+Style.
Visit Julia at The Velvet Runway and @Thevelvetrunway for Instagram!
Which of Julia's looks is your favorite?

Like this post? Share it on Pinterest!
Want to get more articles from 40+style in your inbox, subscribe here.
You can also connect with 40+style on Facebook, Instagram or Pinterest.
Support 40+style by using the links in our articles to shop. As an associate for Amazon and many other brands, we receive a small commission (at no cost to you) on qualifying purchases which enables us to keep creating amazing free content for you. Thanks!