I'm back in Singapore again trying to overcome my jetlag. Although I'm making good progress, I don't much feel like posing for photographs yet! So instead I decided to highlight some amazing style that has been showcased in my style forum lately!
You all know stylish Greetje already as she recently gave us all a style lesson on how to have fun with fashion, but she is going from strength to strength when it comes to her dresssing. I love the white dress with purple dots above and her graphical outfits below. 
The seeker showed us all that it's great to have fun with fashion and colour after 40. Below is a great combination with an artful t-shirt combined with orange pants.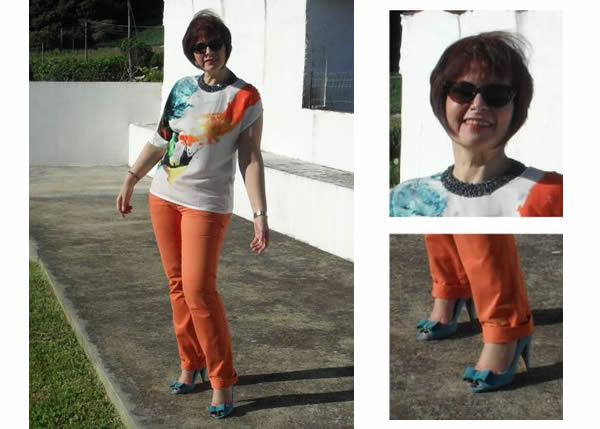 And she looks smashing in these beautiful flower pants too.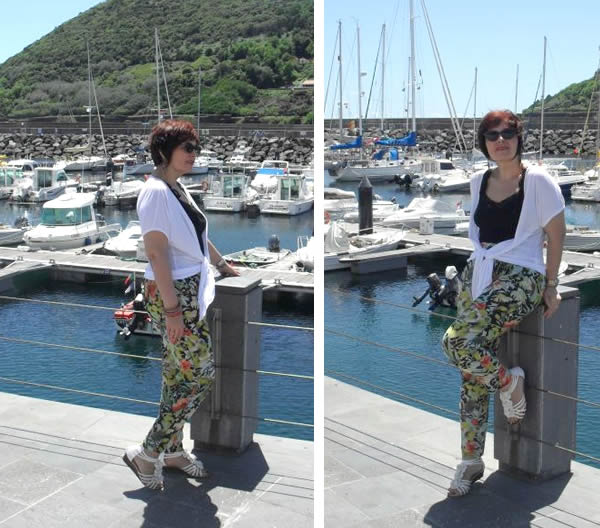 Last but not least there is Marianne. Although she suffers from MS, she told us that she never stops loving fashion and really likes to dress up. Here is what she says: "I am 64, have very little money and move around in a wheelchair. Nevertheless I make the effort to put on make-up when I go out. And I try to dress nicely which is not an easy task as I have a huge tummy to hide. But I still want to look nice".
She is a huge inspiration to me!
Linking up to visible Monday.
There are lots more looks in the style forum, so I hope you come and join us. you can showcase your style or ask questions about how to dress after 40, style, beauty or chat about anything style related really!