I'm not sure if I ever showed you a picture of me wearing jeans on this blog, which is basically because I hardly ever wear jeans in Singapore.
I wear them quite a lot on holidays, so you may actually see them more often the coming months. However, some of my readers requested that I posted a jeans look, so here it is. 
The reason I don't wear jeans very often is basically because I find them too hot in Singapore and I prefer a casual dress or light cotton pants.
I also like to be a little more dressed up when I step out. Since I work from home I dress very casual (shorts and singlet, the less the better) in order to be comfortable in the heat, so when I go out, I like to make a bit more of an effort.
Another reason I don't them so often is that I find jeans not to be my best look. I have a flat bum so it's hard to find any jeans that makes it look great.
It does not help of course that I do not spend the time to look for those perfect jeans. I find shopping for jeans extremely boring so I never really want to make the time for it.
Check out my recommendations on how to wear jeans and the best brands for jeans.
I stumbled on these jeans a few years ago. I liked the dark colour and the bootleg cut plus it had my other requirement which is stretchyness. They were also long enough to wear with mid high heels. Here I wear it with flats which is not ideal for these pants.
Of course you can argue that the fit of the jeans are not perfect. They are perhaps a bit too loose. But in the end I buy jeans for comfort. I tried a smaller size, which quite honestly looked really good. It fitted nice and tight and my bum certainly looked better.
The downside (which is huge for me) was that it was not comfortable. I have learned that I will not wear clothes if they are not comfortable, no matter how good they look. So instead I went for the bigger option, with a more loose fit.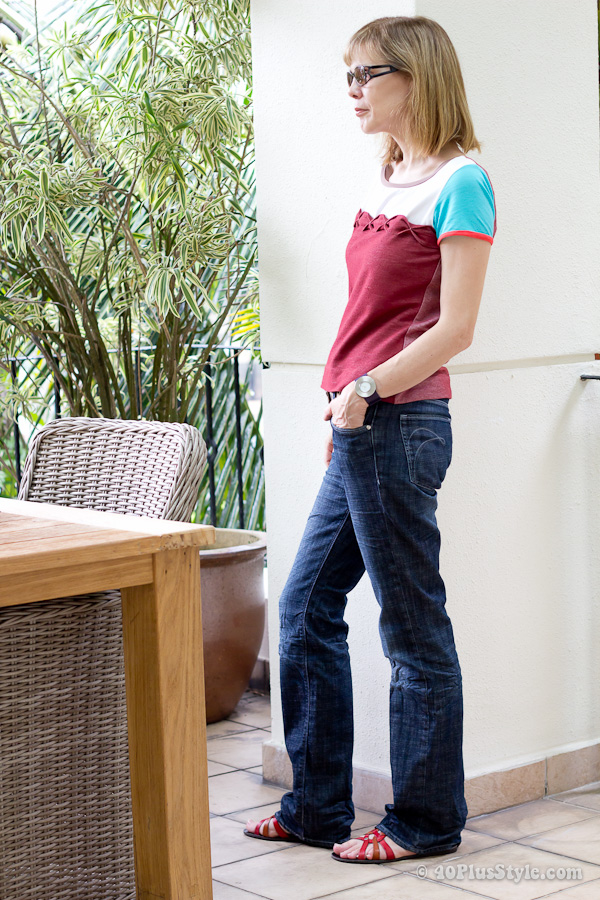 I am sure I would wear jeans much more frequently if I would still live in Europe. I find that they can be extremely stylish when combined with a nice blouse and jacket or just a funky top.
The look I'm presenting here is very casual as it's worn with just a t-shirt. But at least the t-shirt is fun and colourful and just a bit different from your ordinary t-shirt. That to me makes this outfit still interesting.
My future jeans?
As I already discussed in my article on how to wear jeans over 40, I feel that women over 40 look best in jeans that are dark. So for my next jeans I would want to have one that is completely dark blue, without any faded areas and also without any crumples.
I would probably still go with the bootleg cut as I find this style is the most elegant and they are great to wear with a small heel, which further elongates the leg.
I will just have to bump into one though as I'm not going to shop for it specifically. I find it much more fun to shop for new creative clothes with new ideas, colours and patterns!

Blue Jeans: H&M (old)
T-shirt: Alldressedup (old)
Shoes: somewhere in Italy
So how do you feel about blue jeans? Is it a wardrobe staple for you or do you prefer dressier items?

Want to get more articles from 40+style in your inbox, subscribe here.
You can also connect with 40+style on Facebook, Instagram or Pinterest.
Support 40+style by using the links in our articles to shop. As an associate for Amazon and many other brands, we receive a small commission (at no cost to you) on qualifying purchases which enables us to keep creating amazing free content for you. Thanks!