When I came across this quote from Diana Vreeland,
"Too much good taste can be boring"
I knew I had to feature her as a style icon.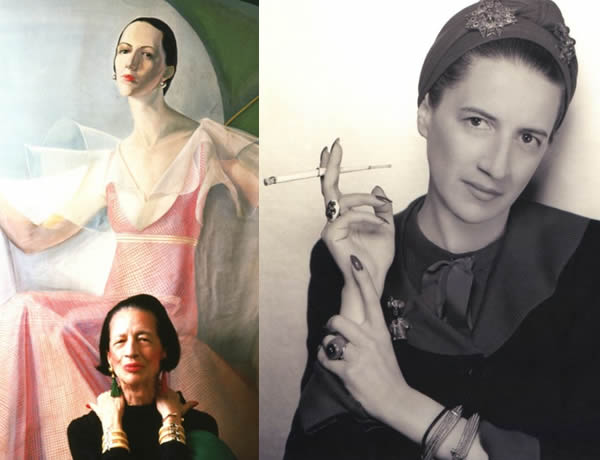 Photos by Jonathan Becker and Hoiningen-Huene
Who is Diana Vreeland?
The name of Diana Vreeland comes back again an again in fashion land as she was very influential for fashion in the 1960s. Vreeland, born as Diana Dalziel in 1903 in Paris, was the eldest daughter of American socialite mother Emily Key Hoffman and British father Frederick Young Dalziel. Growing up in affluance she later married the banker Thomas Reed Vreeman with whom she had 2 sons.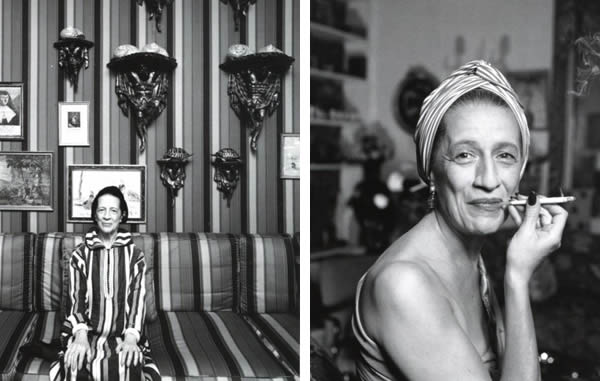 Photo by Richard Avendon
"You gotta have style. It helps you get up in the morning. It's a way of life. . . . And I'm not talking about a lot of clothes."
Working at Harper's Bazar
She started her publishing career in 1937 after moving from London to New York as a columnist for Harper's Bazar. Reportedly she got the job after she was spotted dancing in a Chanel dress by editor Carmel Snow.  She wrote a column called "Why don't you" and is said to have discovered Lauren Bacall in the 1940s. During her period at Harper's Bazar she worked extensively with famed photographer Richard Avendon who famously said: "She was and remains the only genius fashion editor".
Photo by George Platt Lyons
Working with Jackie Kennedy and Vogue
She also advised Jackie Kennedy what to wear during the inauguration of John F. Kennedy and other important occassions and introduced her to Oleg Cassini, who would become her personal designer. They remained lifelong friends.
She joined Vogue in 1963 where she stayed until 1971. Of her work at fashion magazines she commented:
"What these magazines gave was a point of view. Most people haven't got a point of view; they need to have it given to them-and what's more, they expect it from you. […] t must have been 1966 or '67. I published this big fashion slogan: This is the year of do it yourself. […] Every store in the country telephoned to say, 'Look, you have to tell people. No one wants to do it themselves-they want direction and to follow a leader!'"
Photo by Louise Dahl-Wolf 
About the changing style in the 60s
"The idea of beauty was changing. If you had a bump on your nose, it made no difference so long as you had a marvelous body and good carriage. You held your head high, and you were a beauty. . . ."
She featured lots of street fashion in her pages and created features that combined fantasy with glamour. She was later fired from Vogue in 1971 (appearantly due to excessive spending) after which she started working for the Metropolitan Museum of Art.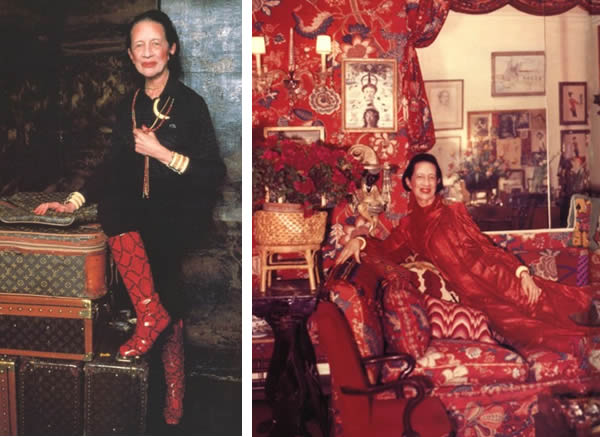 Photo by Jonathan Becker
Trailer from 'The Eye has to travel'
What is style according to Diana?
"Well, style is a word, it has only recently be taken up you know"
Diana Vreeland died on August 2, 1989, but her memory lives on… You can read more about Diana Vreeland in her outobiography and the book Diana Vreeland by Eleanor Dwight.
"Style is something you're born with, you don't acquire it"
What do you think of that last style statement? Do you agree with her? (I don't and here is why)

Like this article? Save it on Pinterest!
Sources: Vogue, New York Times
Want to get more articles from 40+style in your inbox, subscribe here.
You can also connect with 40+style on Facebook, Instagram or Pinterest.
Support 40+style by using the links in our articles to shop. As an associate for Amazon and many other brands, we receive a small commission (at no cost to you) on qualifying purchases which enables us to keep creating amazing free content for you. Thanks!