Even though the Bauhaus school existed only for 14 years and closed 79 years ago, its influence is still felt today. Not only do you see Bauhaus influences in streets, interiors and furniture design, but also in the classroom where its teaching strategies are still commonly used. In fashion too, many designers are still inspired by the Bauhaus movement.
For those of you who have no clue what Bauhaus is: Bauhaus was a school in Germany that combined crafts and the fine arts, and was famous for its approach to design that it publicized and taught. One of the main objectives of the Bauhaus was to unify art, craft, and technology. The use of graphical shapes, different materials and colours are just some of the elements of designs inspired by Bauhaus.
Caroline Herrera
I now understand why I loved Carolina Herrera's spring / summer 2012 collection so much. It was inspired by Bauhaus. Have a look at the collection below.
Hussein Chalayan
Another great example is the work of Hussein Chalayan who applies the Bauhaus' principle of Function over Form and whose work blurs the distinction between art and fashion.
Have a look at this great video where the furniture is transformed into fashion.
Although many of Chalayan's collection were very conceptual, his latest spring / summer 2013 collection was very wearable and absolutely amazing.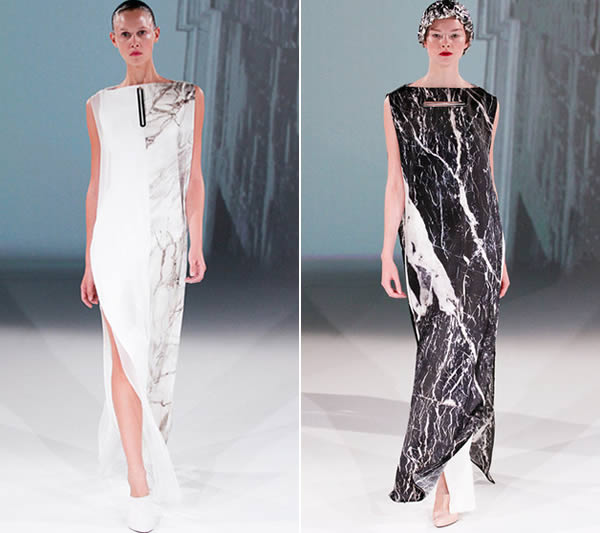 The theme was 'seize the day' where the designer tried to make ordinary day-to-day situations as wearable as possible. Of his progression as a designer he reflected after the show: "The first step was creating my own style. Now I want to see it on people. I want to fill the gap between fantasy and reality, because people only ever show the showpieces."
Bauhaus & me
I'm getting closer to understanding my own style  and I feel that Bauhaus is a big part of it. The clean lines, the use of colour, geometrical forms and the use of complementing materials are all elements I like in my clothes.
My love for Bauhaus influences is not something new. Bauhaus actually formed the basis of a project I did for the School of Colour and Design I attended in Sydney. It was the first website I ever created and the topic was on Bauhaus and Colour. It's a small site that I still kept on my computer and I will share it with you today. The teachings are still relevant and can educate you a bit more on colour theory and Bauhaus itself. The site was created in 2000 when the internet was still very much in its infancy. Screen resolution was low and at that time the site filled the whole screen. There were only 250 'websafe' colours. So it's a bit like stepping back into time and it's hard to believe it has been 12 years ago already….
The easiest way to navigate this small site is through clicking the "next page" link at the bottom of each page. An interesting detail is that all of the colour swatches on the site were hand painted by myself!  Have a look!
Which style / design movement influences your style?

Images by Style.com
Want to get more articles from 40+style in your inbox, subscribe here.
You can also connect with 40+style on Facebook, Instagram or Pinterest.
Support 40+style by using the links in our articles to shop. As an associate for Amazon and many other brands, we receive a small commission (at no cost to you) on qualifying purchases which enables us to keep creating amazing free content for you. Thanks!