Many of you will know the blog Advanced Style where Ari Seth Cohen takes beautiful images of 50+ ladies looking absolutely fabulous. Often the women are much older than that.
The blog became a big success as people all over the world marvelled at the zest for life these women had. They showed us that life does not end at 60. In fact many of these women seem to experience the best years of their life.
For all of them fashion and style is a big part of that. They get enjoyment out of the art of dressing and presenting their unique selves to the world.
In 2012 the Advanced Style book was released and now there is also The Advanced Style movie which will have its New York debut on 26 September.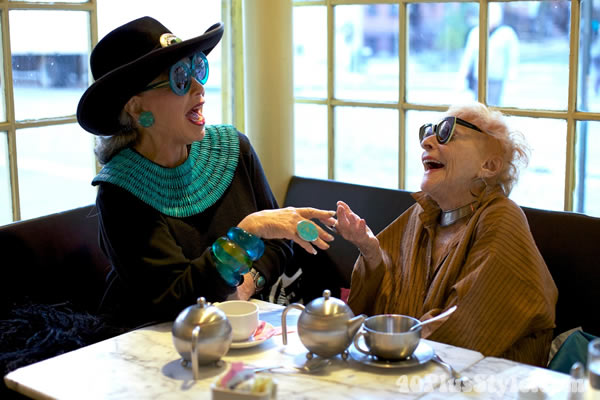 I was fortunate to get an exclusive preview so I could review the film for you. Here is a quick video preview for you as well.
If you follow the Advanced Style blog frequently, you will already recognise its main characters…
What is special is that now you get to know them on a different level. You see their style, experience their unique characters, get in touch with their vulnerabilities and basically admire them even more.
Ilona Royce Smithkin (91)
Ilona is the petite and feisty redhead with the orange eyelashes and a heart of gold. Full of lust for life and STILL doing art training workshops and performing on stage. At 91 she feels at ease. Happy with all the things she has done in life and content with every moment that she still has. She will do as much as her body allows her.
Jacquie Tajah Murdoch (84)
Jacquie grew up in Harlem and is well known for her lifelong career as a dancer especially at The Apollo Theatre in Harlem. A very interesting character with a rich history who got featured in a recent Lanvin campaign.
Debra Rapoport (69)
Debra is a textile designer, visual artist and, as she refers to herself, a "manipulator of materials," who is so accomplished that her work has been exhibited at The Metropolitan Museum of Art.  Debra believes that you are never too old to dress up and be your most creative self. A true free creative spirit that is inspiring to watch.
Joyce Carpati (82)
Joyce is the chicest of the ladies featured. She splits her time between Paris and New York and still works as a beauty consultant. I'd love to know her beauty secrets as her skin just looks amazing! She was also an opera singer and marketing manager at Hearst Magazines. "I don't think I've ever lost my style," she said. "I don't even go outside in the morning unless I make sure that I look presentable. This is the way I am. I love clothes'.
Zelda Kaplan (1916 – 2012)
Truly inspiring to watch, Zelda Kaplan was a fashion fixture for the last 40 years of her life. Looking poised and stylish on the street and in her interview, you will shed a few tears as news gets out that she suddenly died sitting front row at a fashion show.
Lynn Dell (81)
Lynn is the fierce shop owner of "Off Broadway" who tells it like it is and is full of energy. For Lynn, it is her relentless focus on the unwavering aspects of womanhood that have allowed her to avoid passing trends and create stunning design concepts for women over 50 just like [her] who gain and lose weight regularly. It is this rare and innovative mentality that lent itself to her original creation, the "One Size Fits All Collection". Lynn believes that all women, regardless of size or age, should not only feel confident in their clothes but also in their bodies and she strives to create a look and feel that accomplishes such a feat.
Tziporah Salamon (64)
Possibly one of my favorite characters is the more vulnerable Tziporah who still dreams of finding the love of her life, preferably someone who already has children. She is a stylist, performance artist, model, and legendary style icon. A favorite subject of acclaimed photographers and artists such as The New York Times' Bill Cunningham, Iké Udé and Ari Seth Cohen, Tziporah elevates the act of dressing to an art form. She still teaches her intimate "Art of Dressing" seminars in NYC, Los Angeles, San Francisco, and beyond.
All these ladies will share their nuggets of wisdom on style in the film and you will learn something from all of them. You will be moved and you will be inspired and it will surely stop you worrying about getting older.
You may also be more daring or have more confidence with your own style.
Because ladies, style only gets better with age!
A digital version of the movie is available at Itunes and on demand.  The Advanced Style DVD is now also available for purchase at Amazon.
What do you think of the Advanced Style ladies? Do you intend to see the movie?

All photos by Ari Seth Cohen, New York City
Want to get more articles from 40+style in your inbox, subscribe here.
You can also connect with 40+style on Facebook, Instagram or Pinterest.
Support 40+style by using the links in our articles to shop. As an associate for Amazon and many other brands, we receive a small commission (at no cost to you) on qualifying purchases which enables us to keep creating amazing free content for you. Thanks!