In my previous articles, I spoke to you about traveling through Portugal and my big life change and moving to Portugal. Today let's talk about what to pack for Portugal and where to go in Northern Portugal.
For for the latest summer looks check out these new summer outfits.
Exploring more of Portugal
When we first arrived here last year, we were able to explore a big chunk of the country.
Now that we're nicely settled into Luz and were able to travel again, we were ready to explore the north as well.
I will show you what to pack for Portugal and how I packed for this 12 day trip. Of course I will also show you what we saw.
What to pack for portugal: Carry-on only
Even though we had a car for this trip, I have gotten used to traveling with a carryon suitcase only. It really makes it so much easier to move around. Since I'm not getting any younger, I don't really have the strength to carry suitcases up the stairs either. Even more important now as I broke my arm recently.
It's also easier to choose your outfit every day and to get your clothes from your suitcase into the cupboard. Benefits all around.
Still, you can pack a LOT. In this case I packed more than I needed, because I wanted to include many of my new clothes, so I could show them to you.
What to pack for portugal – what to consider
Northern Portugal in summer can be warm but there can also be cool days. Therefore it was important to pack a variety of clothes that would sustain me in any weather.
You can find the complete capsule wardrobe for Portugal below. Further down, I've also created a mini-capsule from this wardobe just to show how MANY outfits you can really create.
Creating the capsule wardrobe for northern portugal
I'm a big advocate of wearing your newest and most favorite clothes often. Therefore I always start with packing my newest and most favorite clothes first. After hardly buying anything for a year, I had recently done a shopping trip to Lisbon AND I got some new clothes from Stella Carakasi. The latter are all available for purchase online.
Bottoms
Regular readers will know that I've worn this brand a lot over the years. I still own many of my Stella Carakasi clothes and wear them regularly.
Stella Carakasi leggings
I'm a big fan of their leggings, so I opted to get 2 new styles. (to see how I wear them, check out this article on how to wear leggings.) I absolutely love their Second Nature leggings (which I wear both for sports and in day-to-day with tunics) so I wanted to try the new denim version of this style. I also wanted to try the Tencel Criss-Cross leggings which have a unique ankle detail.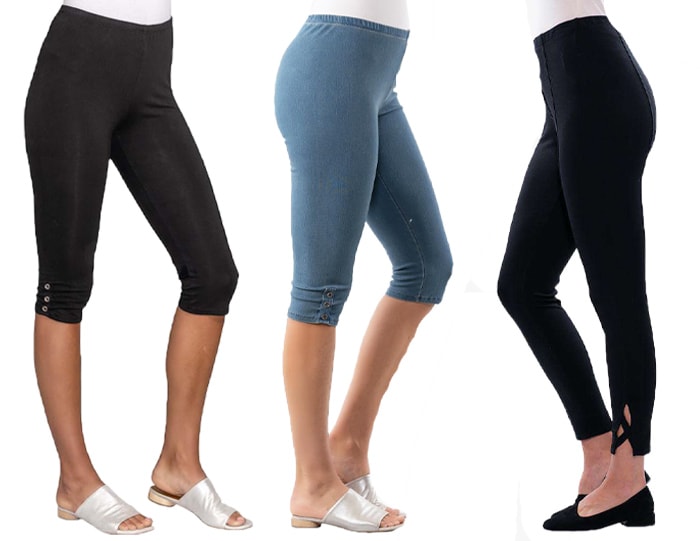 Second Nature capris – Denim knit Second Nature capris – Criss-Cross ponte leggings
White pants
My pencil white pants always go with anything (similar pants here).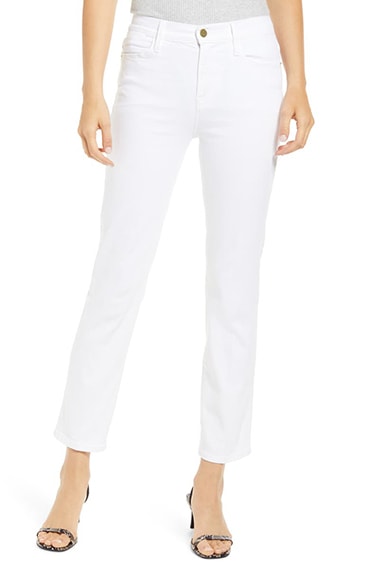 Black asymmetrical skirt
This is a new skirt that is very lightweight and very unique. It's super versatile for trips and everyday life. I could not find the exact same one online, but you'll find a similar skirt here.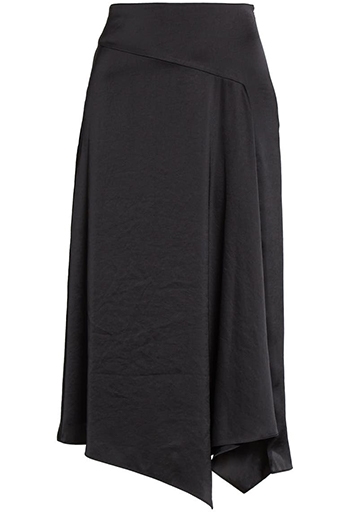 Tops
I also got some new Stella Carakasi tops. They are another favorite as they last a long time and are always of the best quality.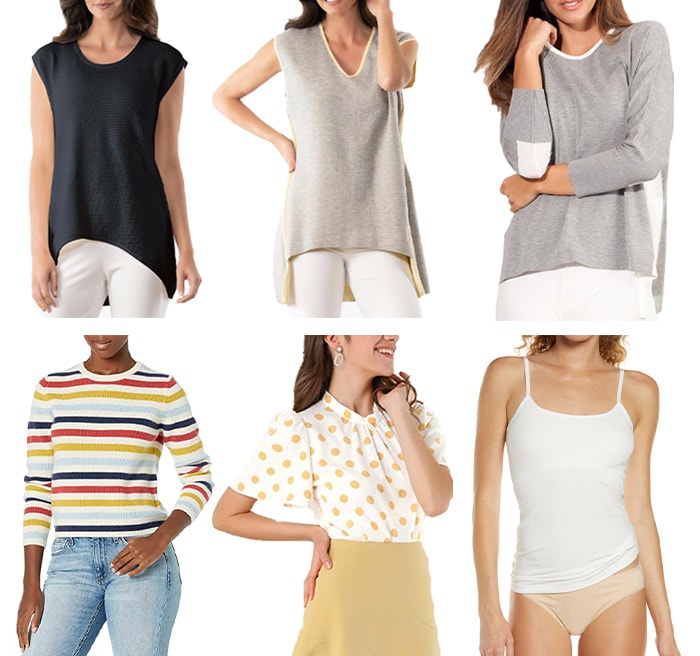 Stella Carakasi Starburst top – Stella Carakasi Reversible All You Need vest – Stella Carakasi One To Watch sweater
Velvet by Graham & Spencer stripe cashmere pullover – Allegra K polka dot blouse – Nordstrom camisole
Beach wear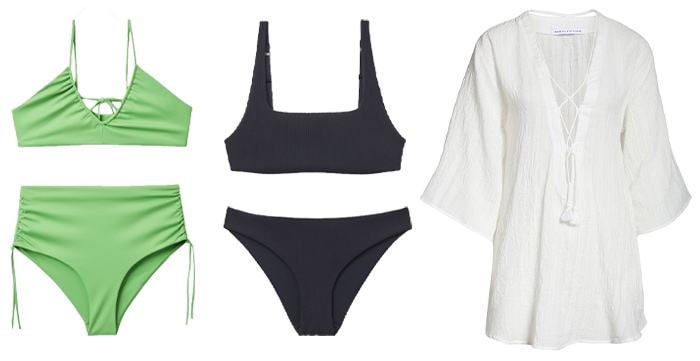 COS triangle bikini top / COS drawstring bikini bottom – COS square neck bikini top / COS bikini bottom – Robin Piccone tunic cover-up
Dresses
Although dresses are less versatile in a travel capsule wardrobe, I love wearing them so i packed a few.
Denim dress by Stella Carakasi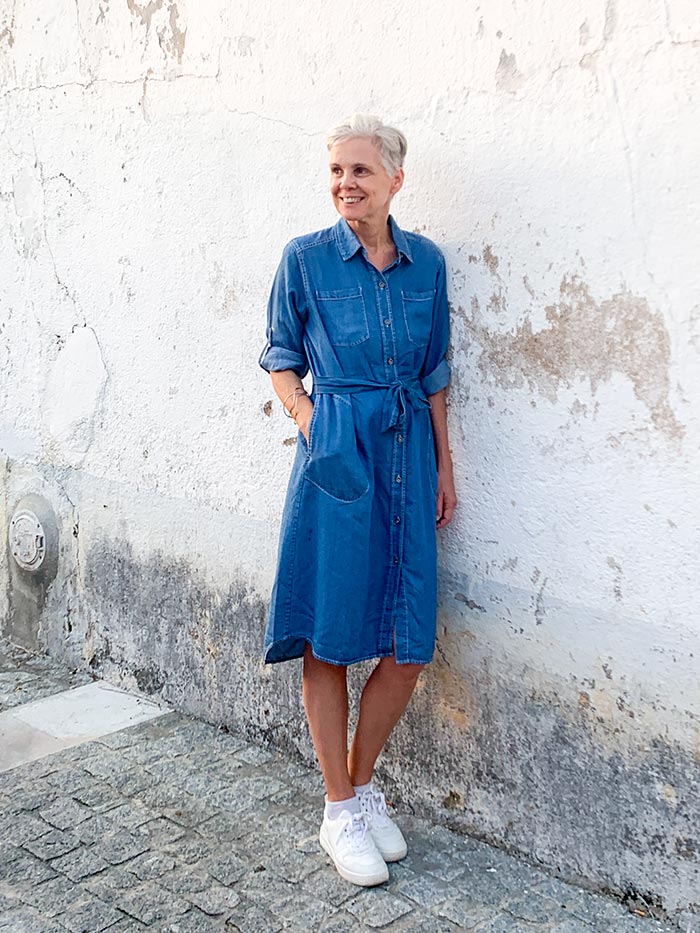 Check out the Perfect Shirt Dress. I love a good shirt dress as you can wear them both open as a jacket, with a belt or without. Super versatile.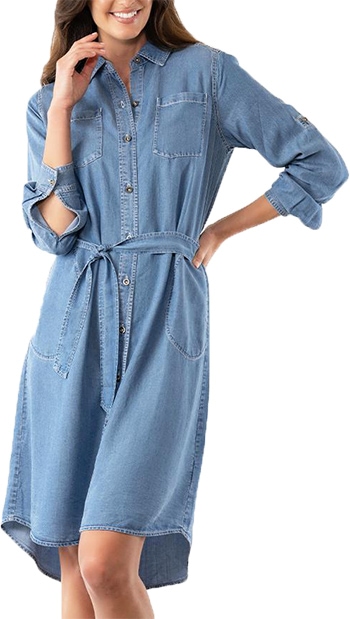 Stella Carakasi Perfect Shirt Dress
I also bought some new clothes in Portugal recently. I couldn't find all of these online, so I've added some similar items.
Colorful dress by Dreamcatchers (similar: TEMOFON, Lai Meng Five Cats, SheIn)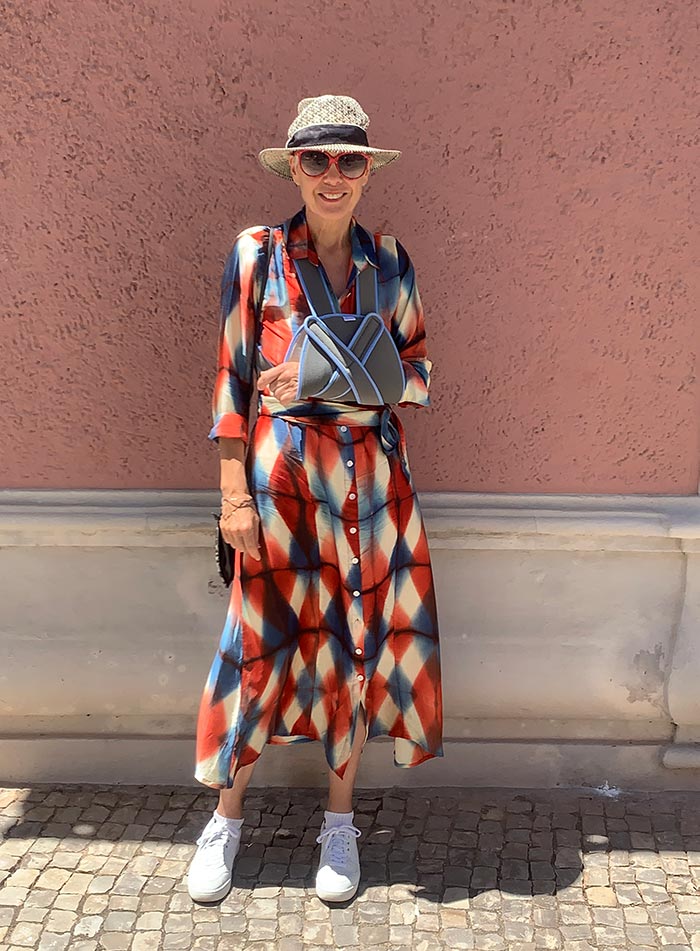 Blue striped dress by Numph (similar: levaca, SheIn)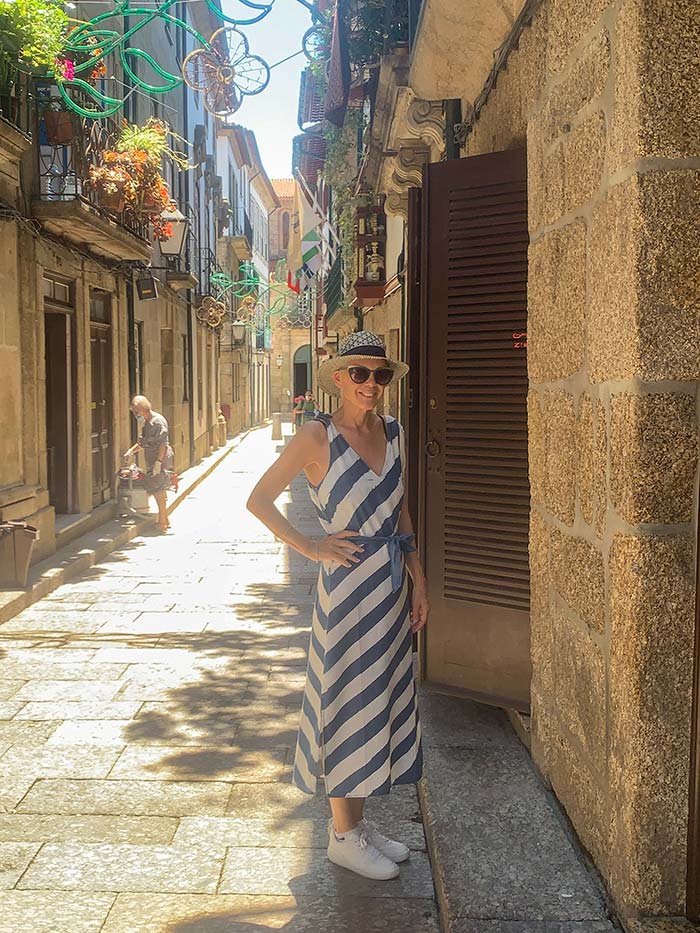 Brown striped dress, brand Numph (similar: SheIn, levaca, Maggy London)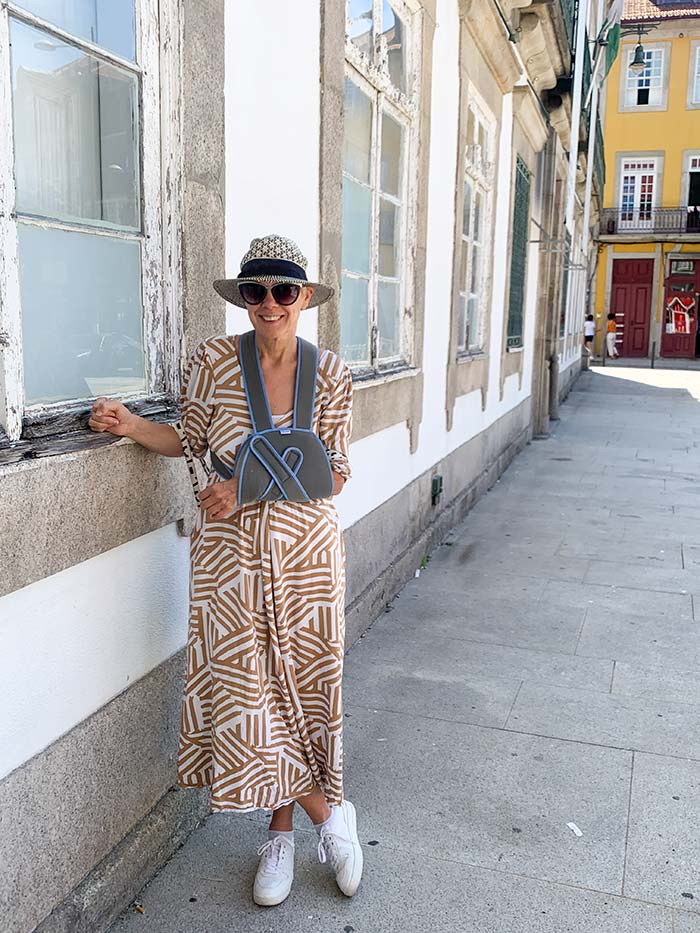 Brown Graphical dress by The White Raven (similar: SheIn, likemary, Sakkas, Molerani)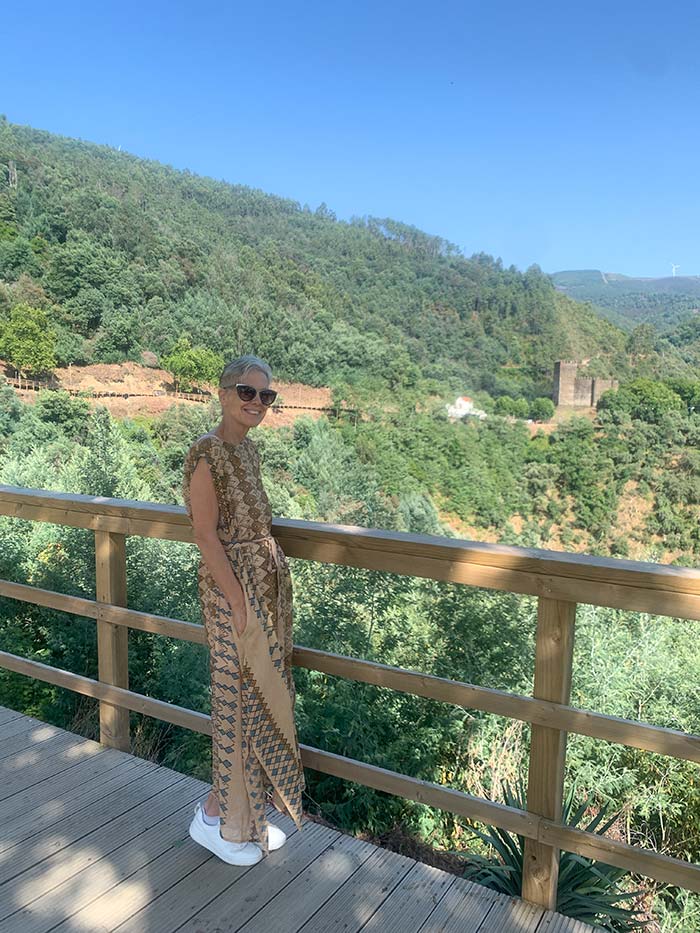 jackets
I never travel without some short jackets that I can easily pop in my bag. These ones are old, but I've added some similar items.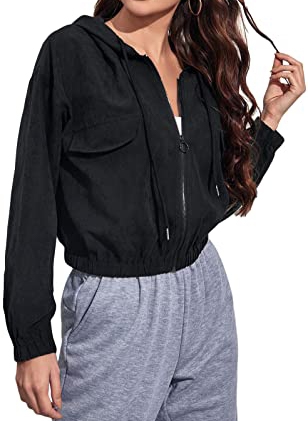 Shoes & accessories
White sneakers (similar here)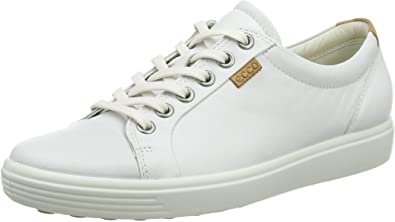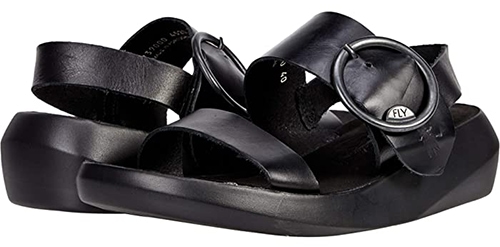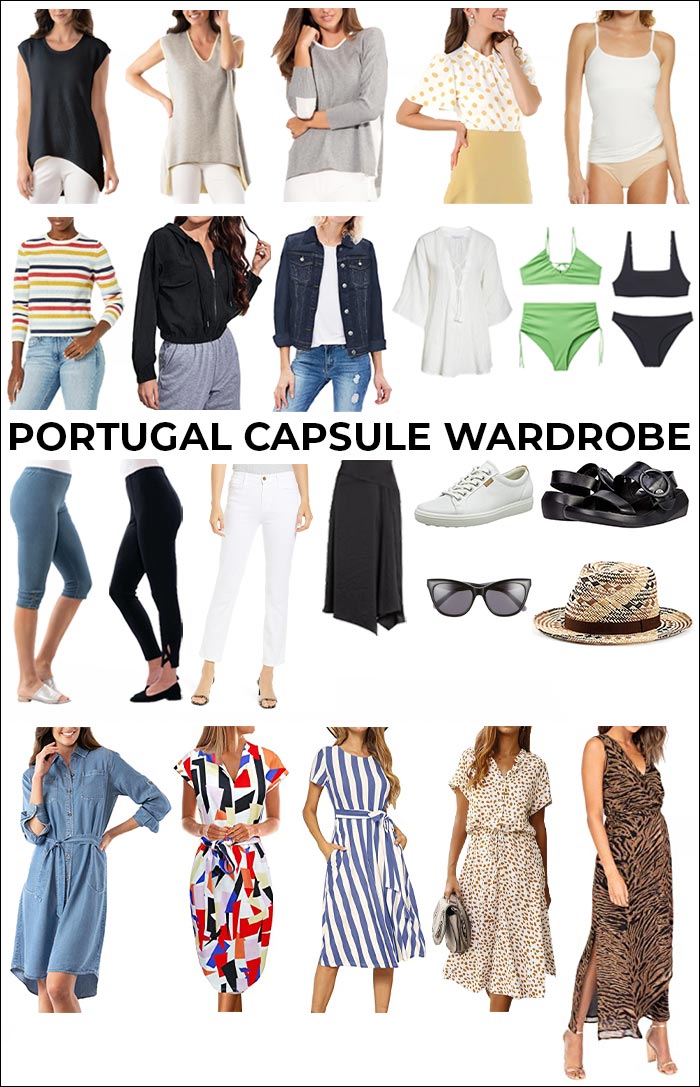 Things to keep in mind while creating your travel capsule
Here are a few things to consider when you're packing for a holiday
Don't be too color coordinated
Even though it's important to pack items that go together, not everything has to go with everything. Sometimes women tend to pack too similar colors which makes every outfit look the same.
Always pack layers
In most places you will experience different kind of weather. In Portugal it tends to cool down in the evenings. And there's always the fierce Atlantic wind to contend with. I packed 2 jackets and 2 sweaters for this trip. You can definitely suffice with just one of each.
Make sure to pack things that don't wrinkle too much
Unless you want to do a lot of ironing, keep that in mind when you pack.
Pack comfortable shoes
You have a lot of cobble stones and steep hills in Portugal. I happen to slip on one and broke my arm. So please, pack sensible shoes with a firm grip. Unless you have special parties planned, you can leave your heels at home.
What I explored during my trip through Northern Portugal
Let me take you on a quick trip of Northern Portugal and what I wore.
First stop Coimbra
Coimbra is one of the oldest cities in Portugal and the town is known for its old university. It's the Harvard of Portugal.
Lots of old university traditions are still honored here. You'll frequently find students walking in black costumes in the city which include their big warm capes. I've been told that they are very comfortable to wear in summer, but it's compulsory…
There's also a very old library here which will remind you very much of Harry Potter films. There's a bookshop in Porto that looks similar. JK Rowling lived in Porto and was definitely inspired by it (although she denies it).
Second stop Coimbriga Roman Ruins
This is Portugal's largest Roman site and it's very impressive too. Many mosiacs have been preserved and there are quite a few remains of the old villas. Make sure to get there early in the summer months as it quickly gets very hot!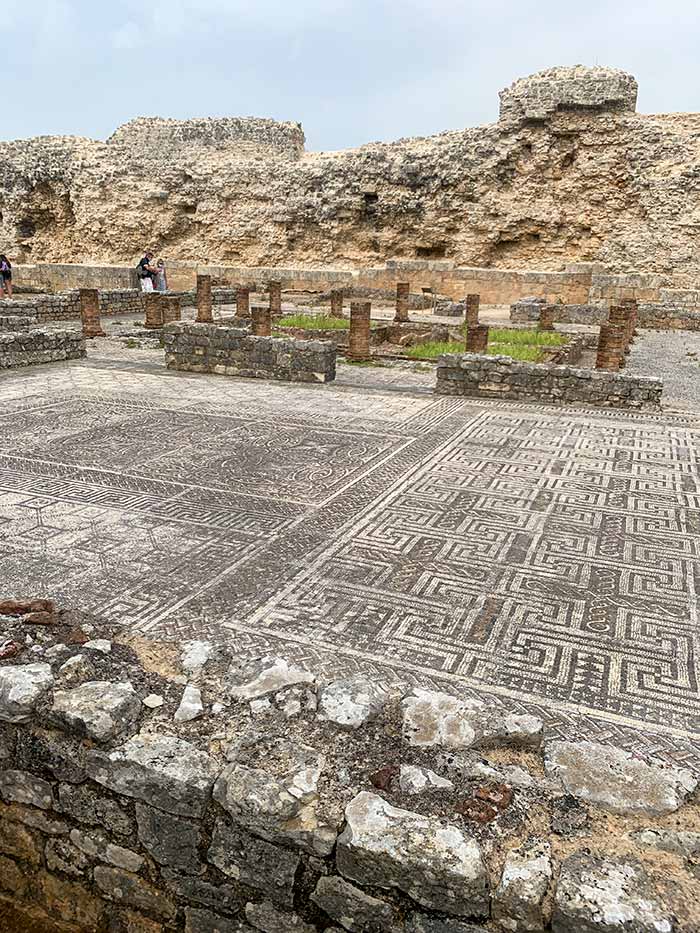 Third stop Serra de Estrela Natural Park
Serra de Estrala Natural Park is the largest protected area in Portugal. It has a very unique wild landscape. In winter you can ski here and in summer you can go on long hikes.
You can find castles hidden in the bush too.
Be sure to bring ALL your layers for this place as it's cold, even in summer.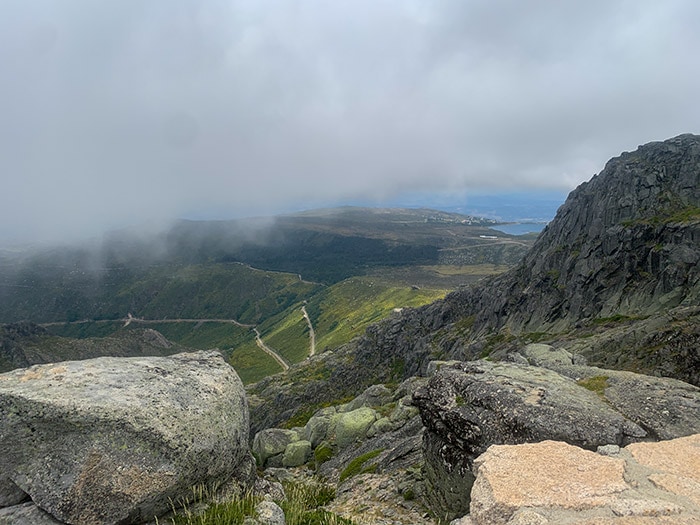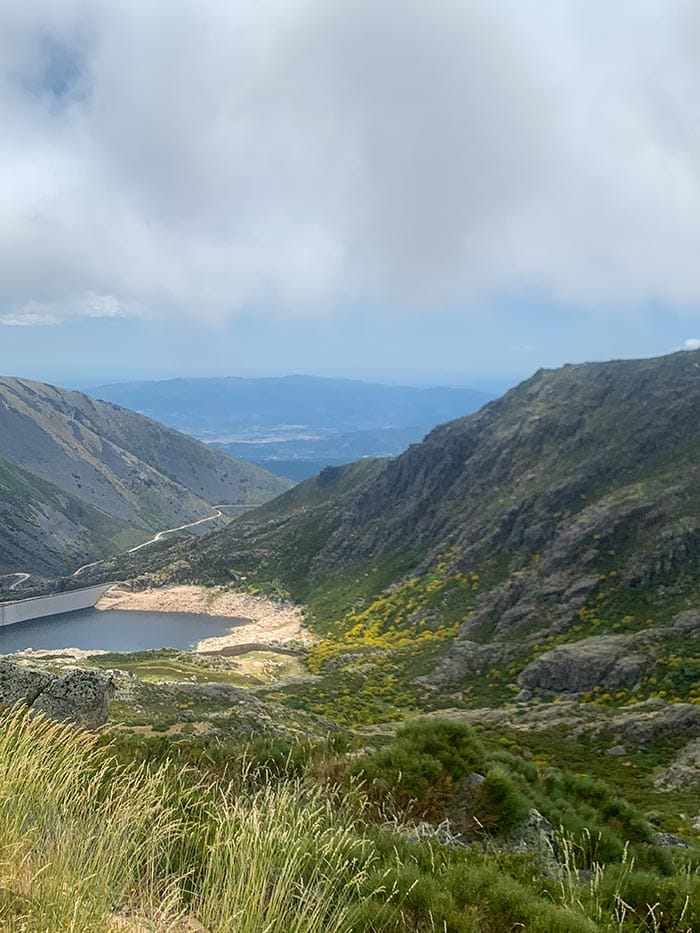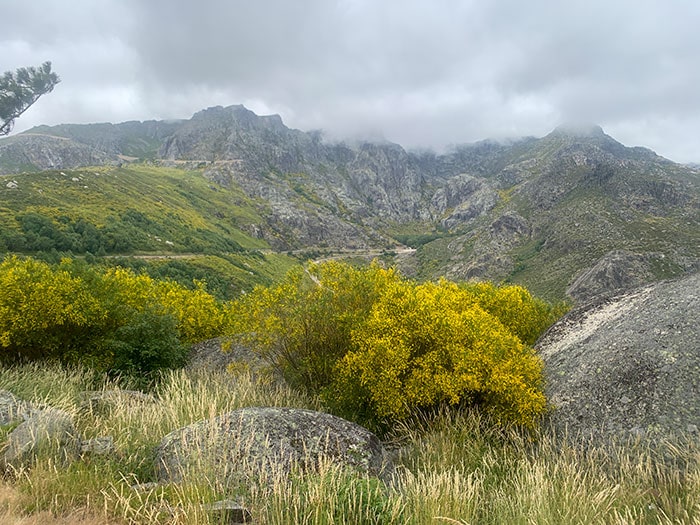 We stopped in the town of ?? where we ate the most delicious local Portuguese Goat and sheep cheeses.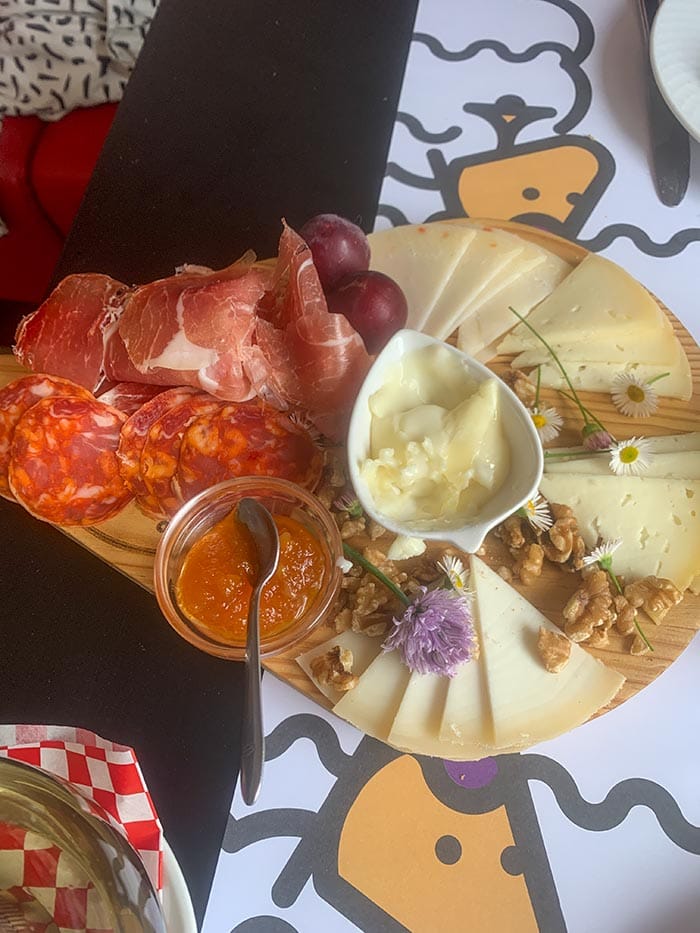 You can read more about this park here.
Fourth stop Aveiro
Aveiro is sometimes referred to as the Portuguese Venice due to its many canals and Venice style boats. It's a lovely town to explore and of course eat venitian style ice cream too.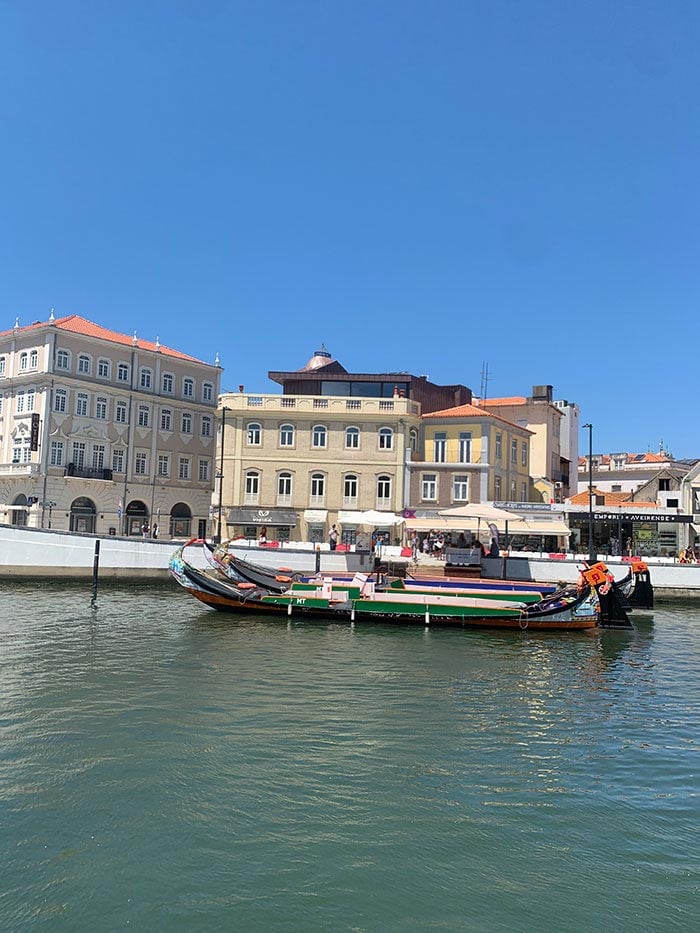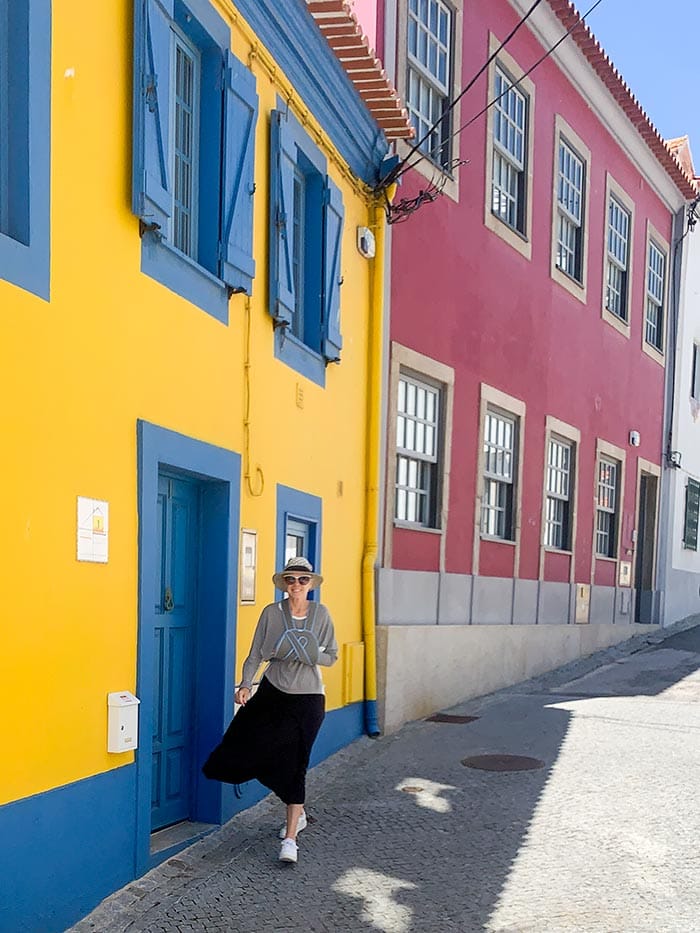 Shop the outfit above: Stella Carakasi sweater – asymmetric skirt (similar) – white sneakers (similar) – hat (similar) – sunglasses (similar)
Fifth stop Porto
Porto is Portugal's second biggest town and it's certainly one of the best. This city has a lot of culture and atmosphere. It also has a lot of rainy and windy days throughout the year, which is why it couldn't be come my hometown.
It is known for its many beautiful houses with Azulejos, the traditional Portuguese tiles.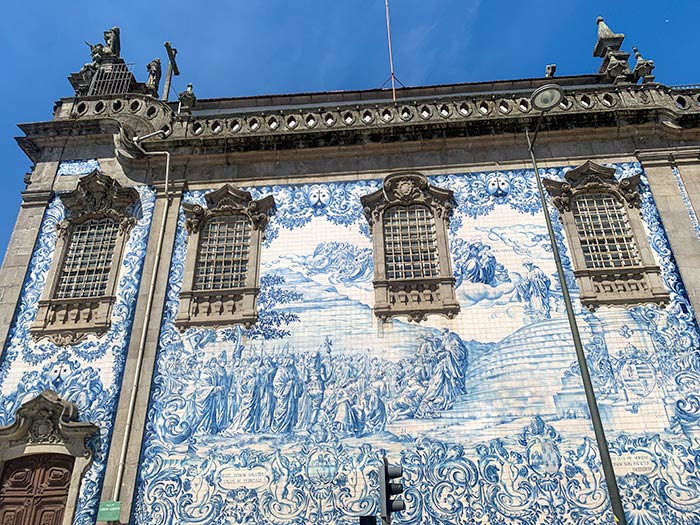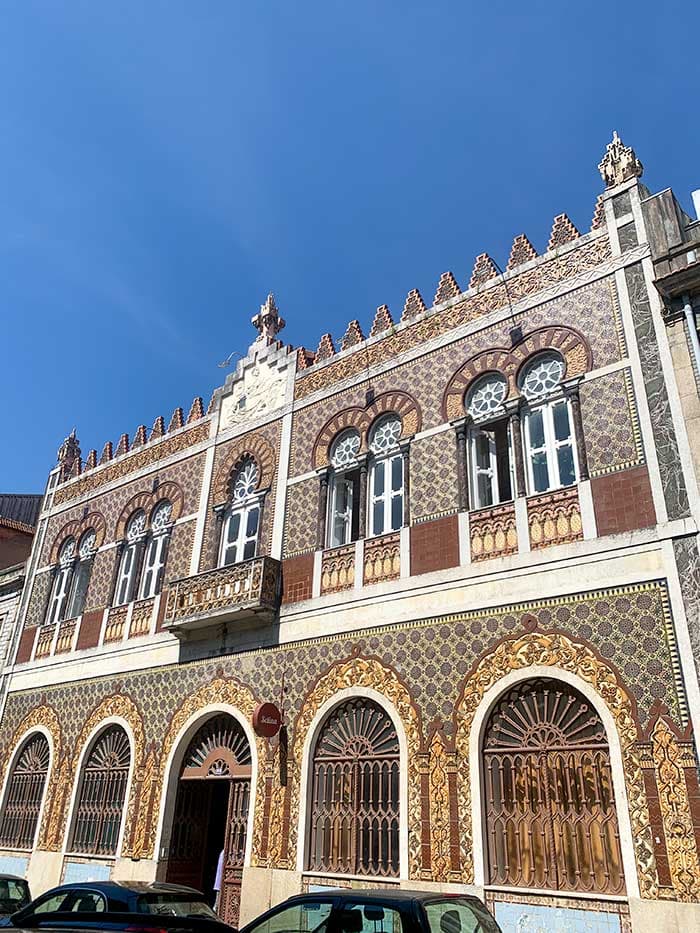 Some of these tiles are 3 dimensional.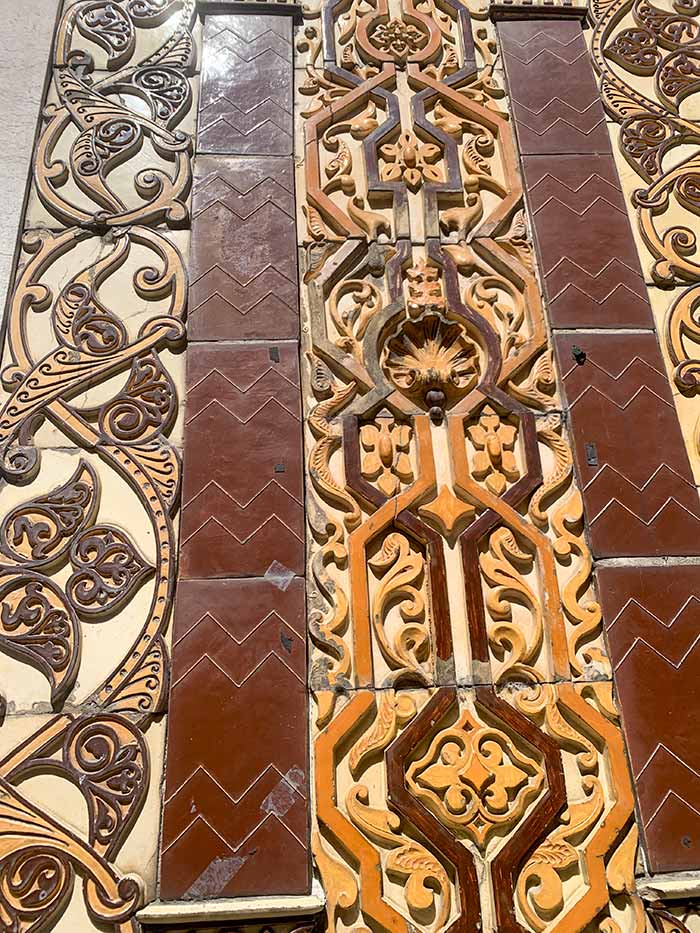 You'll find many beautiful artworks on the walls outside too.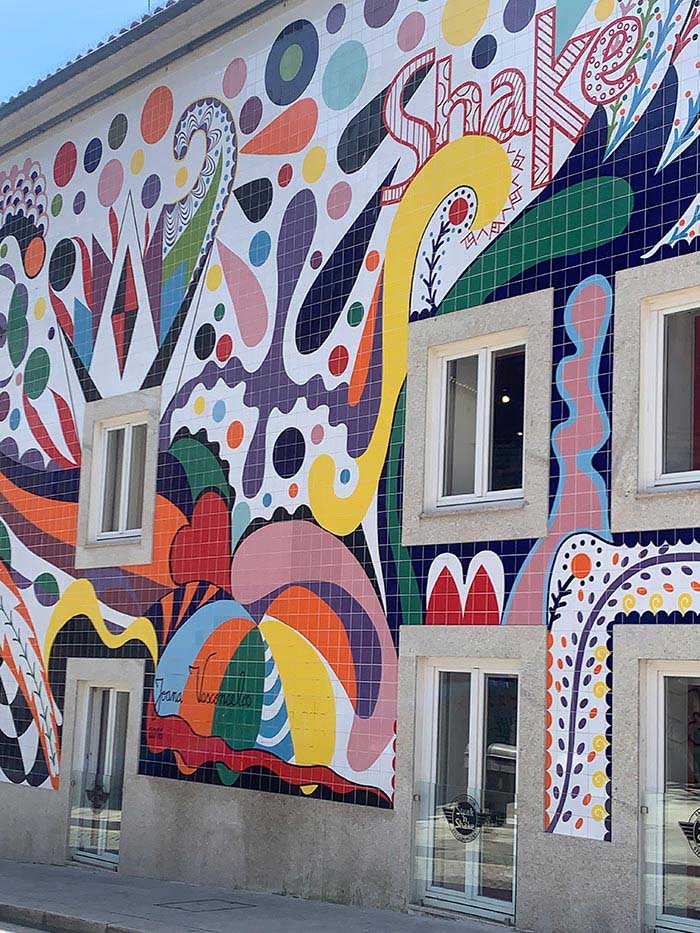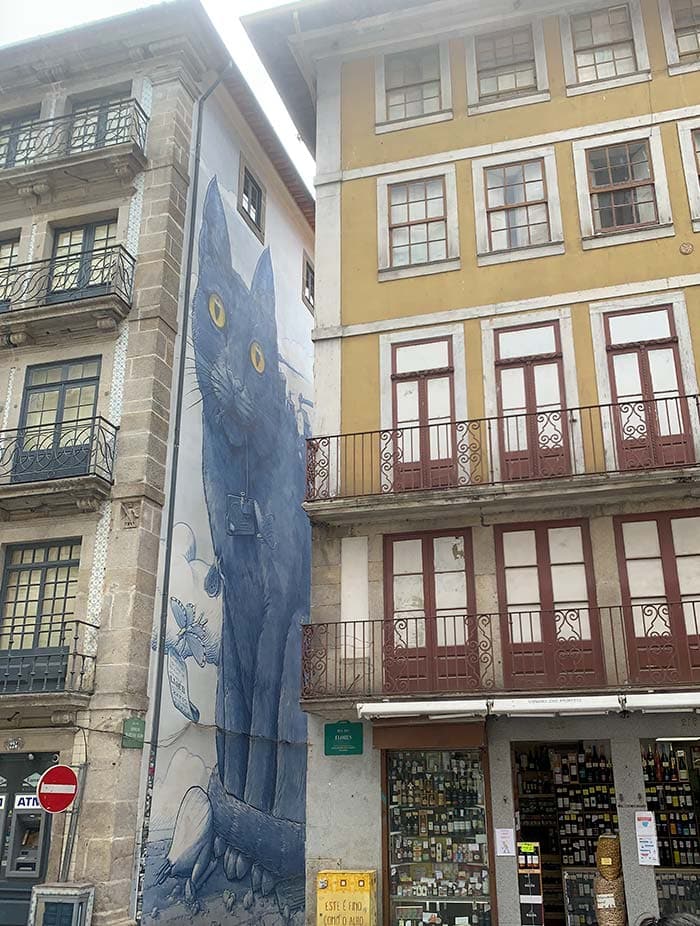 We loved the many restaurants and walking around the river. I can also highly recommend the World Of Wine museum. The permanent exhibition on wine is excellent but even better is their history of Porto permanent exhibition. I learned a lot more about the history of both Porto and Portugal.
Porto also has one of the most beautiful train stations in the world.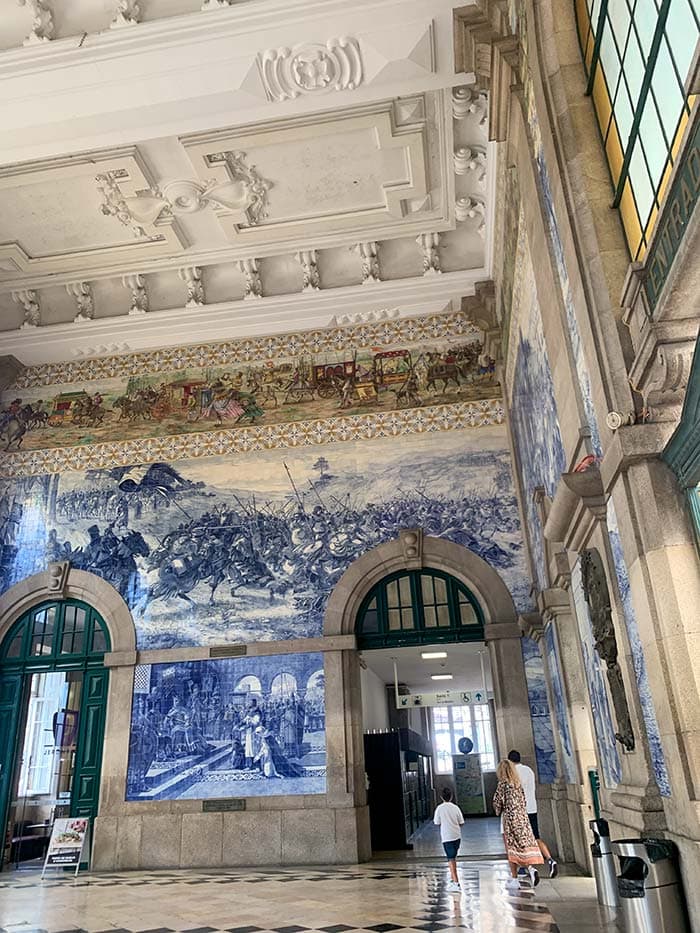 Porto is also known for its many hills. Right here I'm going down to the river.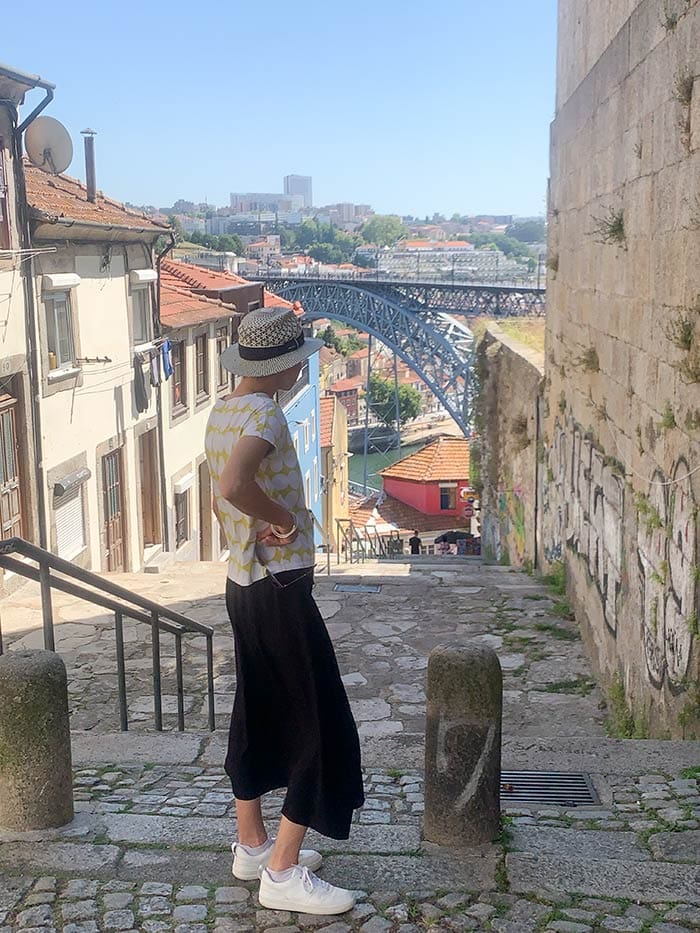 Shop the outfit above: graphical shirt (similar) – asymmetric skirt (similar) – white sneakers (similar) – hat (similar)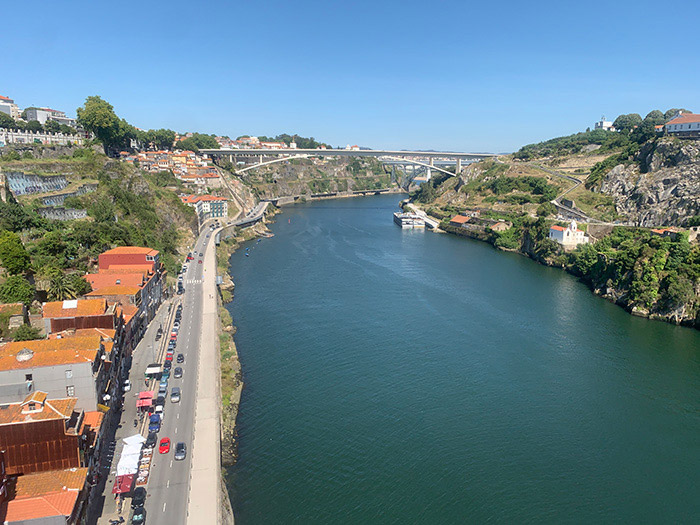 Sixth stop Guimaraes
Guimaraes has the distinction of being the place where Portugal was founded. Its historic centre is listed as a UNESCSO world heritage site and is incredibly well preserved with beautiful medieval streets.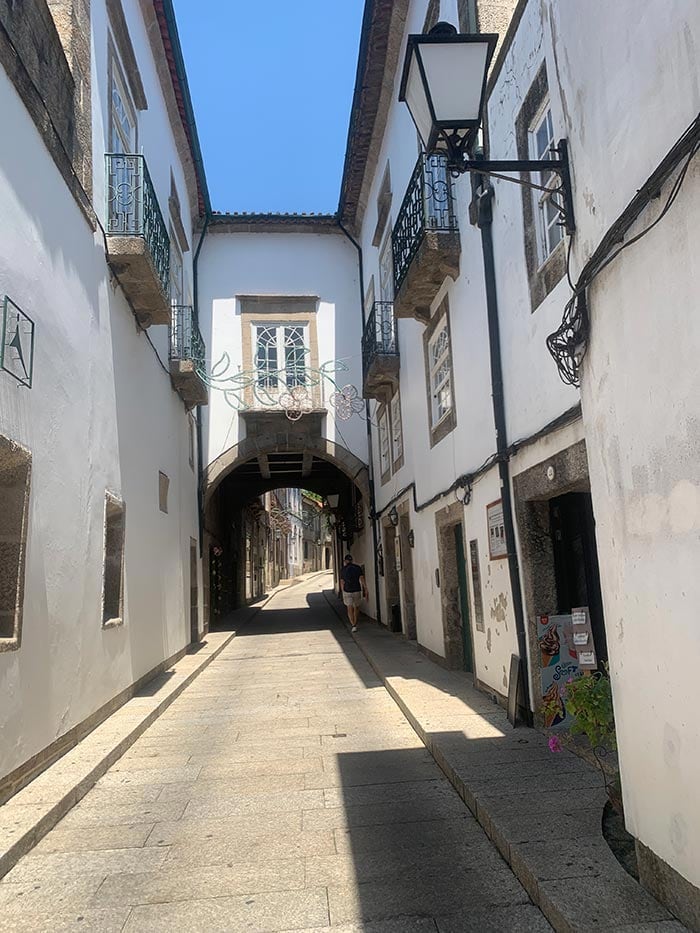 It's a pleasure to walk around and if we had had more time we would definitely have checked out more of its cultural heritage and museums.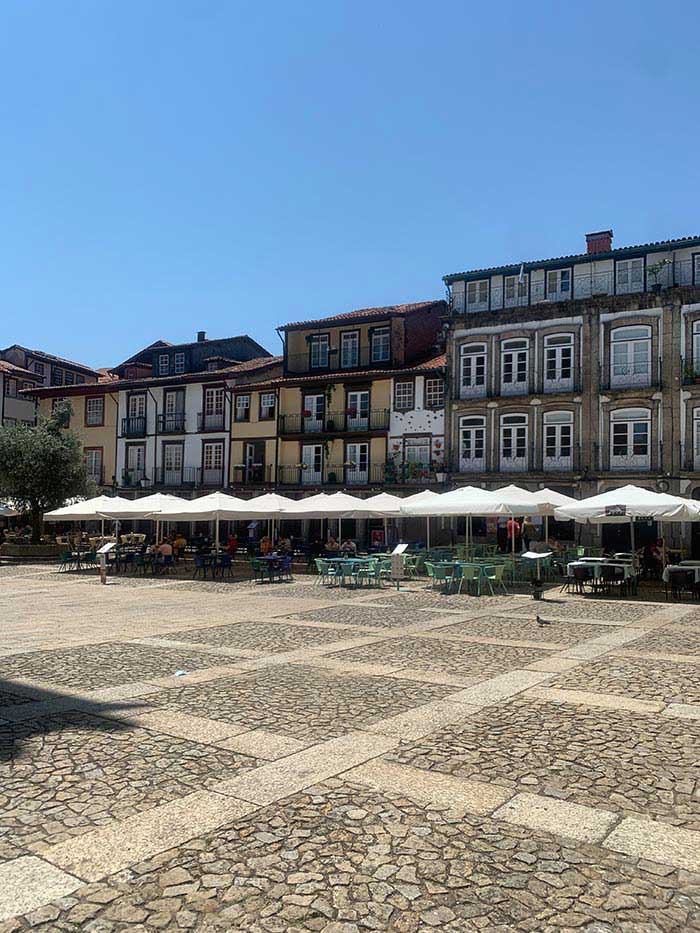 Seventh stop Braga and the parque nacional peneda geres
Eight stop Viano de Castello and Ponte de lima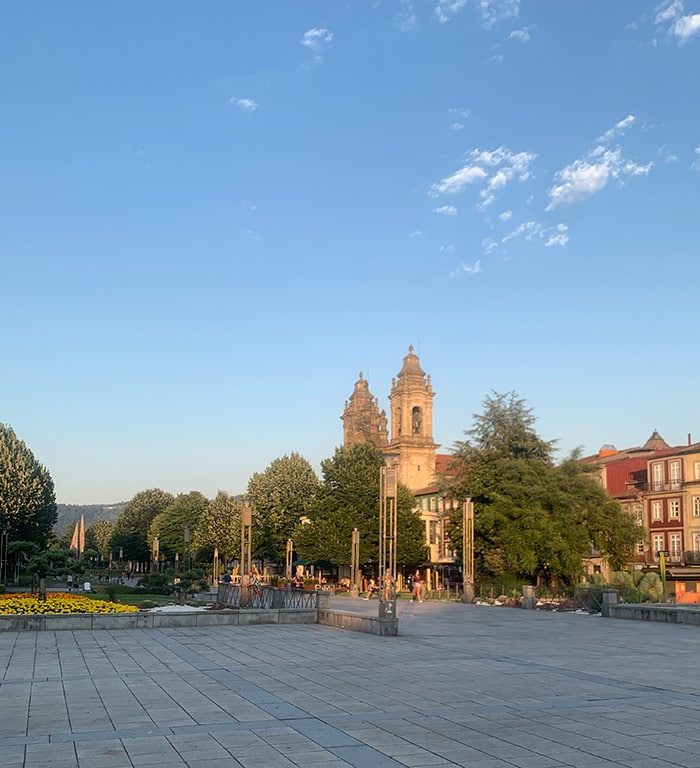 Shop the outfit above: Stella Carakasi vest – denim jacket (similar) – white jeans (similar) – white sneakers (similar) – sunglasses (similar)
From Viano de Castelo it's an easy ride to Ponte Da Lima. We expected to find a small quiet village but it was a major tourist destination. Lots of people were there to visit the local market and walk over the ancient bridge.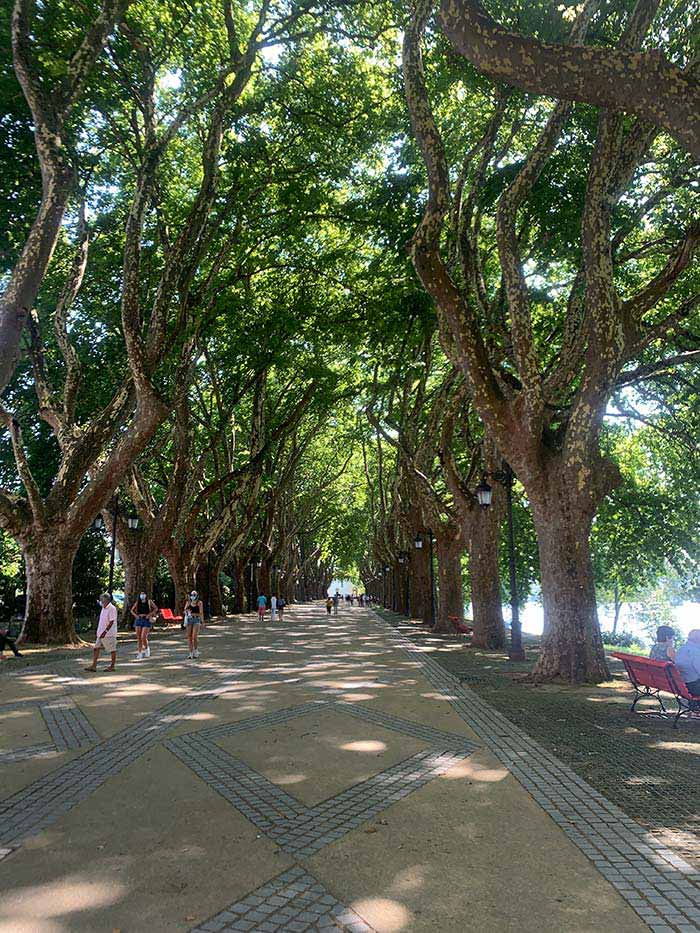 Ninth stop Pinhão and the Douro valley
When I saw pictures of the many wine terraces in the Douro valley, I knew I wanted to visit this area. The terraces have been meticulously made and make for a beautiful landscape.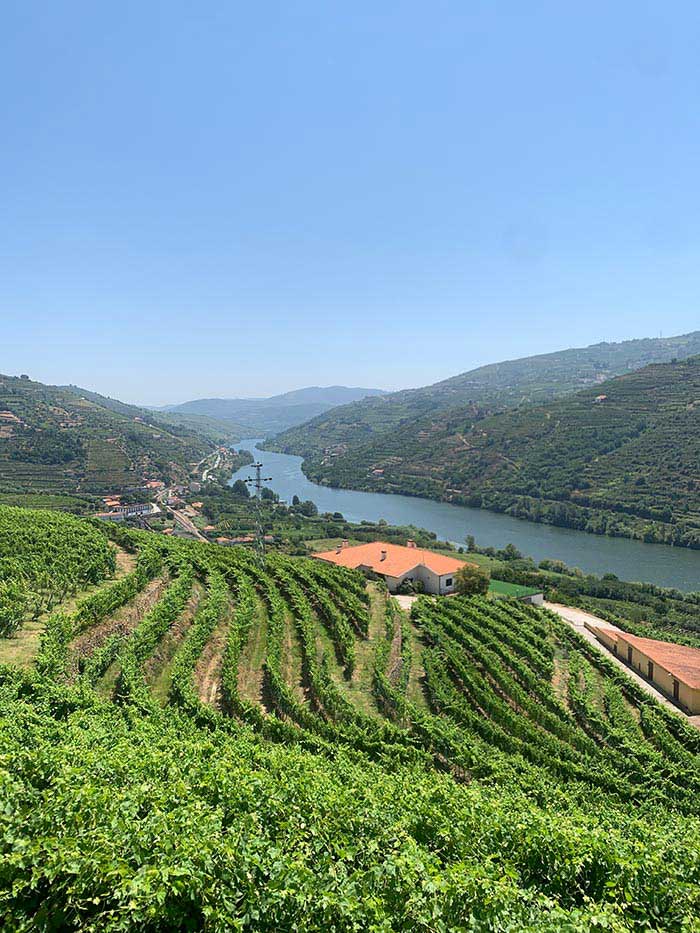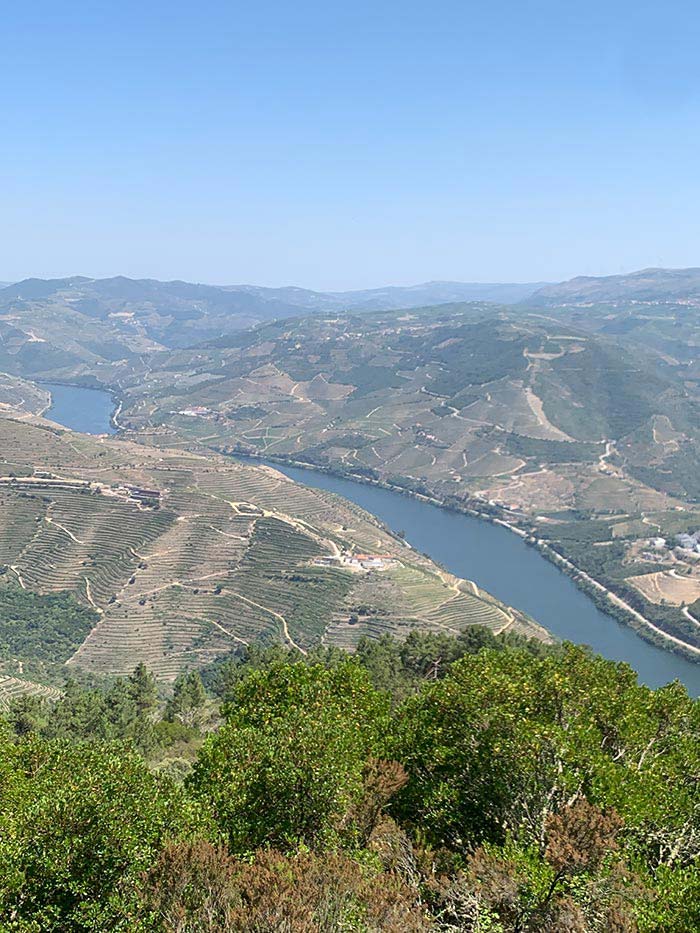 Although I'm not really into tasting wines, I enjoyed a boat ride on the Douro and the many spectacular views.
Shop the outfit above: Brown striped dress, brand Numph (similar: SheIn, levaca, Maggy London), white sneakers (similar) – sunglasses (similar) – hat (similar)
Last stop Fatima
Did you know that Portugal has one of the biggest Pilgrim cities? I didn't. But apparently 6-8 million people go to this city every year. According to Wikipedia, the civil parish has been permanently associated with the Marian apparitions that were purportedly witnessed by three local shepherd children at the Cova da Iria in 1917.
What's great about travelling in Portugal
In total we spent 12 days discovering the northern part of Portugal. We could easily have spent more time. We still haven't seen all of the parks in the north and due to my arm injury, we couldn't really go on long hikes.
I have found that Portugal is very diverse country that has a lot to offer for both residents and tourists:
Beautiful old towns to wander around in.
Lots of culture and history to explore.
Lots of amazing restaurants and shops.
Incredible variety of nature.
Friendly people that in general speak excellent English
Many beautiful walking and cycling tracks
And of course countless beautiful beaches.
The dresses I wore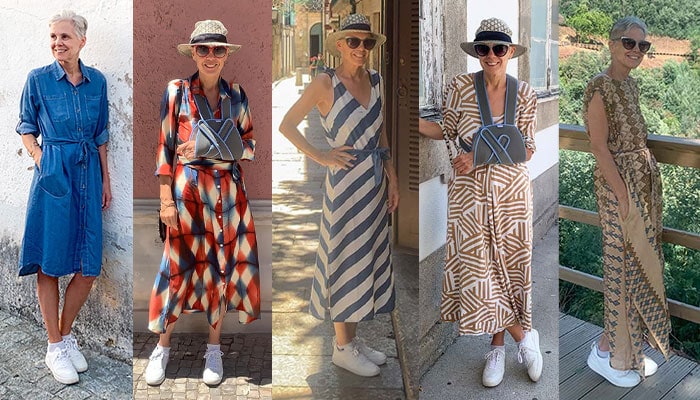 Creating a mini capsule
I thought it would be fun to show you that you really don't need a lot of clothes on a trip to create many different outfits. With just 10 pieces you can do most of what you need.
I selected just 10 items from the full capsule above and show you what you can do with this mini-capsule.
Capsule items for the outfits above (mini capsule)
Below you can find all items used. Some of these are still available. A pieces (like the colorful jumper) have been replaced by similar items.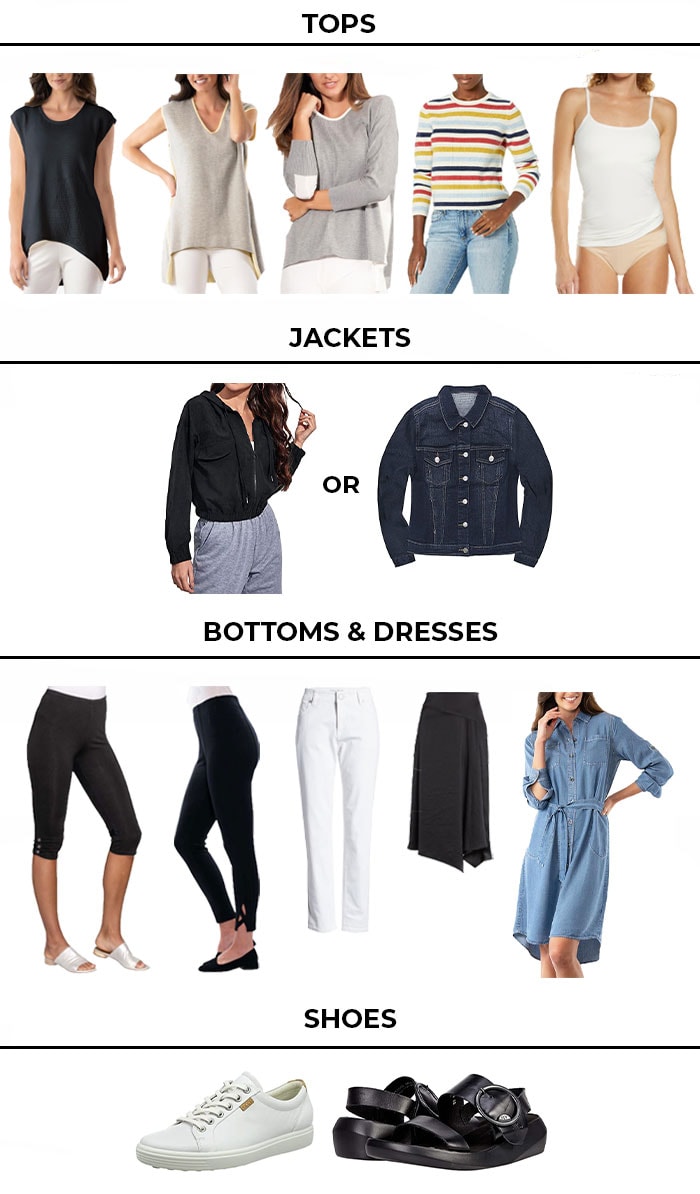 possible outfits you could create with 10 pieces from this capsule
I have shown you a few of the outfits you can create with this capsule, but you can create so many more. Here is just a sample.
white pants with grey jumper, grey tunic, black tunic, denim dress worn as jacket, colorful jumper
Black skirt with grey jumper, graphical t-shirt, black tunic, t-shirt and jacket, colorful jumper
Leggings with grey tunic, grey jumper, denim dress
dresses

Where will you be travelling next? And, what will you pack? Will you try to create a capsule wardrobe and go carry-on only?
Continue reading:
like this post on what to pack for Portugal? share it on pinterest!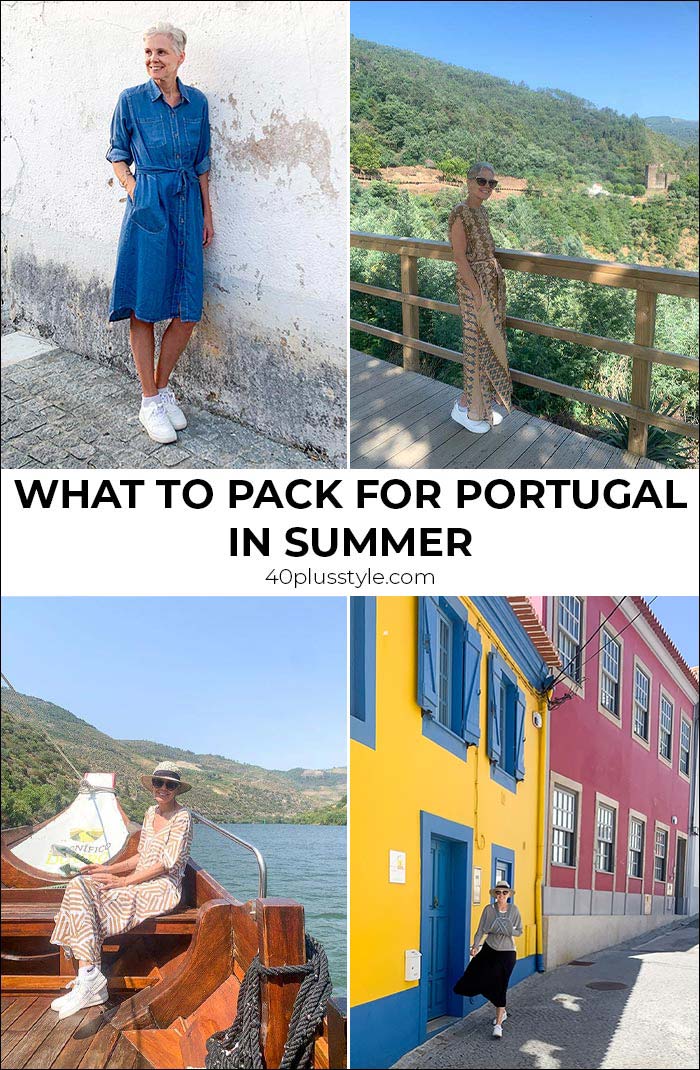 Want to get more articles from 40+style in your inbox, subscribe here.
You can also connect with 40+style on Facebook, Instagram or Pinterest.
Support 40+style by using the links in our articles to shop. As an associate for Amazon and many other brands, we receive a small commission (at no cost to you) on qualifying purchases which enables us to keep creating amazing free content for you. Thanks!