Last week I told you about a big life change that I've made and our plans for moving to Portugal.
I moved away from Singapore where I had lived 15+ years. It's the place where I conceived the idea of 40plusstyle.com and turned it into one of the biggest websites on style for women over 40.
Moving to Portugal
It was always the plan to move away from Singapore eventually and now that my husband quit his job, the world was our oyster.
We decided that we would consider Portugal first. To that end we traveled the whole country looking for a place to settle part of the year. We still plan to be away half of the year, when we want to explore other places as soon as the world opens up again for travel.
Stumbling upon Luz
By accident I stumbled upon Luz. A small village close to the city of Lagos in the south of Portugal.
As I mentioned in my previous article, we were traveling through Portugal and I just needed a break. We sometimes travel too fast and don't take enough time to just relax and do nothing. Neither of us are very good at that.
So when we couldn't find anything suitable in Lagos, we ended up in nearby Praia da Luz or simply Luz.
Luz means light in Portuguese. Luca is light in Italian and the name of our son. Coincidence? Maybe. But it's beautiful nonetheless. Perhaps we were meant to end up here…
The village is named Luz because of the light that turns the 'black rock' into bright orange in the evenings.
It's a pretty town that is quiet in winter but buzzing in summer when thousands of tourists come to soak up the sun at the gorgeous beach.
We rented a small apartment that had a balcony with a view over the town and the sea. One morning I sat on that balcony and I just felt so peaceful and relaxed, looking over the sea. "Wouldn't it be nice to have this kind of view all the time?" I wondered.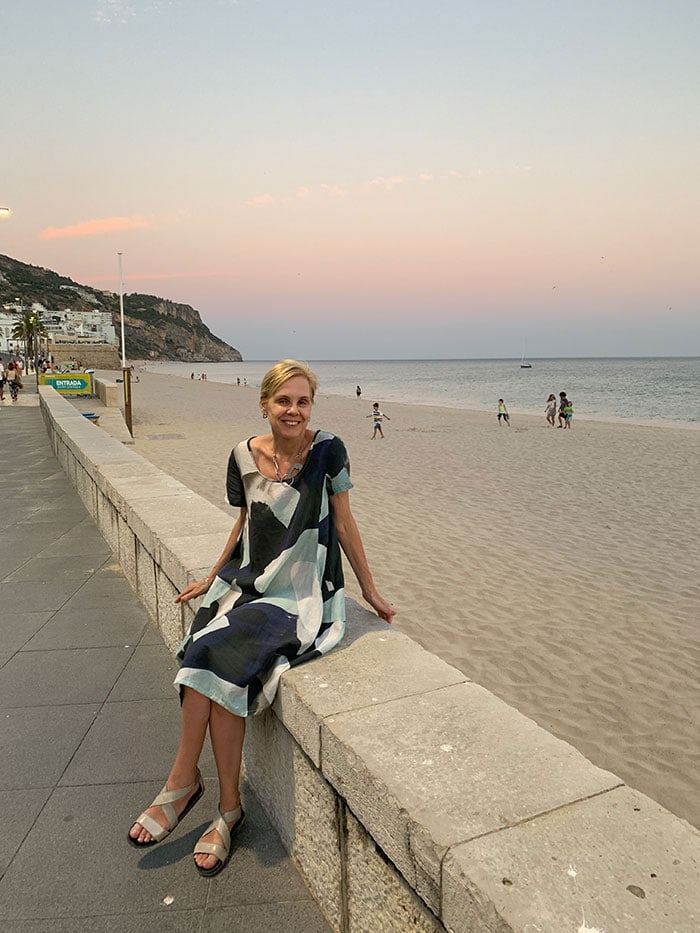 Until that time, we had always considered moving to one of the bigger cities. We didn't really think that the south was for us. But for me, that all changed on that day.
Moving to a small town instead of a city
An idea had entered my mind, that we could possibly live here part of the year. Perhaps a small apartment here and another one in Lisbon? We decided to view a few houses in Luz and arranged some visits with a real estate agent.
We explored other little towns in the area too, but decided to focus on just Luz after a while. We were getting more used to the idea of living in a smaller town. But not THAT small…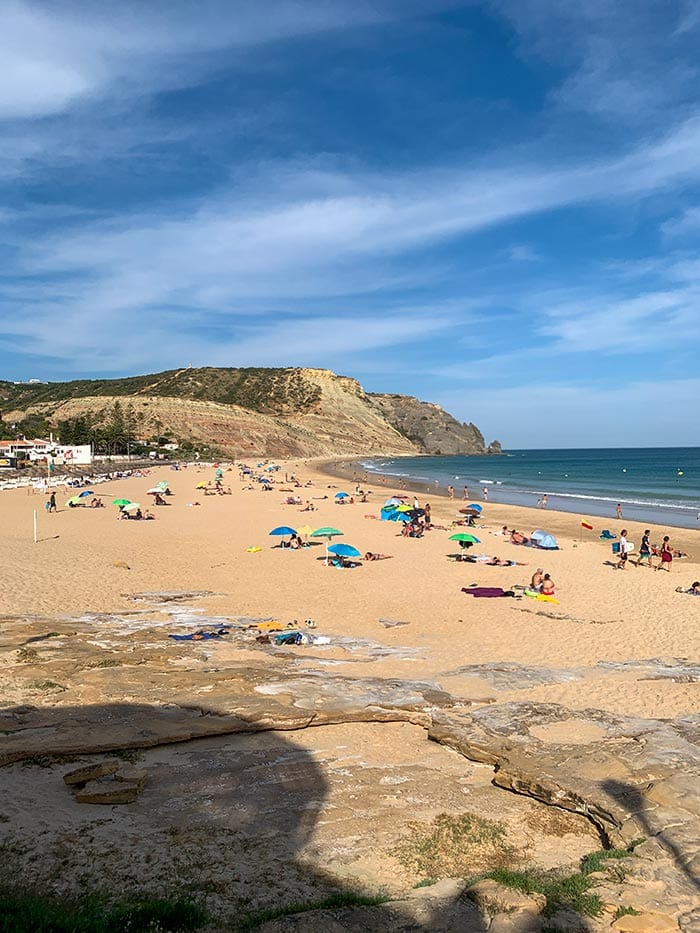 We went back to Lisbon and spent a whole month there. Just soaking in the city and working and really getting a feel for the city. We wanted to know what it was like to live there. We wanted to make sure that we really didn't want to live in a city anymore.
Although we enjoyed living in Lisbon, we didn't love it and the idea of living close to the sea was becoming ever more appealing.
We explored other sea towns in the Lisbon area, like Cascais, Costa da Caparica and Sesismbra. But now we compared those places to Luz and it just didn't feel the same.
Luz throughout the year
We wanted to know more about Luz and what it was like to live there. End August we headed back to Luz and stayed for a couple of months. You could find me regularly on the main boulevard, sipping fresh mint tea!
We wanted to know what it was like in the different seasons.
In August and September, it's still very busy with tourists. People tell us that 'normally' there would be many more of course. I enjoyed 3 weekly yoga sessions by the beach.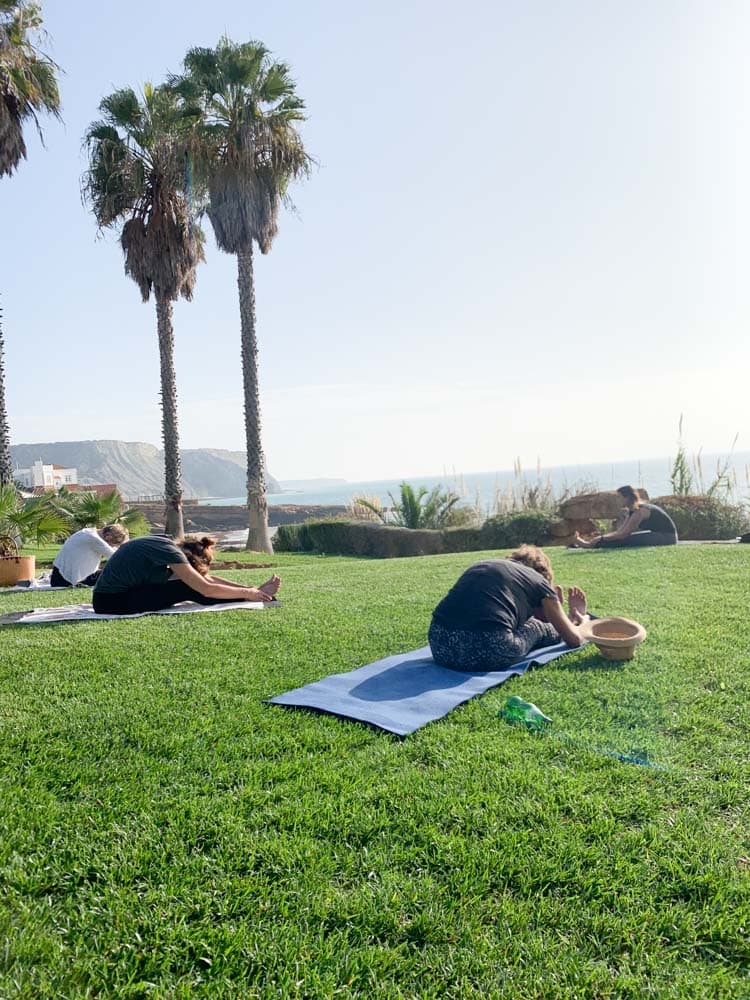 Autumn in Luz is lovely. The weather is still fabulous and it's just beautiful to walk on the many tracks around the sea cliffs or to visit a nearby village.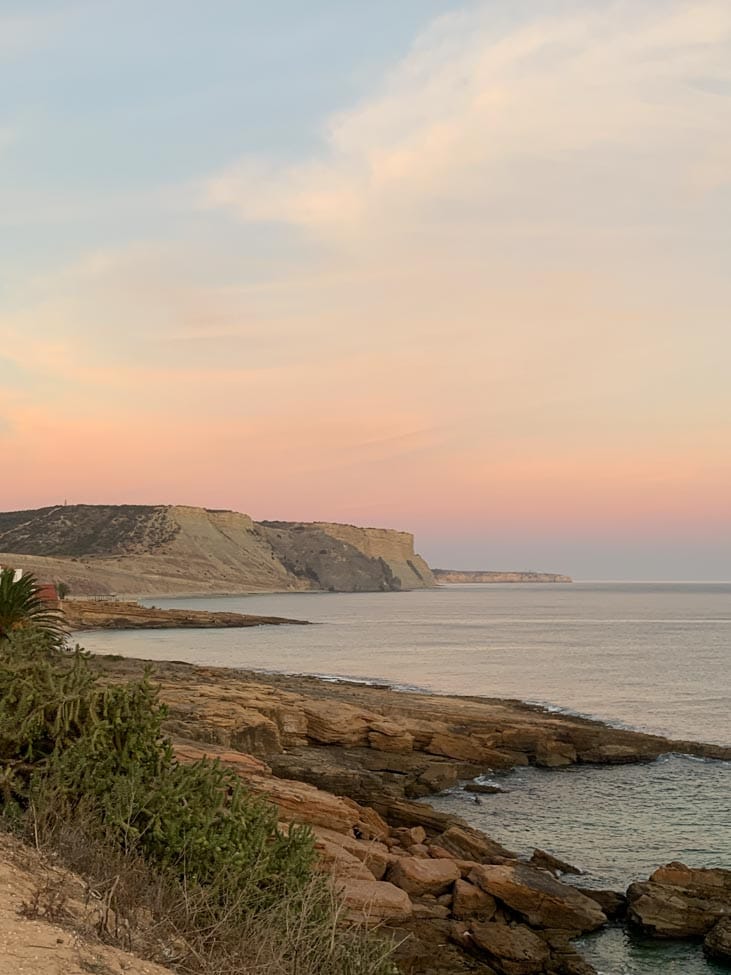 It only starts to get colder in December when you can also expect a bit more rain. Still, there are many sunny days to enjoy and the climate is certainly a lot better than in northern Europe during that time. Yoga on the beach was still ON.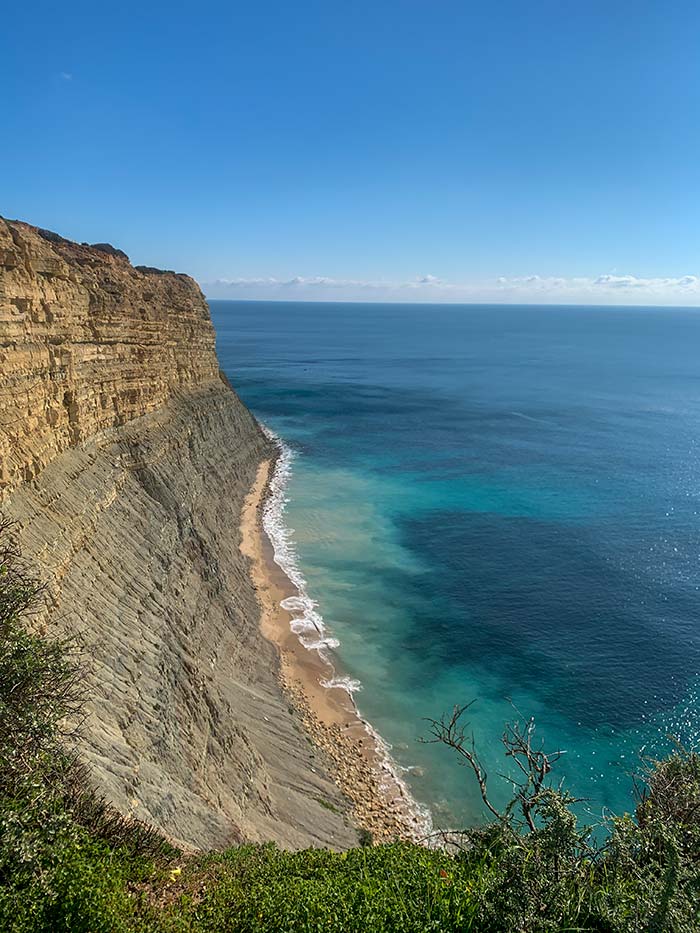 Good indoor heating in winter is important though, so we made a note that our future house needed to have sufficient heating.
By this time, we knew that we wanted to make Luz our home in Portugal and we visited many houses and apartments.
An apartment in Luz
We finally found a beautiful 2 bedroom apartment with the most gorgeous sea view in the centre of town and decided to buy it.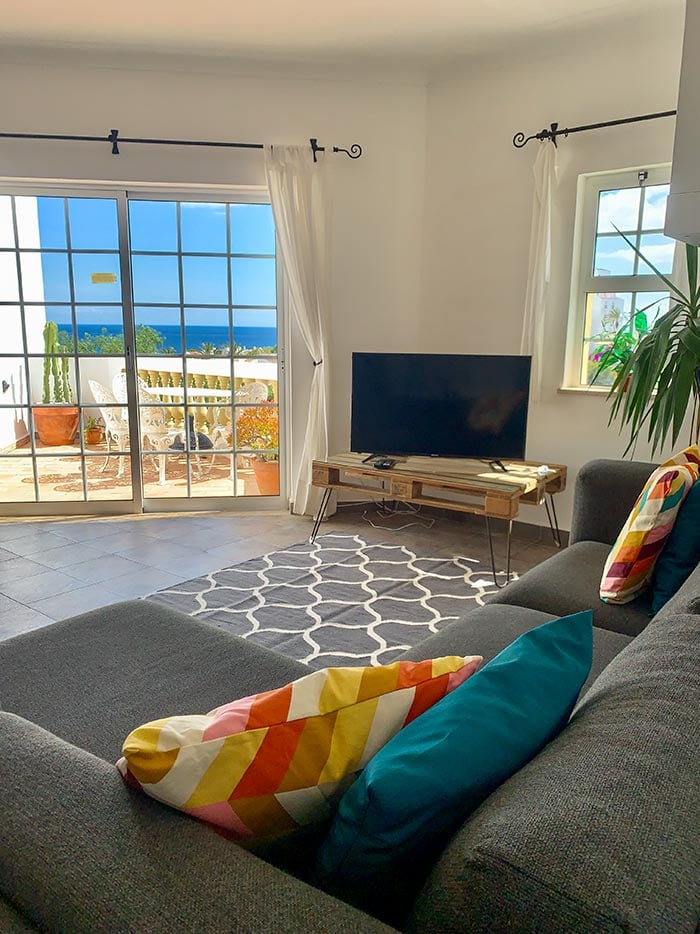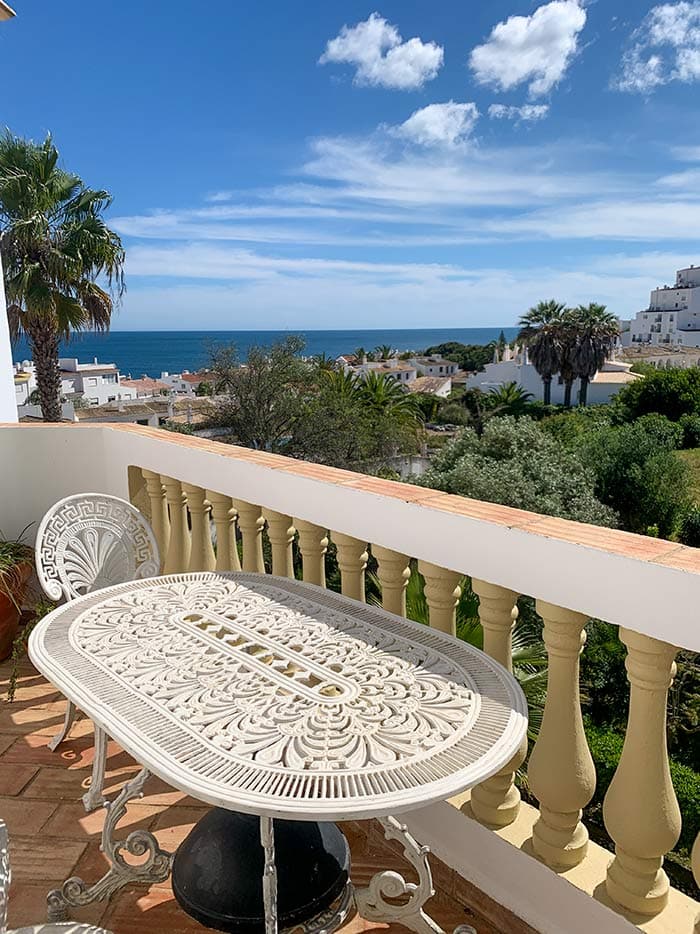 We moved in in January and got to know Luz even better. January and February are the coldest months here. Still, it's very pleasant most days and I enjoyed my daily walks.
Unfortunately lockdown was in place for the first months of 2021 so it was nice to be in a beautiful town where you could spend a lot of time outdoors. My husband loves getting out on his mountain bike on the many tracks nearby and I joined him one weekend too.
March and April are gorgeous months in Luz. Really sunny and there are flowers everywhere.
In May more and more people start to enjoy the beach. My husband loves to have a dip into the ocean every single day even though the water is icy cold.
A house in Luz
Feeling more confident about Luz, we invested even more . We bought a bigger 4 bedroom town house with a gorgeous sea view and a big shared swimming pool.
Since we plan to stay in Luz only half the year we will rent out both houses part of the year. If you're interested, check out our brand new Air B&B Listing for our 2 bedroom apartment.
Our 4 bedroom house is not available for rent yet but will soon be added too.
Changing houses
We also listed both properties on HomeExchange. We love to travel to new places for longer periods of time and home sharing could be an affordable way to do that. You may like to try it too. You could mention me as your sponsor when you sign up by entering the code sylvia-a8ae4 and we will both get extra GP points. You'll get 100 GP when you create a home and 150 GP when you activate membership. These GP points can be used towards your first exchange. You can view my house here and my apartment here.
Our plans moving forward
We still enjoy cities and we plan to make regular month-long city trips. Cities we hope to spend more time in include: New York, London, Paris, Seville, Vienna, Rome, Boston, San Francisco, Vancouver, Sydney, Melbourne, Auckland etc. If you have a central place in these cities and like to share, let me know through HomeExchange.
Moving to another country isn't easy. There's lots of paperwork, lots of soul searching and quite a lot of adjustment to make. But I love experiencing life in different places. This is already the 9th country I have lived in. (I earlier lived in The Netherlands, England, South Africa, Italy, Japan, Australia, Singapore, China).
I'm looking forward to explore more countries with month-long stays which I think will be made easier and affordable with HomeExchange.
Sofar our experiences have been good. I feel that we have made the right decisions. Only time will tell of course, but making our decisions a success is largely up to us.
In the end, life is what you make it. Even in a year when everything was out of the ordinary we still got a lot done. We set ourselves up for the next decade of exploration, adventure and hopefully meeting many new friends.
And of course, if you're curious about Luz, you are very welcome to stay in one of my properties either through Air B&B or HomeExchange. If I happen to be there, let's have some coffee (or tea, which I prefer).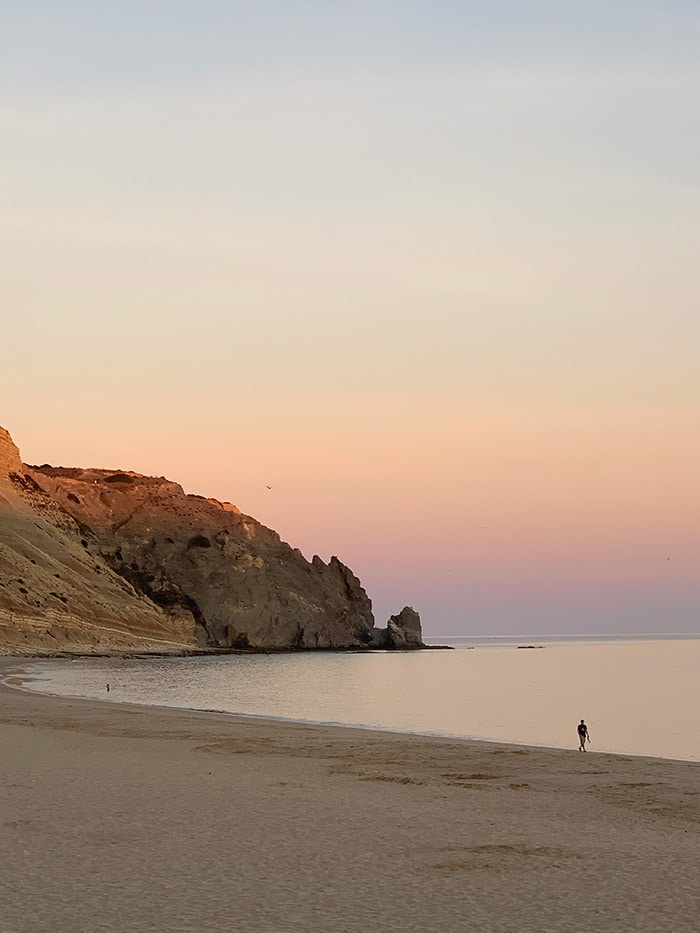 Next week, I will take you through our exploration of the northern part of Portugal and share my travel capsule for the trip. Although we weren't looking for a place to live anymore, we still wanted to discover everything that Portugal has to offer (which is a lot).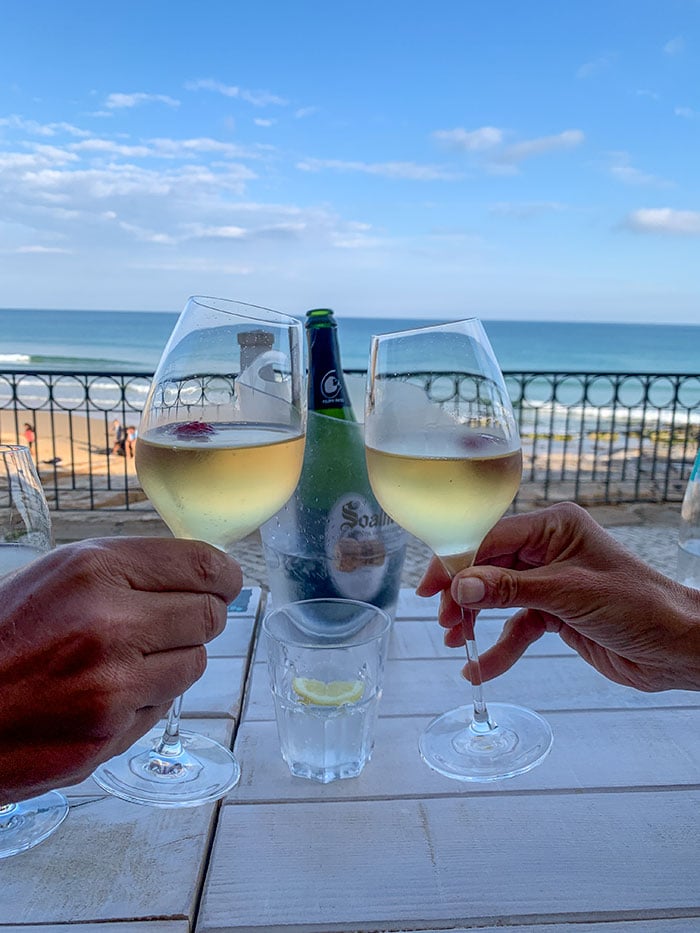 Do you enjoy visiting beach destinations? Have you been to Portugal yet?
Other articles you may enjoy:
Did you enjoy this article on moving to Portugal? Share it on Pinterest!
Want to get more articles from 40+style in your inbox, subscribe here.
You can also connect with 40+style on Facebook, Instagram or Pinterest.
Support 40+style by using the links in our articles to shop. As an associate for Amazon and many other brands, we receive a small commission (at no cost to you) on qualifying purchases which enables us to keep creating amazing free content for you. Thanks!