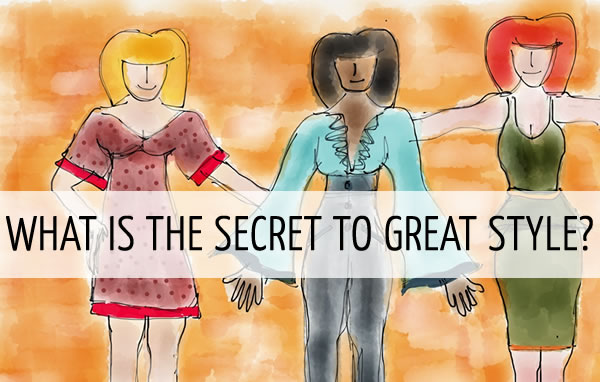 I often talk about style personality and how important it is to to dress in a way that makes YOU feel happy, beautiful and confident.
Understanding who you are and what makes you feel happy is so important when it comes to style. In our previous style course and in the upcoming course we will pay a lot of attention to that and will ask you to reflect on who you are and what inspires you.
Getting clearer on who you are, your own body, your figure priorities, your style and accessory personality, your style preferences are all important in discovering your true unique style.
But in order to achieve GREAT style you also need to understand some key concepts about dressing and proportions.
Some tricks of the trade if you will.
These concepts are not widely discussed in magazines and blogs which focus more on fashion or someone's own style personality. However, sometimes you may see outfits that just look so good and you wonder why. Some style bloggers or online personalities seem to always look sooooo good.
What exactly is their secret?
What is the secret to great style?
Well the latter is the million dollar question of course!
But in many cases it comes down to creating great balance within the outfit.
To create an outfit or a combination of accessories that fits the body well. That creates the right proportions. To achieve the golden ratio.
Balance is the key word here.
You want to create the right balance with your clothes and accessories that suits your body and your proportions.
And you do it both with clothes and accessories.
Have a look at this example featuring Annette from The Lady of Style who has characteristics of a pear shape body type.
Some tricks she can use to balance out her body include:
Use scarves to create volume up top that will balance the natural volume of your hips.
Crossbody or low-slung bags will fall at your hips and make them look bigger. Instead, try hobos and shorter shoulder bags.
Nude shoes make your legs look longer, which slims out your hips.
Large bib necklaces and statement earrings add subtle volume to your top half, balancing your hips.
There are many more general tips for the pear shaped body type when it comes to clothing here.
However, most of Annette's outfits also apply the golden ratio, or as I like to refer to it, the Rule of Thirds.
It's such an important aspect of creating the perfect outfit and created so many 'aha' moments for the students in my style course that I decided to add a very extensive special bonus unit to my new course on this topic.
And you can already enjoy some of my tips right now! In the free third video I created for you, I share tips on how to accessorize effectively with jewelry and spill the beans on creating flattering outfits using the rule of thirds. I think you will love it! I have a special announcement at the end of the video too which I'm hoping you will get excited about.
You can watch all the FREE videos here.
My question for this video is: which is the body part you are most happy with and would like to highlight with your clothes and accessories?
I look forward to getting your feedback with the comments underneath the videos!

P.S. Our style course Accessorize Me Confident & Beautiful is now open for enrolment!
Related posts: