When it comes to my personal style this month, it's all about leather! I have had the urge to wear leather for a while, but in Singapore it's generally just too hot for the fabric and I have never been able to find the right pieces.
Until now!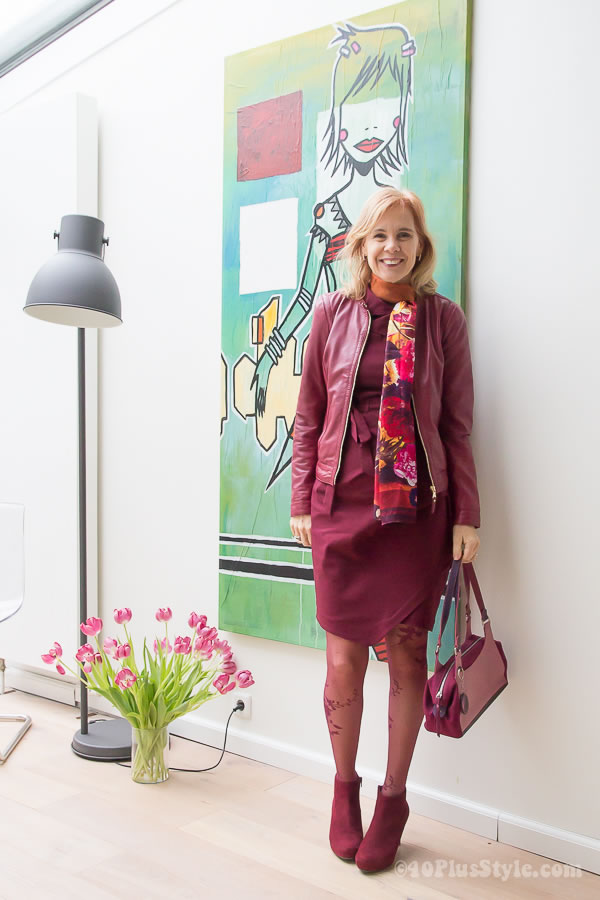 The first look I'm going to show you is this party outfit for a 50th wedding anniversary.
I decided to shop my own closet and chose to wear my Porto burgundy dress as it has a nice 'wintery color' and the fabric is quite thick and therefore good for winter weather. I had worn this dress before and liked the way I feel in it.
Of course in The Netherlands I would have to 'winterfy' it.
My first plan was to wear my old custom-made brown boots with it. I could not test the idea as my boots were in The Netherlands and I was still in Singapore, so I brought my fuchsia pumps just in case that idea would not work.
Then, I needed to find a topper that would keep me warm. When I spotted this leather jacket at Massimo Dutti, it was love at first sight. I noted that the color was almost the same as my dress so this would make for a great monochrome (alas with brown boots) look.
I took the beautiful scarf that was gifted to me by Suzanne to break up the one colored look and add some color to my face.
I tested my initial idea with the boots in The Netherlands and felt that the look was way too casual. My fuchsia shoes definitely looked better but then my tights were too thick and it was definitely not ideal.
I decided that if I bumped into some good booties then that would be a great finish to the outfit. The sales were on at the stores and low and behold I found these booties in the perfect color on sale! The heels are a bit higher than I may have preferred but still very comfortable because of the platform heels.
Then there were the tights. I never would have thought to buy printed tights (not my thing really) but when I spotted these, I just wanted to try them. I figured they would look good with a monochrome outfit like mine and would make it more festive.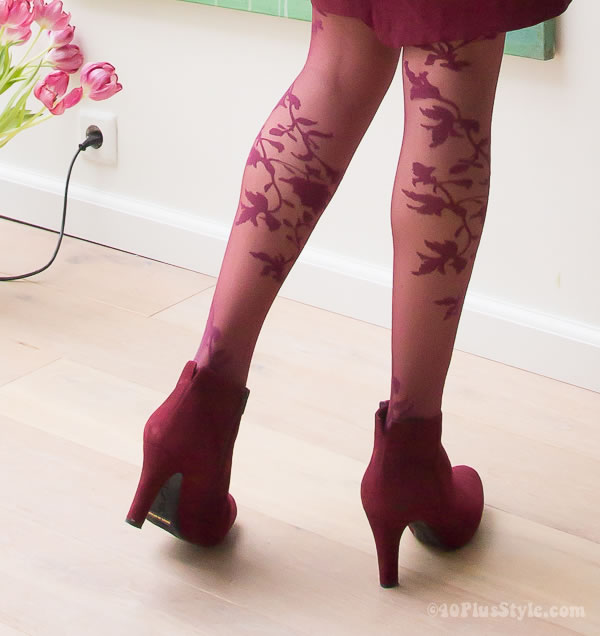 And there you go, my final party outfit. Perhaps a bit too edgy for the event, but I guess I am a bit of a fashionista now that I have this site, so I may as well put that on show!
I realise that I took a bit of a risk with this outfit. Flower scarf and flower tights is perhaps a bit too much. And leather is maybe not chic enough or a bit too edgy for an event where the general age was 70+. Printed tights are not everyone's cup-a-tea anyway (as I also noticed from some of the feedback I received through Facebook).
But I DID feel good in the outfit on the day itself. I loved the luxury of the leather and the silk in my neck (and I needed the jacket since it was definitely NOT warm). I felt that the tights added something extra to the outfit. I did notice a few raised eye brows when people spotted the shoes (high heels are generally frowned upon in The Netherlands certainly by the 50+ crowd).
But as mentioned, I felt happy, beautiful, modern and comfortable on the day (photos were taken the day after by the way, so my hair definitely looked better!). I took the liberty of doing my own thing and stayed true to my style statement (modern freedom). I was happy to look different than everyone else and I was happy to stand tall.
You can't really ask for anything more in a party outfit!
Dress: Porto through Getdressed2
Jacket: Massimo Dutti
Booties: Unisa
Scarf: gift from Suzanne Carillo
Bag: Mywalit
How do you prepare and dress for parties? Do you usually come up with something that you are happy with?

Want to get more articles from 40+style in your inbox, subscribe here.
You can also connect with 40+style on Facebook, Instagram or Pinterest.
Support 40+style by using the links in our articles to shop. As an associate for Amazon and many other brands, we receive a small commission (at no cost to you) on qualifying purchases which enables us to keep creating amazing free content for you. Thanks!