Not so long ago, women over 40 had a drastic rule. Hit 40, cut your hair.  Thank goodness we are past those outdated, archaic rules!
These days, women over 40 can look vibrant and beautiful with long hair. A longer hairstyle can be versatile. From sleek ponytails to graceful waves, to chic chignons, curled to straight, long hair past 40 can be low maintenance and stylish.
Here are some helpful guidelines to determine if long hair would be flattering on you, plus tips to keep long hair healthy and beautiful.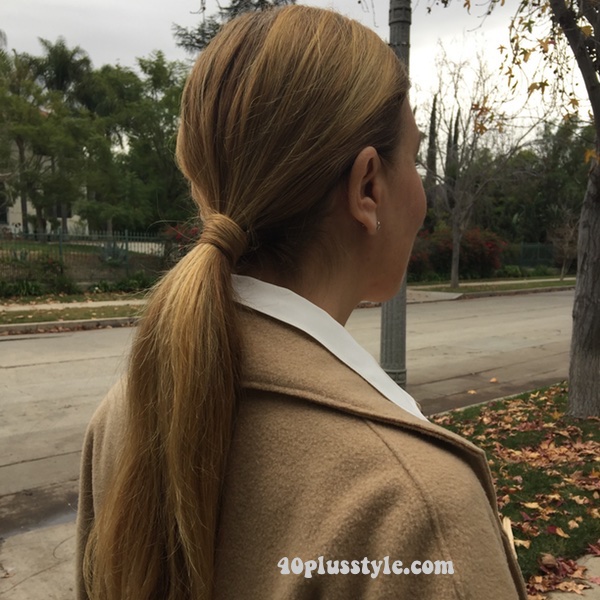 What is the shape of your face?
Long hair after 40 looks most flattering if you have a round, square or wider face shape. The vertical pull of long hair can further elongate a thin or oblong shaped face.
Not sure what your face shape is? You can determine your face shape by looking at photos of yourself and in the mirror. You'll need to decide which parts of your face are both the widest and narrowest.
Here are the six basic face shapes. (Keep in mind that you may be a combination of two).
Oval: If you have an oval shaped face, the widest part of your face will be your forehead.
Round: A round face will be widest across the cheekbones.
Square: A square face has a well defined square jawline and the sides of your face will be straight.
Diamond: A diamond face shape has prominent cheekbones, pointed chin and a narrower hairline.
Oblong: An oblong or rectangle shaped face will be longer than wide and the forehead, cheeks and chin are all approximately the same width.
Heart: A heart shaped face has a smaller pointed jawline, with the chin being the narrowest part of the face.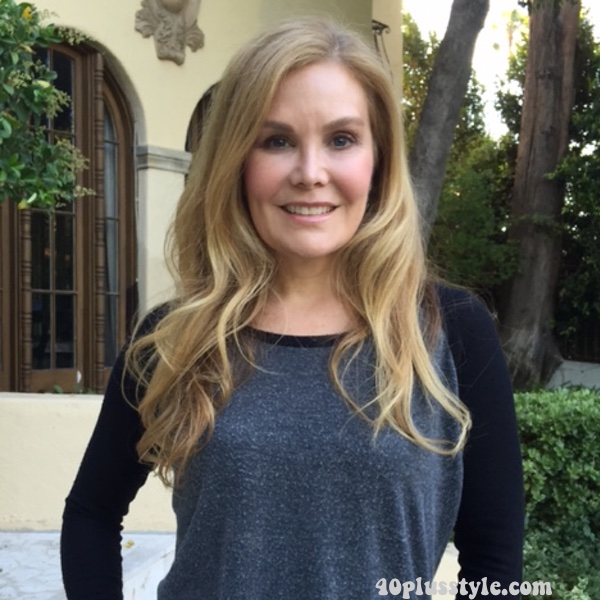 What is the thickness of your hair?
Long hair definitely looks best if you've got thicker hair with medium body. Keep in mind that as we age, the strands of our hair get smaller, and hair growth slows down, so growing out your hair will take longer than it did in your 20's.
If you think your hair might be thinning, try an over the counter minoxidil product to counteract hair loss as soon as you start to notice it. In the U.S., you can use Rogaine for women. This foaming gel has a 5% minoxidil solution in a foam formula. Used daily, Rogaine helps you keep your hair, so use it before your hair loss is substantial for best results.
Use the right blow dryer & styling tools
As we age the cuticle of our hair becomes more fragile, making our hair more likely to frizz. One way to smooth your hair is by using an ionic blow dryer. How does it work? The water on wet hair is made of positive ions. An ionic blow dryer emits negative ions which bond with the positive ions on your wet hair, making your hair dry faster, meaning less stress and less frizz on the cuticle of your hair.
Ionic blow dryers tend to be a bit more expensive but are worth it, especially for our over 40, more fragile hair.
Another option, if your hair is very thick, is a salon straightening treatment like a Brazilian Blowout or a Keratin Complex Treatment can be a bit pricey but will dramatically cut down on both frizzy flyaway hair and styling time too. Both treatments are available in salons.
I also recommend a heated round brush, the Calista Perfecter, to smooth and style your hair. The Perfecter gives your hair body and subtle curls and comes in a larger barrel size specifically for long hair. With variable heat settings, you can set it lower if your hair is especially fragile.
Styling Tips
Long hair after 40 looks flattering with long layers cut into the body of your hair rather than an all one length cut. Just because your hair is long, you still need a good haircut.
Gradual, face framing layers around your face keep the length from dragging down your facial features and accentuating any sagging. You can also add long side swept bangs to this style to camouflage any forehead wrinkles or sagging.
A side part, or slightly off center part is usually most flattering on any face shape.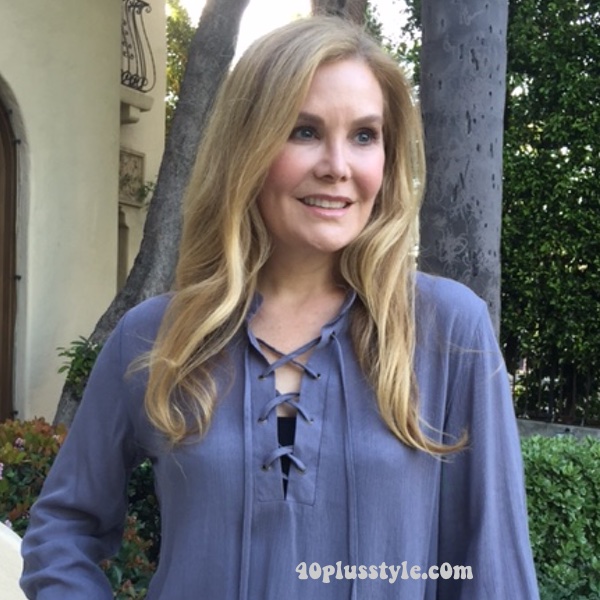 Keep your hair in top condition
It's important to keep long hair strong and healthy, especially after 40 when hair can become dull and lose its shine.
Apply a deep conditioning mask or conditioner weekly. (I use a deep conditioning mask, work it through my hair with a wide toothed comb and leave it on for at least 30 minutes or longer before shampooing out.)
Stick to a shampoo and conditioner without sulfates. Sulfates (usually listed in the ingredients as sodium lauryl sulfoacetate, or sodium laureth sulfate) are a detergent in many shampoos that dries out your hair. You can find sulfate free shampoos in both high end and drugstore brands.
To keep your hair in top shape, don't blow dry or use flat irons or curling irons every day. Give your hair a break and let it air dry. You can add gentle waves by using a styling foam and twisting your hair into a bun or pin curls while it dries. Unpin once hair is dry, softly finger style your hair for soft, beachy waves.
Below, you'll find some of the products and appliances to help keep your long hair healthy, strong and beautiful. What tips have you found for wearing long after 40?


For further reading also see Easy and stylish holiday party hairstyles and Can women over 40 have long hair.
Do you like to keep your hair long? Feel free to show us in our private community!
Rosemond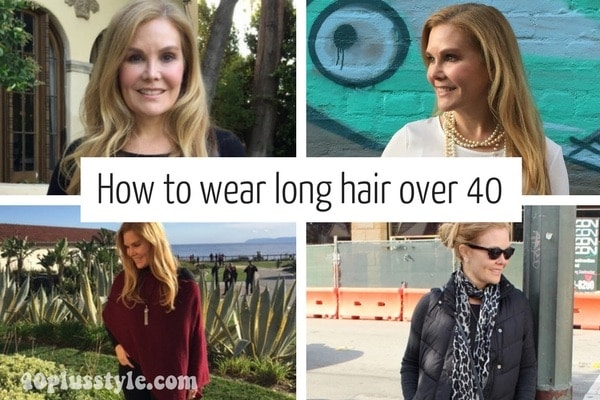 P.S. Don't forget the Kickstart Your Style Challenge is starting soon. Be sure to not miss it as it's your chance to get clear on your style for this year!
Want to get more articles from 40+style in your inbox, subscribe here.
You can also connect with 40+style on Facebook, Instagram or Pinterest.
Support 40+style by using the links in our articles to shop. As an associate for Amazon and many other brands, we receive a small commission (at no cost to you) on qualifying purchases which enables us to keep creating amazing free content for you. Thanks!