Holidays can be a great time to try some new things with your hairstyle, add some fun hair accessories and a touch of drama and glimmer. And holiday hair doesn't have to be expensive or difficult to style yourself either.
I've outlined some easy to follow tips to achieve a stylish look perfect for holiday parties and gatherings with styles that look particularly good on women over 40. Plus I've created a video with step by step tips for you to follow.
Here are some easy to use tips for adding easy glamour to all your holiday hairstyles.
Get dressed first
If you're wearing a dress or top with sequins, or an outfit with a high neckline or straps, make sure to get dressed first, so you won't ruin your hairdo, or snag your outfit by getting it caught on hairpins.
Have hair elastics and hair pins in the same color as your hair
This makes it much easier to camouflage the pins and elastics in your hairdo and cover them up.
If you have lots of ruffles or sequins and glitter in your outfit, opt for a sleek, simple but dramatic hairstyle
It will create a better balance in the overall look.
Use a pretty holiday ribbon in satin or velvet as a hairband, or to tie a ponytail
You can do this with either long or short hair.
Use a sparkly headband, either alone or pair it with a simple ponytail
Also, if you want to add just a touch of sparkle, choose a headband that is close to your own hair color, you'll add some understated glimmer but not too much color.
Stack several rhinestone barrettes or hair clips with a dramatic side part
This works for either long or short hair.
Wear a ponytail
Ponytails don't have to be boring. You can make this simple hairstyle really chic! Use that dramatic side part with a ponytail. Wear your ponytail low, right at the nape of your neck. You can also curl or straighten your ponytail so it looks polished too.
Use a toothbrush to apply hairspray
Great trick: for a sleek ponytail, use an old toothbrush, spray hairspray onto the toothbrush and use that to smooth the small frizzy hairs or flyaways. Then as a final touch, spray hairspray onto your fingers, and smooth any last flyaways. This will give you more control and keep your hair from getting saturated or sticky with too much hair spray.
How to gauge where your ponytail should be?
A good rule of thumb: keep your ponytail lower than the tops of your ears so it looks flattering. (Especially as you age, a really high ponytail can look too severe.)
Use a brooch or rhinestone pin as a pretty hair accessory
Attach a brooch to your updo with a few hairpins or pin it directly onto a pretty satin ribbon and you've got a glittery hair accessory.
Use an old earring as a glittery hair ornament. You probably have an old earring that has lost its mate. Attach it to a bobby pin and pin to your ponytail or use as a pretty little side barrette.
Hide your ponytail elastic. Wrap a 1/4 section of your hair around your ponytail to cover the elastic. (Take a look at the video below to see exactly how to do it.)
Try a simple undo. A wonderfully simple undo that's super easy is "The Twist." It just takes a few hair pins and is pretty and flattering on just about anyone. (I've shown how to do that in the video below.)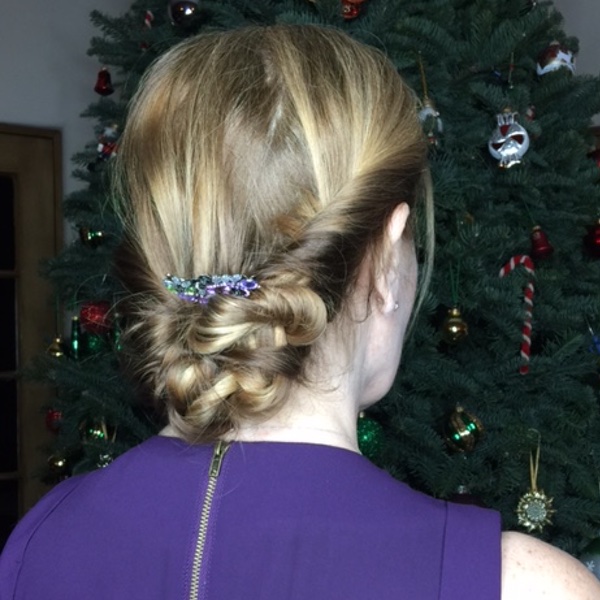 I've outlined all these tips with an easy to follow video and step by step tutorial.
For many more hairstyle ideas you can check the 40+Style Pinterest board: hairstyles for women over 40.
What are some of your favorite ways to wear your hair for parties and events during the holidays?
Want to get more articles from 40+style in your inbox, subscribe here.
You can also connect with 40+style on Facebook, Instagram or Pinterest.
Support 40+style by using the links in our articles to shop. As an associate for Amazon and many other brands, we receive a small commission (at no cost to you) on qualifying purchases which enables us to keep creating amazing free content for you. Thanks!