One of the downsides of aging is that hair can become thinner. The thick hair of your youth starts to become finer and some hair follicles stop producing hair altogether. But there are ways you can make your hair look thicker and fuller. Take a look at how to make thin hair look thicker…
Why does your hair become thinner with age?
First, why does you hair become thinner? Perhaps you've always had fine hair. How thick your hair is as you get older is really down to all sorts of factors, including genetics, diet, medication, hormones and general health.
If you feel you need a helping hand when it comes to make your hair look thicker, below are some ideas…
A great haircut is key
I'm sure you want a fantastic haircut whether you have thinning hair or not. But a great cut is even more important if you are considering how to make thin hair look thicker. Often getting a shorter style with a blunt cut can help.
Or you might want to add layers to give the illusion of more volume. If you're worried about your hair looking too thin, ask your hairstylist for ideas on a style that could be more flattering.
Greetje @no_fear_of_fashion above (read her style interview here) opts for a bob with a fringe. Although she has fine hair, the right cut and stylings helps her to create more volume.
Tease hair at the crown
When you have a great cut, it also helps to tease your hair at the crown. This is another technique Greetje (above) uses to add more volume to her hair.
For more inspiration check out our favorite hairstyles for women over 40.
You may also want to take a look at these hair loss solutions with the best hair cuts for thinning hair.
Blow dry hair upside-down
Blow dry your hair from underneath. I like to bend my head forwards and then start blowdrying at the roots.
part your hair from the side
Sometimes just changing where you part your hair can make it look fuller. If you always wear it to one side, flipping over to the other side can give the illusion of volume.
Blow dry your hair with a volumizing spray
Choosing the right products can make a big difference to the way your hair looks. Try a volumizing mousse that you put on your hair before blow drying.
The Moroccan Oil volumizing mousse below has thousands of positive reviews from women who say it gives great volume without being sticky.

Or, you could try the John Frieda Volume Lift (below) which has more than 20,000 reviews. Women say it works well on thinning, gray hair.
John Frieda Volume Lift Air Whipped Foam
Add a dry shampoo at the roots
Spraying a dry shampoo just at your hair roots can help to add some volume. Reviewers say the Klorane shampoo is particularly good for oily hair.
Another root lifting choice is the Goldwell Ultra Volume spray (below) which reviewers recommend for giving hair a boost.

Goldwell Stylesign Double Boost Root Lift Spray
best thickening shampoos
Now, let's move onto some thickening shampoos. Choosing a good thickening shampoo and conditioner can make a big difference to the appearance of your hair. Below, are some of the best reviewed…
Biotin anti hair loss shampoo
The biotin-infused shampoo set (below) has lots of positive reviews from women who say it makes your hair look beautiful and thick after just one shampoo.
BELLISSO Biotin Shampoo and Conditioner Set for Hair Growth
re:line
The re:line set (below) also features biotin, as well as rosemary and coconut. Those who have tried it say they have thicker hair which doesn't shed as much.
re:line Biotin Shampoo and Conditioner for Thinning Hair
New York biology
If you're looking for a shampoo set that is thickening as well as being highly-moisturizing, the New York Biology shampoo could be worth a try. Women who have tried it say it improves the look and texture of thinning hair.
New York Biology Biotin Shampoo and Conditioner Set for Hair Growth and Thinning Hair
L'Oréal paris
The L'Oreal shampoo (below) contains filloxane which is renowned to helping to create stronger hair. One reviewer described it as a godsend for lifeless, thin hair.
L'Oréal Paris Elvive Volume Filler Thickening Cleansing Shampoo
PURA D'OR
With argan oil and nettle extract, the PURA D'OR shampoo (below) features a blend of herbs and is designed to reduce breakage.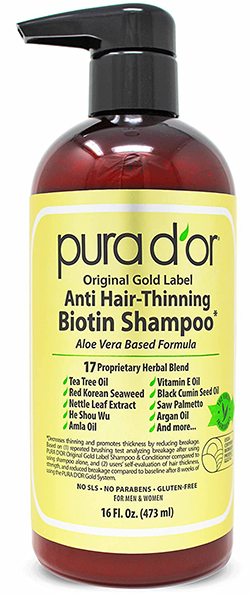 PURA D'OR Original Gold Label Anti-Thinning Biotin Shampoo
Mokita Naturals
Designed for both men and women, the Regenerate shampoo (below) has biotin, ProVitamin B5 and botanical extracts. Reviewers say it is particularly good if you have a sensitive scalp.
Mokita Naturals Regenerate Volumizing Shampoo
luseta
The biotin in the Luseta shampoo and conditioner (below) is designed to strengthen hair, while argan oil and sunflower seed oil is included to protect hair from further damage. Users say it is good for thin or color-damaged hair.
Luseta Biotin & Collagen Shampoo & Conditioner Set
Redken
For added volume, the Redken volume injection shampoo could be another good choice. Reviewers say it gives a just-left-the-salon feel.
Redken Volume Injection Shampoo
hims & hers
The hers shampoo (below) features amino acid, argan oil, coconut, and sunflower seed oil and has very good reviews from women who say their hair is much easier to style after using it.
hers Triple Threat Shampoo and Conditioner Set
renpure
In a huge bottle, so it should last you a long time, the Renpure Biotin and Collagen shampoo (below). One women even described it as life-changing because of the difference it made to her hair which had been falling out.

Renpure Originals Biotin & Collagen Thickening Shampoo
Honeydew
With biotin and botanical extracts, the Honeydew set (below) was described by one reviewer as a miracle in a bottle.
Honeydew Volumizing Biotin Shampoo and Conditioner Set
BOLDIFY
Promising thicker, more voluminous hair from the first wash, the Boldify shampoo (below) is also well reviewed, with women saying it is a game changer.
BOLDIFY Hair Thickening Shampoo
Avalon Organics
If you like an organic option, the Avalon Organics shampoo (below) is well reviewed for weak, fine hair and if you have a sensitive scalp.

Avalon Organics Therapy Thickening Shampoo
HASK
The Hask shampoo sets (below) are available for different hair types, including for thickening (below). There are also choices for color protection and for curls.
HASK BIOTIN BOOST Shampoo and Conditioner Set
Keranique
The Keranique set (below) is designed to stimulate the scalp for hair growth and then thicken hair with the conditioner.
Keranique Shampoo and Conditioner Set for Hair Growth and Thinning Hair
thickening spray
As well as thickening shampoo and conditioner, you could try using a thickening spray after washing and before drying.
BOLDIFY
The Boldify spray (below) promises thicker hair in 60 seconds. One reviewer said she was suffering from "old lady" hair but uses this for volumized hair that isn't gunky or stiff.
John Frieda
Towel dry your hair and then use the John Frieda thickening spray (below) before blow drying.
John Frieda Volume Lift Thickening Spray
Tea Tree
The thickening spray (below) smells great when you put it on, and women who have tried it say it works well and doesn't leave your hair feeling oily.
Tea Tree Lemon Sage Thickening Spray
Bumble and Bumble
Reviewers say the Bumble and Bumble spray (below) works best if you blow dry your hair straight away.
Bumble and Bumble Thickening Spray
bed head by tigi
Reviewers say a little of the Bed Head thickifier (below) goes a long way.
TIGI Bed Head Small Talk 3-in-1 Thickifie
Continue reading:
Do you use a thickening shampoo? I'd love to hear your recommendations on how to make thin hair look thicker. You can let me know in the comments below.
Like this article on how to make thin hair look thicker? Share it on Pinterest
Want to get more articles from 40+style in your inbox, subscribe here.
You can also connect with 40+style on Facebook, Instagram or Pinterest.
Support 40+style by using the links in our articles to shop. As an associate for Amazon and many other brands, we receive a small commission (at no cost to you) on qualifying purchases which enables us to keep creating amazing free content for you. Thanks!