Previously we posted an overview of the best perfumes for women for summer by perfume expert Claire, but what are some of favorite fragrances for summer right now?
Along with her more famous quote about wearing Chanel No.5 in bed, Marilyn Monroe also once said that there are no women who don't like perfume, there are only women who have not found their scent yet! So have you found your favorite perfume for women yet?
While I went through bucketloads of Anais Anais in the 80s, I like to think my perfume style has become more sophisticated.
And, while most women have a signature scent that they fall back on time and time again, it's refreshing to try something new, particularly in the summer months when the heady, woody, musky scents of winter don't feel suitable for the sunshine (hopefully) of summer.
Look out for lighter, fresher fragrances with notes of citrus, fig, herbs, leaves and more gentle musks, which feel cleaner and more appropriate when the mercury rises. Here are 10 of my favorite fragrances to try.
The Classics
There's no perfume law which says you have to shelve your classic fragrances in favor of new kids on the block as soon as summer comes around. There is, after all, a reason why classics exist. These fragrances are the equivalent of a crisp white shirt, a taupe trench coat, and a nude court shoe. They will never go out of style!
But, even the classics have been reinvented and you'll find new, often limited edition, versions of your favorite are ideal for summer.
While Marilyn's favorite perfume is still the epitome of style and class, the original No.5 with its base notes of sandalwood and vanilla can seem a little heavy during summer.
No.5 L'eau is the summertime equivalent, featuring lemon, mandarin, and orange, along with floral notes of jasmine and rose. But, it isn't too light. The addition of exotic ylang-ylang adds some subtle sex appeal!
While Dolce & Gabbana Light Blue is a newer classic, having been launched just after the Millennium, it's a safe fall back when the warmer months arrive. Casual and breezy, it's like a Meditteranean vacation in a bottle (well, almost)!
Plus, if you want to hone down exactly where that Meditteranean vacation is, then there's the limited edition Italian Zest version, so you can transport yourself to Sicily as soon as you breathe in its tangy citrus notes and Sicilian cedar.
Another one from the style queen herself, Chanel No.19 was created in honor of Coco Chanel's birthdate, of August 19 1883. While the original No.19 can be a little harsh for summer with its leather undertones, sandalwood, moss and bitter galbanum, Chanel No.19 Poudré is a fresher, yet still bold take on the fragrance Coco wore herself, with a combination of crisp green leaves and powdery iris. It's a little like the talcum powder fresh feel after a bath, but with much more sophistication!
Soft florals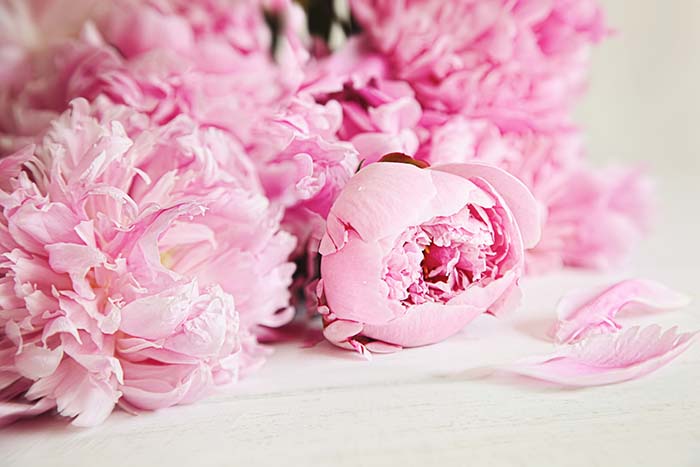 Heavy floral blends can become headache inducing in the summer or in warmer climes, if you're heading off on vacation. The key is to avoid cloying florals and instead opt for lighter notes such as jasmine, freesia, magnolia and peony.
Thierry Mugler is one of my own go-to perfume brands, for fragrance which smells a little out of the ordinary, without breaking the bank! Alien is one of those "love-it or hate-it" perfumes which smells amazing on some people and doesn't seem to suit the skin chemistry of others.
The Flora Future version is softer, and easier to wear. It's supposed to embody the flower goddess, who embarks on an adventure in the world of light. I'm not sure about that! But, what it does do is downplay the jasmine to give a creamier, softer feel, while still having the unmistakeable Mugler sweetness and florals.
Part of Lam's 10 Crosby range, which is said to be inspired by glamorous, confident women he saw walking down Crosby Street in New York city, Hi-Fi is unashamedly floral. It evokes memories of walking through the dreamy Le Marché aux Fleurs in Paris. The main scent is one of pink peonies, but the addition of French narcissus stops this from becoming too cloying.
Definitely a daytime scent, if you're looking for a summer evening perfume, I'd opt for the Looking Glass or Afloat versions.
As you would expect from a perfume called "Bloom," the original Gucci Bloom is unmistakably floral. The white flowers, however, result in a fragrance which is actually quite light rather than being too heady and overpowering. With the latest Acqua di Fiori version, you get an even fresher feel.
If Gucci Bloom was a garden in mid flower during the heat of the day, Acqua di Fiori is like stepping into that same garden before the morning dew has gone. You can smell jasmine and tuberose, along with the unique addition of the Rangoon creeper from South India.
Zingy citrus groves
Just as you might change your drink of choice from the winter to the summer months, you are likely to want to change your perfume. These citrusy options are the equivalent of moving from that warming bourbon to a refreshing gin and tonic!
What could be more summery than the orange groves of California? While this is undoubtedly pricey, it's become one of my go-to perfumes for summer. Or, for when I want to think it's summer! It really is like bottled sunshine.
With the first spray you get a hit of citrus, but then you start to smell the complexity of this fragrance, with juniper, sandalwood, and some spice, including pepper and star anise, so it doesn't feel too sickly sweet. You can also layer it with other fragrances in the Atelier range, so the Atelier Discovery Set could be a good idea if you want to try a few and see how they work together before committing to a larger bottle.
Evocative of lazy days by the pool, Eau de Soleil Blank is light, crisp and easy to wear. Citrus notes give way to warmer floral amber along with gardenia the longer you wear it. There is also bitter orange, hints of pistachio and the muskiness of ylang-ylang. Subtle and not overpowering, it is pricey but it does last for a full day.
Tropical island paradise
Summertime at the beach with family and friends is what memories are made of. Whether your favorite beach is a tropical destination, driving down to the Florida Keys or heading to Cape Cod or the Med, fragrances can transport you there without you ever hopping onto a plane.
I'm not sure how they have managed to bottle it, but the magicians at French fashion house Maison Margiela really have managed to get the scent of a walk along the beach in their apothecary-style fragrance bottle.
There are enough tropical notes, including coconut milk and pink pepper to evoke a tropical paradise, but you could equally be strolling along the shores of the Atlantic, with the addition of the fresher notes of lemon.
There's probably a law against putting together a round-up of summer fragrance without including Jo Malone! So, here goes! While other Jo Malone fragrances are like bottling English afternoon tea, or walking in an orange grove or pear orchard, her latest perfume transports you to a tropical island.
The top notes are green cherimoya fruit, which was once described by Mark Twain as the "most delicious fruit known to man". Well it smells pretty great on a woman too! There is also pear, passion flowers, copahu resin from Brazil and base notes of tonka bean, which adds sophistication. One of my new favorite finds!
How about you? Have you found your signature scent yet? What's your favorite perfume for women?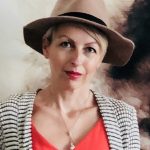 Author bio: Liz Hands is a fashion journalist and stylist from the UK who has styled fashion shoots for newspapers, magazines and high-end clients including 5* hotels and BMW. She's now happiest either blogging about style, or donning her favorite Barbour jacket and Brogini boots for a hack out on her crazy ex-racehorse.
Photo of Marilyn Monroe by Mariah OConnell
Like this article? Save it on Pinterest!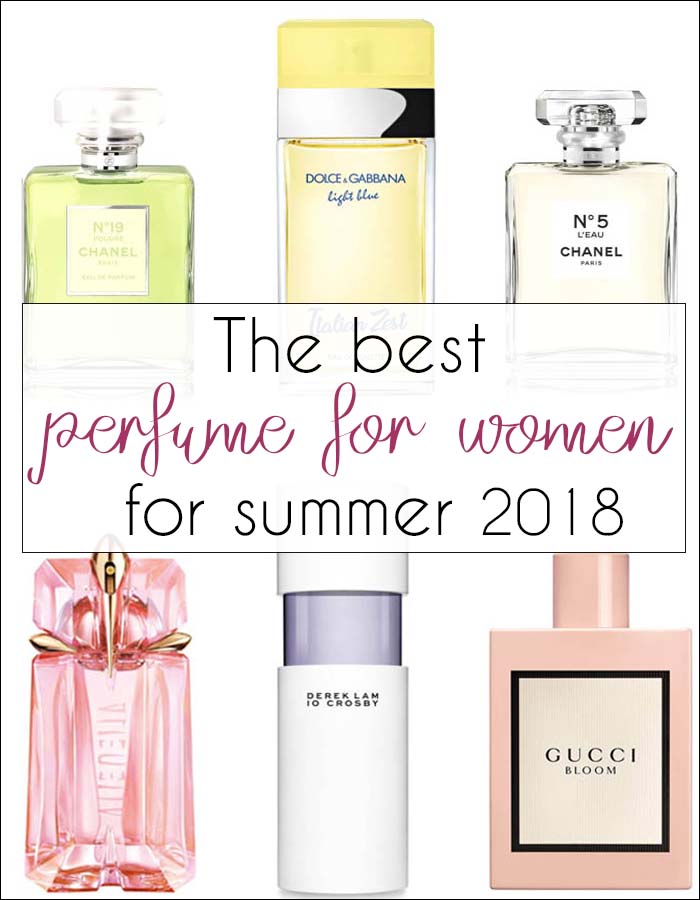 Want to get more articles from 40+style in your inbox, subscribe here.
You can also connect with 40+style on Facebook, Instagram or Pinterest.
Support 40+style by using the links in our articles to shop. As an associate for Amazon and many other brands, we receive a small commission (at no cost to you) on qualifying purchases which enables us to keep creating amazing free content for you. Thanks!