While you may religiously massage cream into your face morning and night and use the best foundation for mature skin, do you look after your neck in the same way? Along with other parts of your body like your hands and your knees, the skin on your neck can make you look older, even if your face is relatively youthful. Take a look at the best neck creams below for a firmer looking neck.
Why does the skin on your neck seem to age so quickly?
As the skin on your neck is thinner and more delicate than on other parts of your face and body, it can show signs of aging more rapidly. Plus it tends to be drier so it can develop a 'crepe-y' texture and can easily get sunburned, causing more signs of aging. Making sure you are moisturizing your neck as well as your face can help.
Why do you need a specific neck cream?
Anything you put on your face will work well for your neck too. But, as your neck has fewer oil glands, it may benefit from a specific, extra moisturizing cream designed for the skin on your neck.
best neck creams in stores now
Let's look at some of the best neck creams you could choose that come well-recommended by other 40+ women.
ACTIVSCIENCE
While not a 'magic' solution, the makers of Activscience's neck cream say you should start seeing results around month three of using it. With close to 10,000, largely positive reviews, women who have used it say it worked better than they expected and they saw results after just a week or two.
ACTIVSCIENCE Neck Firming Cream
Gold Bond
Including salicylic acid which can help to shed dead skin cells, Gold Bond's neck firming cream is designed to improve both firmness and texture. Users say they have seen a significant improvement. One reviewer, who is 65, described it as the next best thing to a miracle and another said she is recommending it to her family and friends.
Gold Bond Neck & Chest Firming Cream
StriVectin
Designed to be applied morning and night StriVectin's advanced cream is well reviewed, with one user saying while all her friends are having cosmetic surgery, this cream has helped her to avoid it.
StriVectin Tighten & Lift Advanced Neck Cream
YEOUTH
With green tea and Vitamic C, Yeouth's cream is designed to be safe for senstive skin. Reviewers say they noticed a difference after a couple of weeks, and that a little goes a long way.
RoC
With a sunscreen to protect your delicate neck against further sun damage, Roc's multi-use cream has lots of reviews from women who say this has helped to make the skin on their neck feel firmer, although some say it is best for those without sensitive skin.
HSBCC
Designed in California, HSBCC's firming cream contains collagen and vitamin E to help improve the appearance of your skin. Post-menopausal reviewers who started noticing the dreaded 'turkey neck' say their neck looks much better. One said her husband commented her neck looked 10 years younger.
pure research
With retinol and collagen to help tighten the skin, Pure Research's firming cream is thick and creamy but reviewers say it absorbs well. They note a slight tingling sensation on application as the active ingredients get to work.
Pure Research Neck Firming Cream
Desert Beauty
Containing lots of anti-aging ingredients including peptides, plant stem cells, collagen and elastin, Desert Beauty's cream has plenty of rave reviews. One woman said after four weeks of use she is no longer ashamed of her neck while another said she recommends it to anyone over 50.
Desert Beauty Neck Firming Cream
InstaNatural
Crepe Skin firming cream contains caffeine for a tightening effect. One reviewer who is 67 said she has noticed a real difference in her skin while another said her skin feels both softer and stronger.
InstaNatural Crepe Skin Firming Cream
latorice
Latorice say you should start to see results with 30 days of using its firming cream while reviewers say it has worked for them. One said she has tried countless neck creams including expensive options and celebrity brands and this is the only one that has worked for her while another said it plumped everything up immediately.
bareMinerals
bareMinerals is well known for its make-up range, but have you tried its face and neck creams? Its Ageless Genius neck cream features gold and peptides. One reviewer said she noticed a difference in less than two weeks while another commented it worked better than expensive facials.
bareMinerals Ageless Genius Firming & Wrinkle Smoothing Neck Cream
StriVectin
If you're looking for a gift for a loved one or yourself, then buying a gift set rather than just one product can be a good option. StriVectin's tighten and lift trio includes a face and eye serum as well as neck cream.
StriVectin Power Starters Tighten & Lift Trio Full-Size Routine
IT Cosmetics
One thing you're likely to want when choosing a new cream is a confidence boost, so the IT Cosmetics Confidence in a Neck Cream definitely appeals. Users say it helps to combat loss of tightness. One reviewer who says lost skin tightness on the neck is hereditary for the ladies in her family said she definitely noticed a difference after applying it every morning and night.
IT Cosmetics Confidence in a Neck Cream
Perricone MD
Featuring sleek packaging, the Perricone MD neck and chest cream definitely looks the part. One reviewer said she was blown away by the results while another, who is 64, said this will now be a staple in her closet.
Perricone MD Cold Plasma Plus+ Neck & Chest
pharmapulse
Designed with collagen to improve the appearance of saggy necks and double chins, Pharmapulse's neck firming cream has won positive reviews from women who say it feels like more expensive choices.
Pharmapulse Neck Firming Cream
Revision Skincare
If you prefer a pump action bottle, you could look at Revision's Nectifirm cream. Many reviewers said they started using this on their dermatologists' recommendation and saw results after the first bottle.
Revision Skincare Nectifirm Advanced Firming Cream
clearlet
With hyaluronic acid and retinol, both renowned for their anti-aging properties, clearlet's cream works well for sensitive and dry skin, according to reviewers.
PRAI Beauty
Founded to create products specifically for older women while also donating money to animal rescue charities, PRAI's cream has positive reviews from women who say the tone of their neck has improved after using twice a day.
PRAI Beauty Ageless Throat & Decolletage Creme
Mario Badescu skin care
Featuring vitamins A, D and E, reviewers say Mario Badescu's cream is both effective and affordable.
Mario Badescu Skin Care Vitamin A-D-E Neck Cream
Do you have a neck cream recommendation? I'd love to hear it. You can let me know in the comments below.
Continue reading:
like this post on the best neck creams? share it on pinterest!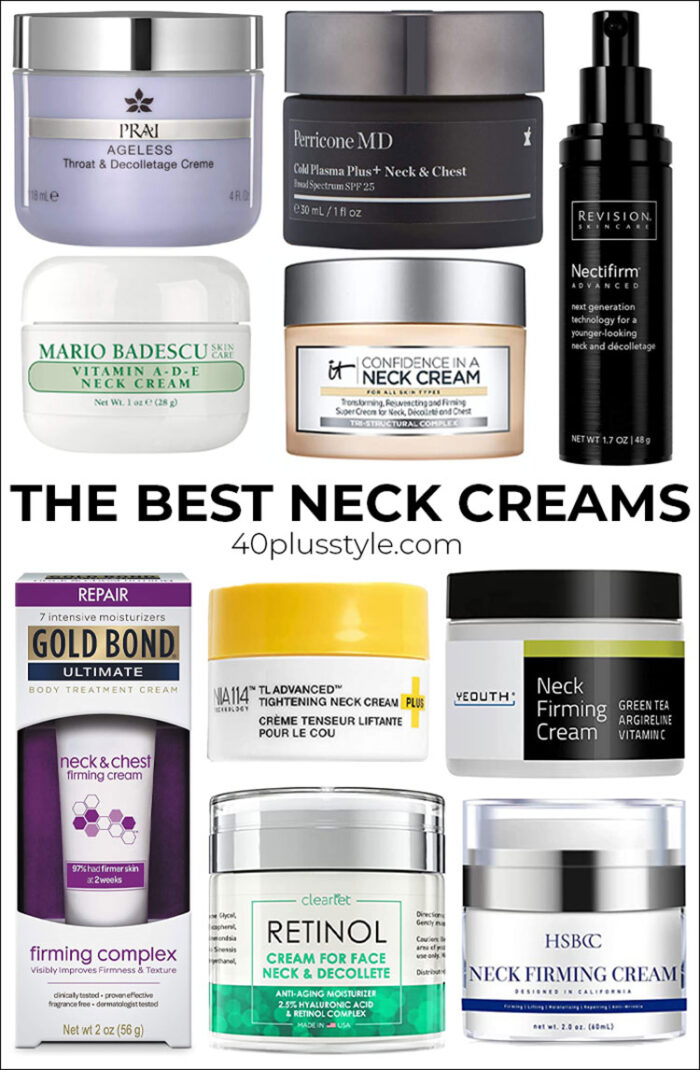 Want to get more articles from 40+style in your inbox, subscribe here.
You can also connect with 40+style on Facebook, Instagram or Pinterest.
Support 40+style by using the links in our articles to shop. As an associate for Amazon and many other brands, we receive a small commission (at no cost to you) on qualifying purchases which enables us to keep creating amazing free content for you. Thanks!