Today I'd like to introduce a new series to 40+ Style: the beauty interviews! Discover how women over 40 keep shining bright and groom themselves in a beautiful way.
This first interview is with our very own 40+Style contributor Rosemond. Enjoy!
Has your beauty routine changed much from when you were younger?
My beauty routine has evolved since I was younger. I now put more thought and care into taking care of myself. Gone are the days of falling asleep with a full face of makeup still on, or going outside without sunscreen!  I feel lucky to be 51 and want to take better care of myself now so that I can make the most of what I've got and look and feel my best for years to come.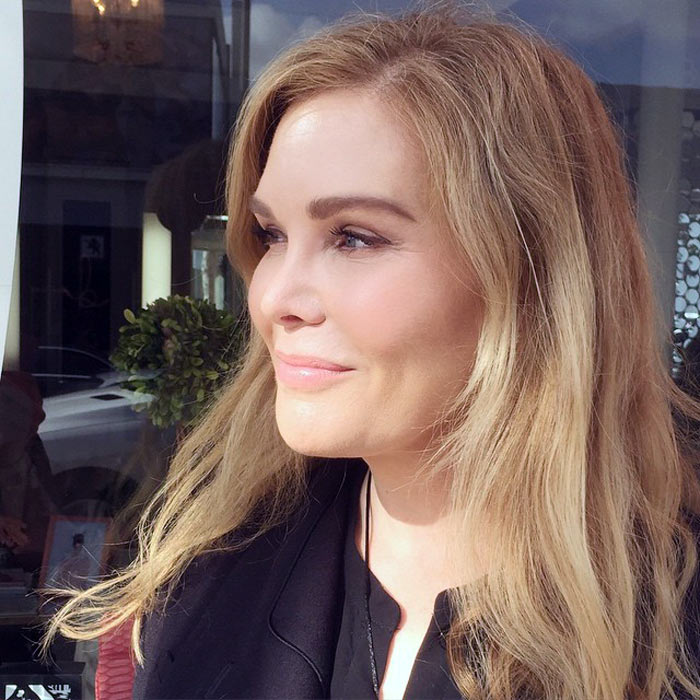 How much time do you spend on average on your grooming/beauty routine?
I don't go overboard, but I do take time every morning and night to take care of my skin.  I'd say 5 minutes in the morning and 5 minutes at night. 
What is your current beauty routine in the morning?
In the morning, I use Clinique's mild liquid face soap with a gentle cleansing sponge. Then, no matter where I'm going or what I'm doing I always apply sunscreen. I love Le Roche Posay Anthelios SPF 50.  And I make sure to put sunscreen on my chest, neck, and the back of my hands. 
What is your routine at night? 
At night, I use Simple or Neutrogena makeup remover sheets to remove any makeup and mascara. Then I use Peter Thomas Roth Anti-Aging cleansing gel with salicylic and glycolic acids to brighten and exfoliate my skin. As we age our skin cells turn over slower which dulls our skin, so it's important to gently exfoliate your skin. I use this cleanser with my Clarisonic sonic skin cleaning device. I've had my Clarisonic for several years and thoroughly love the way it deep cleans my skin and leaves my skin super soft. 
I use Clinique's Dramatically Different Moisturizer which goes on light and never causes breakouts or Olay Regenerist night recovery cream. 
Once a week I used light facial peel pads (on my face, chest and back of hands too) from L'Oreal Revitalift. The glycolic acid helps reduce wrinkles and discolorations and brightens by sloughing dead skin. I glow after using these.
How do you look after your skin and what is your favorite product? 
My new favorite skin care product is Sunforgettable powdered sunscreen. Sometimes it's difficutl to carry a tube of sunscreen around and reapply several times a day, but Sunforgettable is powdered so it is convenient and easy to reapply, even over makeup.
And I never go outdoors without wearing a wide brimmed sun hat to cover my face, neck, and chest.
How do you look after your hair and what are your favorite products?
My hair has gotten drier and more delicate as I've gotten older, so I use products that are especially gentle. For that reason, I use sulfate free shampoos and conditioners. 
I also use Rogaine for Women to keep my hair from thinning. A few years ago I noticed I was losing more hair than normal; Rogaine has helped keep me from shedding as much hair when I wash my hair. 
I also use an ionic blow dryer to cut down on frizz and flyaways, but air dry my hair whenever possible to cut down on damage. I twist my still damp hair into a bun until it's dry. It gives my hair gentle, loose waves.
My favorite new styling tool is a heated round brush called the Calista Perfecter. If I'm going out, I use that for a more polished hairstyle. It creates soft curls and waves and is fast and easy to use.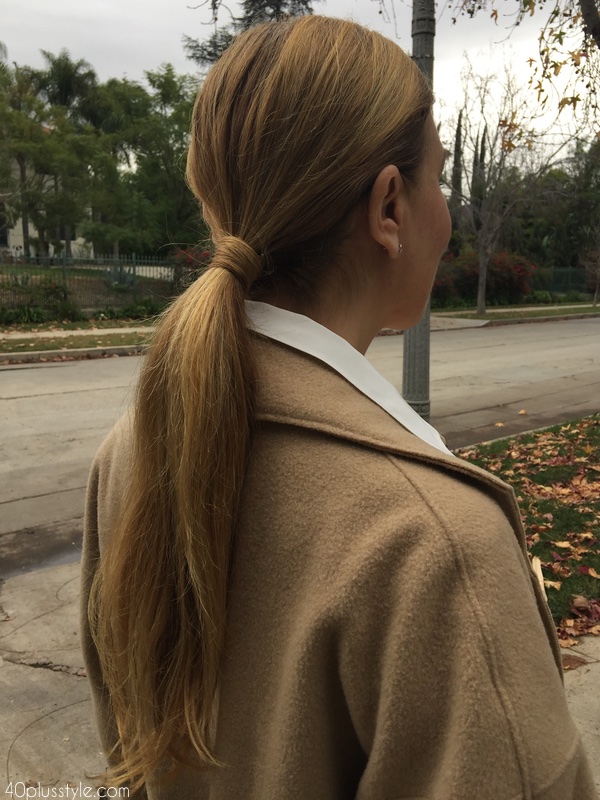 How important is makeup to you? Is it part of your daily routine?
I usually do wear makeup. I just feel better about myself when I'm wearing a little. 
Which makeup products do you use and which are currently your favorite?
It Cosmetics has literally changed the way I feel about my skin. I've got melasma, a skin discoloration caused by hormonal changes which usually shows up on your cheeks, and around the sides of your face. The discoloration and spots are really dark on the sides of my face and It Cosmetics actually covers it. Here's me on the left with no makeup. On the right, It Cosmetics makeup and CC cream makeup with SPF 50. It covers my skin discolorations naturally and smoothly. It's given me back some confidence in my complexion.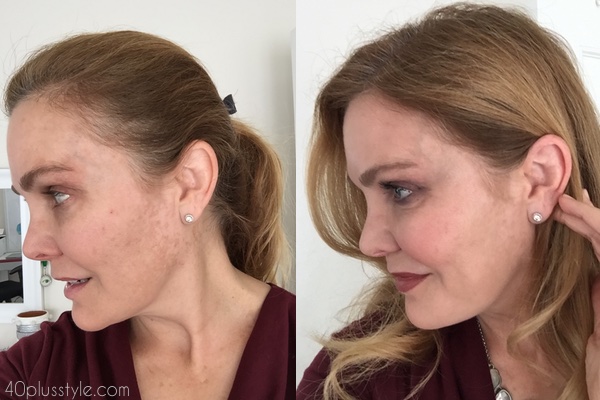 And here's the before and after comparison of the It Cosmetics undereye concealer. No makeup on the left. It Cosmetics Bye Bye Undereye Concealer on the right. This product is the best I've found for covering dark circles and undereye puffiness. 

The It Cosmetics products I use: 
If you could just give 3 beauty and grooming tips to women over 40, what would they be?
Reevaluate your makeup routine every year or so. As we get older our face changes, our skin changes, our coloroing changes. So the way we apply hair or makeup might need an update. You might need to use different makeup colors now or alter the way you apply your makeup to flatter you. Don't be afraid to change things to better suit the way you are today.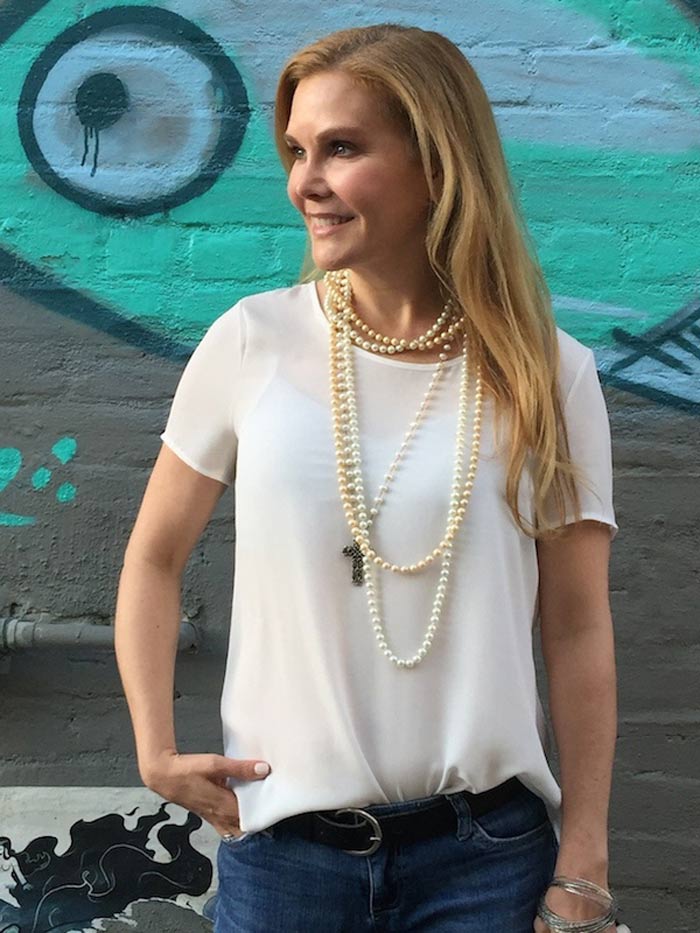 Try one of the newer multitasking products. There's a lot of technology in hair, makeup, and beauty products these days. Take advantage of it by using products full of multipurpose, anti-aging ingredients. For instance, use a makeup that's also a CC cream and sunscreen, or choose a moisturizing cream that has retinol, and antioxidants in it. Get a multitasking product and it will streamline your beauty routine.
Try something totally new. And start small. If you normally use powdered blush, try a cream blush. Try a nail color in a completely different shade than your normally wear. It might inspire you to try even bigger things like an updated hairstyle or hair color. It's easy to get stuck in a beauty rut, so experiment. You might end up finding new products and styles you absolutely love.
Thanks so much for your amazing beauty tips Rosemond!
What are your favorite beauty products?

Want to get more articles from 40+style in your inbox, subscribe here.
You can also connect with 40+style on Facebook, Instagram or Pinterest.
Support 40+style by using the links in our articles to shop. As an associate for Amazon and many other brands, we receive a small commission (at no cost to you) on qualifying purchases which enables us to keep creating amazing free content for you. Thanks!