This year I also spent a week in Málaga, Spain. My son has just started to learn Spanish at school and he needs to achieve a good level for his IB so we went there to take some Spanish lessons.
This is something I had done a few times when I was in my 20s and I always thought it was a fun way to learn a language while at the same time meeting new people and discovering a new city.
This time I chose the city of Malaga; a place I had visited briefly before a long time ago but that I did not know really well. My school was located just a few kilometers out of Malaga in the village of El Palo.
I must admit it was quite strange being a student again amongst so many young people. It made me realise how much older I am now. Still, I loved it just as much as then. The combination of using your brain and learning something new, together with exploring a new culture and city works really well.
Málaga is based right in the south of Spain at the Costa del Sol, close to uber-popular tourist towns like Torremolinos, poplular with people who like to party and spend lots of time on the beach.
Malaga has preserved its charm though and you will find a lot of beauty and history here. Below are just some impressions of the city.
Malaga is also the birth place of Pablo Picasso. You will find several museums dedicated to the artist. I enjoyed visiting the Museo Picasso Málaga which also houses the oldest architectural remains in the city in its cellar: the walls of the Phoenician city.
Calle Larios is one of the main shopping streets.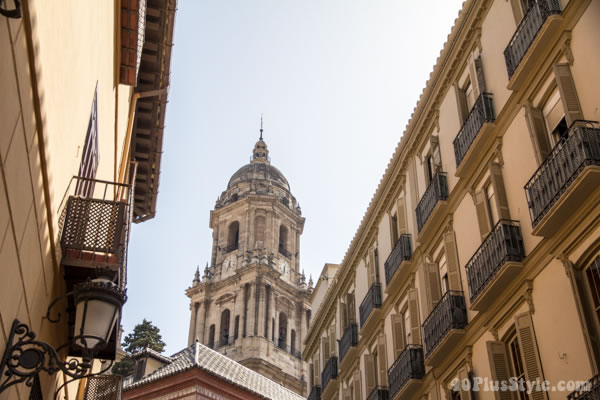 The Alcazaba is a palatial fortification in Málaga. It was built by the Hammudid dynasty in the early 11th century
Paris' little cousin: Centre Pompidou Málaga.
I must admit that these days I don't only judge cities for their potential as tourist destinations, but also as future places to live.
Although we are happy in Singapore now, this will not be a permanent place for us and once my son's middle school education is finished, the world is our oyster! Certainly for me, as I can work anywhere in the world. One of the huge advantages of my work.
Malaga is a good contender for winter months as it never gets really cold. It's close to mountains which provide plenty opportunity for sports and exercize and recreation in the weekends. And I love the Spanish people and traditions. They still sing and dance on the streets!
They have a great sense of style too.
Enjoying a boat ride with all the other students in the harbour of Málaga.
I had the pleasure to meet Sacramento whom you may already know from her blog Mis Papelicos. She has also fallen in love with the city since she settled here 1,5 years ago and said that she has never felt so at home. Stay tuned for her style interview coming up Wednesday.
I had a fabulous week in Málaga and I'm sure I will return one day. Perhaps next year already!
Have you ever visited Málaga? 

Want to get more articles from 40+style in your inbox, subscribe here.
You can also connect with 40+style on Facebook, Instagram or Pinterest.
Support 40+style by using the links in our articles to shop. As an associate for Amazon and many other brands, we receive a small commission (at no cost to you) on qualifying purchases which enables us to keep creating amazing free content for you. Thanks!