Today I feature the fun spirited Tania from Southwestern Virginia! She's got a great personality and the style to match! I think you will love her style tips. Enjoy!
Can you tell us a little bit more about yourself?
I have been married to my wonderful husband for 30 years this November. I have 2 sons and 1 daughter, and I am a grandmother of 4 little angels. I live in a very rural part of Southwestern Virginia, and work full time.
As a point of reference which age group do you belong to or perhaps you are willing to share your age?
I usually post to the over 40 group, but truth be told, I belong in the over 50 group.
I am 55, or as my granddaughter calls it, double nickels.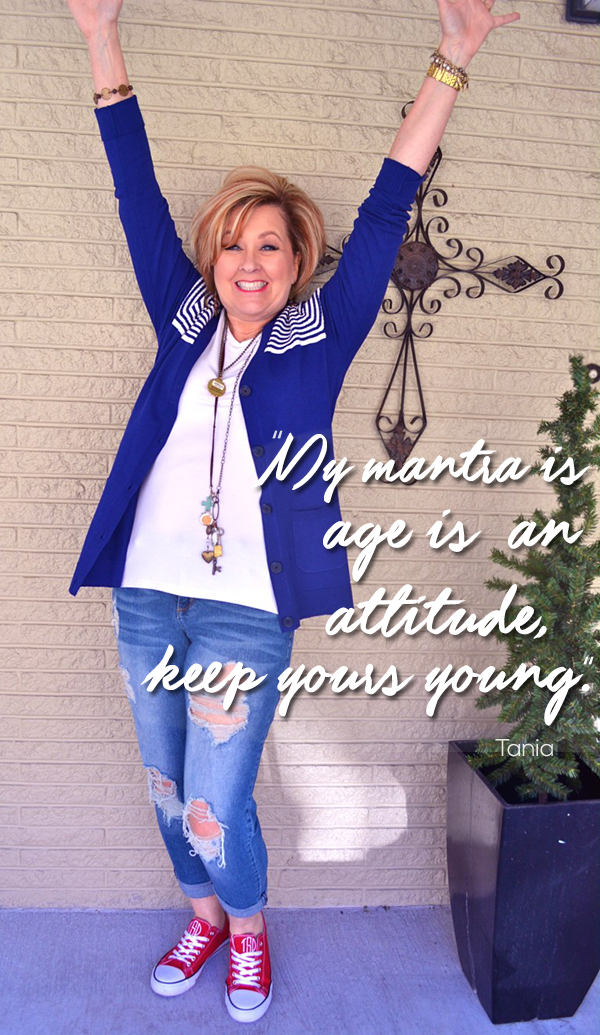 Can you tell us a bit more about your blog 50IsNotOld and why you created it?
My sister recently published a book, Last In A Long Line Of Rebels, and she had been encouraging me to start a blog. She even went so far as to purchase a domain name for me.
I put her off for over a year, and then finally I decided to test the waters. I had no real knowledge of computers, no fashion training, and I live in a tiny area with no shopping opportunities.
So, a fashion blog was never on my radar, but since I love clothes, I thought this would at least be a great lookbook I could use to see which outfits worked for me, and which ones missed the mark.
I never really expected people to find me. Lol!
How would you describe your own personal style?
I actually asked my husband this question months ago. I tend to think of my style as eclectic, I mix trendy, vintage, and classic all together. My husband has coined my style as "Classy with a little trashy."
What he meant was, a classical look with sex appeal. I hope he thinks I have sex appeal; after all he is my husband. Haha!

What would you consider the most important components of your style?
I go with the flow. I think we should have fun in our clothing and it should represent who you are, and how you want others to view you.
With that said, I don't want others viewing my bumps and bulges, so I wear blazers and cardigans often. I believe in camouflage, using your clothes to make you look, and feel, your best.

Where do you live and how does that influence your style?
Living in a small coal town in Southwestern Virginia has influenced my style. Our area has been hit hard by the downturn in the coal industry.
We do not have a lot of clothing stores, and traveling to the nearest Mall is 2 hours away. I have learned that you can still be fashionable, and look great, by shopping your closet and supplementing with what is available.
The Internet is open 24/7, but you do not have to spend a fortune on clothes to look like you did.
Do you feel you have a signature style?
I think most of my readers would say I am relatable. I don't spend 500.00 or more on outfits. I shop affordable stores, and throw in a designer item or two.
I have been known to wear a pair of Chanel shoes (hand-me-down), and an item from Wal-Mart at the same time.

What inspires your outfit choices the most?
Color. I love color, and I have to watch myself from going overboard. I think color affects your mood, so having at least a "pop-of-color" can elevate your spirits for an entire day.
Do you take things like color profiling or body type into account when you dress?
I have never been color profiled. I have had readers ask me about that, they might think I need to have it done.
Haha I do take body type into account. I have no real defined "curves" so I try to create them with jackets and cardigans.
A v-neck is one of my best friends. We should use our clothing to our best advantage.
Has your style changed at all after turning 40?
Yes, my style has changed, and I like to think for the better. As a wife, and mother, I put myself on the back burner often when it came to fashion. I was presentable, but not always fashionable.
When I turned 40, I was able to take a better look at myself, and put a little extra effort on me.
Do you believe in dressing 'age appropriately' and what does it mean to you?
My mantra is "Age Is An Attitude, Keep Yours Young". What one person considers appropriate may not be the same for another.
I think you should dress in what makes you happy. Take distressed jeans for example.
I love my distressed jeans, but I have taken some flack from some who feel I am too old for that look. I "feel" young, therefore I will dress how I feel.
Would you say that at this stage of your life you are now more, or less interested in fashion, style and the way you look?
Oh, definitely more. It could be that as I have gotten older, I need all the help I can get. When you are young, you can get by with throwing something on, and running out the door.
People just assume you are busy, but as you age, the assumption is that you don't care.
Why is the way you look important to you?
It is very important to me to look my best. When I was much younger, the wife of my boss would come by our office occasionally.
She was probably in her 70's, and she always looked fabulous. Not a hair out of place, and dressed impeccably.
I thought she looked so "put together", and that is now my goal. I try to never leave the house without looking "put together."
Right or wrong, we are treated like we dress.
Do you follow trends? And if yes, which trends excite you at the moment?
I love trends! I like mixing them in with my vintage, and classic items.
Trends help you appear youthful and current. I love distressed jeans, plaid, stripes, and red lipstick.
Are these still trends? That is the thing with trends; they change so rapidly, what is "in" today can be gone tomorrow.
Do you have any fashion and style tips for women over 40?
Have fun! Don't fade into the wallpaper.
Wear color, it will make you happy. Don't be afraid to try new things.
There is no "real" fashion police that is going to come and lock you up. Stand in the mirror and take a "selfie", then evaluate the picture.
If you still like the outfit, then wear it with confidence.
What are your plans for your blog and how do you see it develop over the coming years?
I am just sitting here, drinking coffee, and making plans for world domination in the fashion over 40-blog nations. So, everyone needs to follow my blog to help me get on my way.
If that doesn't work out, then maybe I can be an over 50 model for a national chain. You know, just your normal run-of-the-mill dreams.
Anything further you would like to add?
Yes, I want to thank you for allowing me to be a part of your style interview. I am honored to be amongst the other wonderful ladies who have gone before me.
Visit Tania and her beautiful style on her blog at  50isnotold  and @50isnotold for Instagram.
Like this post? Share it on Pinterest!
Want to get more articles from 40+style in your inbox, subscribe here.
You can also connect with 40+style on Facebook, Instagram or Pinterest.
Support 40+style by using the links in our articles to shop. As an associate for Amazon and many other brands, we receive a small commission (at no cost to you) on qualifying purchases which enables us to keep creating amazing free content for you. Thanks!