There was a exhibition on Coco Chanel in The Hague, The Netherlands, so me Saskia and Greetje decided to go and have a look. Of course it was a perfect opportunity to do some outfit of the day style photographs as well.
The weather was cold so we were all prepared with coats shawls and even a hat for Greetje. I usually wear ear warmers when outside but did not feel they were fit for a photograph. I did not buy any new winter coats so I was stuck with my old black coat combined with black and white woolen scarf. Saskia was wearing a very stylish leather trench, which would be high on my wish list if I lived in a cold climate (together with a colorful coat, of course!)
Both Saskia and Greetje added color to their otherwise mainly dark outfits. Of course Greetje is a star for wearing a purple woolen coat, while Saskia adds color through her scarf. I also love Greetje's 'Russian' hat.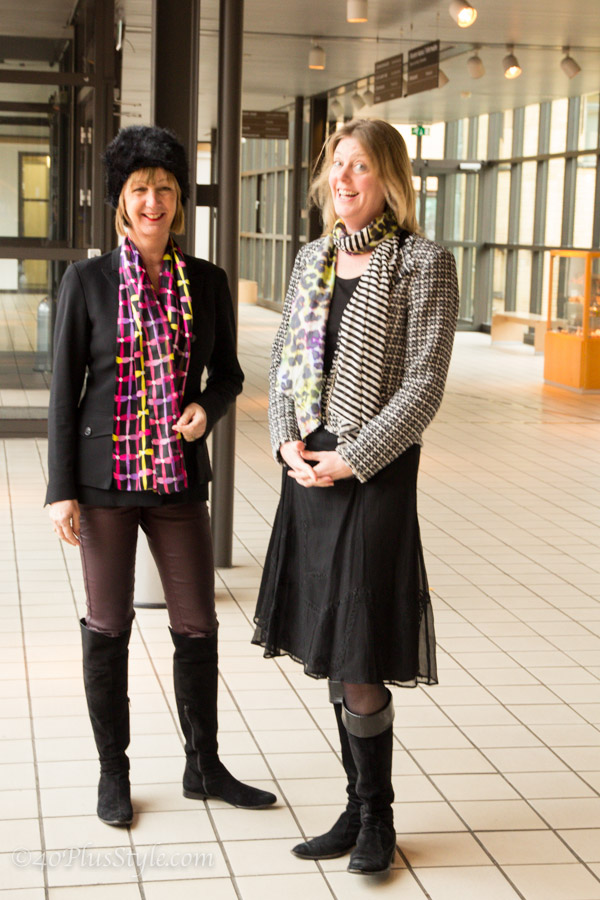 We could only take off our coats inside where Greetje revealed another colorful scarf to lighten up her dark outfit.
Saskia had aimed for a Chanel-like look with her Chanel style jacket and black & white outfit. I love the mixture of textures in this look. Those leather flaps over her suede boots are just fabulous!
Greetje opted for her coated skinnies that suit her figure so well. She combines it with the perfect black leather jacket and some killer boots. The colorful scarf in flattering colors brightens up the look.
I opted for skinnies as well, which is an unusual look for me. However, I love winter white and could not resist these comfortable skinnies with zippers from Zara. Skinnies are so nice to wear in colder countries as they hug your legs and keep them warm. I combined them with jumpers as my mission this year is to stay warm! This jumper is from Zara as well while the blue turtleneck is from CK Calvin Klein. All in all I wore 4 layers on top!
Tomorrow I will show you some more about the Chanel exhibition itself and how we are all channeling Chanel with some of her famous jackets.
Which is your favorite outfit?

Want to get more articles from 40+style in your inbox, subscribe here.
You can also connect with 40+style on Facebook, Instagram or Pinterest.
Support 40+style by using the links in our articles to shop. As an associate for Amazon and many other brands, we receive a small commission (at no cost to you) on qualifying purchases which enables us to keep creating amazing free content for you. Thanks!