Here is another update of my visit to the London Olympics. 2 days ago I showed you my unusual black dress that I wore during my first day in London, which was mainly spent walking around. On this day though I had an event to attend: the final of the women's synchronised diving! Walking towards the venue the weather was holding up, but by the time I took the below picture, you can see that dark clouds were approaching us. It wasn't long before rain fell on the Olympic Park and we all had to look for shelter.
Luckily my venue was inside today as I had tickets to the women's synchronised diving final which was held in the Aquatics center, which was just opposite the olympic stadium. It was a packed house (apart from the empty vip seats of course) and it quickly became clear that the Chinese were in a class of their own. Look how perfectly synchronised their dive is from the shots below.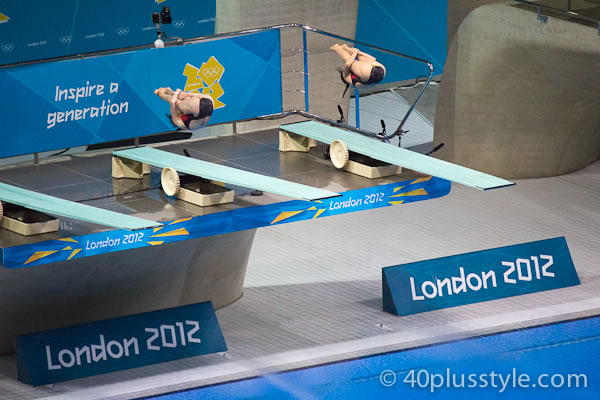 Not suprising then that they easily became champions, with the USA picking the number 2 spot and Canada third, leaving the British rather disappointed with their 7th place. What do you all think of the ceremonial clothes of the USA olympians?
Appearantly it had stormed and rained outside while we were watching the diving. But as soon as we got out it turned sunnier again. Perfect to take a few photographs of my very casual outfit that day. English weather is quite unpredicatable so I had several layers on. For this picture I took of my cardigan so you could see my new silk Zara blouse which I picked up for 12 euros in Spain. I thought it was an amazing buy, but it has not coped well with intensive wear at the Olympics. Such a shame because it would look really nice with some simple black pants.
As you can tell, dressing for me when on holidays and when I want to keep warm is always a compromise. Under garments were chosen for warmth also, and I know that could be better. (Another item to shop for!) Hair with this weather is always a problem for me. When I see pictures like this, I truly feel like cutting it all off!
On another day, we visited the London Eye where I wore this same outfit again, as it is so comfortable. I made myself the promise that I will find a better fitting AND comfortable pair of jeans for my next trip, but this would have to do for the time being.
The London Eye gives some spectacular views of London. One of which you will only see during the London Olympics: the beach volleyball courts at Horse Guards Parade. I was going to visit that later in the week, so stay tuned for a full report on that!
Great view of the Big Ben and the London houses of Parliament.
So that's it for my second report from the Olympics. Stay tuned for the last one on Friday!

Related posts: