Today I'm showing 2 pieces from my wardrobe that have been worn quite a few times on this site before. Yes, ladies I'm shopping my closet!
I was actually very pleased with finding this totally new-to-me outfit. I thought the color combination was unusual and interesting and I like the silhouette of straight skirt and blousy top at the moment (I was wearing a similar silhouette last week).
You may recognise that the outfit has all the usual style elements that please me.
These elements include:
Color. Red always looks good on me and the mustard with this red is interesting combination.
Drape. I love it in all the right places.
Asymmetry. For a bit of an edge and unusualness.
Something new. Yes these pieces are old but the combination is new; that is all that matters!
Comfort. The shoes are low and comfortable! The silk top breathes and is cool. The cotton skirt is stretchy.
A hint of print. Just a hint of print is all I need and the shoes serve this purpose just fine.
Accessories. I kept it very simple with a statement watch and ring.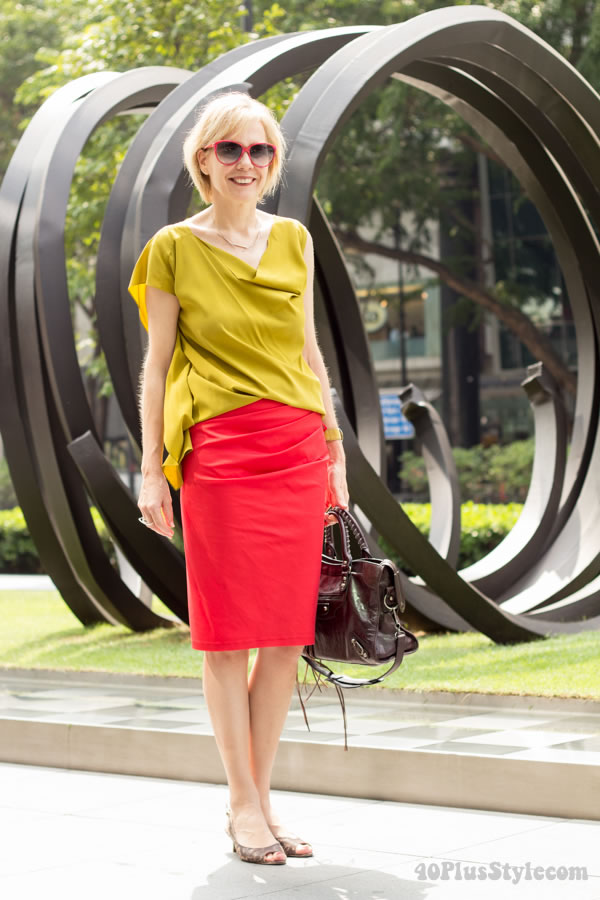 I was very pleased with myself indeed and really felt I did not need anything more. My closet had all I need right?
But then, I was in the city close to many beautiful stores.
My friend wanted to check out a new shopping mall she had not seen before.
We then ended up in a Vivienne Tam store where a lot of stuff was 50% off.
And then I saw something I liked. Tried it on. And then…
Well, I will save the rest of the story for another day and will leave you in suspense as to how much 'damage' was done. Let's just say I ended up buying new things that will brighten my day for a next event or occasion. I'm a fashion blogger after all right? I need to show you something new every now and then right? (a perfect excuse if I say so myself).
For now let's come back to those outfit elements I mentioned earlier.
I see mine coming back time and time again and I know they are part of my style.
They make me happy.
They provide clues to what I'm looking for in an outfit.
They give me a signature style and make it easier for me to shop (or harder when I can't find any of these elements of course).
They prevent too many buying mistakes.
So it's great to know the key elements of your style.
Do you know what those key elements are for YOU? What makes you happy?

Want to get more articles from 40+style in your inbox, subscribe here.
You can also connect with 40+style on Facebook, Instagram or Pinterest.
Support 40+style by using the links in our articles to shop. As an associate for Amazon and many other brands, we receive a small commission (at no cost to you) on qualifying purchases which enables us to keep creating amazing free content for you. Thanks!