You may see something funny about these pictures. Yes, that's right they are all crooked. But at least, they are sharp! I had been unhappy with the quality of the images taken on my terrace so I had to do something. I can't rotate them, unfortunately, because that would leave me with no feet and half a head in most cases. I actually think it's fun to have these strange images, so hopefully you agree!
My outfit today is very stripey and I'm taking it from casual to chic (evening . I'm still in Chanel mode, blue mode and generally understated mode, so this outfit suits me just fine. It's also a very comfortable outfit, with flexible cotton jersey wrapping all my curves. I snapped up the wide striped skirt, just a few days ago, when my friend Anja lured me into her favorite store: H & M. That shop is a little out of the way of my usual shopping area so I hadn't even been inside. It was great fun shopping there, as I recognise so many of the trends featured there from the runways. And H & M is super affordable as well.
The top dress is one of my casual dresses that I wear on the beach. I bought it cheap and it's a nice comfy dress /tunic for very casual occassions. So when I wanted to wear my new wide striped skirt to a casual gathering, I was thrilled that it actually matched my other striped dress almost entirely. It's so great to find a perfect matching garment for something you have just bought.
I was going to a very casual event, a fair, so needed something very sporty, comfortable and casual. Yet, I did not want to be boring, so matching both skirt and dress felt like a great option. It's now a casually chic outfit. I would have wished that I had a nice orange (big) bag to go with it. But alas, I don't have one (yet) so I took my big comfy black one. However, I do feel that orange would go perfect with this outfit, so for the photo I matched it with a little orange mini bag I snapped up in Cambodia. (perhaps I shouldn't have, so you could more clearly see the transformation from casual outfit to evening outfit….)
When I saw this wide striped skirt and saw that it was only about $12, I was very tempted indeed. Only later did I find out that they also have a whole dress in that same pattern. Too short, of course, but what if I combined it with the skirt. It actually looks like a long knee length dress. Sweet! Now it looks like a nice tight, form fitting dress, yet with the 2 layers it's still more comfortable and does not show every imperfection.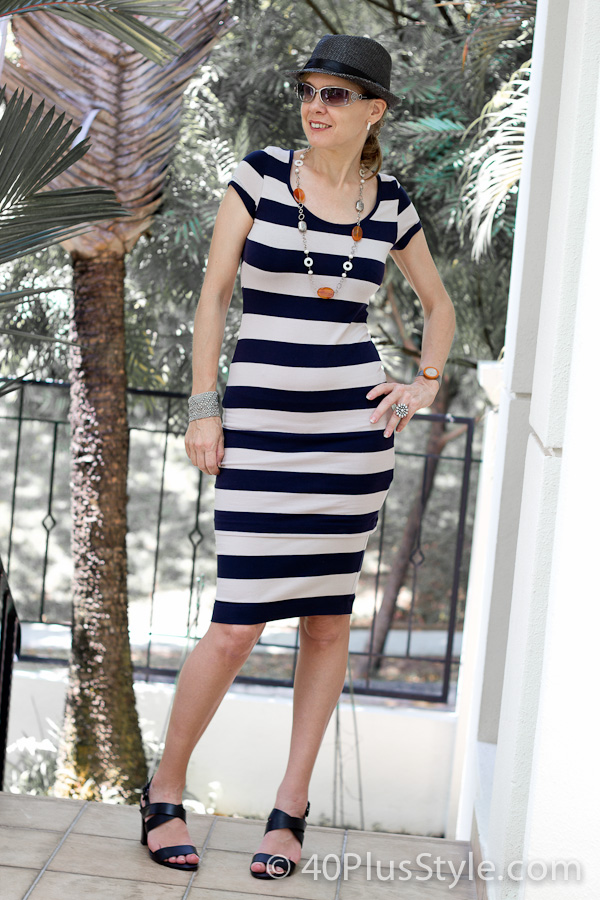 This time I added a bit more glam with an orange necklace, my cute hat, high heeled shoes, a gifted bracelet and my orange little bag. I'm happy with the results and with a total amount spent of only $25, I am definitely a happy mama.
You see, I'm really WORKING this dress!
I can see many opportunities for combining both parts of this combination. Great with my white pants, great with white blouses, orange tops and of course red. The possibilities are endless. This was a great little find and the good news is, it may still be in stores near you.
For more tips check our article on how to wear stripes.
Which do you like best, casual me or evening me?
Want to get more articles from 40+style in your inbox, subscribe here.
You can also connect with 40+style on Facebook, Instagram or Pinterest.
Support 40+style by using the links in our articles to shop. As an associate for Amazon and many other brands, we receive a small commission (at no cost to you) on qualifying purchases which enables us to keep creating amazing free content for you. Thanks!