It's fashion week in Singapore, so I thought I'd put in a bit more effort towards my grooming. I decided I wanted some arty nails, so off I went to one of Singapore's affordable nail salons to get it done.
When I selected a design the ladies recommended I'd go for gel nails instead of regular nail polish.
Advantages of gel nails
Last a lot longer; she told me up to 3 weeks.

Dry instantly so no need to wait.
Easier to create some fabulous nail designs.
Since I have never done anything like this (both nail art and gel nails) I decided to give it a go. Mind you they did not tell me of any disadvantages, which I only found out about later! (see below)
How to get gel nails
Here is how the process works:
First your nails are filed and cleaned as in a normal manicure and sanded into shape. I always prefer to go with a rounded shape.

The tops of the nails need to be buffed to remove its natural shine. This way the primer for the gel nails will adhere better.
Cuticles are either pushed back or cut.
Then a primer is applied.
The first layer of UV nail gel is then applied. After that you place your fingers into a little box with UV drying light.
You then repeat this process with a second layer and a third layer.
You can use a file or buffer to shape your nails further.
Wash hands carefully to remove any acces gel left on fingers or hand.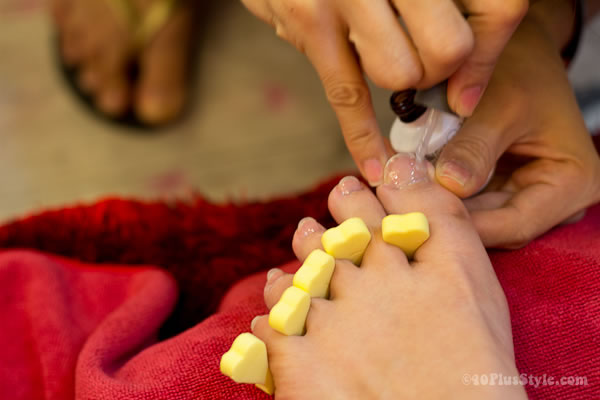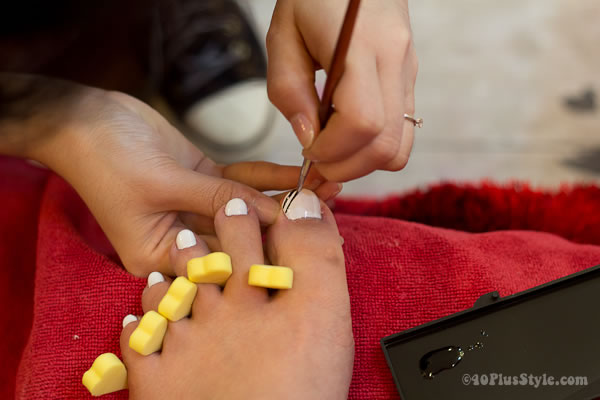 Final results
I must say I'm very pleased with the final result. The nails are smooth and I especially like the design of my finger nails. They change colour with movement and sometimes the special dots are pink, other times silver, gold or blue. In the end I find my toes a bit boring. I opted for black and white combinations to fit in with the high contrast graphical trend and to give me many options as to what I could wear throughout the week. Black and white goes with everything.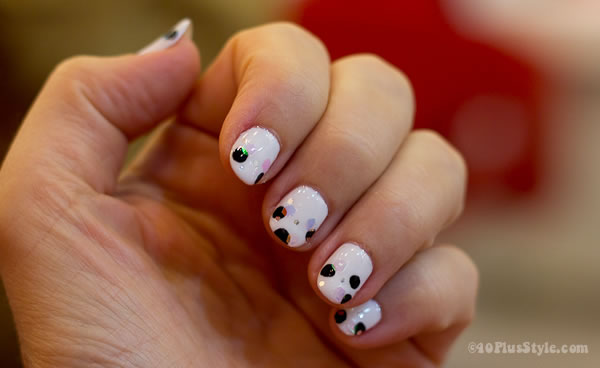 Side effects and things to look out for
However, since acquiring the gel nails I read up a bit on the disadvantages of gel nails. I noticed that my nails are a bit more irritable after the procedure and I remembered some stories of other bloggers having negative experiences.
Disadvantages of gel nails
There have been reports that gel nails can lead to cancer. The UV light from lamps used to set the gel manicures have the same kind of damaging effects as a sunbed. It is recommended to protect your hands with sunblock applying the gel.

The treatment can cause the nail to thin.

It can potentially lead to infections.

Nails breakage can apparently be more painful as the nail breaks at a much higher point.

Some specialists claim that it takes the nails about 6 weeks to recover from a gel treatment.

It's going to be a lot tougher to remove the gel. You will need to soak your nails in pure acetone, which is very drying to the fingers or file them off.
Although I'm happy with my nails now, I'm a bit worried as to how to maintain them over the coming weeks and to eventually remove the gel.
Find out more in my other article: how long do gel nails last.
Meanwhile I would like to hear from you. Who had gel nails before and what has been your experience with them? Would you ever consider getting them? What about nail art?
Want to get more articles from 40+style in your inbox, subscribe here.
You can also connect with 40+style on Facebook, Instagram or Pinterest.
Support 40+style by using the links in our articles to shop. As an associate for Amazon and many other brands, we receive a small commission (at no cost to you) on qualifying purchases which enables us to keep creating amazing free content for you. Thanks!