As you know we believe that style only gets better with age. And in many ways so does a woman's beauty. It should therefore be captured at all ages.
Glamour photo shoots offer women just that.
Why do a glamour photo shoot?
Some of you may feel that glamour shoots are for the young, the truly daring or those who have model-esque bodies.
But you will be surprised at the number of 40, 50, even 60 year olds that are embracing their beauty and booking a photo shoot. I personally have worked with ladies who have booked a glamour shoot in their 70's.
Many of my favourite female stars have now hit the big 4-0 and I think they look better than ever!
Actresses, Judi Dench and Maggie Smith, from the film The Second Most Exotic Marigold Hotel are in their 80s and look exceptionally fabulous. Not only are they hired for their acting but their job also involves promotional photo shoots and red carpet events.
Having glamorous photos taken, at any age, is really about doing something for you and something that will make you remember how absolutely amazing you feel and look.
Whether you opt for a package with hair and makeup or go as you are, it is all about having fun as an experienced photographer captures your unique beauty. Most women will say but "I don't know how to pose" or "I'm uncomfortable in front of the camera" .
However, an experienced photographer will guide you through poses that will make you feel confident, sexy and make you look better than ever. Don't forget to bring a friend with you or even your favourite tunes to get you into an easy relaxed mood.
My tips on achieving a great photo shoot
If you do decide to take a leap of faith and book a photo shoot, here are my personal tips on achieving the best results for your timeless photos.
Face
Exfoliate
Exfoliation will help remove any dead skin that may be visible through the sharp lens of a camera. Try doing this a few times beforehand; not only will you look great in your pictures but you will also feel good.
Facial
If the photoshoot is all about you, why not spoil yourself by pampering yourself with a facial. Make sure you do this at least 1 week prior to your shoot, in case you encounter any post-facial redness.
Eyebrow grooming
The eyebrows are the frames of your face. It's important that you groom them before your shoot. If you wax you should do this about 3 days beforehand and if you trim or pluck at least 1-2 days before.
Hair
Colour or Touch up
Don't forget to touch up or dye your hair at least 3 days before your shoot. It is not the best time to make any drastic changes to your look.
Trim
Healthy hair always looks fabulous on camera, so if you haven't had a haircut in a while even a trim can make a world of difference.
Deep condition
It always helps your hairdresser when your hair is soft and smooth. It makes it easier for them to style and set your hair into place. I suggest that 1-2 days before your shoot, you apply a hair mask at home or head to your salon to get a deep condition. Your hair will be truly thankful for it, not to mention your photo shoot hairstylist.
Hands
Get a Manicure
We always neglect our hands, but they are the most photographed feature of a photoshoot. Regardless if you have time or not, make sure your nails are looking well groomed. Head for a manicure and a pedicure too. If not, shape your nails so that they are neat and apply soft or neutral nail polish.

Skin
Hair removal
Depending on the style of your shoot, it is best to be prepared for anything. Make sure you do all your hair removal the day before. Don't forget your bikini region if you are doing any swimwear, lingerie or boudoir shoots.
Spray Tan
If you are a regular to spray tans or self-tanning and you prefer to have your tan boosted, make sure you do this at least 3 days before. Do remember that it's important for you to be comfortable in your own skin and that if necessary you can always add a faux glow in the postproduction of the photographs you like.

Clothes
Sylvia's style tips and tricks will help you create the perfect outfit, but what actually looks good on camera? Is having a photo shoot the time to experiment or buy new clothes? I suggest remembering these 3 tips when picking your outfit.
Something Creative
Pick some outfits, accessories or props that are fun. This will help portrait YOUR style in your photographs. For example, a Fedora or Straw hat can instantly change the mood of any photo shoot. You could be channeling a Western theme or Beach theme, maybe even a Parisian vibe.
Comfort & Style
Always bring clothes that you are comfortable in, but put away those PJ's and track pants. Choose clothes that you feel sexy, slim or confident in. Avoid loose fitting clothes, your outfits should fit your figure and not be squeezing you in too much.
Don't forget that there is no rule as to your style, feel free to bring outfits with different necklines or with various lengths. You will never know how they look on camera, plus they will add a variety of looks.
Avoid Prints
This is the most crucial thing to remember. Prints and patterns can be distracting to the eye. Why spend all this money on a photo shoot for people to see the pattern of your outfit rather than you! Try to the best of your ability to stick to solid colours and for variety choose textures like silk or velvet over patterns and prints.
But I must admit, there are some prints or patterns that each of us can carry. So if you have one that you love and feel good in, bring it along and let the photographer decide.
Just remember it's all about you and your beauty. Don't do anything you're not comfortable with and don't be shy to say anything – you only live once, so be vain! It is after all about you and your unique beauty.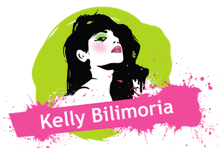 Kelly is 40+Style's makeup and beauty expert writer. She is a professional makeup artist currently residing in Singapore. For more information or bookings contact her through her website.
Feature image by Time (Meryl Streep)
Want to get more articles from 40+style in your inbox, subscribe here.
You can also connect with 40+style on Facebook, Instagram or Pinterest.
Support 40+style by using the links in our articles to shop. As an associate for Amazon and many other brands, we receive a small commission (at no cost to you) on qualifying purchases which enables us to keep creating amazing free content for you. Thanks!