I was invited to the launch of Bedat watches at a local shopping mall Wisma Atria here in Singapore and the dress code was: "Creative black tie".
So what to wear?
Mind you, the setting of this event was not going to be a big ball room but right in the middle of a luxury shopping centre. I decided to stick to the 'black tie' dressing code and opted for a long silk skirt.
Combining the skirt with a simple silk top would still make it 'casual' enough for the setting of the event and incorporating the latest blue and black trend.
I also opted to wear a fascinator (but more on that later). The pictures above would have been so much nicer if I had held a clutch, but of course I took my big camera with me again so had to sacrifice style for practicality!
My friend Jenny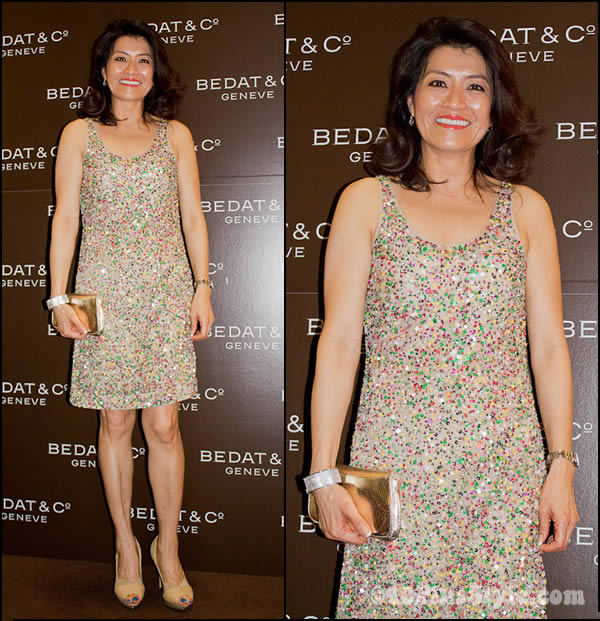 My companion for this evening was Jennie, a woman whom I know from my time in Shanghai where she usually beat me at tennis. Jennie has come back into my life as well, as she has just moved to Singapore.
She was also not sure about the dress code considering the location of the event. After initially planning to wear a long dress, she decided to wear a very nice sparkly cocktail dress instead.
How to wear a fascinator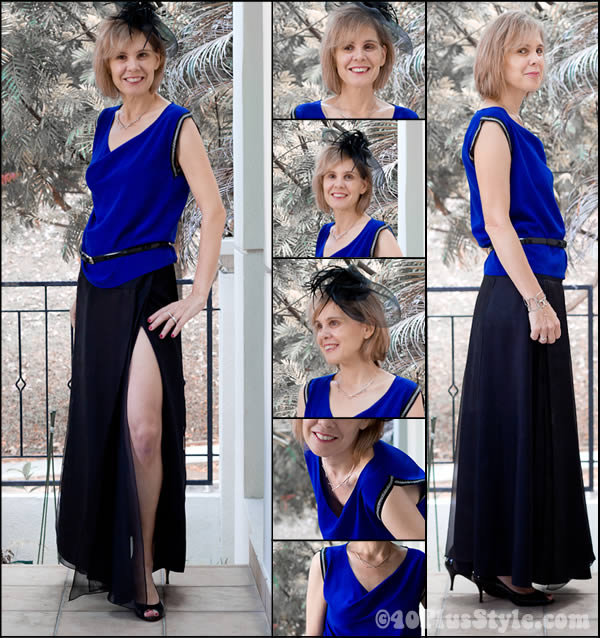 As you could see from the above pictures I decided to wear a fascinator. This is actually the first time ever I have worn any fascinator, so had no idea how to wear this particular one. Before going out I tried a few different alternatives.
Where are the hat experts when you need them (Judith, Kathleen)! Of course I should have consulted them well before going, but in the end I had to make do with guess work.
As you can tell I wore the fascinator even more to the side on the actual evening, but I still have no idea what the correct way of wearing is.
For more tips on wearing hats check out my ultimate guide on how to wear a hat.
The Angelina Jolie leg pose
You can't see the skirt in its full glory on the pictures. I think it actually looks nicer in real life. It has various layers of satin and voile silk and has a lovely movement when you walk. Of course it's not perfect. It's too short for my high heels (by the way I think this is the first time in a VERY long time that I'm wearing pumps!) and the tightening at the top is rather tricky. But look how perfect my Angelina Jolie leg pose is in this skirt!
The Bedat watches launch event
In the end people came to the event in a combination of cocktail dresses and evening gowns, although shorter dresses were definitely more popular. The watches on display were pretty spectacular and I love both the watches worn by the models above.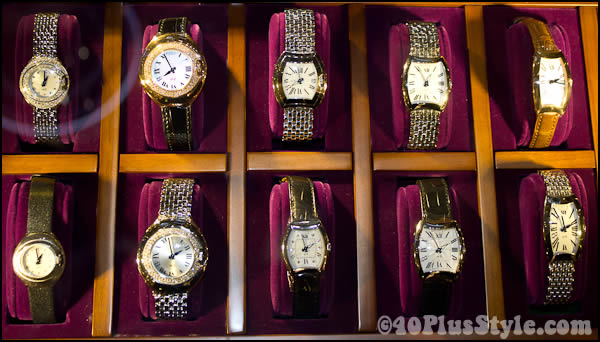 There was a little fashion show as well with all dresses provided by Benten Fashion from Indonesia.
Here are some of the ladies from Benten Fashion showcasing their gorgeous evening dresses.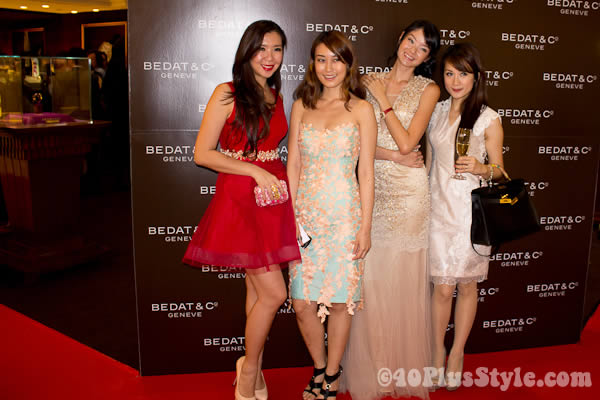 There were plenty of spectacular shoes as well!
These ladies are looking very elegant indeed in their very colour coordinated black, white and grey dresses.
It was a fun event and I very much enjoyed my champagne, the beautiful dresses and watches and talking to various interesting people. A great way to debut my fascinator.
Do you wear fascinators and know exactly how to wear them?

Want to get more articles from 40+style in your inbox, subscribe here.
You can also connect with 40+style on Facebook, Instagram or Pinterest.
Support 40+style by using the links in our articles to shop. As an associate for Amazon and many other brands, we receive a small commission (at no cost to you) on qualifying purchases which enables us to keep creating amazing free content for you. Thanks!