When I wrote about a minimal wardrobe recently, one of my readers introduced me to Stephanie from Odyssey Home. I was very attracted to her minimal yet edgy style, so was very keen to find out more about her and learn how to embrace a more minimal wardrobe. I'm very pleased that she agreed to this interview!
Hi Stephanie. Thanks for taking the time to answer a few questions for 40PlusStyle. Can you tell us a little bit more about yourself?
I am from the southern US. I have lived in a lot of different places, had many careers, and I enjoy new adventures. I have a tendency to reinvent myself although I believe I have now reached a point of consistency.
As a point of reference which age group do you belong to or perhaps you are willing to share your age?
I am 47 years old.
Can you tell us a bit more about your blog. Why did you start a personal style blog?
I started the blog in early 2009 as a way to visually document what I wear, and as a way to connect with similar-minded individuals.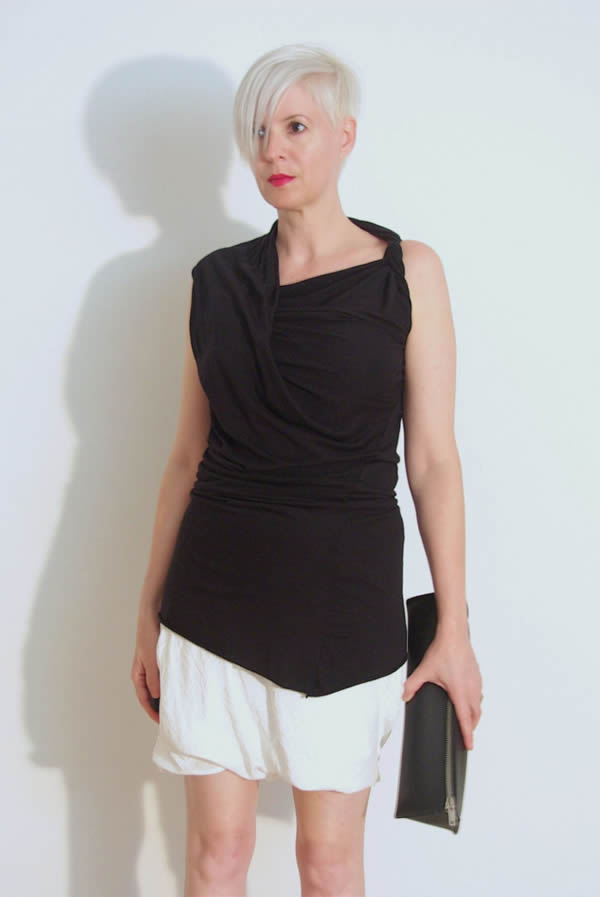 You call your blog Odyssey Home. Why did you choose to call it that?
I began Style Odyssey on blogspot and recently changed to Odyssey Home with custom domain. I had wanted to eliminate the word style since it had become overused but I decided to keep odyssey. Each name I considered was already taken until I finally went with Odyssey Home – the "home" of personal style and good design. I realize the name may give an impression that my blog is all about home decor, which I do feature, but truly the focus is on personal style in all areas – as the blog's sub-header reads, "wear, dwell, live".
How would you describe your style?
Minimally designed, wearable, contemporary. A nod to the avant-garde with a bit of a "dark" aesthetic.
What would you define as the main components of your style? What makes an outfit truly Stephanie?
Black. Sometimes white or other neutral. Usually monochrome, save for color on the lips and sometimes nails. A notable absence of extraneous details or unnecessary elements. Casually elegant, surprisingly practical. Slightly subversive. I favor the work of niche, directional, non-mainstream designers.
How do you go about choosing your clothes and what inspires your outfits?
I choose clothes based on fit, cut, quality, fabric and of course price. I like pieces that are different, that have an edge. Getting dressed for the day, my choices are based on where I'm going, what I'm doing, and of course weather. I am inspired by others who share the same aesthetics; by architecture, art and design; and by the natural world.
You have a very unique minimalist style. Why did you go that route?
I didn't aspire to be a wardrobe minimalist, and I don't mind the idea of having a large wardrobe as long as everything functions as wearable and versatile, and makes sense stylistically. My goal was acquiring a more practical wardrobe with consistent aesthetic. I was tired of trends, shopping for fun and random acquisitions. I didn't want to think much about getting dressed every day. I decided to sell what didn't work, start over and re-focus my shopping efforts. Now virtually everything in my closet goes with everything. It is quite liberating.
What are the keys to making a minimalist wardrobe work?
Consistency. Editing what doesn't work. Shopping with a purpose.
What do you see as the main benefits of a minimalist wardrobe?
Ease of dressing, a consistent style and more time for other things.
Do you ever miss not having more colour or variety in your wardrobe?
No, I don't. I lived a long time in a colorful, tropical paradise; and I work in the visual arts. Therefore, I have plenty of glorious color and visual variety in my life. However, I would like to add a certain color to my wardrobe, probably just one item, but I'm still looking for the perfect hue and cut.
How would other women that aspire to a minimalist wardrobe get started?
My advice is to take a good, hard look at your wardrobe and lifestyle, and don't be concerned with terms and descriptions; "minimal" can be different things to different people.
Has your style changed at all after turning 40?
Yes but it's because of my own evolution and not directly related to whatever age I happen to be.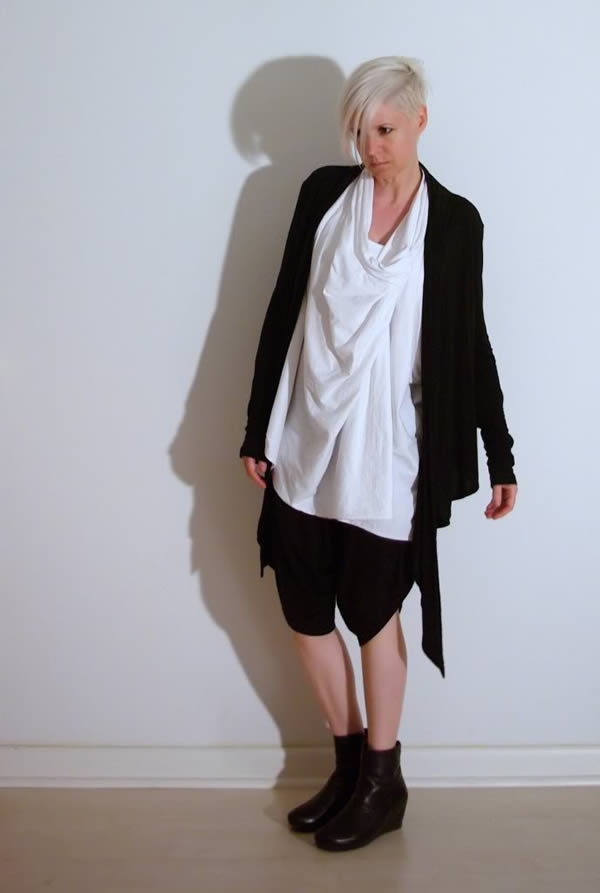 Do you believe in dressing 'age appropriately' and what does it mean to you?
I've never thought much about age appropriateness or changing one's personal style because of a particular decade of life. Obviously one ought to consider what works on the body and what doesn't but this is true for any age.
Would you say that at this stage of your life you are now more, or less interested in fashion, style and the way you look?
Except for a handful of designers, fashion doesn't hold much interest for me. Personal style interests me. I try not to dwell on how I look but as a person of vanity, I do have those tendencies!
Why is the way you look important to you?
Isn't it important to everyone? I'll attempt to answer: I am acutely aware of how things appear to the eye. I am an artist; it probably comes with the territory.
Which outfit on your site is your favorite outfit and why?
It would be too difficult to choose one.
Do you have any other style tips for women over 40 that you like to share?
Be who you are but find an outlet for self-expression that is not fulfilled through style alone.
Do you plan to continue with blogging and how do you see your blog develop over the coming years?
I plan to continue as long as I have time and ideas. We'll see where it goes…
Anything further you would like to add?
Thank you, Sylvia.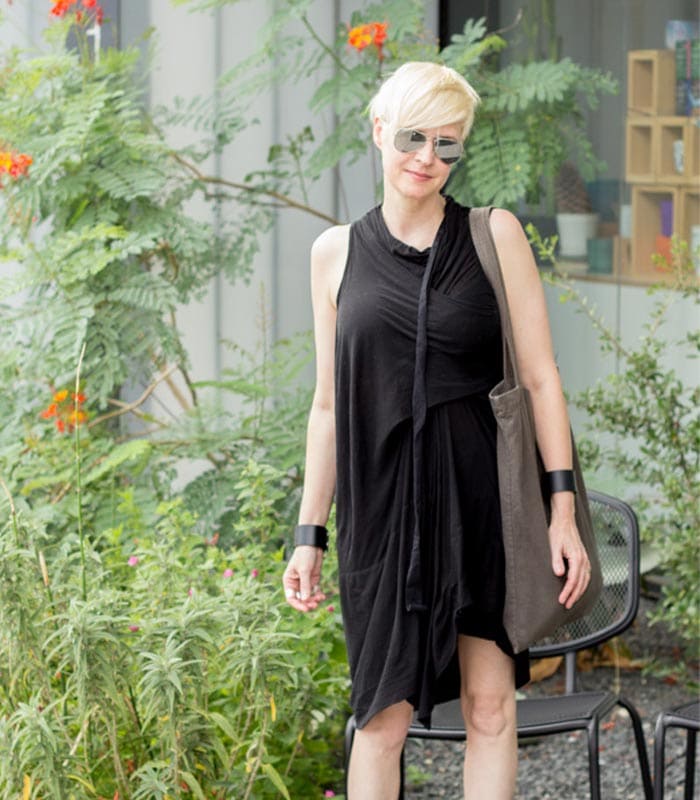 Note from Sylvia: As you may know I feel that most women over 40 should wear more colour, but some women, like Stephanie, seem to look amazing in black. I am very attracted to her style which features a lot of my favorite elements. I like the consistency, yet variety and edginess of her clothes. The statement  "Now virtually everything in my closet goes with everything" is a very important one if you aspire to a manageable wardrobe which always gives you something to wear. I believe you can still achieve a minimal wardrobe without giving up colours or different styles. I will explore that idea further next week as part of my wardrobe editing series.
Like this post? Share it on Pinterest!
Want to get more articles from 40+style in your inbox, subscribe here.
You can also connect with 40+style on Facebook, Instagram or Pinterest.
Support 40+style by using the links in our articles to shop. As an associate for Amazon and many other brands, we receive a small commission (at no cost to you) on qualifying purchases which enables us to keep creating amazing free content for you. Thanks!