40PlusStyle inspires women to feel more confident from the inside and outside. The site is all about having fun with style and dressing and looking your best after 40, 50 and beyond. We provide relatable styling and shopping inspiration, from budget shopping to premium brands and help women find their style. 40+Style has been featured in various print and online magazines. Check our press page for an overview.
Statistics
The 40+Style website receives more than  400,000 visitors each month
Active and engaged opt-in active newsletter subscribers: 30,000+
Pinterest:  101,000+ followers
Facebook: 11,000+ likers
Facebook group: engage community of 8000+ women
Instagram: 19000+ followers
Twitter: 2000+ followers
Total number of visitors since site's inception (September 2011) 25 million +
Audience
Large majority of visitors are from the United States, followed by the UK, Canada and Australia. 40PlusStyle is unique, since its visitors are older and more affluent when compared to the general internet population. Below are some statistics from Alexa that highlight this.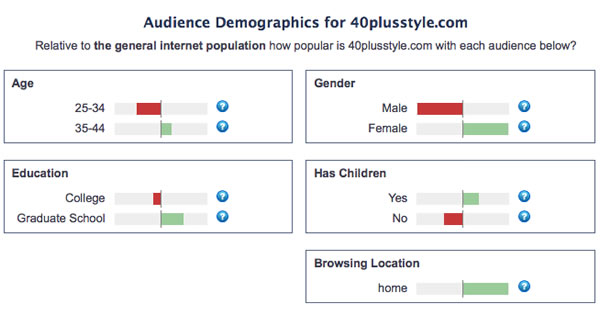 Social Media
All articles will be promoted on the social media channels we are active on. See above.
Testimonials
"I have had the amazing opportunity of being featured on 40+ style. For a new label such as mine this had been a tremendous opportunity to reach an audience that I could never achieve on my own. I am proud to be recommended on a website that is the 'go to guide' on fashion, beauty and style for mature woman. Sylvia has created a huge fan base who see the integrity of what she writes and the brands she endorses. I am very happy with the consistent traffic being referred, usually 250 visitors per week, mostly from US, Canada, Singapore and Australia. Visitors are viewing on average ten pages per visit so I feel that in terms of brand awareness, my label Verily, has greatly benefited by traffic, sales and enquiry. While taking part in a competition I was receiving around 200 visitors per day. I would certainty recommend 40+ Style for a label or business wanting to connect to women and build their brand."

Leonie Macleod, Verily, advertiser

"I just want to thank you for the response I have received from advertising with 40+ Style. I tried a number of different advertising options with you and I'm happy to say that the response continues. Consistency always pays. Thank you for for helping me introduce Covered Perfectly to my target market."

Pauline Durban, Covered Perfectly, advertiser

"Thank you for your blog Sylvia. Your information on style is truly inspiring. I am so happy to have found 40plusstyle.com".

Ms Dale Taylor, reader

"I can't believe my luck in finding you! I was searching for makeup tips for over 40 and found your video and website. This is the website I've wanted all along but didn't even know it. I've been poking around the site for an hour and have completely lost track of time. Thank you."

Thank you" Romey, reader
Editorials
We write all articles ourselves and make our own choices about the products we feature. if you want to be featured on the site, you have the option of an advertorial.
Banner advertising
We are part of the Adthrive network. If you want your ads to appear on this site, feel free to contact them.
Advertorials
We will write a feature article about your brand. We only work with brands that we would personally use and can recommend to our audience. Please fill in the form below to request our media kit.
Links
Although all articles will include direct links to either your products or website, in accordance with Google's SEO policies any links in sponsored articles will be no followed.
Please note: we do not sell or exchange any text links ads.
Any requests will be deleted without reply.
We do NOT accept any guest posts
Any requests for guest posts will be deleted without reply, so best to save yourself and me time and just not send any.
We do NOT review any products or services (only as part of an approved advertorial)
PR
We do not write any articles based on PR releases.
Request the media kit!
For more information (and before contacting us by email) please request our extensive media kit by filling out the form below.
The document includes detailed information about the site, how to get featured editorially and our current advertising rates. If you are interested in working with 40+Style, please contact us through the email address mentioned in the media kit.
Please note that after filling in the form, the media kit will be sent to the email address you provide. The form will only work if all fields are filled in correctly. If you don't receive it within 5 minutes, please check your spam or promotions folder. If you still can't see it, contact us through our contact form.
I look forward to working together!
Sylvia