40+ women everywhere have come to rely on Eileen Fisher for luxurious, figure flattering clothing to help them create a stylish and unique wardrobe. 
The brand's timeless yet unique designs and flattering lines work on just about any body shape or size. And the high quality fabrics; wool, silk, cashmere, will be a building block of your wardrobe for years to come. 
One of the wonderful things about Eileen Fisher is the flexibility of the collection. Every item mixes and matches together to create a truly effortless wardrobe. And since the clothing is so well made, you'll keep these essentials in your wardrobe for years to come. 
Eileen Fisher truly is a capsule wardrobe dream come true!
This Fall/Winter collection features figure flattering dresses, soft luxurious sweaters and cozy wraps. This season the brand has added on trend details like velvet and sheer detailing on dresses and shirts.
Here are some of my favorite picks from the Eileen Fisher Fall/Winter Collection.
The perfect toppers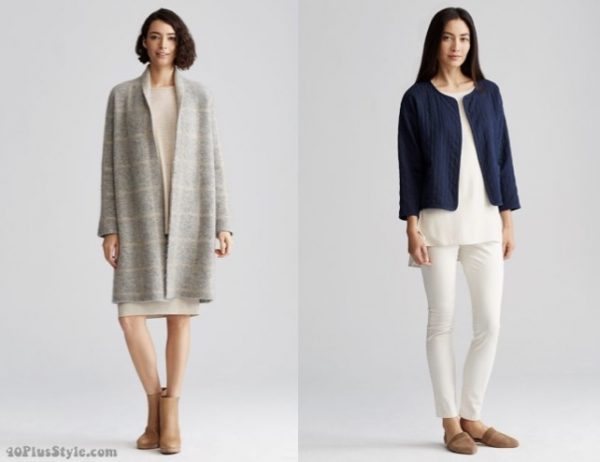 Add instant drama with this silk and velvet bateau neck top. The length works well with either leggings or cropped ankle pants or paired with a slim jersey pencil skirt. Add a lightweight silk cap sleeve ballet neck top to add subtle pattern to a monochromatic look.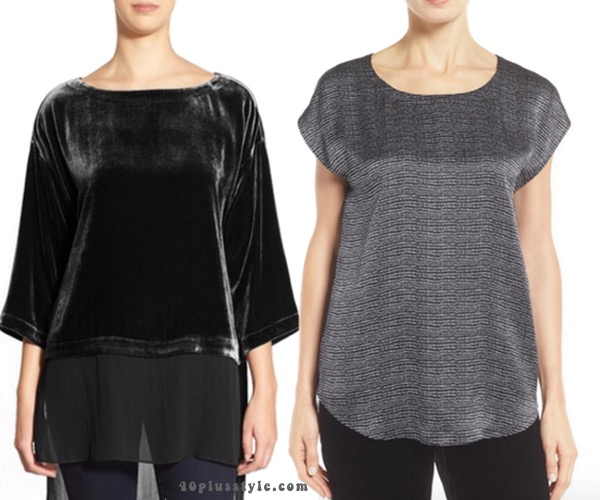 Sweaters
The elliptical hem sweater with a ballet neck is a great addition to a fall or winter wardrobe. The fabric is not too thick so it can be worn layered over one of the dresses for a casual update. The fine rib merino turtleneck has a subtle ribbing which enhances a vertical line and visually lengthens the body.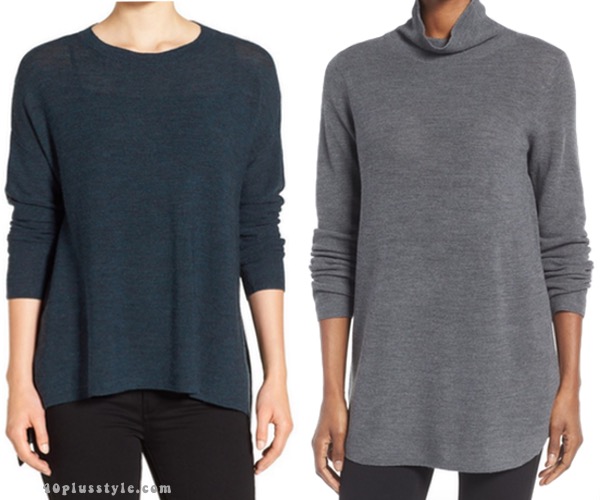 Seasonless and multi-occasion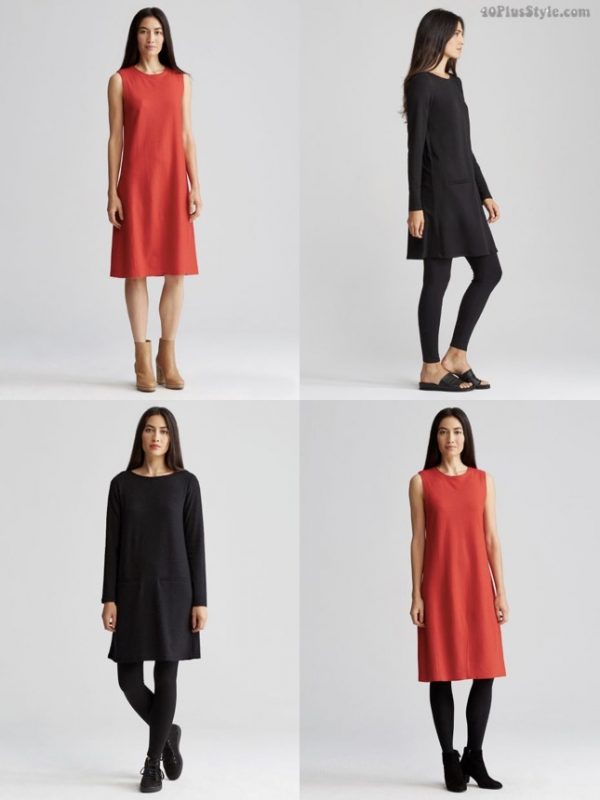 One of the most versatile pieces you can have in your capsule wardrobe is a dress in neutral or flattering bold hue that does wonders for your body shape. This is the case with these two Eileen Fisher dresses that can go from day to evening and colder to warmer temperatures with ease.
Flattering and elongating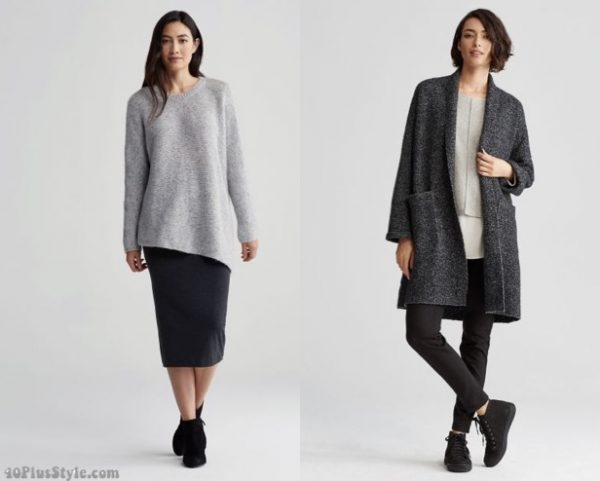 As mentioned above, Eileen Fisher pieces coordinate quite well with one another, especially when it comes to layering pieces for an elongating effect. The sweater above us layered over a midi skirt, however, the look is streamlined and not too buly. Alternatively, you could also wear that same sweater with leggings, over a thin dress (like the silk camisole styles), or wide leg jeans.
Multiple looks from a few pieces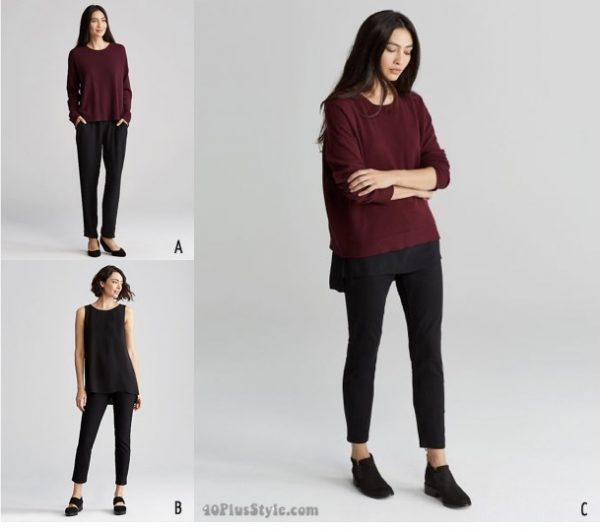 In the pictures above you see how to get three different looks with the burgundy sweater and black sleeveless blouse. The sweater can be worn alone over a pair of pants (as in A), which gives it more of a classic and relaxed look. In B, the sleeveless blouse is worn over a pair of black ankle pants. The longer length of the piece gives the look a bit a more minimalist modern look. In C, the sweater is layered over the blouse. The varying lengths and contrasts in color give the minimalist look more of an edge.
Texture
Eileen Fisher's pieces are very much inspired by natural textures and elements. As you can see above, both style of kimonos have a very earthy and raw appearance that is very much in line with the ethos of the Eileen Fisher brand. The texture of both kimonos adds an extra depth to the looks and takes what could be very basic looks to a new level.
Dresses
A cornerstone of Eileen Fisher are the dresses. These dresses can be worn in so many ways. Wear them casual, dressy, alone or as a tunic over a pair of fitted or wide legged pants. This Eileen Fisher funnel neck silk midi dress is a great option to build a capsule wardrobe around. The fabric works for any season, wear alone or layer it underneath one of the brushed wool kimono style jackets in a neutral tone. The Eileen Fisher velvet and silk midi shirt dress is a wonderful way to add touches of this season's fabric, velvet, to your wardrobe. The shift dress works well layered over trousers or skirt. Try layering it over these stretch velvet leggings.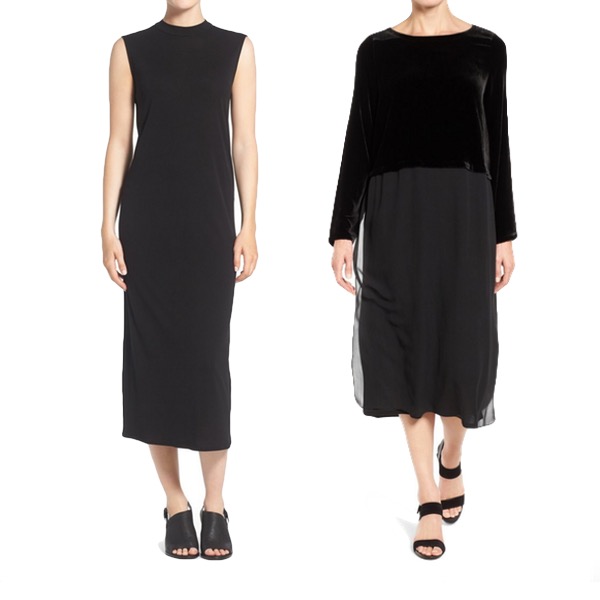 Cardigans and jackets
Eileen Fisher is a master at the kimono or duster jacket. Add a long duster sweater in a neutral shade or select a cashmere long cardigan in a rich jewel tone to add a pop of color to a capsule wardrobe.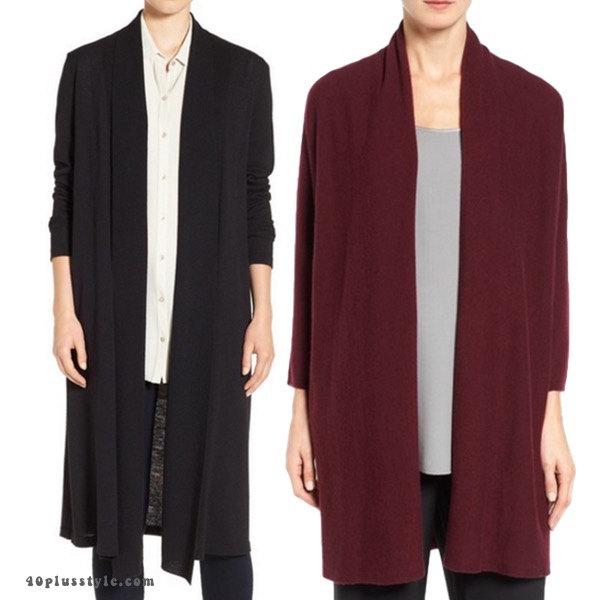 Pants
The collection has so many pants to choose from. Select one of the basic stretch flat front pants to layer underneath any of their dresses, or opt for one of the new relaxed silhouette in a heathered flannel and pair with a long cardigan.
Shoes and Boots
Just like the rest of the brand, Eileen Fisher's shoes and boots are crafted from the highest quality materials.
Choose a stacked block heel high boot in richly texture leather for casual sophistication. An open toed block heel bootie with a crossover detail in black works well with either dresses or pants. Choose a dramatic, curvy bootie to add some edge. Add some on trend details with an exaggerated block heel pump in suede.
Eileen Fisher has so many great options to really add drama and sophistication to your wardrobe. I had a hard time selecting just a few items to feature because the line has so many gorgeous pieces!
You can see some of the Eileen Fisher capsule wardrobe essentials available at Nordstrom.
Which are  your favorite pieces from the Eileen Fisher collection?

Related posts: