Bold and colorful style, enviable headwraps, and  mouthwatering recipes all define Elsie Davies'  blog, The Cooking Wardrobe. A fan of stepping outside of your comfort zone to discover new levels of style, we are all too tempted to give Elsie's ethnic vibe look a prominent place in our closets. We had an opportunity to interview the Australian based Sierra Leonean trendsetter. Enjoy!
Can you tell us a little bit more about yourself?
I am a full-time working mum of two boys and wife who was born and raised in Sierra Leone and have been living in Australia since 2004. Currently working in a role I enjoy very much with international students in a training institution.
How has your Sierra Leonean heritage influenced your style and blog?
Sierra Leoneans like most Africans love bold and vibrant colours and are not afraid to mix prints. Another biggie is the headscarf which is becoming common place in the world of fashion.
As a point of reference, which age group do you belong to or perhaps you are willing to share your age?
I am 44.
Can you tell us a bit more about your blog The Cooking Wardrobe and why you created it?
The Cooking Wardrobe is a personal food and style blog which I created because I love cooking and wanted a platform to share my Sierra Leonean recipes with friends. I also wanted to show how I styled my Sunday outfits. As you can see, the style part of it has taken over.
How would you describe your own personal style?
Classic, vibrant with a whole lot of ethnic vibes.
What would you consider the most important components of your style?
I must have comfortable yet stylish shoes, statement necklace and shapewear.
Where do you live and how does that influence your style?
I live in Perth, Western Australia with my family. Perth is quite laid back and multicultural so everyone seems to fit in just perfectly regardless of your outfit. I would however say that I tend to tone down the colours for my work outfits on days that I am not in uniform.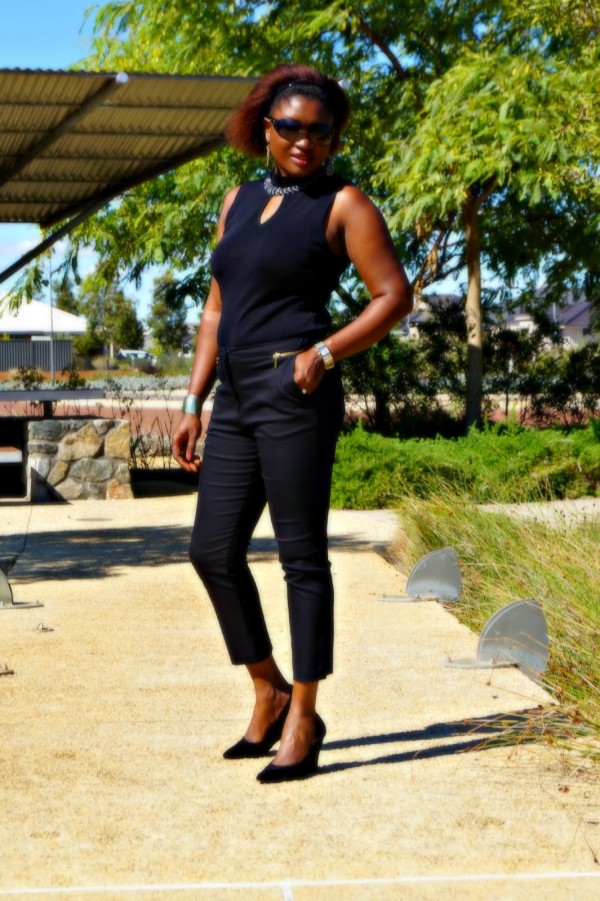 Do you feel you have a signature style?
I wear more of dresses and statement necklaces, and beads but I don't think I stick to one particular style. It all depends on what catches my interest on a particular day.
What inspires your outfit choices the most?
Sometimes the occasion which I am attending and at other times it depends on the mood I am in or the weather. In as much as I love looking good, I enjoy being comfortable too.
Do you take things like color profiling or body type into account when you dress?
I think I do both but I am more conscious of my body type into when shopping or dressing. Not everything looks good on me especially with my broad shoulders.
Has your style changed at all after turning 40?
Definitely, I don't think I need anyone's approval and just wear what makes me feel good. I have noticed that looking at it this way, my style has evolved and I think I am getting better at it as the years go by.
Do you believe in dressing 'age appropriately' and what does it mean to you?
Not really. Everyone should feel free to wear whatever they like however, if you have kids and they are embarrassed by what you are wearing, then you need to tweak your style a bit or you will forever scar the poor darlings.
Would you say that at this stage of your life you are now more, or less interested in fashion, style and the way you look?
In the last year and a half since I started blogging I have become more interested in fashion and have even been watching (not following) trends. A few years back street style, colour of the year and all the other jargons in the fashion world were strange words which belonged in the model's dictionary.
Why is the way you look important to you?
Looking good increases my confidence. It just gives me that extra lift and spring in my step.
Do you follow trends? And if yes, which trends excite you at the moment?
I watch trends but not necessarily follow them. I love seeing people pulling off all these beautiful outfits. I get inspired from watching but do not go all out shopping for new items just because they are in vogue.
Do you have any fashion and style tips for women over 40?
Feel free to experiment; sometimes the items that are out of your comfort zone are the ones that will take the outfit to another level of all kinds of hotness and perfection.
What are your plans for your blog and how do you see it developing over the coming years?
Blogging as you know is hard work and I would like to see the hard work pay off in growth. If I could someday use this platform to help people it would be a dream come true.
Anything further you would like to add?
It is an honour to be interviewed by you and to join the amazing women who have been featured on your website is absolutely fantastic. Your strength and support for other matured women in the blogosphere is amazing. I have met a lot of lovely people through this community and I look forward to reading more from you and the other women in this community and also making new friends. Thank you, thank you, thank you!!!
Get closet and kitchen inspiration at Elsie's blog! You can also find her on instagram.
Which of Elsie's outfits is your favorite?

Like this post? Share it on Pinterest!
Want to get more articles from 40+style in your inbox, subscribe here.
You can also connect with 40+style on Facebook, Instagram or Pinterest.
Support 40+style by using the links in our articles to shop. As an associate for Amazon and many other brands, we receive a small commission (at no cost to you) on qualifying purchases which enables us to keep creating amazing free content for you. Thanks!