Andrea is 40+ style blogger from San Francisco. She started out as  a self-care and wellness  blog and found her way to fashion! She definitely has the best of both worlds!
Hi, Andrea! Can you tell us a little bit more about yourself?
I live in the San Francisco Bay Area and am a college instructor and the mother of two boys, one in his early 20s, the other in elementary school.
As a point of reference which age group do you belong to or perhaps you are willing to share your age?
I am in my mid 40s.

Can you tell us a bit more about your blog Andrea's Wellness Notes and why you created it?
I started Andrea's Wellness Notes in March 2009. It started out as a healthy living blog as I wanted to refocus on me and on living my best possible life.
Last year I had to take a blogging break for a few months. When I came back to blogging, I realized that I wanted to focus more on personal style, as it is an important part of self-care.
I started to post my outfits on Instagram and then on my blog. I enjoy playing with accessories and like transforming a basic outfit with the change of a few accessories.
My goal is to show others that you can look stylish and put together with what is already in your closet, with a few new additions here and there. A new scarf or necklace can make a big impact and doesn't have to cost a lot.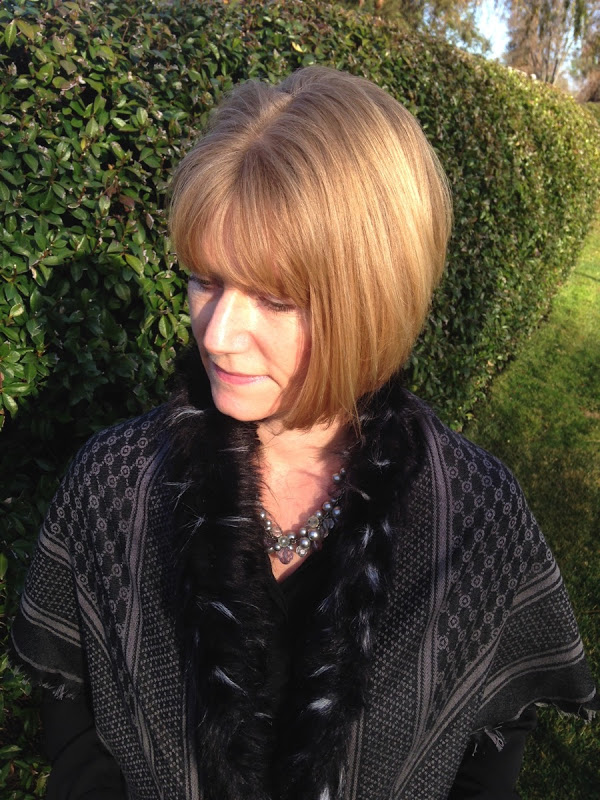 How would you describe your own personal style?
My style is pretty casual. I like classic pieces and enjoy adding a few unique elements to my outfits. Accessories are very important to me, and I have a huge collection of necklaces and scarves.
Someone referred to me the other day on a Blab as the "scarf lady."
 
What would you consider the most important components of your style?
I never feel completely dressed until I add a necklace or scarf to my outfit. I wear mostly flats and am always on the hunt for stylish and fun ones.
Where do you live and how does that influence your style?
I live in Silicon Valley, and it doesn't ever get very cold. Most of my clothes can be worn year round.
Silicon Valley is also a very laid back place and many dress very casually. Most of my outfits are casual, especially since I do a lot of work from home. But I still make sure to get dressed in "real" clothes every day (versus yoga pants and a tee) and always wear some accessories.
Do you feel you have a signature style?
One of my signature looks is a tunic or short dress over leggings or skinny jeans. I like how that style looks on me and feels very "me."
What inspires your outfit choices the most?
I always think about where I am going. I don't want to feel out of place, and I want to be able to enjoy my surroundings to the fullest. I feel I can do that best when I am dressed for the occasion and feel good in what I'm wearing.
Do you take things like color profiling or body type into account when you dress?
I'm pretty pale so certain colors do not look good on me as they wash me out; this is even truer as I'm getting older. So I avoid those colors, at least near my face (but I may add them to an outfit as a bag, belt, or shoes if I really like the color).
I have a very short torso and long legs, and I always try to balance my body when I dress.
Has your style changed at all after turning 40?
I started focusing more on quality over quantity after I turned 40. I think it's more important to have a small collection of pieces that you love and are "perfect" than to have lots and lots of clothes that don't quite work.
I also don't tolerate uncomfortable clothes and shoes anymore. There are so many stylish, comfortable options, and life is too short to suffer in the name of fashion in my opinion.
Do you believe in dressing 'age appropriately' and what does it mean to you?
I believe in taking a good look at myself from all angles and studying photographs. If something doesn't look good, I don't wear it (even if it's something that used to look good not too long ago).
But I don't think there are categories of clothes that women of a certain age can't wear just because of their age. Everyone is different, and you have to choose what's right for you at this particular time in your life.
Would you say that at this stage of your life you are now more, or less interested in fashion, style and the way you look?
I believe we communicate a lot with the way we dress, so style is important to me and always has been. However, there was a period in my 30s when I didn't take care of myself the way I should have – including the way I dressed – because life was quite overwhelming. But I soon realized that when I look good, I feel much better.
I believe dressing well is part of self-care. I work a lot from home, but I always make a point of getting properly dressed as I have a much better and more productive day when I'm dressed in real clothes versus workout clothes for example.
Do you follow trends? And if yes, which trends excite you at the moment?
I follow some trends, but I'm selective and only follow trends I truly like and that fit my style. And I always tend to observe a bit first. I'm really never the first one to try out a trend.
I was surprised that I ended up liking 70s-inspired clothing a lot more than I thought I would. I look forward to adding one or two new 70s-inspired pieces of clothing to my wardrobe.
I have also been on the lookout for the "perfect" lace-up flats and some cute leopard flats.
Do you have any fashion and style tips for women over 40?
Taking just thirty minutes on the weekend to plan your outfits, including accessories, for the week is really helpful.
If you haven't worn a certain combination before, try it on to make sure it works the way you imagine it to work; sometimes things look different in actuality than they do in our heads!
Also, taking photos of outfits and keeping them in a file can be very useful when you feel that you have nothing to wear.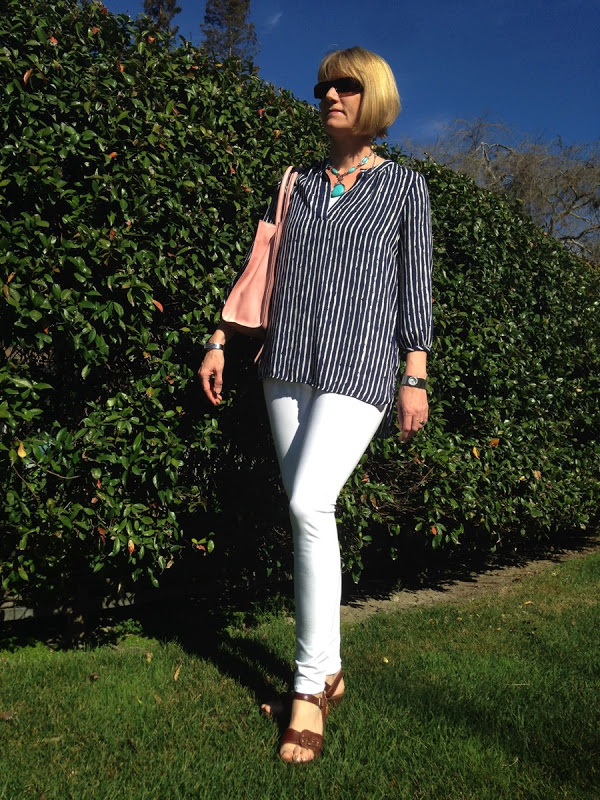 What are your plans for your blog and how do you see it develop over the coming years?
I have really enjoyed becoming part of the 40-plus-style-blogger community and have met some wonderful women that inspire me every day. I'm especially encouraged by the fabulous women in their 50s, 60s, 70s and beyond.
I have lots of ideas for blog posts, but time is always an issue. I hope to continue blogging for many years and connecting with even more fabulous women along the way.
Anything further you would like to add?
Thank you for the interview, Sylvia! You have created a wonderful community, and I really enjoy your style!
If you want to see more of Andrea and get her healthy living tips as well, be sure to check her out at Andrea's Wellness Notes and Well Andrea for her Instagram.
Which is your favorite outfit of Andrea's?
Like this post? Share it on Pinterest!
Want to get more articles from 40+style in your inbox, subscribe here.
You can also connect with 40+style on Facebook, Instagram or Pinterest.
Support 40+style by using the links in our articles to shop. As an associate for Amazon and many other brands, we receive a small commission (at no cost to you) on qualifying purchases which enables us to keep creating amazing free content for you. Thanks!