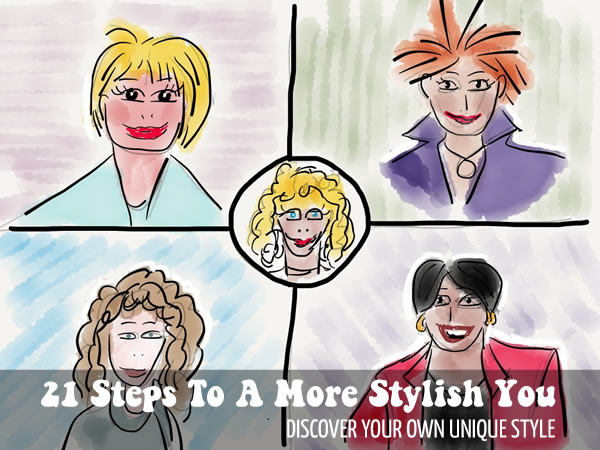 Who does not want to look stylish and feel beautiful and confident?
I know I do and most of you do too!
That is why I developed my style challenges which morphed into my style course that has already helped many hundreds of you to discover or ignite your style and feel better about the way you look.
Want to see a short introduction?
I recorded a small introduction video. Sound is not perfect so be sure to turn up the volume on the video player and your computer!


Why should you join this style course?
It's fun! Have fun sharing your experience and your outfits and collages (all optional).
(Re)discover yourself! Find out a lot more about who you are in terms of style.
Get out of your style rut! If you are in a style rut, this style course will help you get out of it.
Feel more confident! If you need more confidence in the way you look, this challenge will help you find it.
Get more creative! If you want to look better, more professional or polished or be more creative, this challenge will help you achieve that.
Learn to dress better! No matter where you are in your style journey, your style is always evolving and there is always a way to progress.
Communicate the right message with your clothes! You only have one time to leave a first impression. Make sure it's a good one and that it reflects who you are.
How does it work?
This style course is a journey of self-discovery. I'm not going to tell you what to do, what to wear and how to wear it.
However, I will give you the tools to discover this for yourself and of course I will give you lots of ideas and feedback!
I will ask you questions and give you style assignments.
You will learn:
Why it's important to look good.
Who you are in terms of style and discover your style personality.
Which clothes look best on your body type.
How to create a pleasing silhouette and use style tricks like the rule of thirds.
How to mix and match clothes to great effect and how to achieve your desired style.
What should leave your closet and what should stay.
How to be creative with color and texture and what suits you!
How to accessorize to great effect.
How to choose the best hairstyle for your face.
How to look polished with makeup.
And lots more….
This course will be even more fun than the previous ones!
I created a new site to run my style courses which will make it even more fun to participate and will make it even easier to connect with fellow participants.
Enjoy doing the course in a private community of fabulous 40+ women.
Upload your outfits in the special private course forum.
Interact in live feeds.
Friend your fellow participants and exchange private messages.
When and where does it start?
The course is live now and you can start at any time you like. You can do it over 21 days or take much longer. Work at your own pace! Since you have unlimited access, there is no need to hurry.
Check out the many fabulous reviews for the course and find all enrolment information here.
 I look forward to seeing you there!

Related posts: