Last week the 100 most powerful women were announced by Forbes. Not surprisingly there are quite a few 40+ ladies on the list as well. So I wondered who are the most stylish powerful women. Here are my picks!
1. Michelle Obama (48)
This woman sure knows how to dress. Although she usually keeps it simple with her shift dresses, she makes them exciting with the most fantastic colours.
2. Miuccia Prada 63)
How can I not include the woman who creates some of the most covetable fashion with her labels Miu Miu and Prada!
3. Anna Wintour (62)
Showered with clothes from the best designers in the word, how could she not look stylish?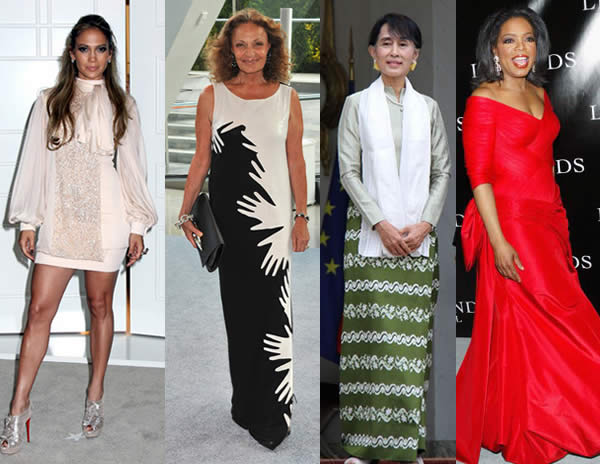 4. Jennifer Lopez (43)
Although sometimes a bit over the top, Jennifer Lopez manages to look good almost every single time I see her. I thought she looked very polished during her stint as an American Idol judge and she is one of the few 40+ ladies who can still rock the mini dress!
5. Diane von Furstenberg (55)
Very much an advocate of the bohemian style and always looking unique with wonderful prints and beautiful wrap dresses. And sometimes, just in plain black and white.
6. Aung San Suu Kyi (67)
Aung San Suu Kyi always looks superbly elegant in her Asian dress and flower in her hair.
7. Oprah Winfrey (58)
Oprah is a shining example on how to dress when you are very curvacious (as is Georgette). She has the best stylists around her and they make sure she looks amazing every time.
8. Sofia Vergara (40)
Although I don't know her style that well, I'm always very impressed when I see her in evening gowns. This woman really knows how to dress her gorgeous body!
9. Hillary Clinton (64)
Although Hillary often gets criticized for her dressing, I often think she looks good in her pant suits. She understands that she will never be a fashion icon and just sticks to what she is comfortable in and what works well for her.
10. Ellen DeGeneres (54)
I like that Ellen DeGeneres is very true to her tomboy style in which she is so comfortable. I like her best in a nicely tailored pant suit with white blouse.
What do you think?
Of course this selection has been made out of the top 100 most influential women from the Forbes list. It would be a different story altogether if we choose from ALL the fabulous 40+ women alive today.
Who would you nominate for the 10 most stylish 40+ women list? I would love to receive your nominations and will then compile a list later this year.

Want to get more articles from 40+style in your inbox, subscribe here.
You can also connect with 40+style on Facebook, Instagram or Pinterest.
Support 40+style by using the links in our articles to shop. As an associate for Amazon and many other brands, we receive a small commission (at no cost to you) on qualifying purchases which enables us to keep creating amazing free content for you. Thanks!