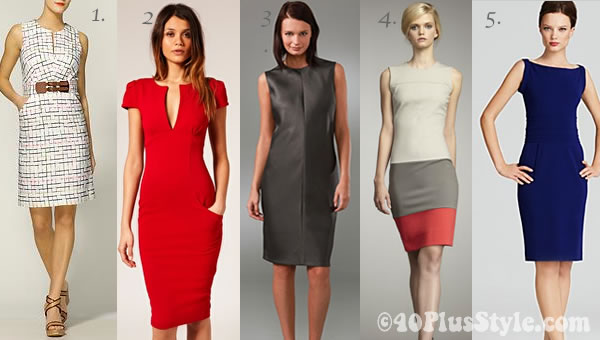 One of my favorite trends that I highltighed in my Spring / Summer 2012 trend report is the new ladylike silhouette. This style is very elegant and the hemlines of the dresses mostly just below the knee is very flattering for women over 40. I like to combine that with my other favorite trend which is graphical. See how I wore blue and white stripes in the ladylike silhouette recently. My recent combining of 2 dresses was also inspired by this trend.
So let's have a look what's available in shops for women over 40 who would love to try out this trend
The Milly combines both graphcial prints and the ladylike silhuette into this lovely dress. I'm also really loving the red Asos dress that reminds me of the dresses Zac Posen showed on the runway. Loving that pocket! Also adoring the grey Calvin Klein dress, which is sure to last you a long time. It's currently on sale and there are only a few left.
Diane von Furstenberg also combines these 2 trends in this lovely 3 coloured dress. Her dark cobalt blue dress looks gorgeous and would be perfect for work.
More ladylike dresses
Nue by Shani is a brand I was unfamiliar with until I discover 2 gorgeous dresses online. They even come with built in under garments to make sure you look your best in these form fitting dresses! Loving both this white dress and the blue red dress.
The Helmut Lang dress is a lovely asymmetrical dress, which you all know is one of my favorite themes. The draping on the belly area will also perfectly hide any bulges there that you don't want the world to notice.
The Monroe dress has a wonderful colour and is superbly elegant while the Black Halo dress has the most wonderful asymmetric neckline.
What do you think of the ladylike trend. Is this ones of the trends you are going to pick up this season?

Related posts: