Long-time readers will know that I'm a big fan of contemporary jewelry. It has been a while since I prominently featured contemporary jewelry designers on this site, so I was very pleased to do a collaboration with one of the best online stores for contemporary jewelry: Boticca.
Boticca sells both jewelry as well as other accessories like bags, ipad covers, scarves, hats, belts etc.  by independent designers. These designers are from all over the world offering a wide variety of styles. If you like contemporary jewelry like I do, you will love the huge collection here.
I picked 3 items from 2 different designers and will show you how to turn a simple black & white look into three completely unique outfits.
Wire crochet gold cuff by Yoola
I love subtle well-made contemporary jewelry and this cuff by designer Yoola spoke to me.  This wide wire cuff bracelet is crocheted using 14k gold filled wire
Although I have always liked wearing silver I wanted to branch out more into gold. I love the look of gold with both white and black. This translates into a modern classic look, made more edgy and contemporary with my shoes. Of course if you wanted to keep this look more classic then regular pumps would have been a better fit.
The jewelry is subtle and complimentary and makes for a very modern classic and elegant look.
The Clemence woven necklace in pink/orange by Jennifer Loiselle
In complete contrast to the subtlety of the crochet bracelet is the big and bold Clemence woven necklace by Jennifer Loiselle.
I have often written of the importance of adding color to the top part of your outfits and this necklace does that in spades. The great thing about this necklace is that you can actually change how much color you want. There are 4 different variations on how to wear this necklace. I actually prefer the more subtler combination which I have shown at the top of this article.
This necklace is unusual and fun and you will definitely make a statement with this one! For those that like this necklace but want a slightly smaller version, there is also the mini Clemence.
This necklace makes the outfit bold, arty and funky! I think I like it best with the subtler handbag and let the necklace be the star and focal point of the outfit.
Eyes perspex drop bib necklace in black glitter by Jennifer Loiselle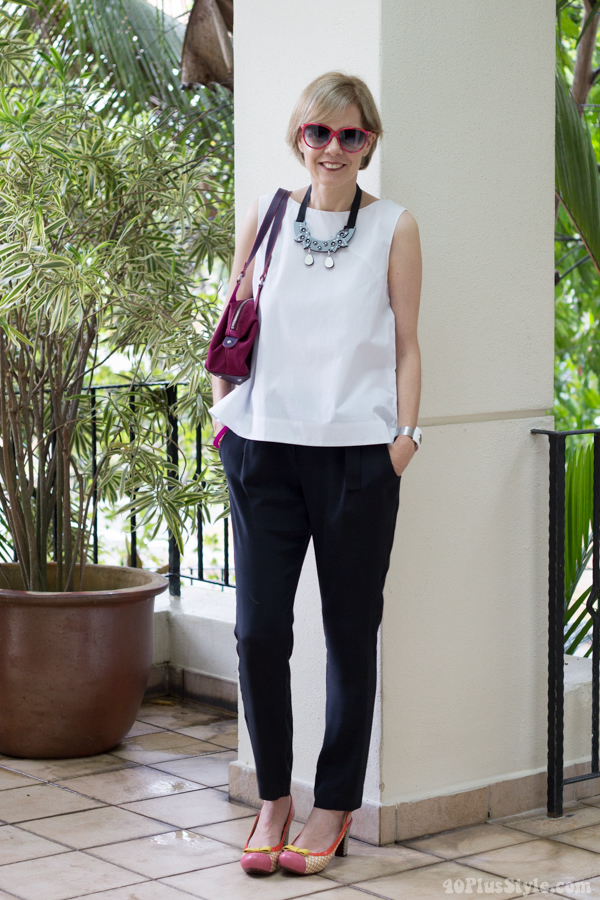 The other necklace that I could not resist by the same designer was the eyes perspex drop bib necklace. It's an unusual choice for me, but I was attracted to the quirkiness and uniqueness of this design. It's great to have a bit of FUN with fashion.
To add some color I combined this outfit with some colorful accessories. I like it with my pink handbags and colorful shoes, but also with the cooler cobalt color.
I feel this is a funky chic outfit.
In the end I liked all three of my outfits. I like the different feel each of these accessories create. Of course I will not be limited to just this outfit as I can see this jewelry worn with many of my other clothes as well. I will show you another combination next week.
Want to add some fun and sparkle to your outfits as well? Have a look at the Boticca online store and check out their large range of jewelry and accessories! From 27 March to 1st of April, there will be a special promotion with free worldwide shipping. During that time shipping costs on your purchase will automatically be deducted at checkout.
Which is your favorite jewelry piece from the above?

This article was sponsored by Boticca
Want to get more articles from 40+style in your inbox, subscribe here.
You can also connect with 40+style on Facebook, Instagram or Pinterest.
Support 40+style by using the links in our articles to shop. As an associate for Amazon and many other brands, we receive a small commission (at no cost to you) on qualifying purchases which enables us to keep creating amazing free content for you. Thanks!