A few weeks ago my husband asked me an interesting question. He asked: "If you had to pick one line of clothing to wear for the rest of your life, what would it be?" I was able to give him an answer in under 30 seconds. To be honest, I'm not even sure why it took that long!
If I had to choose one brand, and only one brand to buy and wear for the rest of my life it would be Ralph Lauren, hands down. Think about that for a second. The rest of my life, that's a long time…if all goes as planned.
Why Ralph Lauren?
When asked to explain my reasoning I explained that the Ralph Lauren brand has everything I could ever need under one label. Ralph Lauren runs the gamut from high-end ready-to-wear to the more affordable Lauren Ralph Lauren line. Whether you're looking for casual wear, loungewear, sleepwear, or formal wear Ralph Lauren has you covered.
Another notable quality of the Ralph Lauren brand, particularly the Lauren line, is its inclusiveness. The Lauren line is for every woman. Age, height or weight are no bar. A jacket that is available in a misses size is also available in petite and women's sizes. The brand is so expansive that it also has my family and home covered as well!
But there's so much more…
Ralph Lauren Style
There are so many ways to describe theRalph Lauren aesthetic. If pressed to narrow it down I would say timeless, classic and elegant.
The best example I could give of this would be the top I wore when I got married. My husband and I eloped and got married in front of a judge in 2005.
I wore a white, off the shoulder Ralph Lauren top. I still have that top 12 years later. The best part is I can actually wear it today and it doesn't look dated at all.
The color palette of the Ralph Lauren brand is an assortment of neutrals. Looking across the lines you see a lot of black, white, navy, brown, and beige. The mainstay of the brand is colors that don't have an expiration date; they will always work from one year to the next.
Lauren Ralph Lauren uses color as well. It is always on trend and with the exception of the Polo line, it is usually minimal.
Endless Possibilities
Year after year, season after season, Ralph Lauren delivers collections that enhance what you own from previous years. The pieces all coordinate back to each other and there is little to no deviation from the overall aesthetic.
The Lauren Ralph Lauren line is the epitome of what a capsule wardrobe should be. It's filled with essential pieces that have all the trademarks of a great wardrobe. What's so great about the brand is that when you add new pieces to your current collection, everything just works. The additions are seamless (pun intended)!
Here's a look at the best picks from the Lauren Ralph Lauren line collection for Spring 2018.
Jackets
Black/White Embroidered Jacket –  Plus Size Embroidered White Jacket – Navy Contrast Trim Embroidered Jacket 
The new jackets for this Spring are everything you would expect from Ralph Lauren.
They are high-quality, tailored, and add instant polish to any look. As far as colors, the usual suspects are there with a noticeable focus on black and white that is trending for spring 2018. I'm pretty sure the embroidered black and white jacket is my next purchase.
Pants
The pants in the Lauren line are usually of the cotton twill variety in varying silhouettes. This season is no different. There are quite a few skinny cotton twills in the assortment. A notable difference and new for this season are the wide leg pants and track pants.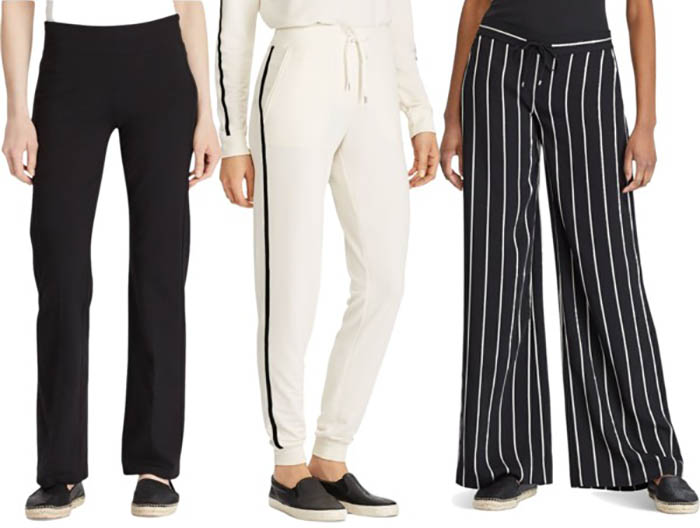 Jersey Knit Yoga Pants – Tuxedo Stripe Jogger Pants – Black/ White Stripe Wide Leg
Tops
Although the Lauren line is built on classic pieces that don't go out of style, there is no lack of items that are on trend. Nowhere is this more evident than in the top category. The Lauren line of tops features pretty, feminine tops with a casual feel. And if you're looking to build a capsule wardrobe with classic white button-down shirts, navy and white striped t-shirts, and basic black long sleeve tees, this is the line to go to.
White Shoulder Slit Cotton Top – Floral Twill Top – Ruffle Trim Striped Sweater
Coats
The coats in the Lauren line are a great example of what classic, timeless style looks like. Considering the price points, these items may be more along the lines of investment pieces that can be worn season after season. With classic trench coats and quilted jackets, these coats will surely be a part of your wardrobe for years to come.
Faux Leather Trim Trench Coat – Quilted Coat – Drape Front Coat
Dresses
Whether you're looking for a professional dress for work, a cocktail dress or an evening gown, Ralph Lauren has you covered. Dresses are another category where the latest trends are mixed with classic pieces. There's never a shortage of elegant black or navy evening dresses and there are always a few pops of color for when the mood strikes.
Pink Draped Jersey Gown – Black/White Cape Overlay Sheath Dress – Blue cowl neck dress
A Note About The Lauren Ralph Lauren Line
I would like to note the Lauren Ralph Lauren line is now owned by the Jones Apparel Group as a result of a licensing dispute. I still include the Lauren line in my consideration of the Ralph Lauren brand. It is the green label and bears the Ralph Lauren name. I believe that although the 'ownership' has changed, the overall aesthetic and quality has always remained the same.
How about you? If you could only wear one brand forever, which one would it be?
Author Bio: Sharon Brandwein is a wife and mother who found her way back to fashion through writing. She is a blogger and freelance writer whose goal is to help women find and fine tune their style.
Like this article? Save it on Pinterest!